Happy, happy, happy #DIYfriday!!! I'm super excited to share this project with you today because it holds a very special place in my heart… how to make your own wedding vow notebook! When I was married, we wrote our own vows and read them allowed, so I typed them out and scrapbooked them onto a special little card for each of us. My card of course was one of my many pieces of 'something turquoise', so I can't believe it's taken me so long to share something like this! This is a fairly simple project but it will turn into being something incredibly special that you can keep, cherish and read over and over… maybe even frame!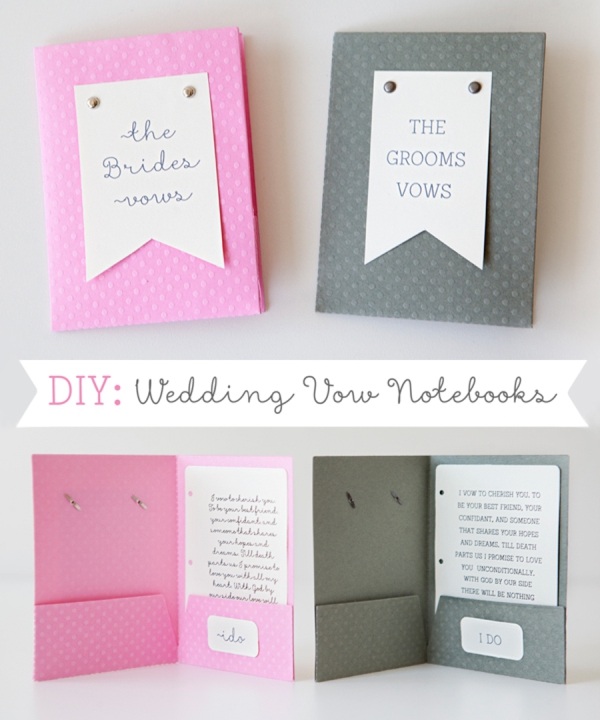 SUPPLIES
Lifestyle Crafts Evolution Machine
Lifestyle Crafts Template Dies – Folder with Insert
your choice of colored cardstock (cut to 6″ wide and at least 8″ long)
scissors
paper piercer
4 scrapbooking brads
the FREE design download below
Print our 'bride + groom vows' design card onto 8.5″ x 11″ paper, or design your own!
Start by cutting your folders with the Evolution machine from Lifestyle Crafts. Place your choice of cardstock on top of the cutting die, and crank through the machine…
In seconds you will have a perfectly punched and embossed folder, ready to fold!
This die cut template comes with the most darling punch for a piece of paper that fits perfectly into the folder. Print out your vows making sure they will fit within the punch, lightly tape the punch to the paper (so that it doesn't slide around on you) and crank through the machine. How freaking adorable are these!?!
***If your vows don't fit on one page ~ punch more. Or don't type them, just hand write them onto these little punched pages if you'd like.
Use the same steps with the tape to punch the little 'I Do' tabs…
Use your favorite (strong) scrapbooking adhesive to complete the folder.
Cut out the flags for the front of the notebooks, or use any embellishment shape you'd like… you could punch a decorative oval, you could use fancy scissors, or maybe even just a square – it's up to you.
You can attach these flags anyway you'd like. I pierced simple holes at the top and secured them with scrapbooking brads.
Seriously, aren't these to die for!?!
Attach the little "I Do" tabs and you're done!
I'm crushing hard on this project… aren't you!?!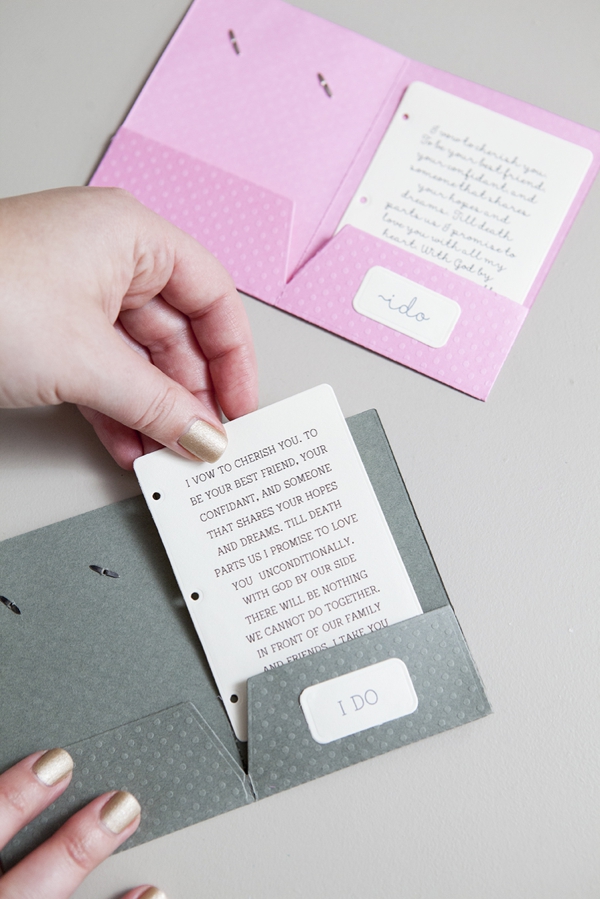 Of course I had to make a turquoise vow notebook for myself…
As with all our DIY tutorials, if you create one of our projects please send us a picture – We Love Seeing Your Creativity! If you use Instagram or Twitter please use the hashtag #SomethingTurquoiseDIY and it will show up on our Get Social page. Happy Crafting!
DIY Tutorial Credits
Photography: Something Turquoise Photography for SomethingTurquoise.com // DIY tutorial + free download: Jen | Something Turquoise // Lifestyle Crafts Evolution Machine and Folder With Insert Die courtesy of: We R Memory Keepers // scrapbooking paper, brads, adhesive: Michaels // gorgeous wedding dress: Allure Bridals #2569 // nail polish: OPI – Designer de Better
No related posts found.