Today I have a super fun, totally easy and completely cost effective "favor" project for you! How to create these sparkly (glass-like top) glitter wine stoppers… which would make the most perfect bridal shower or bachelorette party favors! Or maybe if you are having a wine themed wedding, and you feel brave, you could make one for every guest! I must add, that after all is said and done – these beauties only cost $0.60 a piece… aren't they even better looking now that you know how cheap they are!?!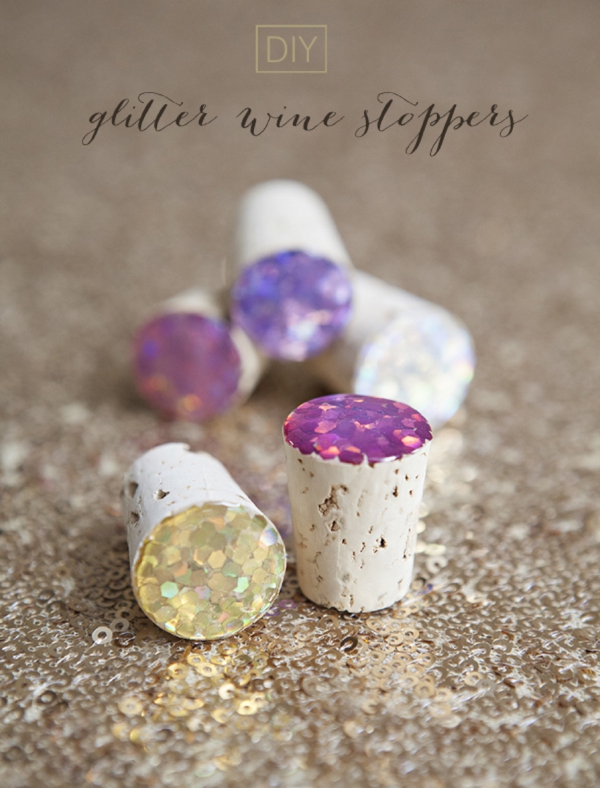 SUPPLIES:
Start by adding a thin layer of Mod Podge Dimensional Magic glue to the top of the cork.
Next, shake on a bunch of chunky glitter. Using your finger pat the glitter that is hanging off the edges inward and make sure you are happy with the coverage of glitter across the top of the cork. **I tried out lots of different styles of glitter, but the larger sequins look best.
Now, make a whole bunch – it hardly takes any time at all! I've made at least 50 of these and I still have 1/3 bottle of glue left, just to give you an example.
Once the first coat of glue/glitter has dried completely you are ready for the "thick, glass style" coat of glue. Make sure you are working on a surface where you can leave these corks to dry completely without moving them.
Apply a SUPER THICK coat of the Mod Podge Dimensional Magic. As you can see from the images below, you are looking for the glue to pile up and form a dome on top of the glitter/cork. If there are any air bubbles you MUST remove them, otherwise they will dry just as they are. You can pop or scrape them away with a needle. 
This 'dome' will dry completely as is; crystal clear and beautiful… just like glass! 
Make sure to leave them alone while drying. If you tilt the cork, the glue will leak right down the side. Ours took about 10 hours to dry completely, so I recommend doing this last step in the evening – so you can just let them dry overnight. 
Once dry, they have an awesome "glass-like" finish on top with loads of glitter underneath!
These sparkling beauties would make perfect bridal shower or bachelorette party favors!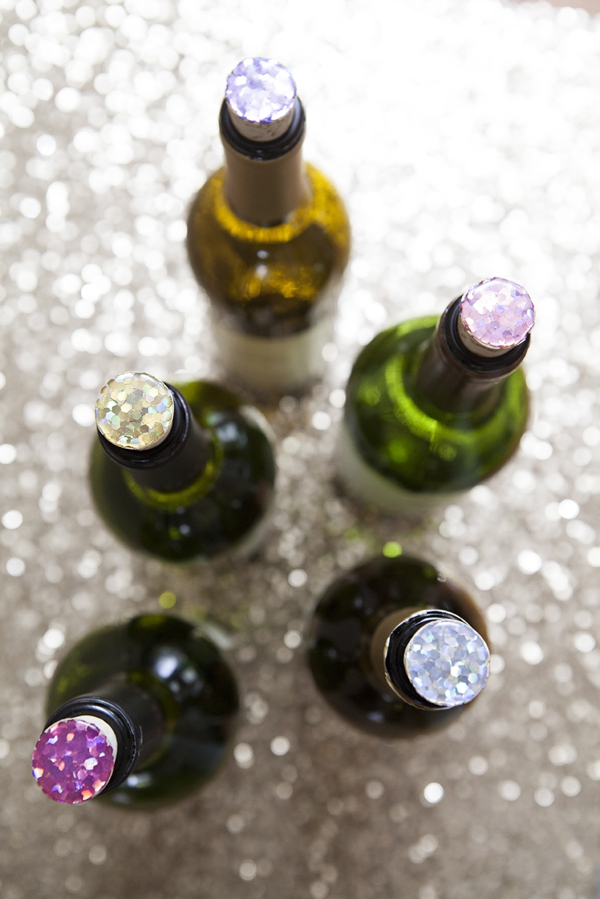 As with all our DIY tutorials, if you create one of our projects please send us a picture or a trackback – We Love Seeing Your Creativity! If you use Instagram or Twitter please use the hashtag #SomethingTurquoiseDIY. Happy Crafting!
DIY Tutorial Credits
Photography: Studio 11 Weddings // DIY tutorial by: Jen | Something Turquoise // tapered corks: Jelinek Cork Group // Martha Stewart Crafts Glitter (in sterling, florentine gold, tourmaline, kunzite, charoite) and Mod Podge Dimensional Magic
: Michaels // nail polish: OPI – Love Angel Music Baby
No related posts found.