I'm always searching and thinking about creative new ideas for wedding guest books… no one really wants a regular old book with signatures of who attended a wedding anyway. Making your own unique 'guest book' is a great way to let your personality shine and add a little extra something that your guests will be talking about ~ since they all have to take part in it! Enter the 'Date Jar Guest Book'… where your guests make up date ideas for you! A super fun way to spice up weekly date nights throughout your first year of your marriage!
SUPPLIES:
half gallon glass jug from SpecialtyBottle.com
cute frame
our FREE printables below
3 colors of cardstock
glitter cardstock
Sharpies
mini-rubber bands (ours are the Rainbow-loom bands)
scrapbooking adhesive like Glue Dots
ribbon
scissors and paper trimmer
DATE JAR FRAME ///// DATE JAR LABEL
Download the designs above and print them onto your choice of scrapbooking cardstock. Cut and frame the first design which measures 5″ x 7″.
Cut the second design so that there is about a half inch boarder around it and mat it onto another color of cardstock using your favorite scrapbooking adhesive (mine is Glue Dots).
For the second mat I chose to use glitter paper but you can use any paper, don't adhere these two together yet – the ribbon from the jar will be placed inbetween them first.
Next, cut a strand of ribbon to hang the 'date jar' sign with.
Place the ribbon around and through the jug handle. Measuring where you want the sign to hang, cut the ribbon and adhere the ribbon to the paper with scrapbooking adhesive.
Then adhere the first tag on top of the glitter paper, over the ribbon.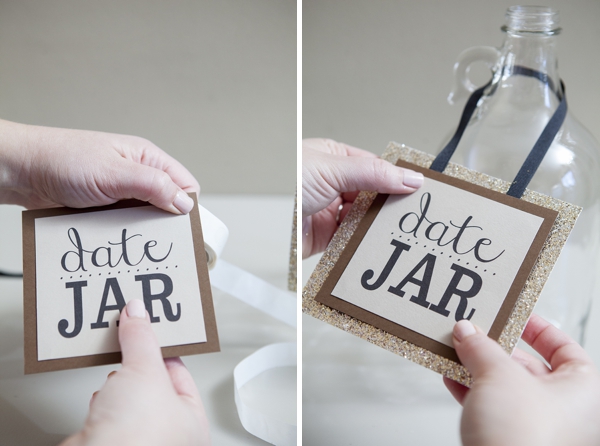 Which makes a perfect, permanent sign for your date jar!
Next, set up your guest book table!
I am recommending using three shades of colored paper for the date cards – the darker the paper the more expensive the date! Easy for you and your guests to understand. I purchased this colored cardstock already cut to 4.5″ x 6.5″ – making things easy.
Give your guests different colored Sharpies to sign the cards with…
These little rubber bands are actually Rainbow Loom bands… super cheap and they come in every color imaginable. I sorted out these colors to match. Your guests can roll and wrap their signed cards with the rubber bands keeping their date for you a secret!
Let your guests fill the jar all night long… and maybe even throw a couple in yourself. Make sure that your DJ makes a couple announcements about it, so that all your guests take part.
How freaking cute is this jar!?! This will be such a wonderful way to enjoy unique and different types of dates with you new Mr. throughout your first year of marriage. Not only do you get to spend quality time with your hubby, but you also get the special sentiment from a loved one that picked the date out for you… can we all say 'aaawwweee' together!
As with all our DIY tutorials, if you create one of our projects please send us a picture or a trackback – We Love Seeing Your Creativity! If you use Instagram or Twitter please use the hashtag #SomethingTurquoiseDIY. Happy Crafting!

Photography: Studio 11 Weddings // DIY tutorial and downloads by: Jen | Something Turquoise // half gallon glass jug: SpecialtyBottle.com // cute wood frame, scrapbooking cardstock, Glue Dots, Rainbow loom bands, and Sharpies: Michaels // date font: Janda Stylish Script free via Dafont.com // jar font: Trocchi Bold free via Font Squirrel // nail polish: OPI – Mimosas for Mr & MRs
No related posts found.