We LOVE our guys, right!?! So why should us girls have all the cute 'Pinterest' type fun with invites, will you be my bridesmaids, and bachelorette party goodies? Today's project is for the BOYS! A fun and silly tutorial for a touching 'bachelor party invitation'… guys will always be excited to party, but we think this will get them cracking up!
SUPPLIES: 
Lifestyle Crafts Evolution Machine
Lifestyle Crafts 'mini-pizza box' die cut template
your choice of cardstock (cut to 6″ wide and at least 10″ long)
FREE design download below
8.5″ x 11″ text weight paper for design printout 
Krylon Metallic Spray paint in Silver
manly-looking washi tape
scrapbooking adhesive
silly boy toys and maybe headache medicine… maybe a bottle opener… the gifts that you put in your bachelor invites will depend on what type of guy you have!
Dress up the usual silly boy toys with a coat of Krylon metallic silver paint (front and back), we think it makes them look more grown up! **After these have been painted, and you see them sitting on the dresser or counter – they look like they are made of stainless steel – it's awesome!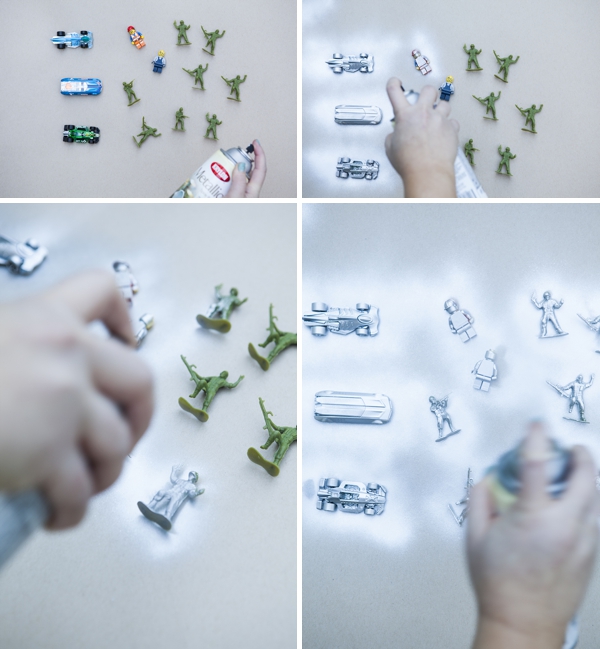 While the paint on the toys is drying you can cut out your fun mini-pizza boxes! Perfectly appropriate for a bachelor party invitation… place the pizza box cutting template onto the die cut platform for the Evolution machine. Place your paper (6″ x at least 10″), design face down over the cutting template, then cover with the platform top. Place into the machine and roll it on through…
In a matter of seconds you will have a perfectly punched template. There is a random tab on the bottom of the template, which I found it easier to fold the box without – so cut it off…
Then using a firm scrapbook adhesive, fold and secure your darling pizza box!
The finished, folded size of this adorable mini-pizza box is: 3.75″ x 3.75″ x .75″
/////    It's Time to Party with the Groom!   /////
Download the design above, three to a sheet. Print onto 8.5″ x 11″ text weight paper, either at home or your local print shop. Cut out each invite card on the lines… then fill in the party info!
Attach the card to the top of the box using scrapbooking adhesive like Glue Dots…
..and then attach the other card to the inside flap of the box.
Gather up your freshly painted silly boy toys…
Fill your bachelor party boxes with whatever you please…
I think it might be time to party with the Groom…!
To seal the box, use a few pieces of manly-colored washi tape… and your done!
To save 20% off any Lifestyle Crafts or We R Memory Keepers products please use the code TURQUOISE during checkout at www.shopwer.com.
As with all our DIY tutorials, if you create one of our projects please send us a picture or a trackback – We Love Seeing Your Creativity! If you use Instagram or Twitter please use the hashtag #SomethingTurquoiseDIY. Happy Crafting!
Photography: Studio 11 Photography // DIY tutorial by: Jen | Something Turquoise // Lifestyle Crafts Evolution and Mini-Pizza Box Cutting Template: courtesy of We R Memory Keepers // Kryon spray paint, both shades of gray paper and silver striped washi tape: Michaels // travel size pain relivers, all boy toys and bottle openers: Target // nail polish: Essie – Turquoise & Caicos, and Mint Candy Apple
No related posts found.