We are super excited to share today's tutorial with you… because it's SO easy and SO charming!!! Personalized parasols are quite the rage, but if you don't have painting skills – it could be difficult to attempt. That's why we're sharing this super easy technique that uses the extremely fab, brand new decoupage glue from Martha Stewart Crafts!!! Of course you will also need beautiful paper parasols (wouldn't these make wonderful bridesmaid gifts!) ..ours are from Luna Bazaar – not only are they a steal at $8 each but they're incredibly high quality!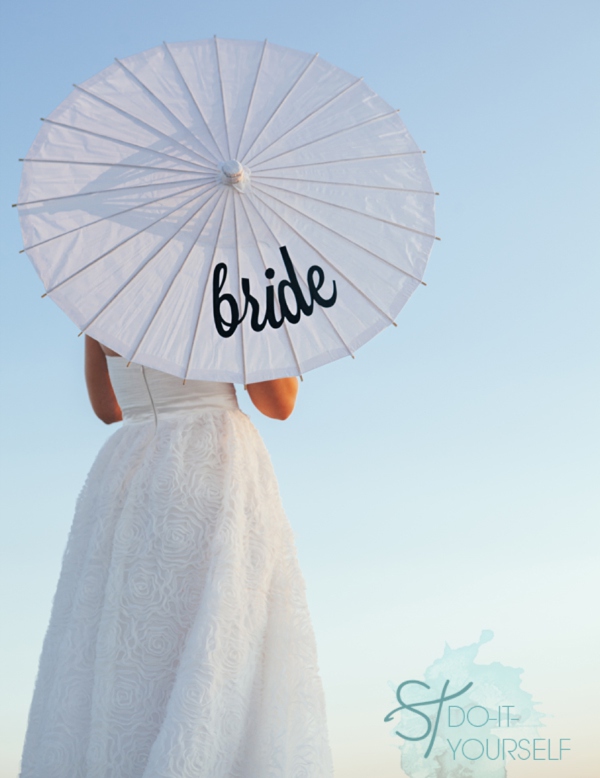 SUPPLIES:
New! Martha Stewart Decoupage Glue – Multi-Surface, Matte Finish
32″ paper parasol in your favorite color from Luna Bazaar
scissors
paint brush and dish
regular printer paper (NOT cardstock, the thiner the paper the better!)
free printout below, or design your own!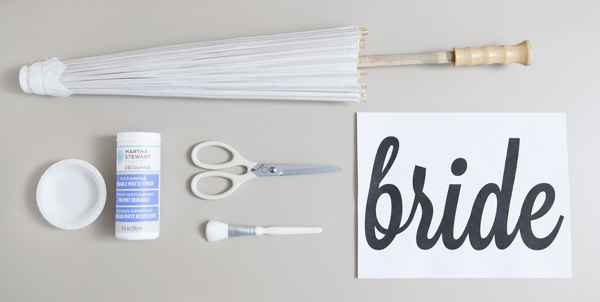 ///////// FREE 'bride' download /////////
Download and print the word 'bride' above, or design and print your own onto regular printer paper and let it dry for at least an hour. **DO NOT use cardstock – it's TOO thick for this project! Since we printed the word 'bride' onto regular printer paper using an ink jet printer we need to seal the ink – paint a thin coat of Martha Stewart Crafts brand new decoupage glue over the word. Let dry completely.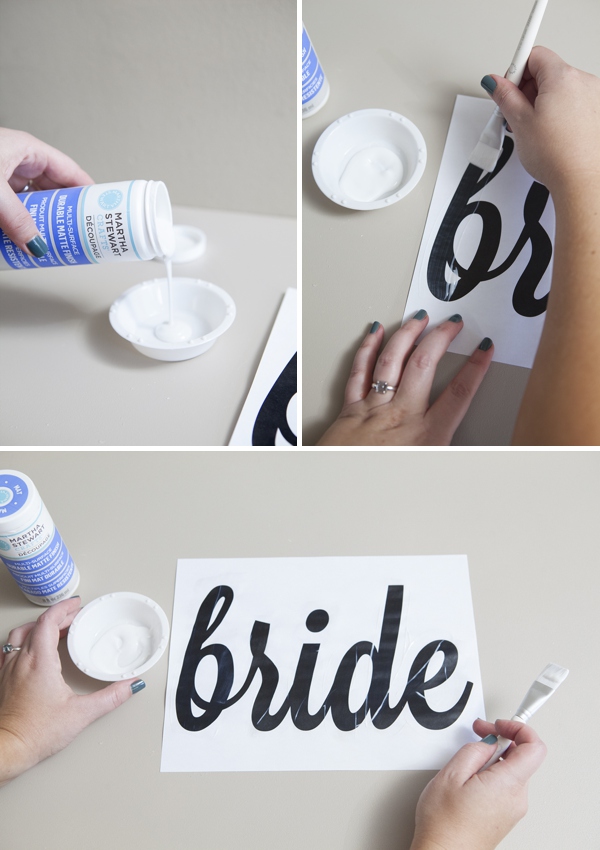 As you can see from this print out below, not all ink is decoupage safe! The paper below was painted with the decoupage glue and is completely dry. If you choose to print out your own word using a bright color, you might get streaks in the ink. But who knows, you might like it! Over and over, the black ink that we used held up perfectly to the decoupage seal – but your printer and ink might differ. *If using a laser printer – this will not be a concern.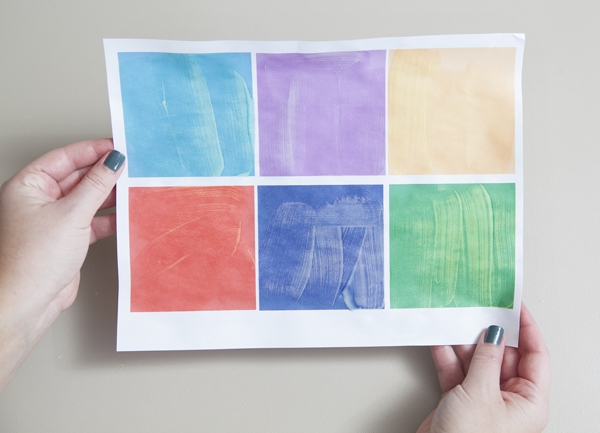 Once the decoupage glue is dry, carefully cut out the word. This step will take the longest. ***If you have a die cut machine like a Cricut, or have access to one – by all means use it!!! Make sure that you use lightweight paper, no cardstock!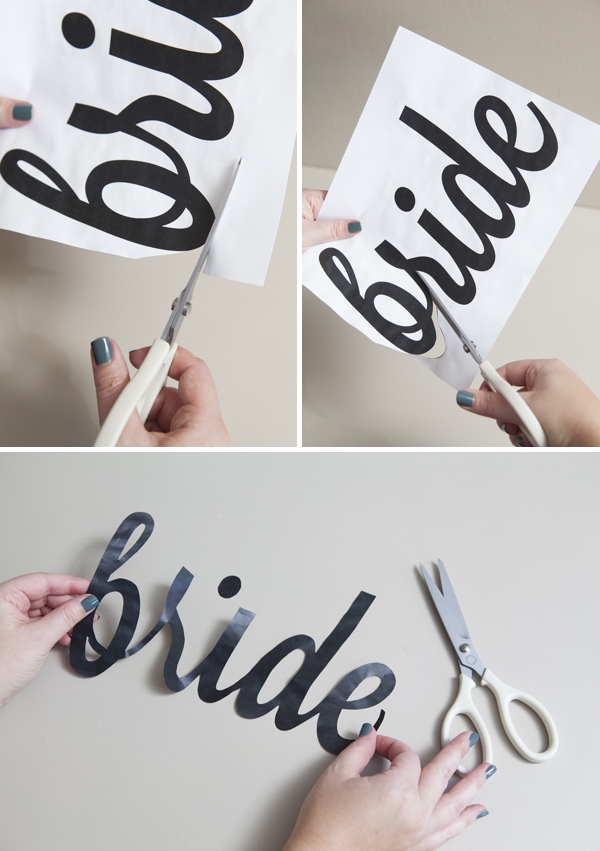 Once your word is cut out, determine where you'd like to put it on your parasol…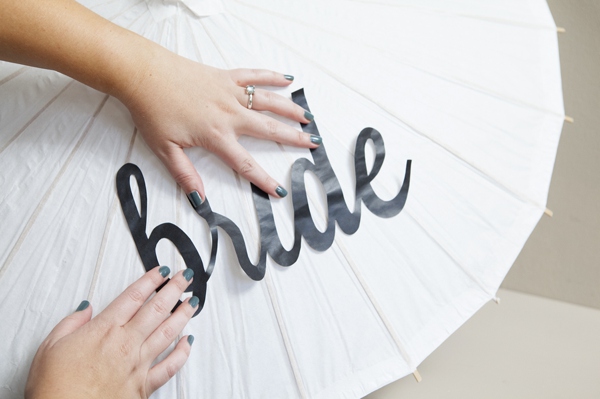 Decoupaging is simple – it's like painting with glue. First you apply one coat of decoupage to the parasol in the area where your word will go…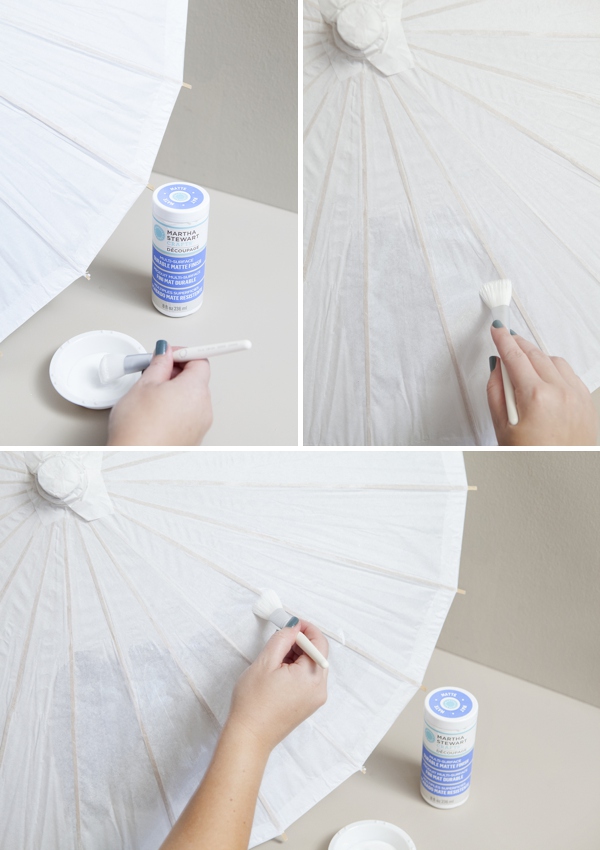 Then carefully place your word on top of the wet decoupage glue…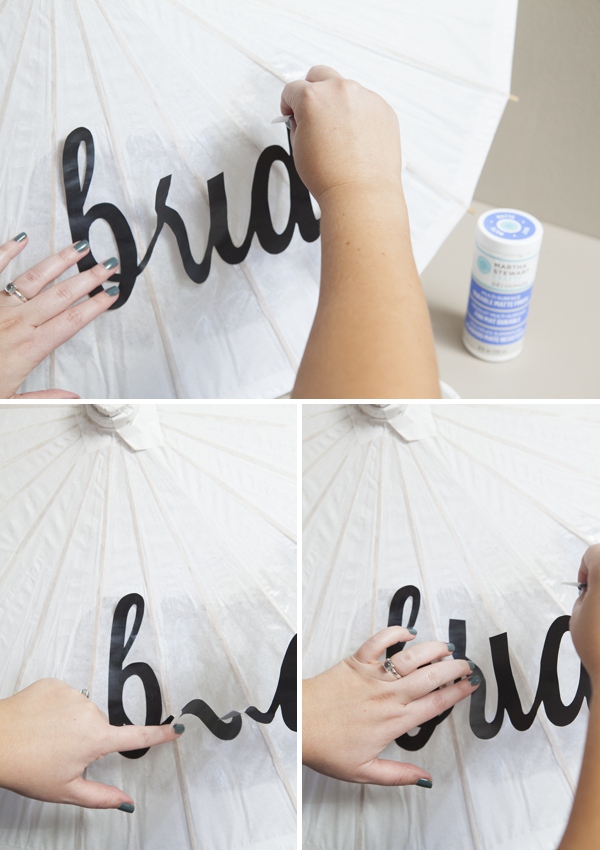 I wanted my word to bend a bit with the curve of the parasol, so I cut it in half. Paint a thin coat of decoupage glue on top of the word…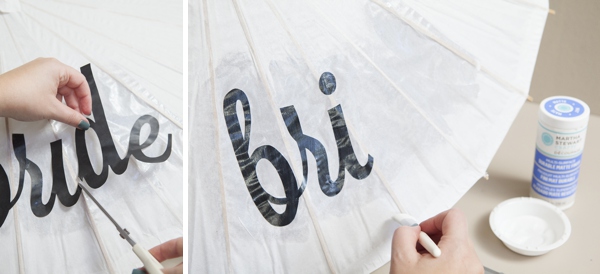 Carefully add the second part of the word at a slight tilt, and cover with a coat of decoupage glue. Once fully dry add one more coat across the entire word. *When finished, you will have no problem collapsing the parasols.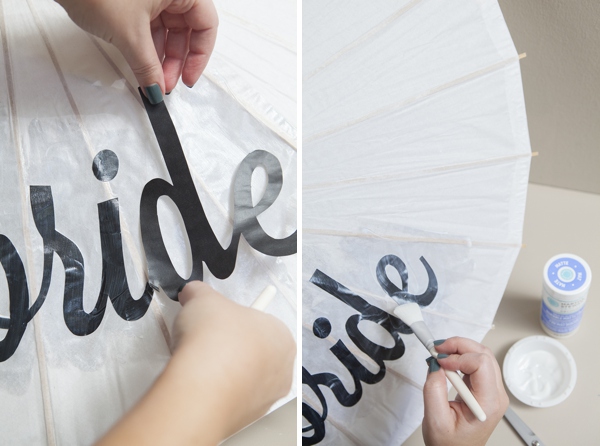 That's all there is to it, really! This new decoupage glue from Martha Stewart Crafts makes it so easy to create a beautiful, personalized wedding parasol in no time!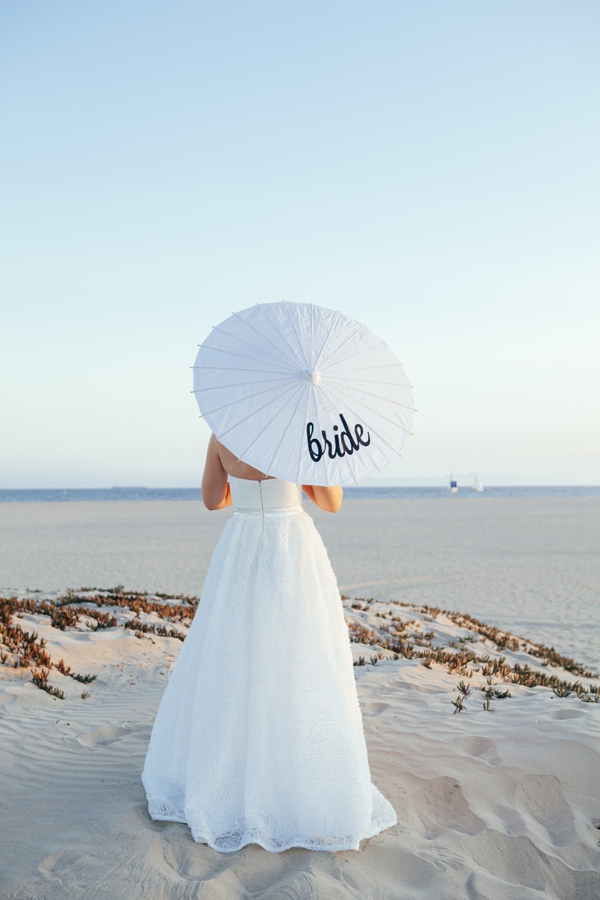 ////////// "Just Married" 1 – 2 – 3 – 4 //////////
Now lets discuss how to cut out a 'white' word! Simple, print white text on a gray background. You don't have to seal this word because there is no ink! Download all four printouts above or design your own! Cut out your design.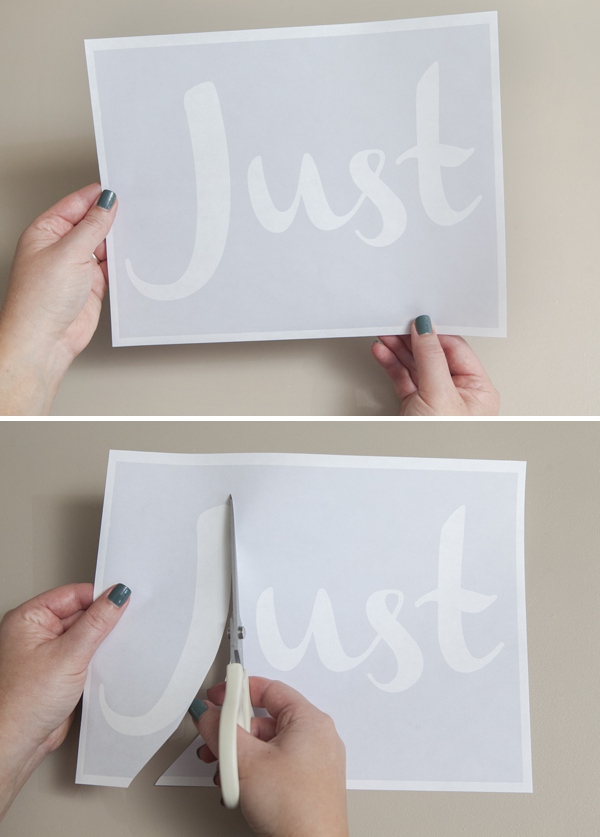 Use the same steps as above, glue first, add the word, and glue 2 times!
I'm a little obsessed with this one!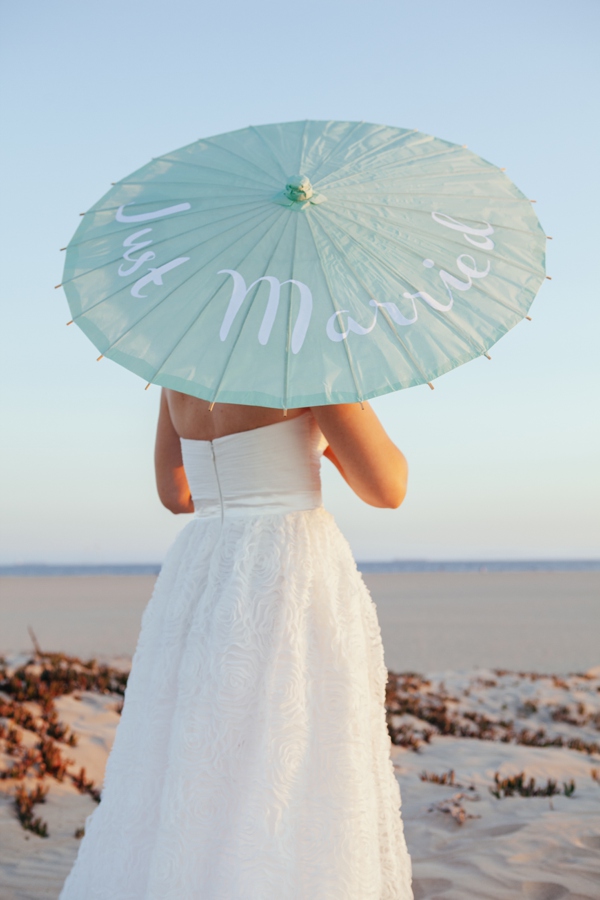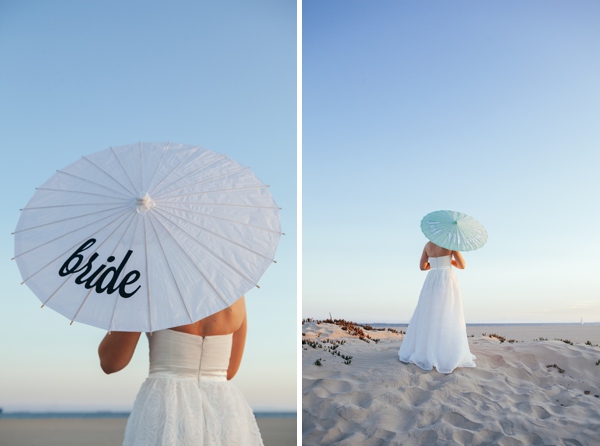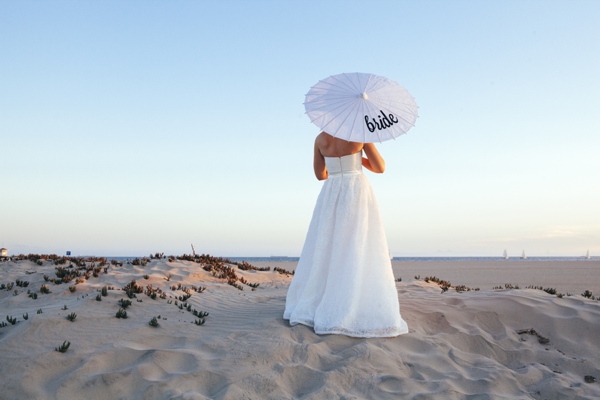 ---
Here's a fun picture of the custom wedding parasols I created for The NotWedding in San Diego in 2014. To see more from this event visit this link.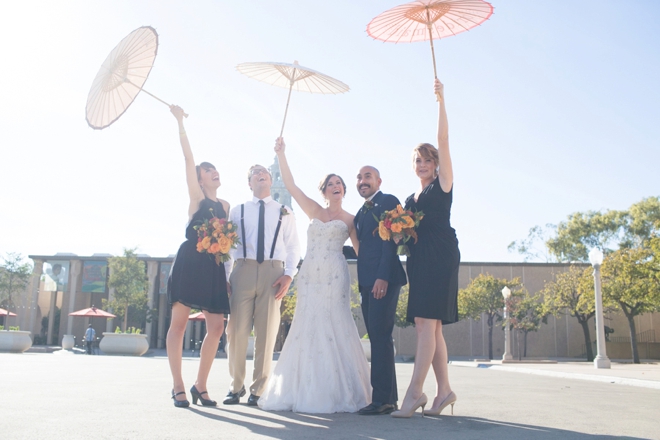 As with all our DIY tutorials, if you create one of our projects please send us a picture – We Love Seeing Your Creativity! If you use Instagram or Twitter please use the hashtag #SomethingTurquoiseDIY and it will show up on our Get Social page. Happy Crafting!
DIY Tutorial Credits
Photography: Something Turquoise Photography for SomethingTurquoise.com // DIY tutorial by: Jen | Something Turquoise // Martha Stewart Crafts Decoupage Glue in Multi-surface, Matte Finish, MSC scissors and decoupage brush: Editors at Martha Stewart available at Michaels // beautiful, high quality 32″ paper parasols in White and Robbin's Egg: Luna Bazaar // 'bride' font: Lavanderia via LostType.com // 'Just Married' font: Channel via Dafont.com // wedding dress: Nordstrom // nail polish: Essie – Vested Interest
No related posts found.