Happy DIY Friday to you!!! Today's project is super simple and absolutely adorable… while everyone is busy dipping and painting the ends of their spoons – we are glittering them! Once decoupaged correctly you will be able to wash and use these spoons without loosing any glitter! Won't these make fabulous bridal shower favors!?!
These cute wooden spoons are available at Michaels and they are only $0.99 each! Making the total cost of this favor under $1.50! What color glitter will match your special event???
SUPPLIES:
wooden spoons
Martha Stewart Decoupage Glue in Gloss Finish! UPDATE 8/28/13 Please use the NEW MSC decoupage glue!!! Not the one pictured, it's WAY better! I created this tutorial before it was released!
Martha Stewart Glitter in your favorite shade
Martha Stewart Stencil Tape
cheap paint brush
stamp, stamp pad, tags and twine
elevated area where the spoons can dry
Using MSC stenciling tape, mask off each spoon. If you'd like the glittered area on each of the spoons to be at the same height, simply make a mark on a scrap piece of paper and measure the stenciling tape accordingly.
Get your glittering 'station' set up. You will need a paper plate or piece of scrap paper so that you can save the excess glitter and a place where you can let the spoons dry.
Thoroughly and evenly paint the MSC decoupage glue onto one spoon.
UPDATE 8/28/13: Martha Stewart Crafts just came out with an amazing NEW decoupage glue that is SO much better than this one! Make sure to use the new glue instead of this one, it was released after I published this project!
Next add the glitter! Cover the entire decoupaged area with your favorite shade of glitter and then remove the stencil tape right away. If you let the glue and glitter dry on the tape – when you try to remove it – it might pull glitter with it. Then put the spoon in a safe place where it can dry completely, about 2 hours. You can set them on the top of a shoe box like I am doing here, you can let them hang off your craft table, or even tape them to the bottom of a cupboard… where ever you have space will work!
Now for the second coat of MSC decoupage glue! This coat will completely seal the glitter making it safe to use and wash. If you use the brush that comes in the glue container – you will risk getting loose glitter back into the container. Put some glue in a little dish or on a paper plate and use a cheap paint brush to apply the 'sealing' coat. Make sure you have thin even coverage, if too thick the glue will drip or pool when drying. Let dry for at least 24 hours before using or washing.
Next make a cute tag and tie a bow… that's all there is to it!
These glam glittered spoons will make fabulously cheap and crafty bridal shower favors that your guests will actually enjoy using! ***PS. we don't recommend dishwashing these!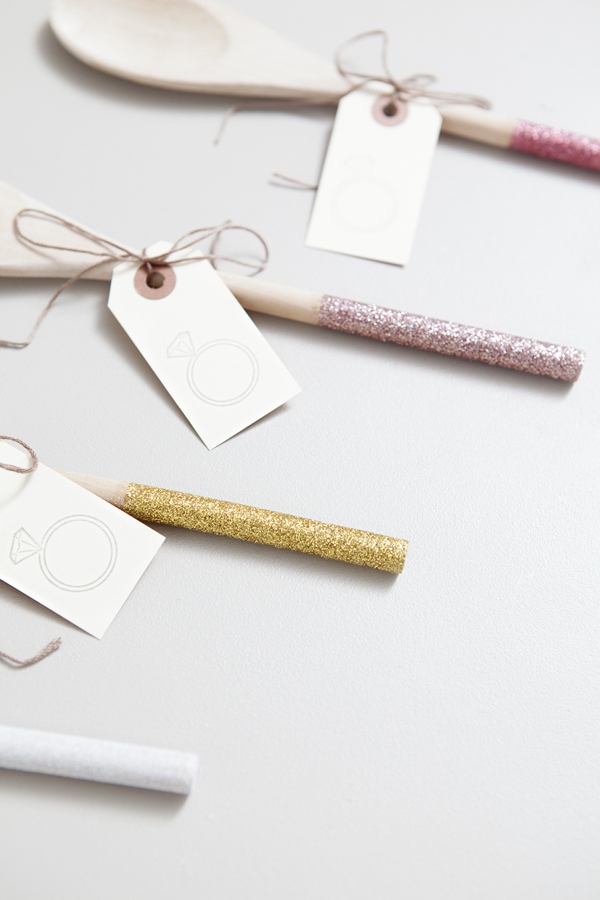 As with all our DIY tutorials, if you create one of our projects please send us a picture – We Love Seeing Your Creativity! If you use Instagram or Twitter please use the hashtag #SomethingTurquoiseDIY and it will show up on our Get Social page. Happy Crafting!
DIY Tutorial Credits
Photography: Something Turquoise Photography for SomethingTurquoise.com // DIY tutorial: Jen | Something Turquoise // I purchased all my supplies (Martha Stewart Decoupage Glue, Stenciling Tape and Glitter in Carrara Marble, Citrine, Rose Quartz, and Coral Pink, wooden spoons, twine, tags, stamp pad and engagement ring rubber stamp at: Michaels // nail polish: Essie – Trophy Wife
Shop The Supplies:
Find the supplies you'll need for this project from our affiliate links below:
No related posts found.