Why do we settle, and buy the lame bachelorette party supplies that are out there!?! Don't you dare purchase a half-plastic bachelorette party sash for your friend (or yourself) when you can easily make an awesome one – using whatever color is her fave! Also, once one of these is made for your group of friends it can be passed down from bride to bride!
SUPPLIES:
2 yards of 3″ wide ribbon
2 yards of fun trim
iron on letters (ours are by Simplicity)
matching thread
sewing machine
ruler, scissors and pins
iron
Start by folding your ribbon completely in half and pinning it. The wider the ribbon the better, ours is 3″ wide. Mark 1.5″ down on one side of the ribbon and draw a line to the corner of the fold, ad another pin to secure.
Then sew across your line. This will make the perfect angled seam for the top of the shoulder. Cut the excess ribbon and remove the pins.
Next, add some fun trim to the bottom edge of the sash!
Now for the iron on letters! There are SO many kinds of letters to choose from… you can even paint, draw, or design your own iron ons – the sky is the limit! Lay them all out before you start ironing so you get a feel for the spacing…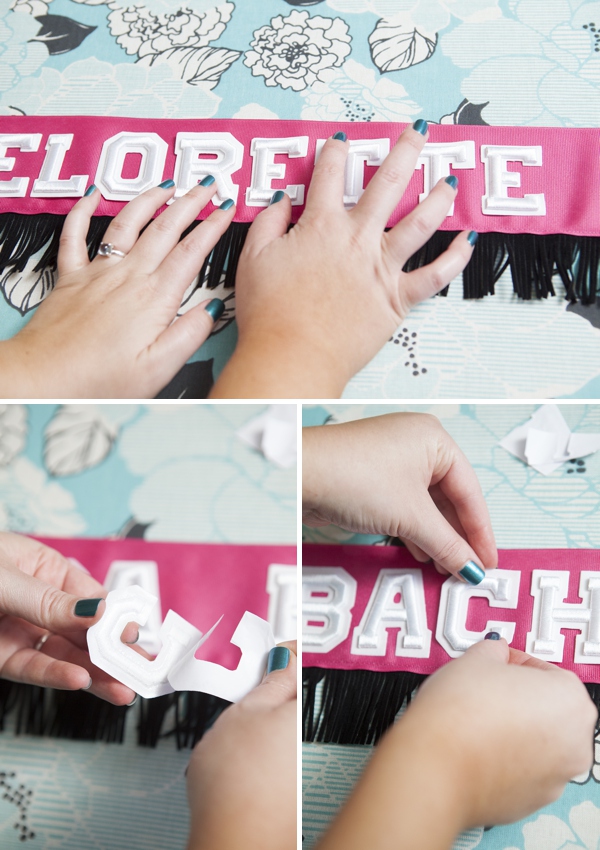 Follow the manufactures instructions for your specific iron-on letters.
SO fun… and so freaking easy.
The best way to find the bottom seam is to try on the sash and pin it together at your hip.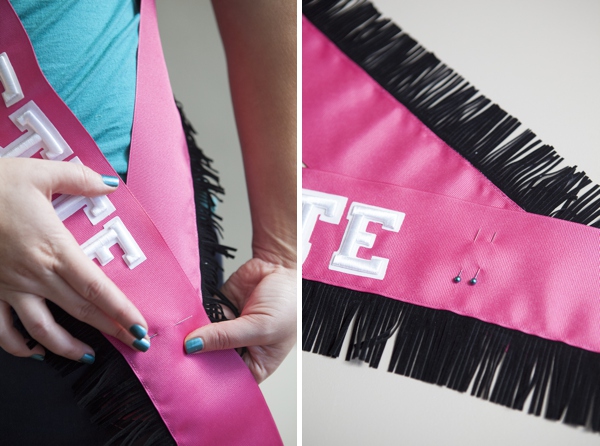 Then draw a line perpendicular to the top of the sash and sew across it. Trim the excess away and if you are fancy, give the edge a little finishing zigzag stitch.
To finish off the sash, add a spare piece of trim to the bottom seam.
That's all there is to it ~ so do your friend (or yourself) a favor and make her a special sash instead of buying a cheesy one!!!
As with all our DIY tutorials, if you create one of our projects please send us a picture or a trackback – We Love Seeing Your Creativity! If you use Instagram or Twitter please share using the hashtag #SomethingTurquoiseDIY. Happy Crafting!

Photography: Studio 11 Weddings // DIY tutorial by: Jen | Something Turquoise // all sash supplies (ribbon, trim, thread, iron on Simplicity letters) from: JoAnn Fabric & Craft Stores // ironing board and iron: Target // sewing machine: Romeo from Husqvarna Viking // nail polish: Essie – Trophy Wife
No related posts found.