I hate to be the one to tell you… but something WILL go wrong on your wedding day. No special event can go off without even the littlest hitch, so prepare yourself the best you can by building your very own Bridal Emergency Kit! Below is a list of the necessities but make sure to add your own items to this preventative case! You might want to add a pair of contacts, an extra copy of your vows, or maybe even a spare set of wedding rings! The best way to determine what you personally need to add to this list is to think about what would constitute an emergency for you… and how you could prevent it!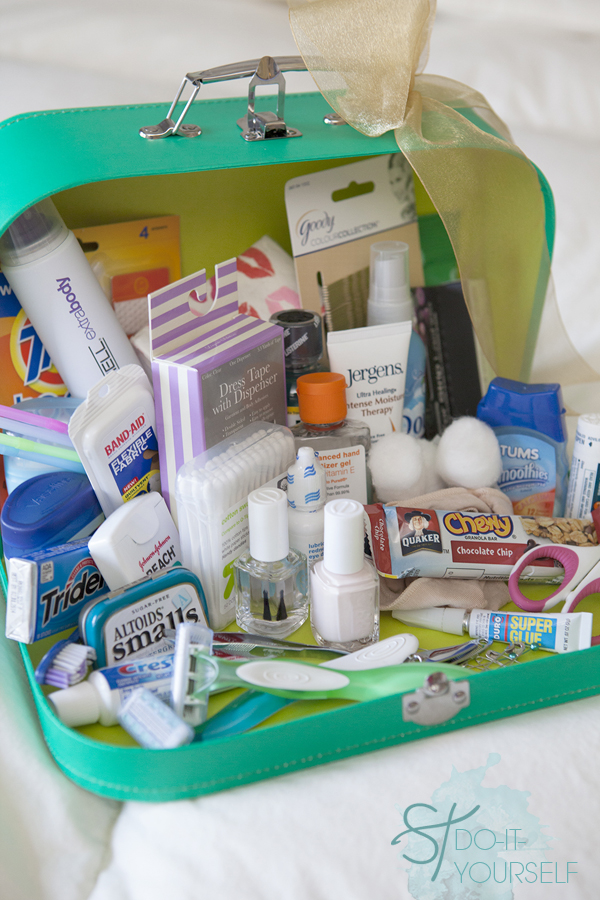 BRIDAL EMERGENCY KIT NECESSITIES:
1. Facial cleansing cloths // 2. Mouthwash // 3. Body lotion // 4. Your favorite pain killer // 5. Antacid tablets  // 6. Wrinkle release spray // 7. Firm hair spray // 8. Tapons/pads // 9. Dental floss // 10. Mints // 11. Toothbrush // 12. Toothpaste // 13. Gum // 14. Nude Lipgloss and Chapstick // 15. Tweezers // 16. Vaseline – a great use for vaseline is rubbing it on your foot where a high heel might be rubbing your skin the wrong way – it completely reduces the friction! // 17. Eye drops // 18. Extra pair of panty hose and extra nude thong – that's right one of your girls might forget hers! // 19. Bobby pins // 20. Q-tips // 21. Safety pins and corsage pins // 22. Extra earring backs // 23. DIY sewing kit (details below) // 24. Bandaids // 25. Lint roller // 26. Straws – so all the beautiful girls won't ruin their dresses or makeup while drinking // 27. Dress Tape (Target) // 28. Nail file and clippers // 29. Cotton Balls // 30. Nail polish and top coat, in your choice of color (Mimosas for Mr & Mrs, Essie) // 31. Disposable razor // 32. Clear Deodorant // 33. Tissues // 34. Super glue and Fake eyelash glue… just in case a heel breaks or an eyelash pulls away! // 35. Body spray or perfume // 36. Tide to-go stain erasers // 37. Granola bars // 38. Little pair of scissors – great for cutting tags // 39. Hand sanitizer // 40. Hair ties. Make sure you put all the tiny items in a small ziplock bag so you don't loose them!
Other than building this kit yourself, there are only two real 'DIY' elements to this project. One – design or download a cute label for your bridal emergency kit. Two – take a small piece of cardstock, cut a few slits in it and make your own sewing kit. You can easily buy a kit – but – it won't have the exact colors of thread you might need on your special day. Make sure to include the colors of your dress, guys attire, your bridesmaids and your mother and mother-in-laws attire – with threads of those colors you'll be ready for any wardrobe malfunction!!! Don't forget a few needles!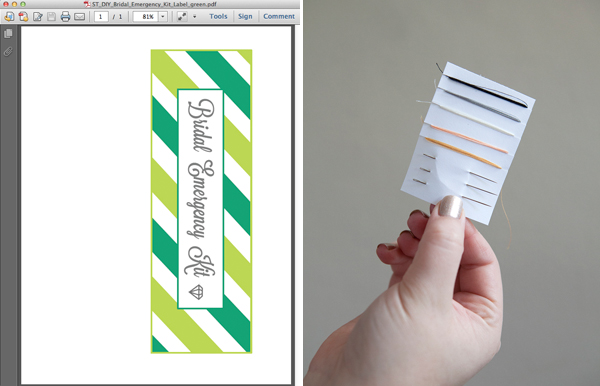 Print the free download below onto sticker paper, cut out and apply to your cute suitcase!
Shades of Green   ///   Shades of Gray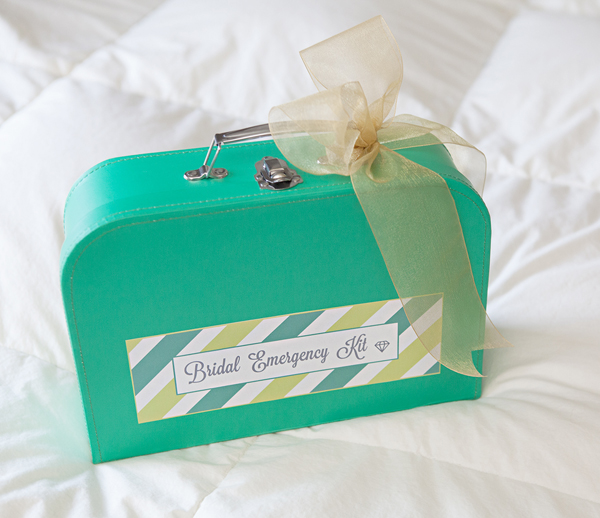 What's great about bridal emergency kits like these is that they can be taken to the reception venue and placed in the bathroom – just in case any of your guests have a small emergency! Also, many of the items can be quickly added to your honeymoon bag!
TO ENTER GIVEAWAY // Simply leave a comment below (either by the Facebook widget or in the regular comment area) with why you'd love to win this entire 'Bridal Emergency Kit' valued at over $100! Winner to be announced next Friday the 10th – here in the comments section and on FB!!! You will receive everything you see in the picture above – including the darling suitcase!!! (Smashbox lipgloss and DKNY travel perfume not included)

As with all our DIY tutorials, if you create one of our projects please send us a picture or a trackback – We Love Seeing Your Creativity! If you use Instagram or Twitter please use the hashtag #SomethingTurquoiseDIY. Happy Crafting!
Photography: Studio 11 Weddings // DIY tutorial and FREE download by: Jen | Something Turquoise // darling paper suitcase (the largest one in the set): The Land of Nod // all these fabulous emergency goodies were purchased at Target and Ulta // sticker paper: Staples // nail polish: OPI Designer de Better
No related posts found.