You all know how much I love DIY Friday… and I'm beyond excited about sharing today's project with you!!! I feel like I am always on the look out for what could be a truly meaningful wedding favor; one that your guests will actually take home with them to remember your special day. I regularly use an everyday type seasoning salt on my roasted veggies, my baked potatoes and even my salads so I got to thinking how fun it would be to create a recipe for seasoning salt or 'love spice' that could be given out as wedding favors! This project is not only super easy but also cost effective; with a favor like this only one is required per family! When you give these as your wedding favor, you know that your guests will think of you each time they use this yummy spice! After all, Love is the Spice of life…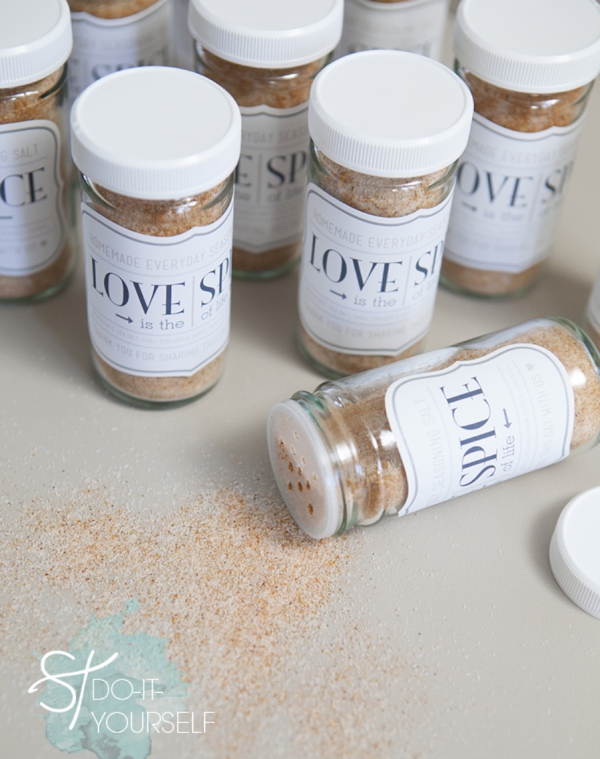 SUPPLIES:
these darling glass spice jars from SpecialtyBottle.com
Martha Stewart Home Office 'flexible name badge' labels
measuring cups and 1/2 teaspoon measuring spoon
funnel
sea salt
chili powder
ground coriander
garlic powder
ground mustard
onion powder
ground paprika
ground pepper (black or white)
To start, each 4oz spice jar will hold exactly 1/2 cup of 'love spice'… the recipe is as follows: 1. a little less than 1/2 cup of salt 2. 1/2 teaspoon of each spice (chili powder, ground coriander, garlic powder, ground mustard, onion powder, ground paprika + ground pepper)
Measure the salt. *Note: You can get a little more than 6 servings of salt from this size salt container. Then in a separate bowl, measure 1/2 teaspoon of each of the seven spices.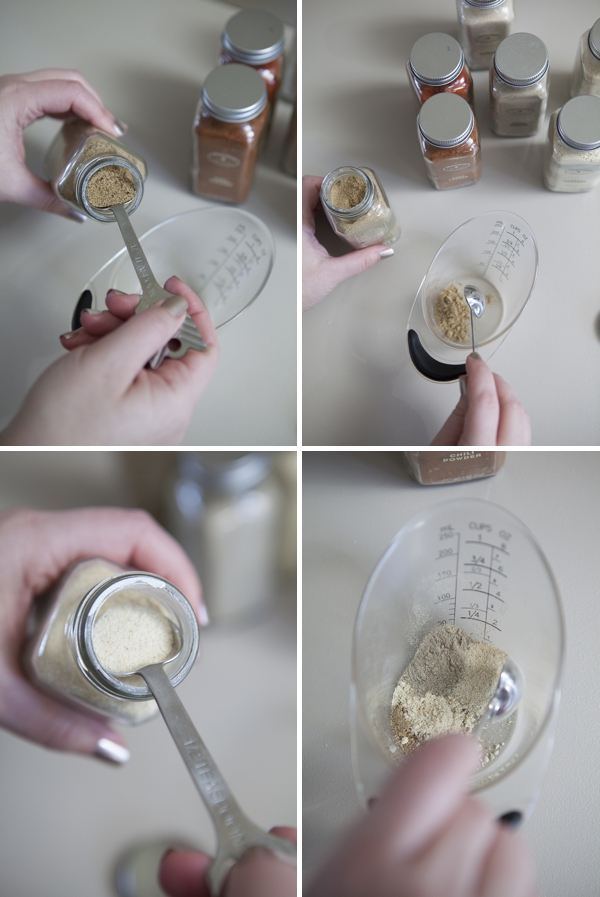 You can make this recipe in individual batches or in one large batch.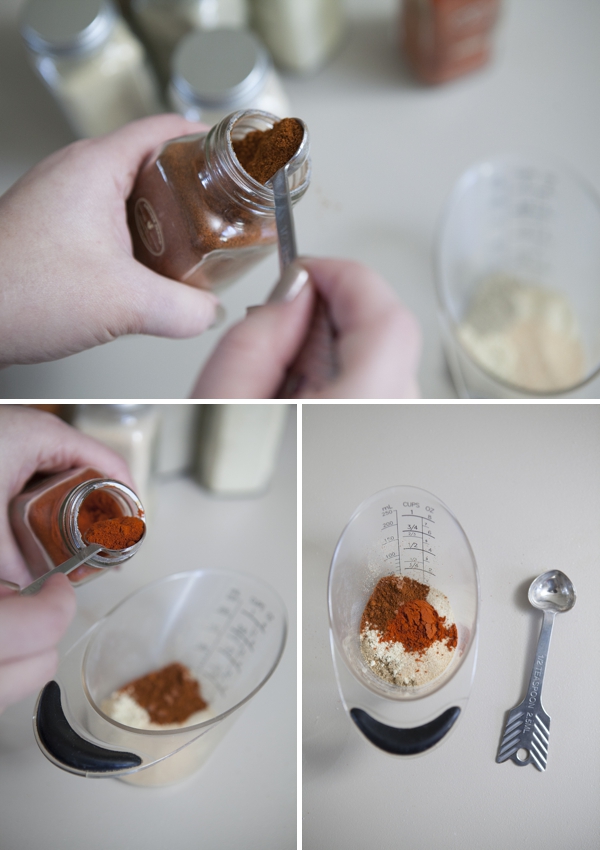 Once all seven spices are measured, thoroughly mix them together.
Then add your spice mix into the salt and completely blend them together.
Using a funnel carefully pour your homemade seasoning salt into your spice jar.
Firmly attach the shaker insert and screw on the lid. So easy and so yummy!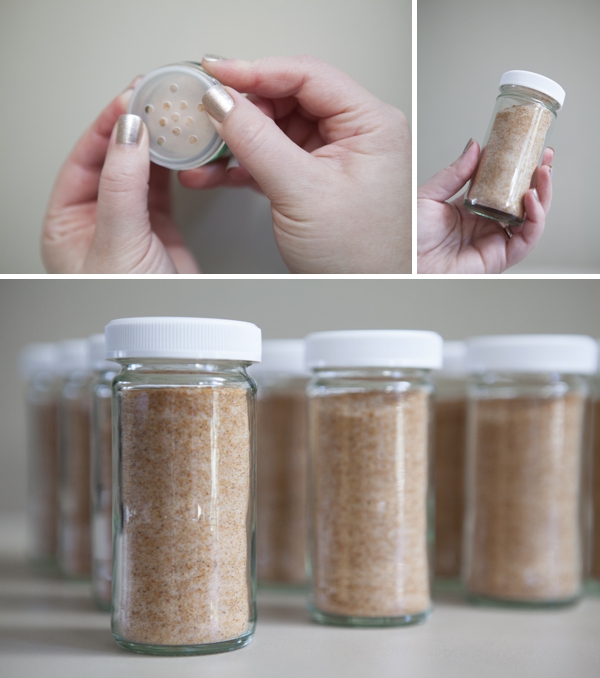 Download and print these FREE and adorable Love is the Spice of Life jar labels!
POST UPDATE 9-19-17: Unfortunately Staples no longer sells these labels, so I created a printable file that is for an 8.5″ x 11″ piece of sticker paper. Download the new file here!
Carefully apply these darling labels onto your jars full of spice!
Applying the label is easiest while the jar is laying flat…
These are such darling favors and every time your guests go to season their grilled chicken, their avocado or french fries… they will surely think of you and your special day!!!
Tie a seating card on each jar and you have your favor and escort all wrapped in one! *Remember – for this type of favor, only one is required per family – which saves you a bit of time and money! This spice mix can be made way ahead of time and will last up to a year if fresh spices are used and it is stored properly.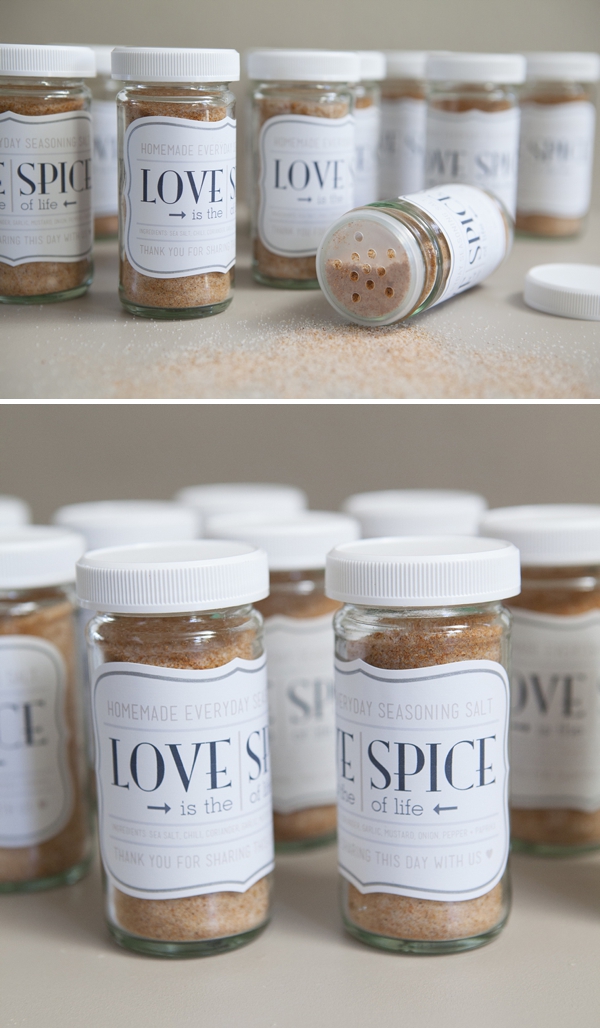 As with all our DIY tutorials, if you create one of our projects please send us a picture or a trackback – We Love Seeing Your Creativity! If you use Instagram or Twitter please use the hashtag #SomethingTurquoiseDIY. Happy Crafting!
DIY Tutorial Credits
Photography + DIY Tutorial: Photography + DIY Tutorial: Jen Carreiro of Something Turquoise // darling 4oz round glass spice jars: Specialty Bottle // Martha Stewart Home Office flexible name badge labels: Staples // all my spices and salt: Target // measuring cups and funnel: Pampered Chef // nail polish: OPI Designer de Better and Skull & Glossbones 
No related posts found.