Yeah, Happy DIY Friday!!!! This is our very first DIY tutorial of 2013… and a terrific one at that! Since our 'poured mason jar candle' tutorial from two years ago has been the most viewed post ever on our website… I figured it was about time for a new version… so here it is, the tinted mason jar candle! Correction, this jar isn't exactly a 'mason jar' it's a jelly jar – did you know that the jelly jar is the new mason jar? In this tutorial we will be covering a few different techniques that in the end create this adorable gift below…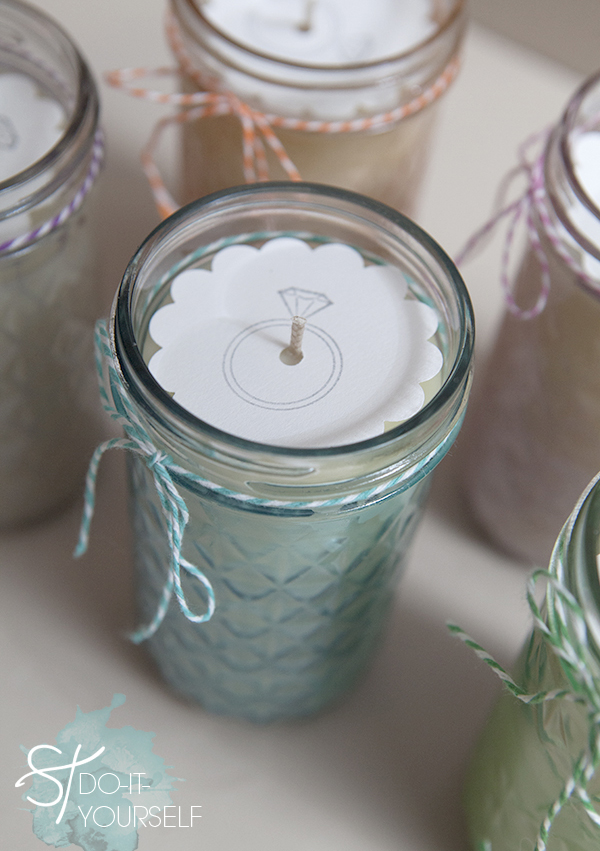 SUPPLIES:
12 ounce jelly jars
we are using beeswax beads here but we prefer soy wax flakes
pouring pot
cheap wooden spoon
your choice of scent (10z per 1 lb of wax)
wick stickums
metal wick bar
wick core, wick tabs and pliers (or pre-made wicks, they work exactly the same)
4 pounds of wax makes exactly 7 of these 12oz jars – pictured below is one pound.
SUPPLIES CONTINUED:
Martha Stewart 'Liquid Fill' Glass Paint is an absolute MUST for tinting these jars – by far this is the easiest technique for tinting glass jars and has the best range of colors.
EK Tools 2 1/4″ inch scallop punch
cute stamp and stamp pad
hole punch
cute twine
rubbing alcohol
wax paper
old wrapping paper roll
scissors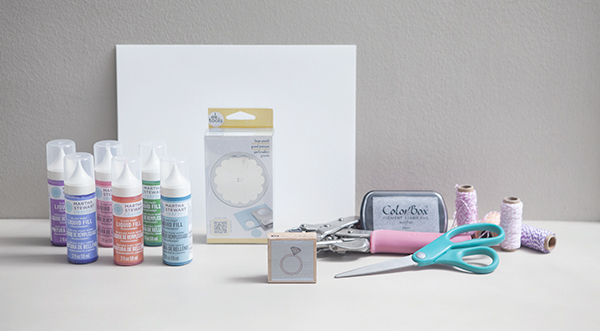 This tutorial has quite a few steps and they take time, it could take all weekend to complete this project. You need to tint the jars, cure the jars, pour the candle and decorate… so take your time and have fun crafting!
/////   How to Tint Mason Jars with Martha Stewart Glass Paint   /////
To start you need to clean the outside of your jars with rubbing alcohol…
Using a wrapping paper roll, slice off 2″ sections of the cardboard for your jars to dry on. Next, set up your painting area, it needs to be covered with at least two sheets of wax paper – the paint will bleed through one sheet! Also know that when tinting these jars they literally need to dry for at least 12 hours and you cannot easily move them, so clear an area for them to dry that is out of the way.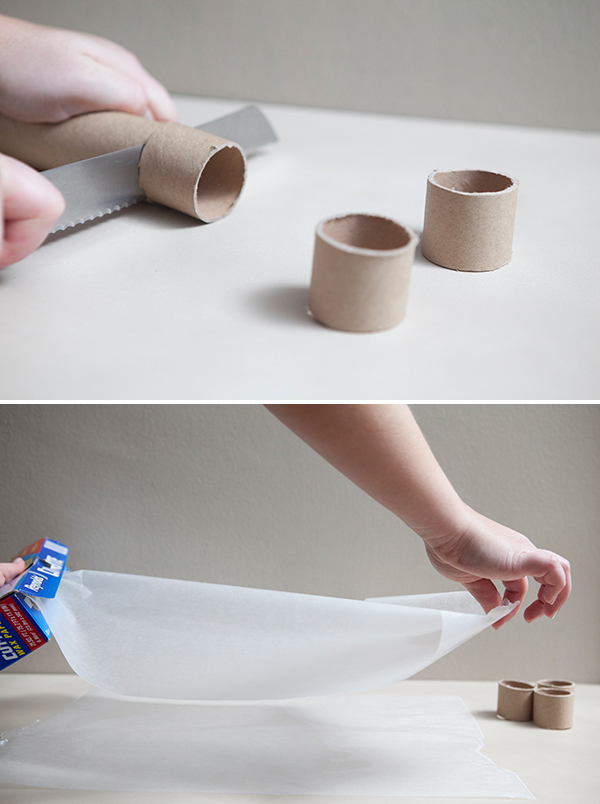 Beginning under the lip of your jelly jar start squeezing paint onto the glass, letting it drip down the jar. You need to cover every speck of glass with paint by moving the tip of the bottle around while squeezing the paint out. Once covered the paint will begin to drip excessively – this is what we want. Place the painted jar on your cardboard stand and on top of at least two sheets of wax paper and let it dry for about 12 hours. You will be amazed at how much this paint will drip! Don't touch it, just let it do it's thing. When completely dry, carefully pull the cardboard base off the glass – if a little paint comes with it, smooth it back onto the glass and don't worry about what the bottom looks like! There is a huge difference in color from wet to dry, just like the image below… you will visually be able to tell that the paint is dry.

/////   Martha Stewart 'Liquid Fill' Glass Paint Tip   /////
This paint needs to be shaken like a gallon paint can at Home Depot – no joke. After you buy these paints turn them upside down on your counter and let them sit for an hour or two, this lets all the paint pigment that has settled to the bottom of the tube work it's way back through the paint – then SHAKE before you are going to use the paint. I had hubby do this for me. If you choose not to do this small step, there is a possibility that the paint will dry clear and not beautiful like below. I am telling you this from experience! When you look at these paints you can sometimes see the pigment separation towards the bottom. The colors I used are from left to right, Polar Blue, Freesia, Sweetgrass, Purple Orchid, Red Coral, and Pink Hyacinth.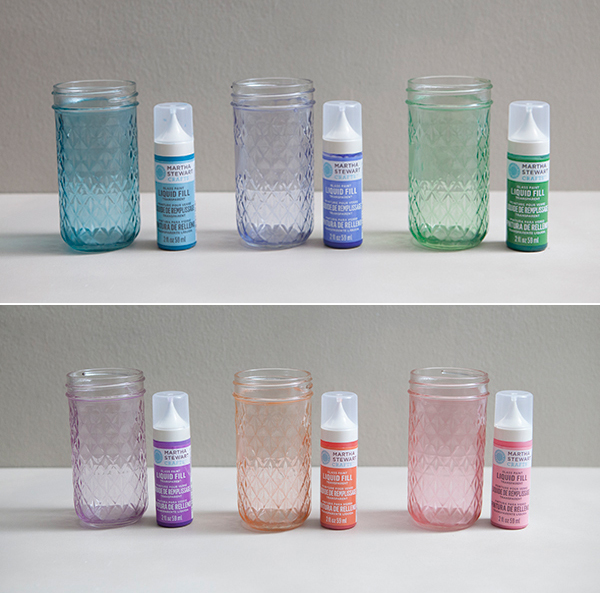 Per the curing techniques on the bottle and website; either let them air dry for 21 days or oven bake. To oven bake put your completely dry tinted jars in a cold oven, turn it to 350 degrees and set a timer for 30 minutes. When the time is up turn off the oven and let the painted jars cool down completely before removing them from the oven. This glass has NO problem withstanding heat… after all it is a Ball Jar…
/////   How to make your own Wicks   /////
This step is completely optional. You can absolutely use pre-made wicks, I just wanted to show how this is done. Cut your desired length of wicking and thread through an new wick tab. Using a small pair of pliers, crimp the wick tab ends over the wicking to secure it. Purchasing wick supplies and making them yourself can be much more cost effective than buying pre-made wicks – especially if you are making lots of wedding favors!
Next, place your wicks into your beautifully tinted jars. First apply wick stickums to the bottom of each wick, drop the wick into your jar and using a pencil or the like, press the stickum securely to the bottom of the jar.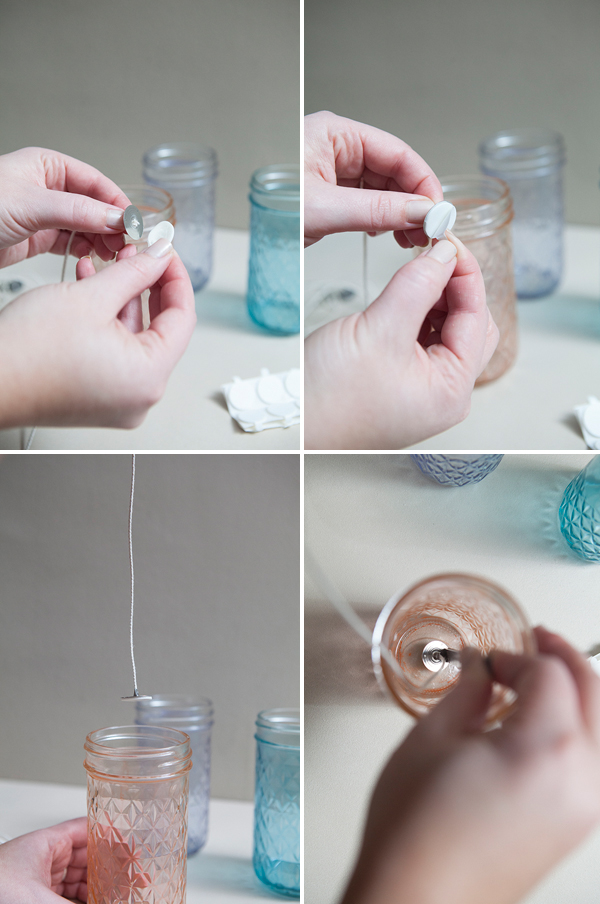 Using a wick holder tie and secure your wick above the top of the jar so there is no slack.
/////   Pouring your own Candle   //////
There are many ways to melt and pour your own candles – here is my simplified version. Carefully melt your wax in a pouring pot over medium heat – DO NOT boil and don't scorch. I'm using beeswax here, but you can use any kind of candle wax that you would like.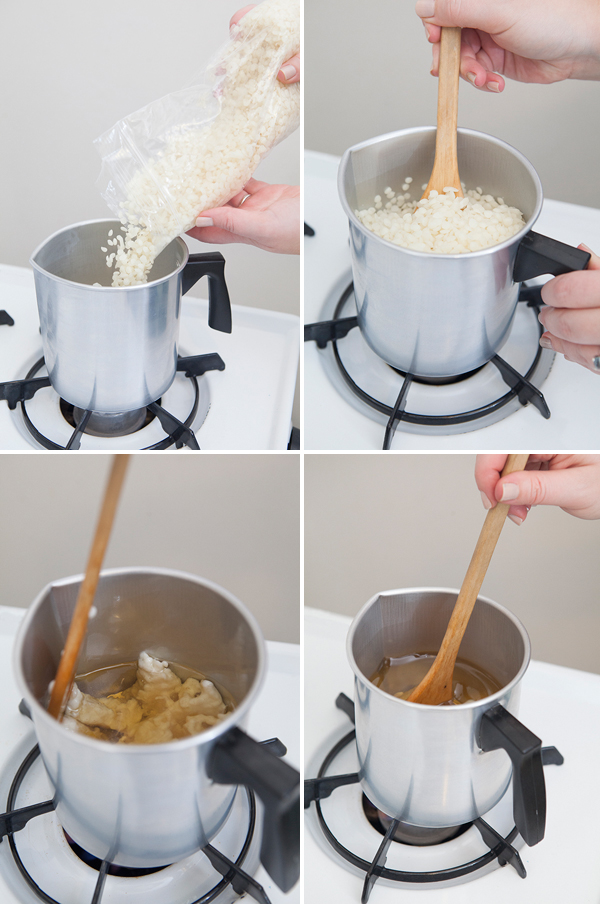 Once completely liquid, turn off the heat and add your scent- a normal measure is 1 ounce of scent oil per 1 pound of wax. You might like to add more or less, or maybe none at all – scent is up to you!
This is an important step; before you pour your candle the wax needs to cool down. To avoid having to use thermometers, a good measure that the wax is ready to pour is when it starts to solidify on the sides of your pot and on your spoon… this usually takes around a half hour. Once the wax has cooled down, pour your candle leaving a little room in case you need to top it off.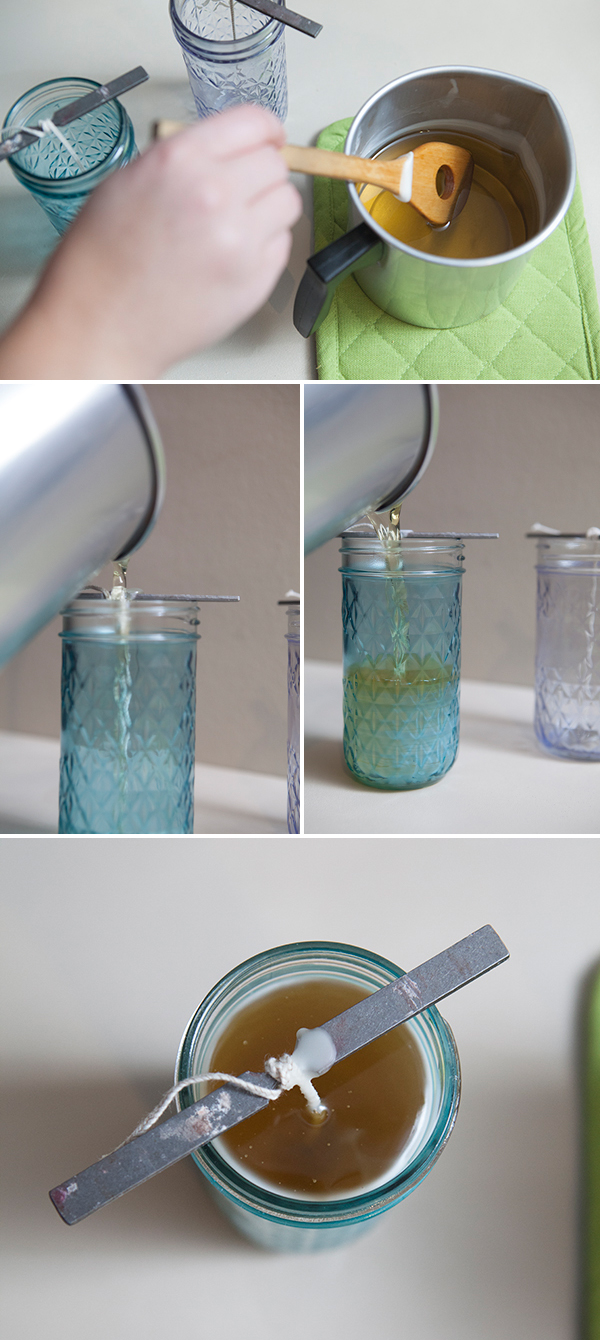 This candle cooled wonderfully. But if yours cooled with a crack or divot, just remelt a little left over wax and re-pour the top layer. The important thing to note is that you need to completely cover the top of the candle with your second pour to make it look smooth from edge to edge.
When ready, snip your wick… and your done!
…beautiful, Anthropologie worthy candles! Aren't they just dreamy…
I also poured a candle into a jar that I didn't tint… that one is right in front…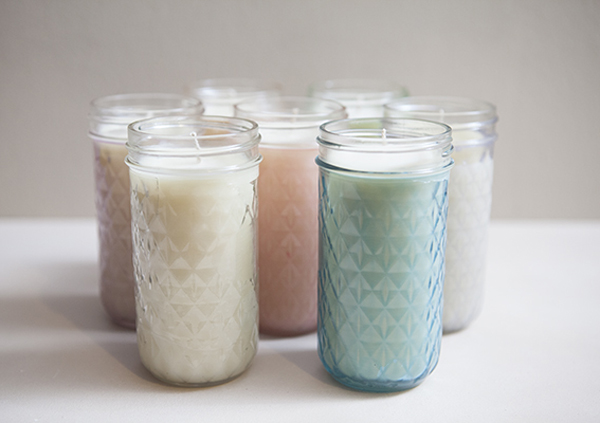 These candles would make terrific bridesmaid gifts… they might be a little expensive as favors, but definitely great thank you gifts for special people who helped you with your wedding planning including vendors.
To make these adorable tags you need to find a punch that perfectly fits the inside of your jar. If you are using these exact jelly jars this punch is the only one I could find and it worked perfectly! Purchased on Amazon, link in the credits. Punch cardstock, stamp with a cute stamp and hole punch the middle.
The hole punch allows your wick to go through the adorable tag so it can set flush against the candle wax… so cute!
Just darling! These would also make great additions to your table decor… can you imagine them beautifully lit durring your reception… I can!
As with all our DIY tutorials, if you create one of our projects please send us a picture or a trackback – We Love Seeing Your Creativity! If you use Instagram or Twitter please use the hashtag #SomethingTurquoiseDIY. Happy Crafting!

Photography: Studio 11 // DIY tutorial by: Jen | Something Turquoise // wax, pouring pot, all wick supplies, and scent:  CandlesAndSupplies.com // 12 ounce Ball Quilted Crystal Jelly Jars: Amazon (they are available almost everywhere online but a little tough to find in store) // Martha Stewart Crafts 'Liquid Fill' Glass Paints, wedding ring rubber stamp, Crop-a-dile Hole Punch, and ColorBox Silver stamp pad: Michaels // EK tools 2 1/4″ large scallop punch: Amazon // cover weight cardstock in Superfine White and cute twine: Paper-Source // small Craftsman pliers: Sears // nail polish: OPI Get me to the Taj on Time, OPI Designer.. De Better
No related posts found.