I think you need a super cute jar to help remind you to save all your extra $$$ for your amazing honeymoon! If these darling jars don't make you want to fill them with cash – I don't know what piggy bank will! Make a commitment to yourself to always add something to this jar and before you know it you will create a nice little honeymoon nest egg. It would also be darling to have out on the gift table at your bridal shower!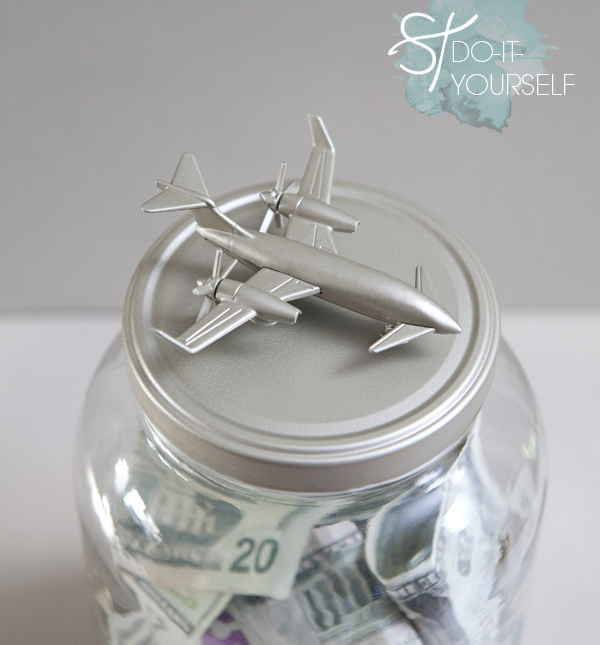 Where are you going and what toy will fit your travels? Airplane, palm trees… the Eiffel Tower?
SUPPLIES // either a gallon or half gallon glass jar (available for $4 at SpecialtyBottle.com), your choice of spray paint, your choice of little toy, E600 Glue (this glue is a must!), Martha Stewart Glass Etching Kit, and Martha Stewart Adhesive Stencils and patterning tape – these come in multiple fonts styles, pick one that you like!
First, throughly clean your lid with rubbing alcohol to remove any oil.
Using E600, glue your choice of toy to the top of the glass jar lid – let dry for a few hours.
While your lid is drying – etch a saying into your glass jar. First clean the glass with alcohol.
Start by taping a straight line across your jar to keep your words alined. Then start applying your adhesive stencils… make sure that each one has a good seal. If any glass etching leaks under the stencil – there is no going back!
After all your letters are added, tape off the area to make sure that no glass is showing.
With gloves on, start applying a generous amount of etching cream. It is very thick and doesn't drip. Make sure you pile it on and then set a timer for 15 minutes…
When the time is up, rinse – rinse – rinse… until there is no etching cream left. Then wash with soap and water, dry the jar and carefully remove your stencils.
That's it! So cute and very easy. What will yours say? Your initials…
Honeymoon Fund…
Save… it's completely up to you!
Once the glue is dry, apply thin layers of your spray paint. I did four thin coats here.
Make sure to get the underside too!
Are you in love? I am!!!
This is such a fun and easy project! These jars can be used over and over to save for trips in the future… not just your Honeymoon – it could be a new saving tradition! Unfortunately the etching didn't show well on film with the $$ in the jar – but it looks great in person!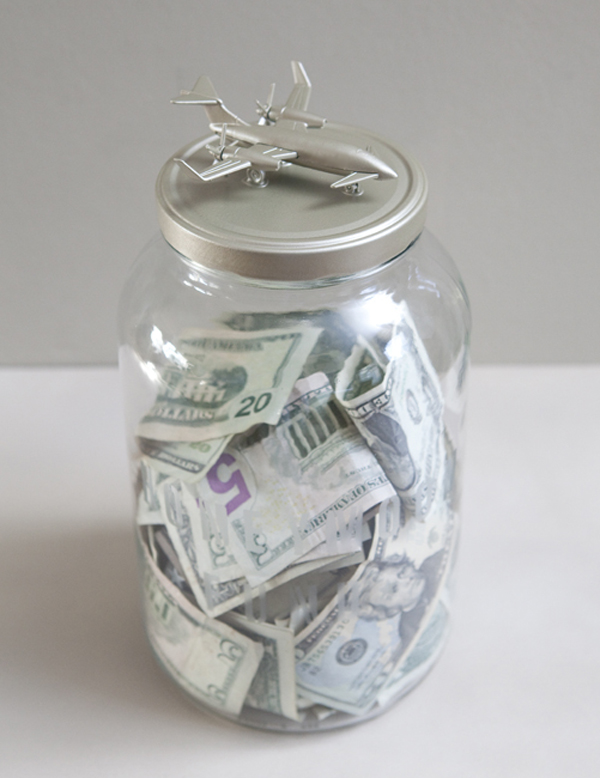 PALM TREE LID // I started by gluing the palm trees to the lid with E600 and then I painted them all one color green. Once dry I glittered the surface of the lid with Mod Podge and Martha Stewart Glitter in blue and turquoise. Once that was dry I made the 'land' out of lots of hot glue. When that cooled down, I made a paste with Mod Podge and sand and covered the hot glue 'land'. Lots of steps but SO darn cute!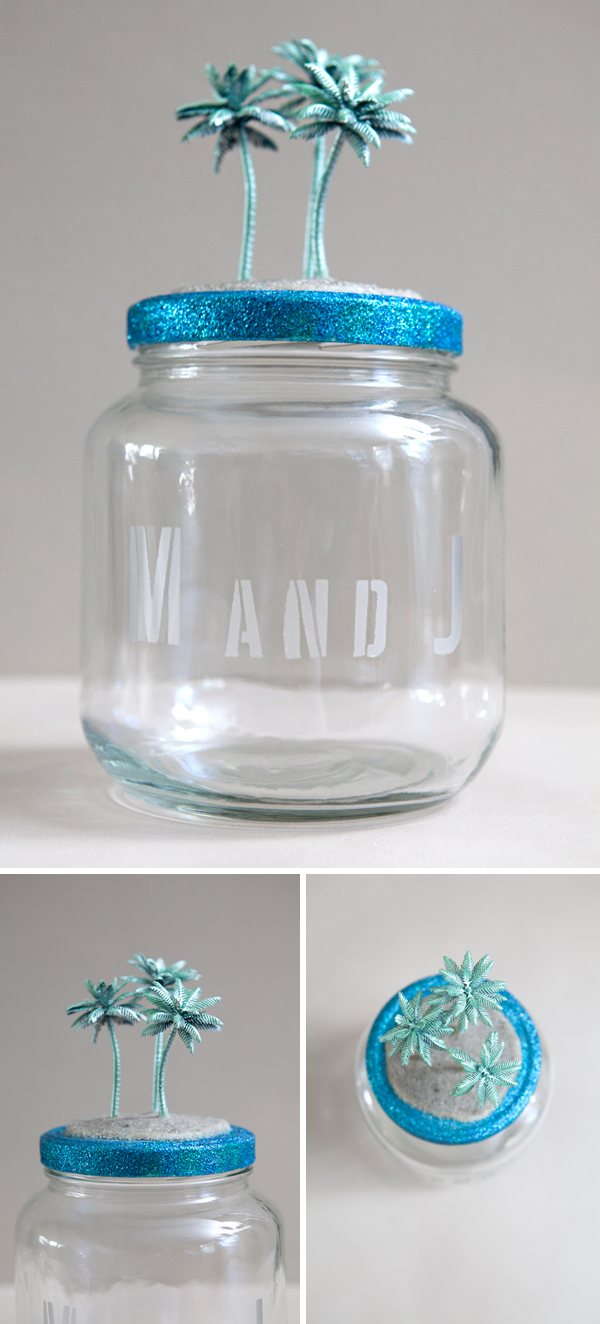 PARIS LID // the Eiffel Tower steps are the same as the first lid, only I used pink spray paint and then a little gold glitter spray paint as well!
As with all our DIY tutorials, if you create one of our projects please send us a picture or a trackback – We Love Seeing Your Creativity! Happy Crafting!
DIY CREDITS // Photography: Studio 11 // DIY tutorial: Jen | Something Turquoise // gallon and half gallon glass jars: Specialty Bottle // Martha Stewart Glass Etching Kit, Martha Stewart Adhesive Stencils and patterning tape, E600 glue, Krylon Brushed Metallic Spray Paint in Champagne Nouveau, Krylon Gloss Spray Paint in Raspberry, and Krylon Gold Glitter Spray Paint: Michaels // airplane toy: Target // model palm trees and Eiffel Tower figurine: Ebay // nail polish: Sally Hansen Salon Effects Stickers
No related posts found.