I absolutely love making silly bachelorette party veils for brides-to-be, so I thought I should show you how incredibly simple making one of these cheesy veils can be. If you are extremely crafty, this project will take you less than a half hour. If you do not know how to sew, please have your mom, aunt, or grandma help you with the sewing – this tutorial is going to be very easy for a seamstress, but not much fun for a non-sewer.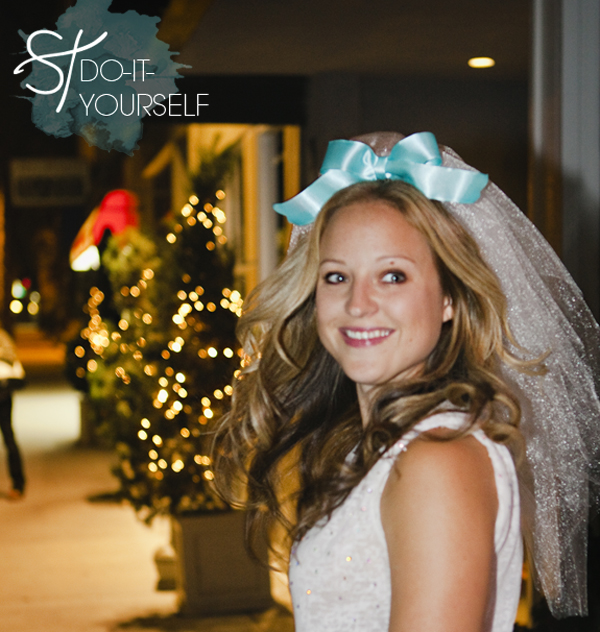 SUPPLIES // You will need a sewing machine, fabric shears, hair comb (any kind will do), 1.5 yards of tulle, measuring tape, thread to match, and depending on who you are making this for… your choice of fun embellishments!!!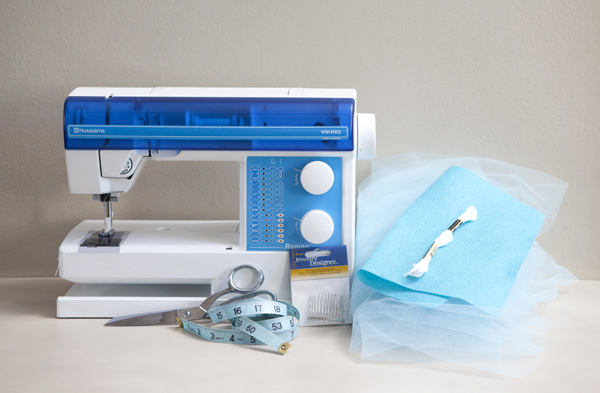 Start by cutting three pieces of tulle. You will need one that is 12″, 18″ and 24″. I'm pretty sure the standard width of tulle is 54″ which is perfect for this project, so you don't need to worry about cutting the width.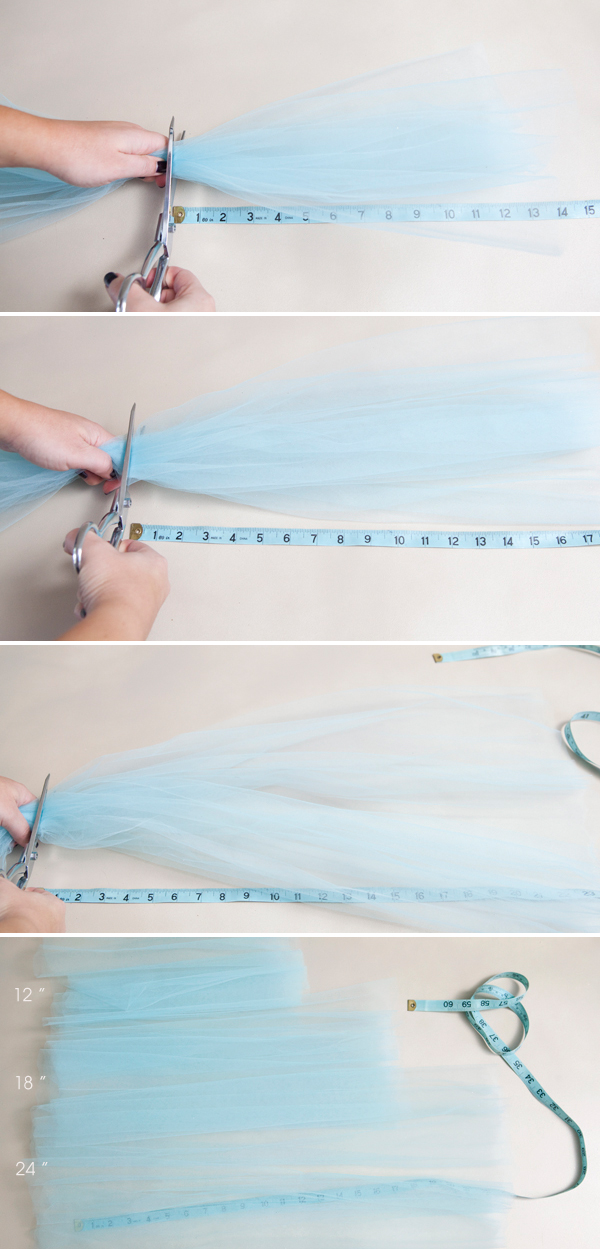 Now sew all three layers together using 1/2″ seam allowance and the largest stitch that your machine will do, aka – gathering stitch. Lay the tulle out flat and place each piece on top of each other, starting with the 24″ then the 18″, and then the 12″. Knot the first stitch only.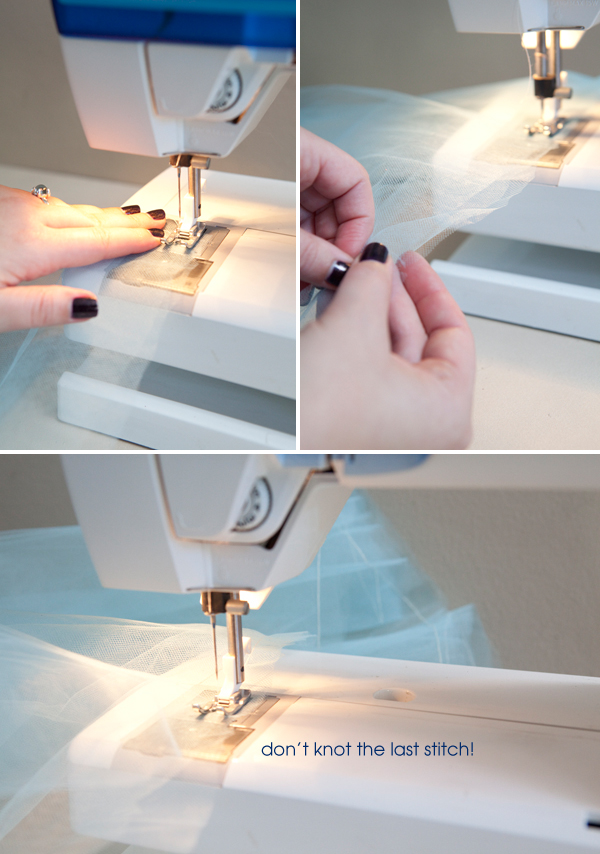 Next, gather your seam to create a fluffy veil. Since you didn't knot the last stitch, take the two ends of the thread, hold onto one and pull on the other.
This gathers the stitch together, in turn gathering the tulle. Keep pushing the gathers down the thread until all the tulle is tightly bound together and cannot be gathered anymore. The tulle should be able to gather down to about 3-4″.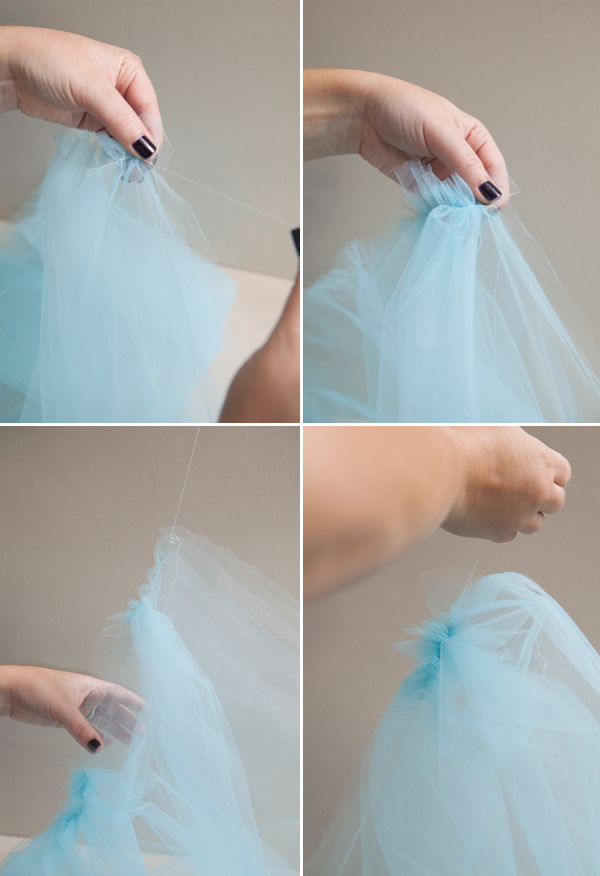 Now with those two existing threads, tie a couple knots to hold your gather in place.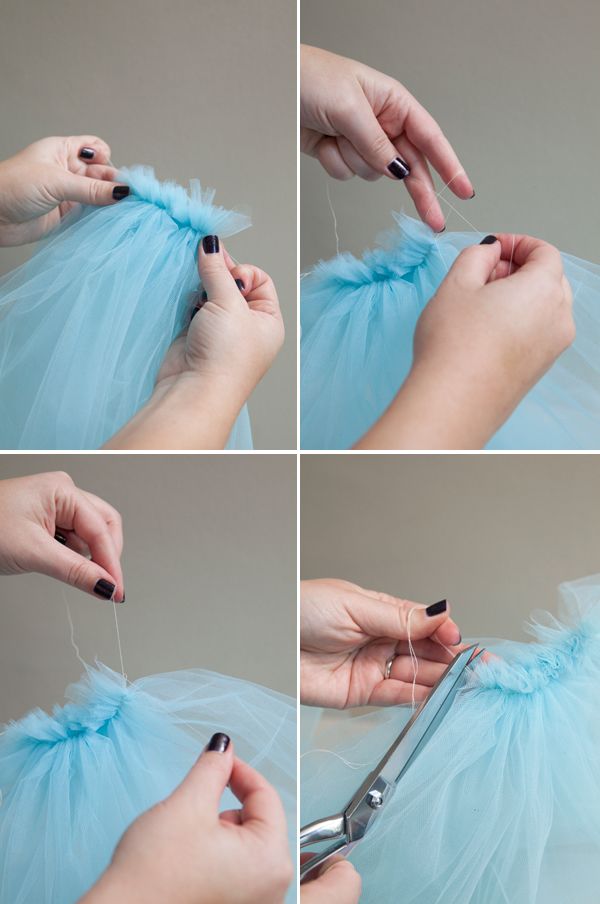 The edge will be crazy looking since we weren't precise with the cutting, so now is your chance to trim it down and make it look pretty.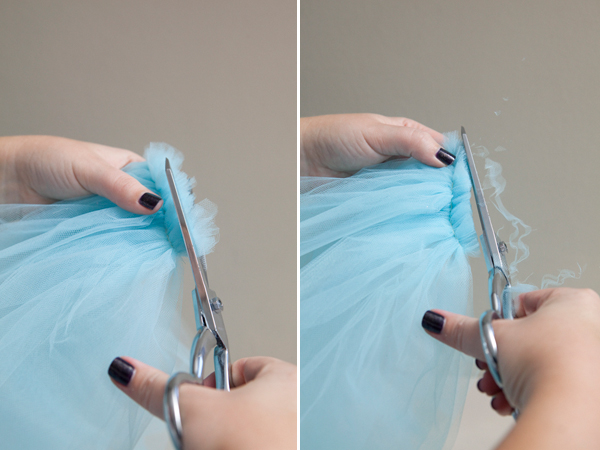 There is your big cheesy veil!!!!
Sew your hair comb onto the veil. Most hair combs have a rounded shape to them to fit the shape of the head – with the concave side facing you, sew your comb onto the end of your veil. I did two stitches per section. Your comb will be smaller than the veil edges, sew the comb in the middle.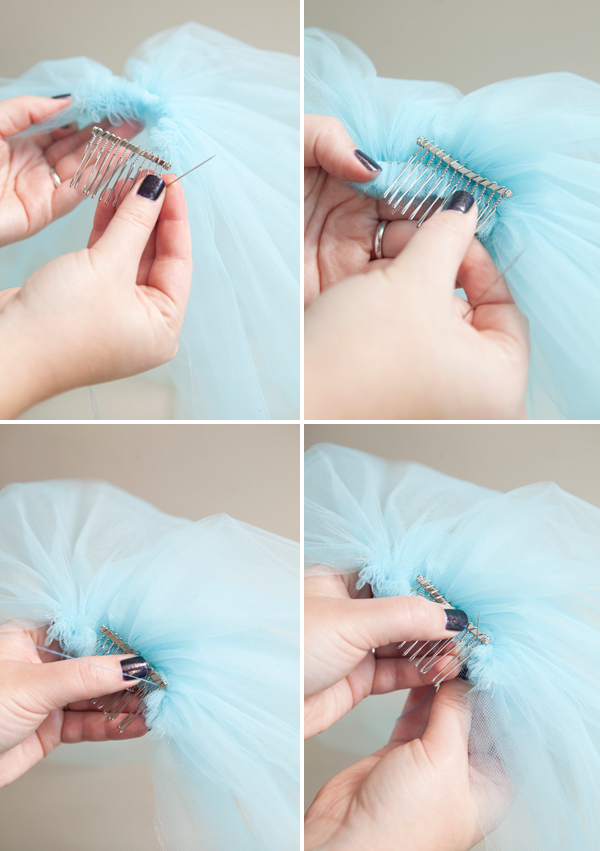 Now, sew the edges of the veil into the comb. When the edges are sewn tightly like this to the comb it creates volume in the material and makes it poofy on the head!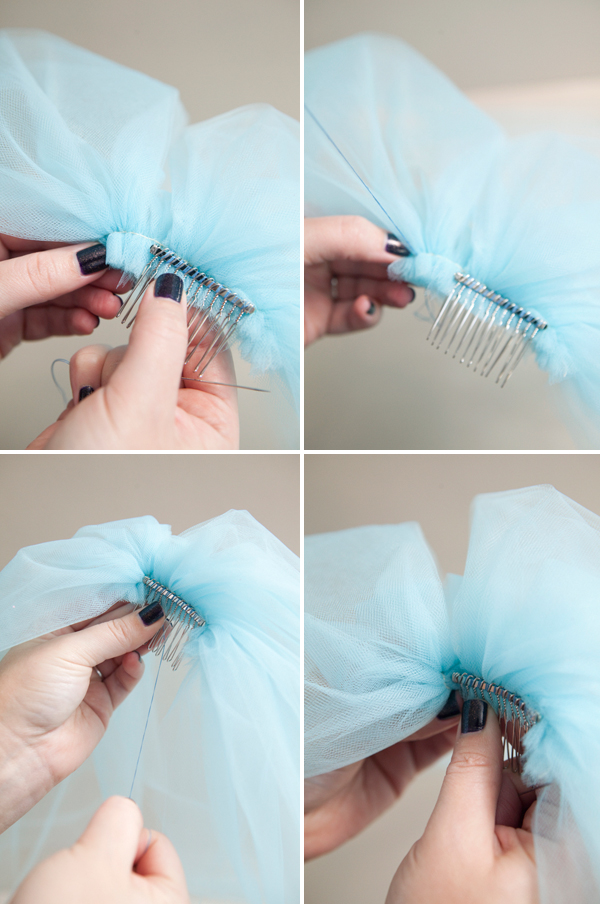 Now for the embellishment. It is completely up to you and of course up to the style of the bride that this veil is for. You can make these cute hearts below, add a bow (like above)… or a crown… maybe flowers… and many many other silly things!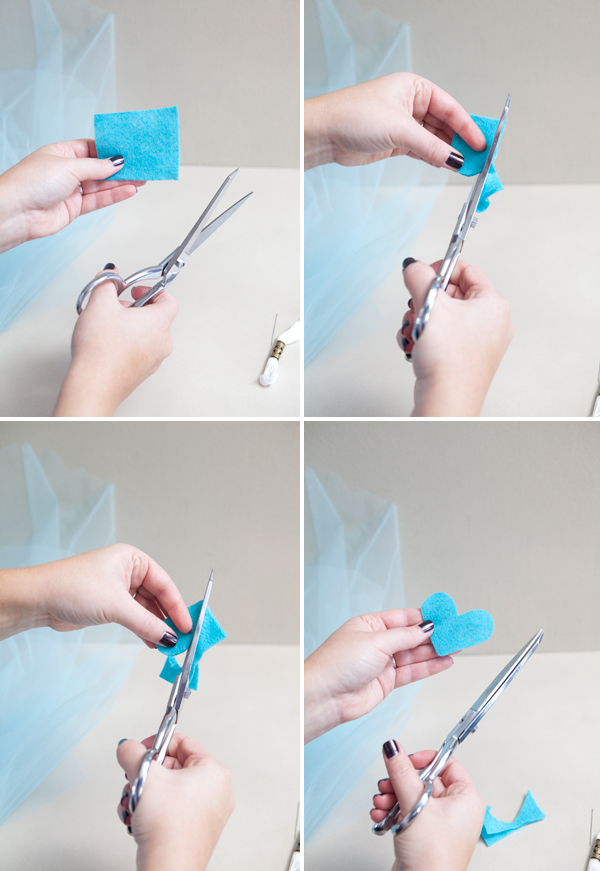 When sewing your embellishment to the veil, only sew them to the first layer of tulle – otherwise you can loose the volume of the veil.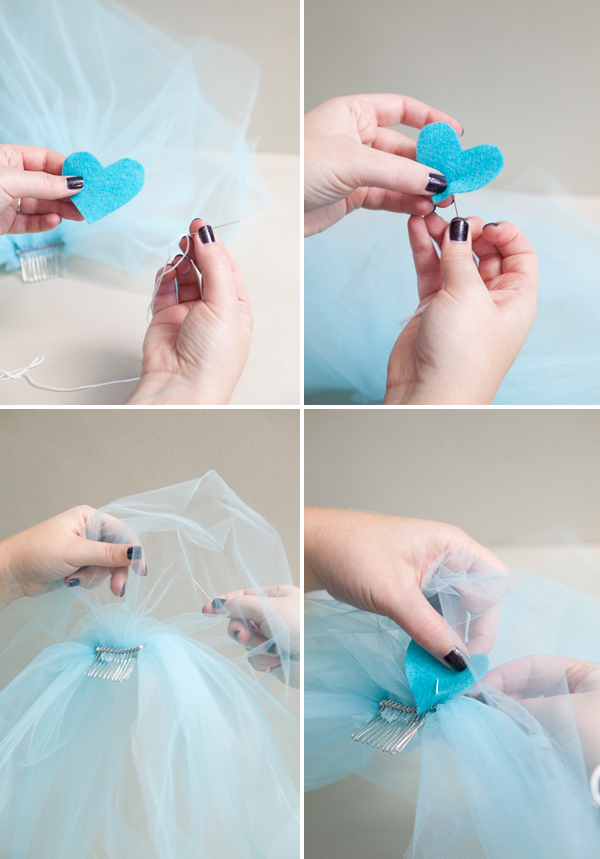 For this design, I did three felt hearts sewn with embroidery thread in simple x's.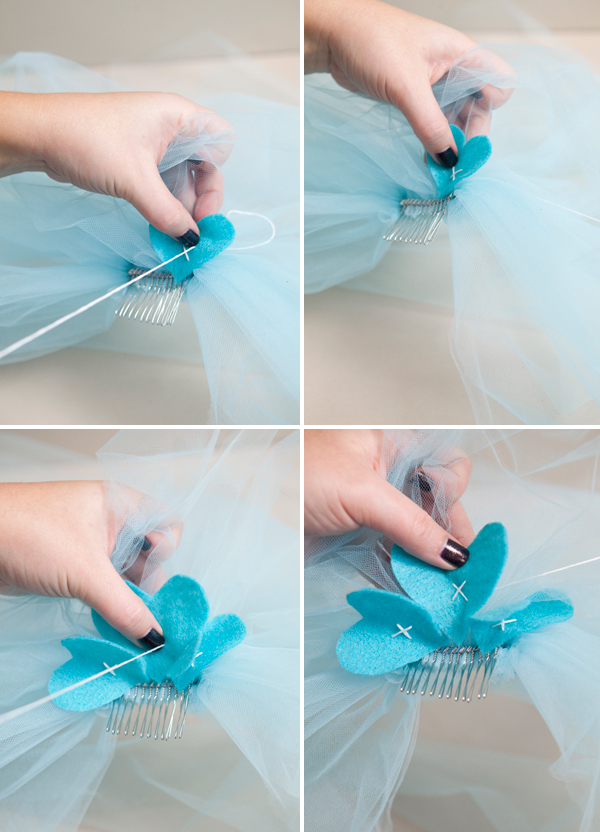 Sew cute!!!
But maybe the brides favorite color is pink!!! Same steps as above!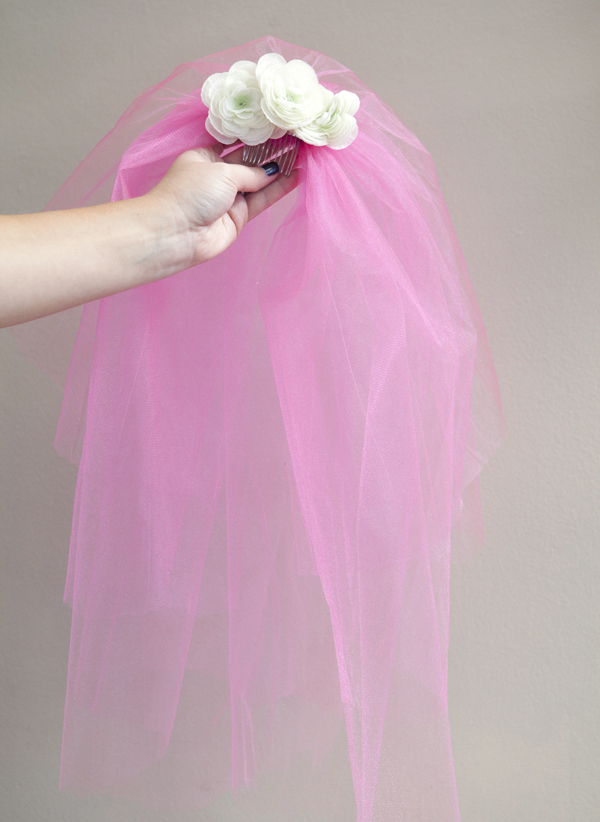 Yieks, can you image being out at a bar wearing that!!??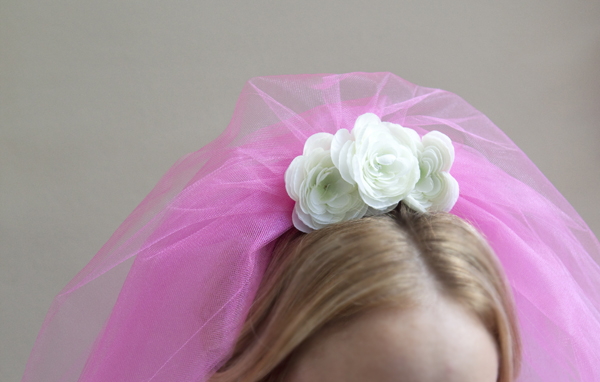 Or, my favorite – the Tiffany Box. Whatever style you choose and whether you are making this for yourself or for a friend – this will surely add to the festivities of any bachelorette party!!!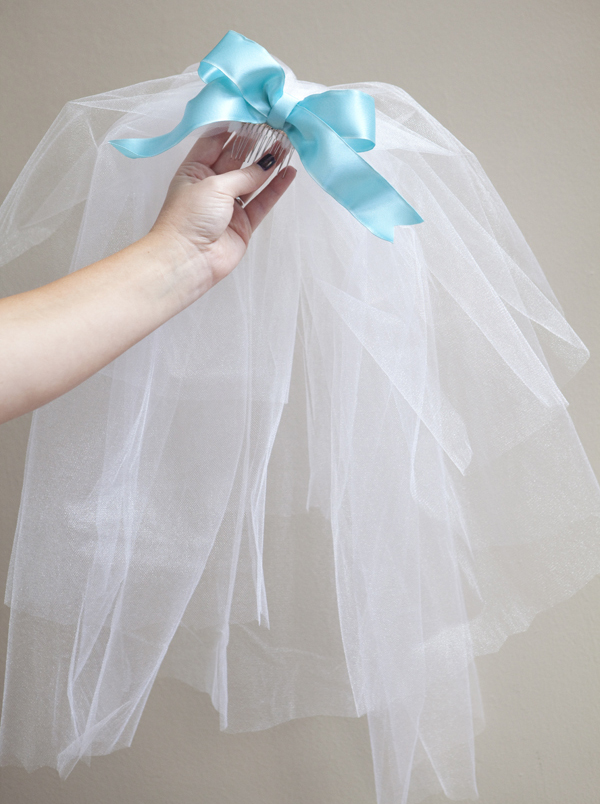 As with all our DIY tutorials, if you create one of our projects please send us a picture or a trackback – We Love Seeing Your Creativity! Happy Crafting!
DIY CREDITS // Photography: Studio 11 // DIY tutorial by: Jen | Something Turquoise // Fiskars shears, hair comb, tulle, flowers, turquoise felt, embroidery floss, measuring tape, and turquoise wired ribbon- all these supplies can be found at: JoAnn Fabric & Craft Stores // nail polish: OPI – DS Mystery
No related posts found.