Everyone seems to be in love with scrabble tiles these days – there is something so simple and so cute about those tiny little game board tiles. If you are looking for a fun twist on table numbers… why not make them table letters! With the free design downloads below and this super easy tutorial – you can have giant scrabble tiles in no time! These would also be adorable hanging on your bride and groom wedding chairs… and perfect to turn into wall hangings after the wedding!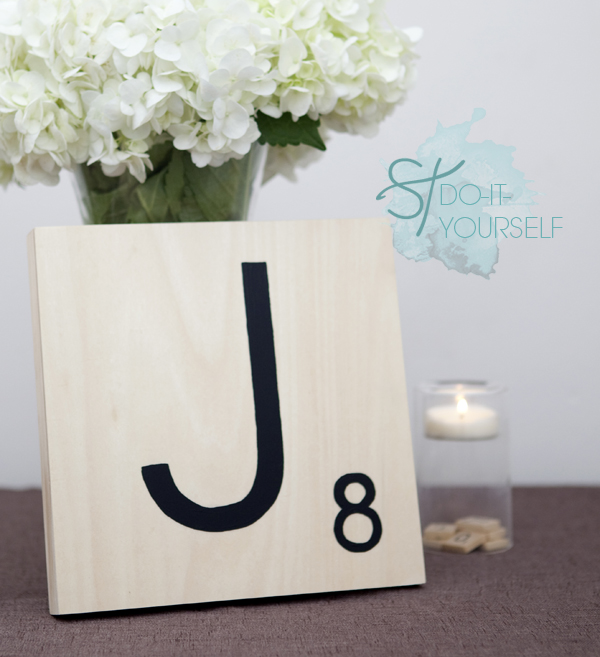 SUPPLIES:
print out of each letter you need on regular printer paper (free design downloads below)
pencil
8″ x 8″ unfinished wood plaque
black craft paint or a black Sharpie paint pen
gloss Mod Podge
low-tack tape
a thin paint brush and a wide paint brush
FREE DOWNLOADS // click on each letter for each design
A B C D E F G H I J K L M N O P Q R S T U V W X Y Z
Start by cutting your paper printout down to 8″ x 8″… and grab your pencil.
We are going to make a very simple transfer. On the backside of your printout, heavily color the outlines of the design with pencil.
Using low-tack tape, tape your design (backside covered in pencil) to your wood board and start to carefully trace the design.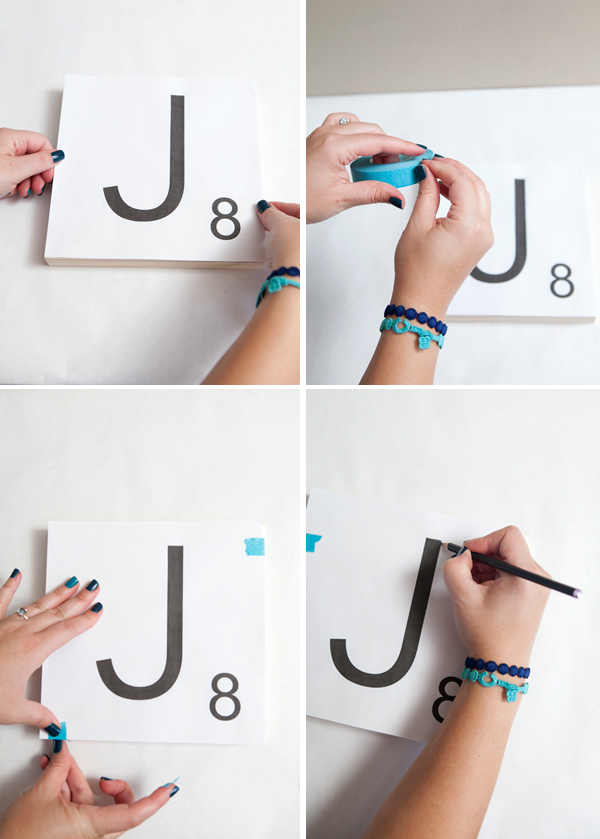 By tracing the design, you are simultaneously marking the wood board with the pencil that was applied to the backside of your paper – thus giving you a perfect design outline! This is a very easy technique and works for many different projects.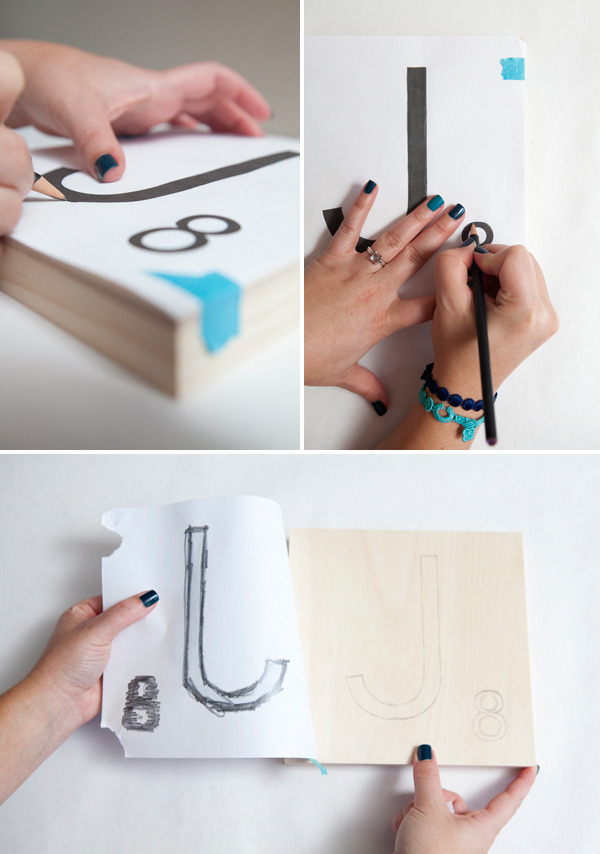 Now that your design is marked on your board, paint it!!!
Once the paint is dry make sure to erase any extra pencil markings from your transfer…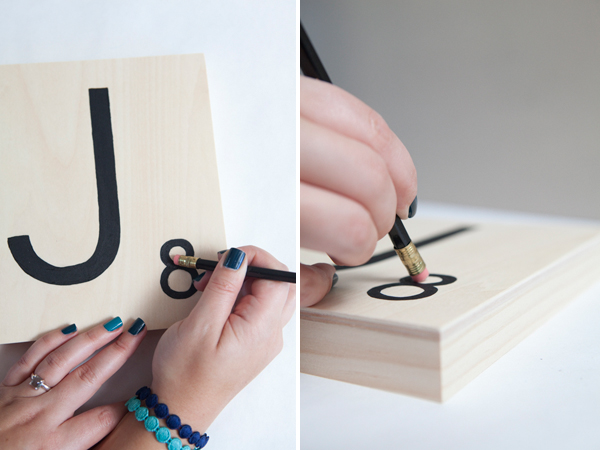 After your paint has dried for at least 24 hours, add two thin coats of gloss ModPodge to your board – with at least an hour drying time in between each coat. This seals your paint and adds the perfect shine to your new scrabble tile!
If you aren't steady with a paint brush, you can use a Sharpie Paint Marker to fill in the design. Just be aware that the paint pen will bleed a tiny bit into the fibers of the wood – regular craft paint will not do this. The bleeding doesn't look horrible, and it's almost undetectable from far away but I still had to mention it… see the image below.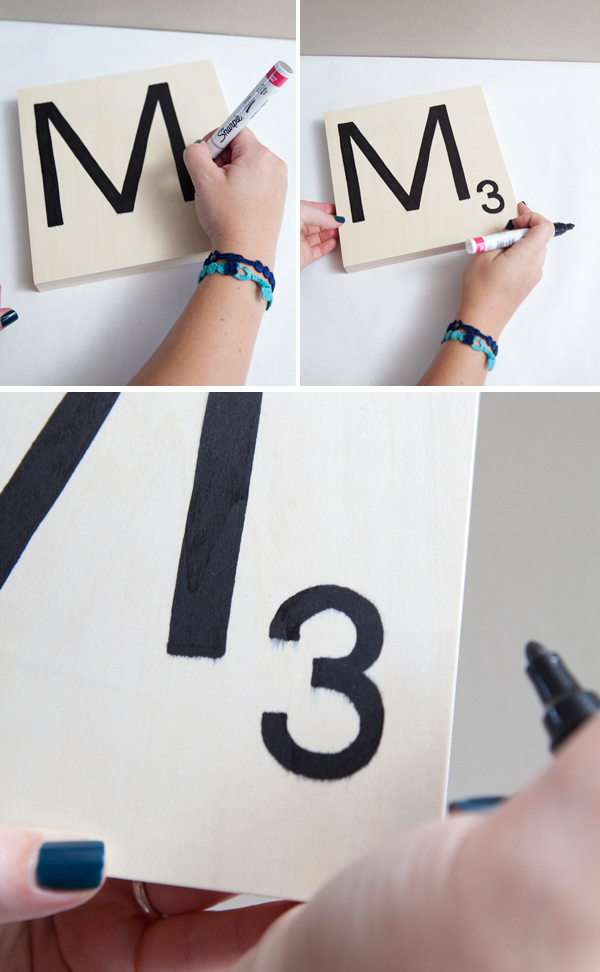 Once the paint marker has dried at least 24 hours, finish it with ModPodge just the same.
Voila! Easy, fun giant scrabble tiles!!! Perfect for table numbers (or letters!), wall hangings, cake table or wedding chair decor, christmas gifts, etc… they are just so fun and cute!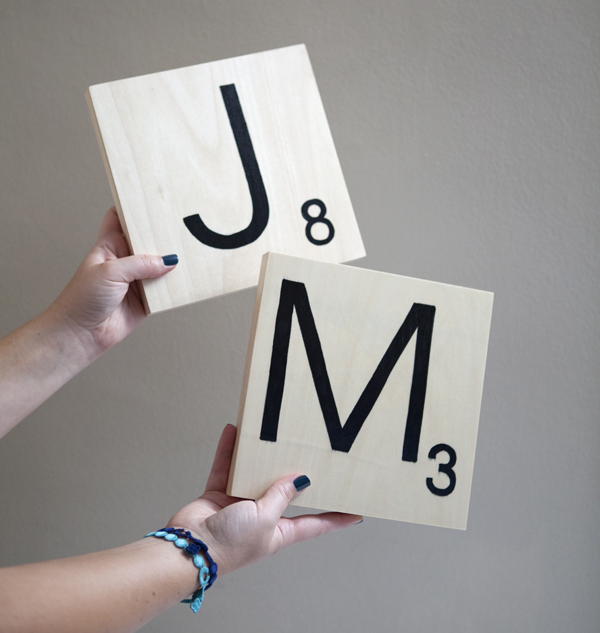 In case you needed a reference, here are all the scrabble tiles and their points value!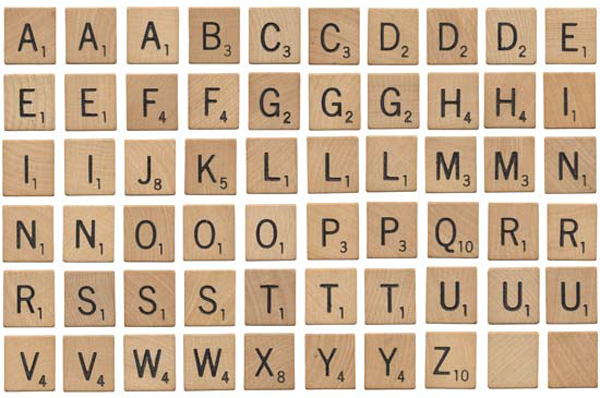 As with all our DIY tutorials, if you create one of our projects please send us a picture or a trackback – We Love Seeing Your Creativity! If you use Instagram or Twitter please use the hashtag #SomethingTurquoiseDIY. Happy Crafting!
DIY Tutorial Credits
Photography + DIY Tutorial: Jen Carreiro of Something Turquoise // ArtMinds 8″x8″ unprimed wooden cradle board, Martha Stewart Craft Paint in Beetle Black and Stencil tape, Black Sharpie Paint Pen, and ModPodge in Gloss finish: Michaels // downloads for each letter are available above // font for the letters: Kalinga // font for the numbers: Arial, regular // nail polish: OPI Ski Teal We Drop +Fly
---
Shop The Supplies:
Find the supplies you'll need for this project from our affiliate links below:
No related posts found.