Are you looking for a totally unique and personal guestbook that you can create yourself? This super easy painted canvas guestbook tutorial can be completely tailored to fit your style and wedding theme. After your wedding you can hang this amazingly personal painting on your wall to read and reminisce about your special day for years to come…
SUPPLIES // large gallery style canvas (large enough for all your guest signatures – if you are having a large wedding you might need two), two pretty colors of paint, stencil tape, wax paper, a ruler if you need to be precise, and Sharpie paint pens to match!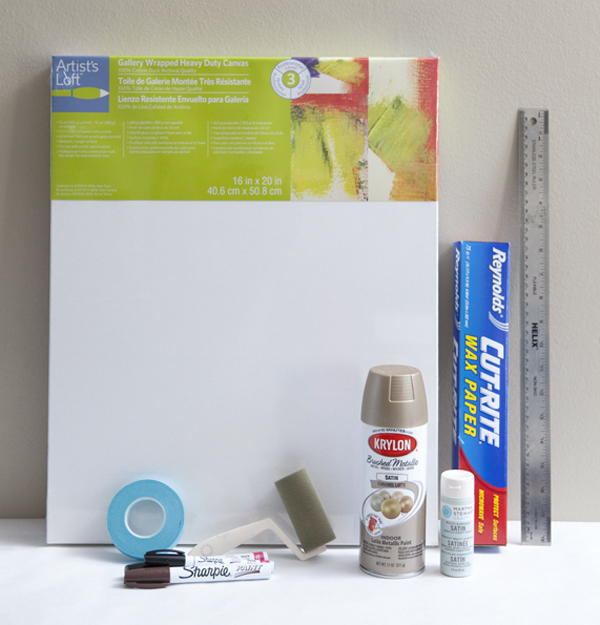 Start by completely painting your canvas with your choice of base color. I am using Martha Stewart's Craft Paint in Cloud and applying it with her mini-roller brush that I love.
Don't forget the edges! Add a second coat if desired and let dry for 24 hours.
Using the wax paper and stencil tape, tape off your painted canvas into a fun design. The wax paper creates a barrier to protect your base color from the spray paint. If your second color isn't in spray form, you probably don't need the wax paper.
Take your tape design around the sides of your canvas…
Fully taped off and ready to spray!
In a spray paint friendly area, spray your canvas! I did two coats.
Once dry, carefully remove the tape and wax paper to reveal your design!
I'm in love.
Now personalize the canvas with your names, initials, wedding date… or whatever you would like! I started by tracing our initials in pencil…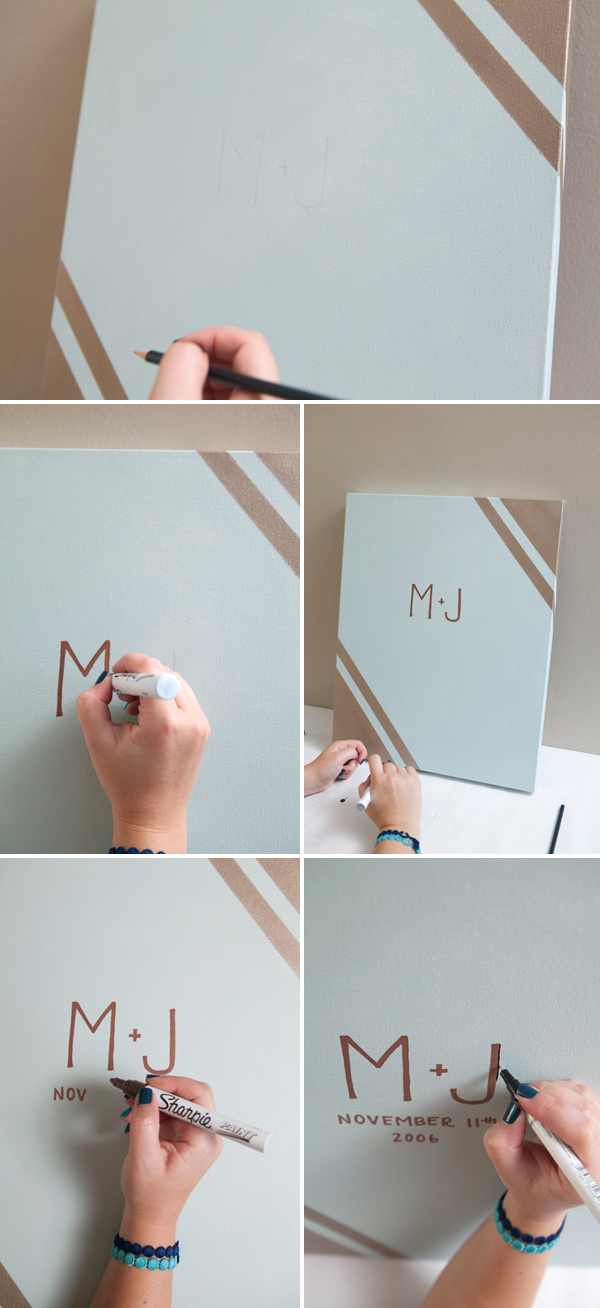 Done! ….and so fun!
Have your guests sign your beautiful canvas guestbook to create a one of a kind piece of art!
As with all our DIY tutorials, if you create one of our projects please send us a picture or a trackback – We Love Seeing Your Creativity! Happy Crafting!
DIY CREDITS // Photography: Studio 11 // DIY tutorial by: Jen | Something Turquoise // Everything you need for this tutorial can be found at Michaels – Artist's Loft Gallery Wrapped Heavy Duty Canvas 16″ x 20″, Martha Stewart Craft Paint in Cloud, Martha Stewart Stencil Tape and Paint Roller, Krylon Brushed Metallic Spray Paint in Caramel Latte, Black and Brown Sharpie Paint Pens in Medium: Michaels // nail polish: OPI Ski Teal We Drop
No related posts found.