I love the beach and I love sand… but the regular old color of sand can be a tad bit boring. So, here is a quick and super easy way to embellish a simple substance like sand and breathe new color into it!
SUPPLIES:
play sand (do not steal dirty sand from the beach, that's gross and it has bugs in it)
neon or regular liquid style food coloring (we used neon pink)
a cheap spoon
glass container for mixing
candles
glass vases 
Start by adding a large amount of sand to your glass mixing container. Glass will not discolor when using food coloring, other containers might! Which is also why the candle holders or jars you put this sand in should be glass if you are going to reuse them. Also, the candles themselves can discolor if set in the colored sand for too long – so burn them and you won't have an issue! Then add a nice amount of your desired color of food coloring, like 15 drops…
Using your cheap spoon, mix – mix – mix. It will start out chunky at first but keep mixing and mixing until the sand and color are combined and smooth.
Since this will be the darkest layer of sand for the ombre, I needed to add more drops of food coloring to this first batch. The depth of color is completely up to you, if you feel like you've made it too dark, mix in a little more plain sand – if it's still too light, add more food coloring. The variation in color is your choice!
Here is the darkest layer completed. Isn't it pretty?
Pour into your glass containers! Note: the shots below are a perfect example of how staining this type of food coloring can be – the spoon I am using is bright pink and still is after washing! Use a spoon that you DO NOT care about! The glass mixing bowl however is unaffected.
Now for layer two, slightly lighter… same steps… add color and stir!
Perfect. Now add the second color to your sand jars.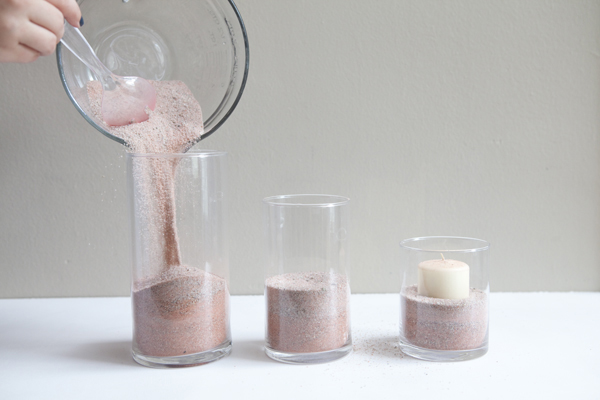 Now onto the third colored layer… same steps… working lighter still…
I just love how this bright pink food coloring tinted the sand so beautifully…
Light and enjoy! How pretty are these… they feel so romantic…
You don't have to layer your ombre… you can individually color batches of sand and place them in their own jars all over your reception… this ombre need not be confined to one container and only three shades – the sky is the limit!
As with all our DIY tutorials, if you create one of our projects please send us a picture or a trackback – We Love Seeing Your Creativity! If you use Instagram or Twitter please use the hashtag #SomethingTurquoiseDIY. Happy Crafting!
DIY Tutorial Credits
Photography: Studio 11 // DIY tutorial by: Jen | Something Turquoise // play sand 50 lb bag $6: Lowe's // glass candle holders and candles: Michaels // glass batter bowl: Pampered-Chef // cheap plastic serving fork $1: Party City // McCormick's Neon Food Coloring: Pavillions // nail polish: OPI Ski Teal We Drop
No related posts found.