I LOVE, LOVE, LOVE, this DIY! So easy, so fun… and they look fantastic when lit! I created/shot this DIY about 6 weeks ago and have been burning and enjoying these fabulous glam candles ever since. Some friends have stopped by and asked, "Is that Duck Tape??" – "YES!" I reply… with excitement in my voice!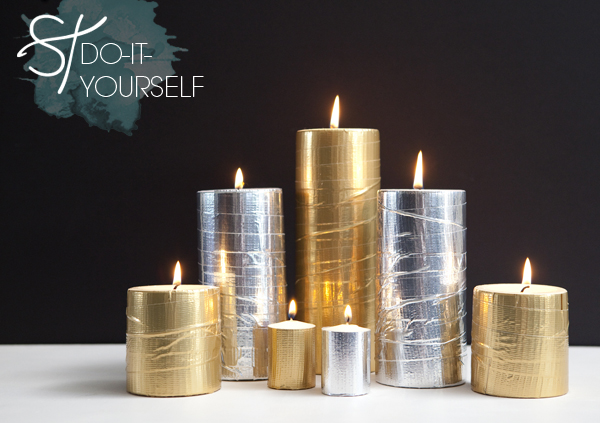 SUPPLIES // cheap pillar candles, metallic Duck Tape (or any color you want!) and scissors
Start by removing all the outer plastic from your candles, we want to tape onto the bare candle.
Lay your candle on a flat surface, rip your Duck Tape from it's roll and start at the top. Line the tape up perfectly at the top of the candle – pull, roll and press! Pull, roll and press! To get the tape to wrap around your candle, you will need to pull it slightly downward. I love the crinkles and the imperfections that the tape develops on its way down the candle!
When you reach the bottom of your candle, make sure there is a bit of excess tape to hang off the edge. Cut the tape. This might be difficult if your scissors are dull… and we are cutting Duck Tape here – so do the best you can.
Like wrapping a present, fold the edges of the tape inward to slightly cover the base.
Done!!! So quick, so easy, and so fun!!!
I love the look of both these metallic tapes together… but use whatever color tape you want! Just keep pulling, rolling, and pressing the Duck Tape to your candles!!!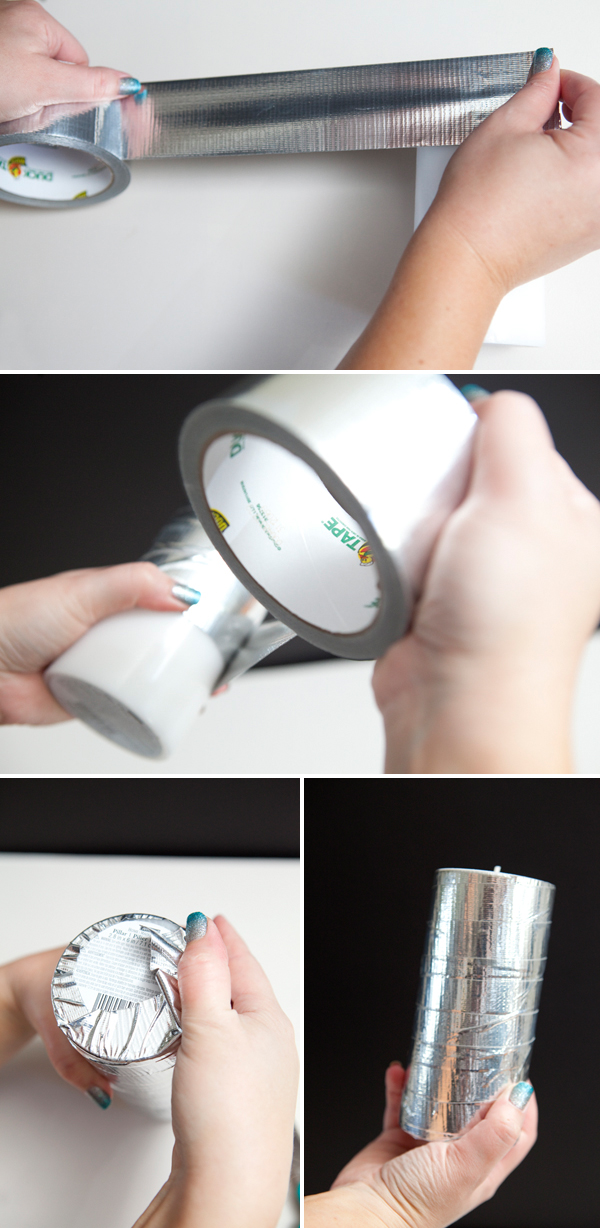 The cute little votives are SO easy… you only need to wrap them once! Duck Tape is the perfect length to cover votives! Make sure you line up the top correctly and if you have any extra fold it under the base like the large candles.
Can you imagine the color possibilities??? I can…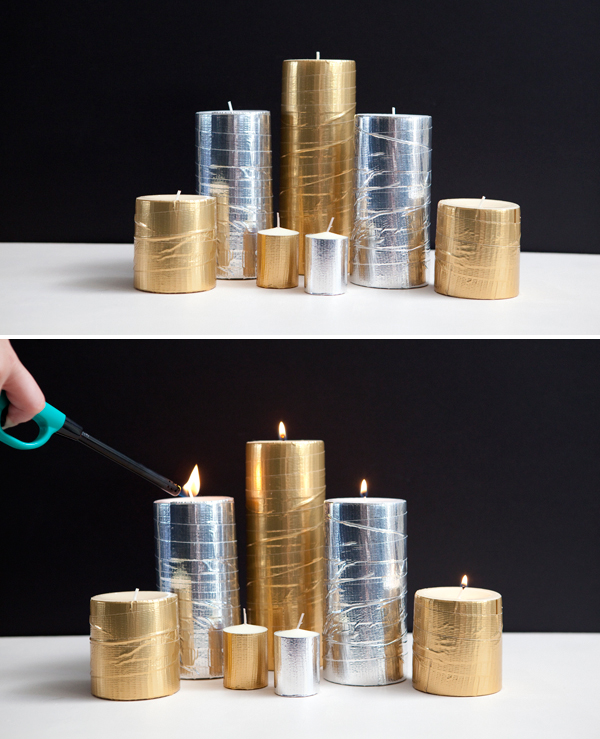 VERY IMPORTANT CRAFTERS TIP // If you burn these for the first time at an event (like a wedding!) that lasts four hours or so, the tape will be perfectly fine with the flame. If you are re-lighting or burning these repeatedly – make sure you trim off exposed layers of tape!!! When your candle has burned about an inch and a half from the top, once it has cooled – take your scissors and cut around the top of the candle to remove  the excess tape! You don't want the tape to light on fire! Once this has been done your special Duck Tape candles will look brand new, and they will be safe too!
DIY CREDITS // Photography: Studio 11 // DIY tutorial by: Jen | Something Turquoise // Ashland Candles, Metallic Duck Tape in Gold and Chrome and scissors: Michaels // nail polish: Sally Hansen Salon Effects Polish Strips in Crowed Surfer
No related posts found.