Mini-canvas + puffy paint + 3 shades of gold metallic spray paint = ombre table numbers!!! This tutorial is so easy and totally fun! Starting with extremely inexpensive mini canvases adding a little 3D design and some beautifully metallic spray paint means your table numbers are as good as finished!
Supplies: three varying shades of spray paint, a thin 5″ x 7″ canvas panel (one for each of your tables), and any color of puffy paint. Some tutorials for projects like this say to use a hot glue gun to create the 3D design, which could also work for this project. I however, don't find it easy to write with a hot glue gun, for those who can – that's great! For those who can't – use good old puffy paint.
Start by choosing one (or all!) of your spray paints, and paint the back side of each canvas panel. Let dry.
Next, draw your design and table number onto your canvas with a pencil or pen…
Using your puffy paint, simply trace over your pattern. If you are super fabulous, you might not need to practice with a pencil first.
Make one for each table! The design possibilities are endless!!!
Let the puffy paint dry for at least an hour before you spray paint…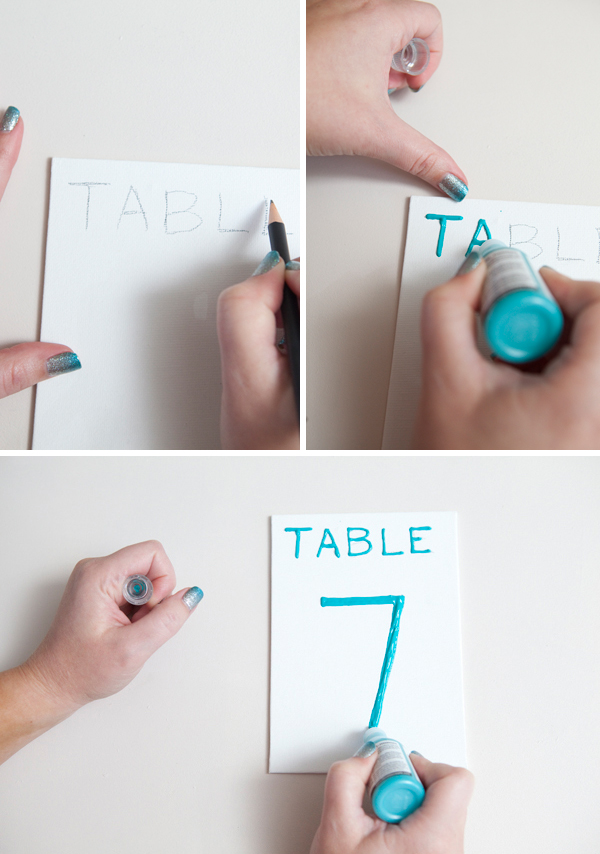 Paint the canvas + puffy paint into an ombre! Do all of these coats while still wet, it helps the paint blend together. Start with your darkest color and spray the bottom third portion on the canvas. Then paint the middle portion the second color, and the top portion the lightest color. The first coat of the three paints will not cover the pencil and colored puffy paint, but the second coat will!
Right after you finish the first coat, quickly apply the second coat – dark, medium, then lightest color.
Spraying the dark, medium and then lightest color all in a row – and then in a row again – creates beautiful coverage and a gorgeous blend of color.
There are SO many different possibilities with these table numbers… from the design of the numbers to the ombre color… I'm so excited to see what my fabulous DIY brides come up with!
As with all our DIY tutorials, if you create one of our projects please send us a picture or a trackback – We Love Seeing Your Creativity! If you use Instagram or Twitter please use the hashtag #SomethingTurquoiseDIY. Happy Crafting!

photography: Studio 11 // DIY: Jen | Something Turquoise // Artist's Loft 5″ x 7″ Canvas Panel 3 Pack, Krylon Brushed Metallic Spray Paints in Sparkling Canyon (dark), Caramel Latte (medium) and Champagne Nouveau (light), Scribbles Puffy Paint in Deep Turquoise:  Michaels  // nail polish: Sally Hansen Salon Effects Polish Strips in Crowed Surfer
No related posts found.