"Hark, now hear the sailors cry, smell the sea, and feel the sky, let your soul & spirit fly, into the mystic…" ― Van Morrison. There is something so eternally romantic about a wedding on the beach. Here is the perfect, and totally easy DIY cake topper for your special event by the seashore…
Supplies: 5 seashells (preferably ones that will be easy to tie onto a string!), cute twine, 1/8″ balsa wood stick, tacky glue, scissors, ruler, and optional plastic straw.
First, cut your balsa wood stick into two pieces at about 13″ long, remember about 3″ of these inches will be buried into your cake… file the edges with a nail file if the cut is rough.
Optional: cut 4 pieces of a straw into 1″ segments, these are only spacers… if you are super crafty you might not need them – this step is only to make the spacing of your seashells super easy!
Cut about 40″ of twine, you want to have more to work with than you actually need.
Start by threading your first seashell onto the cute twine. Leaving about 12″ on the right side of the shell – tie a simple knot. BE VERY CAREFUL, , sand dollars are very delicate and can brake easily – I advise to buy a few extra just in case.
Next, add a straw spacer. You will cut these off after all your shells are added.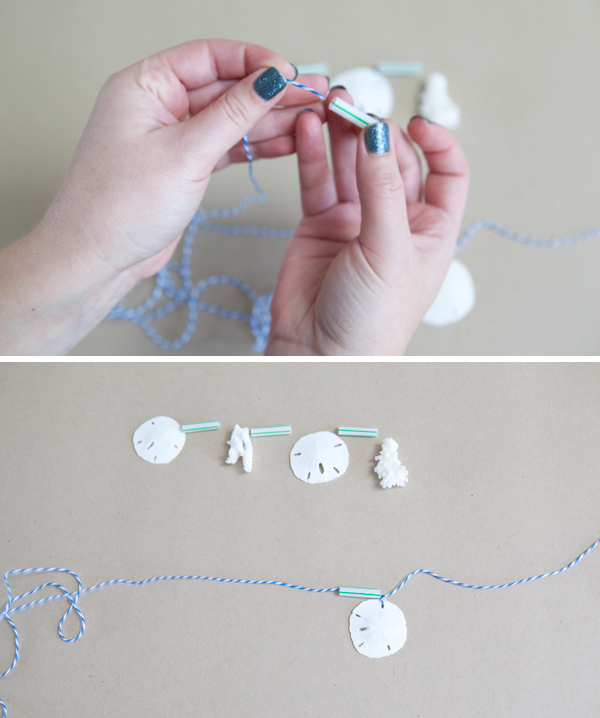 Now, the coral piece. Wrap the twine tightly around the coral about four times and then tie a simple knot.
Add your next spacer and then the next sand dollar. Tie a simple knot and repeat!
Add your next spacer and then the next piece of coral.
Add your last sand dollar and tie the final knot… it's looking SO cute! We are now going to carefully cut the straw spacers off the twine… slide your scissors into the straw and carefully cut!
Now we will add the bunting sticks. Holding the stick about 1.5″ away from the sand dollar, start tightly wrapping the free end of the twine around the balsa wood stick. About 5 go-arounds will be perfect, then tie a simple knot.
Do the same thing to the other side. Wrap about five times and tie a simple knot.
Yeah!!! It's almost done!!! Add a little dab of tacky glue to each knot so that they stay put.
Cut the ends to drape about 5″ from the stick… and that's it!
Carefully insert into the cake. When the sticks slightly point away from each other they create tension which pulls the twine taught, showing off the shells!
Just darling!!!
I'm in love…
As with all our DIY tutorials, if you create one of our projects please send us a picture or a trackback – We Love Seeing Your Creativity! If you use Instagram or Twitter please use the hashtag #SomethingTurquoiseDIY. Happy Crafting!

photography: Studio 11 // DIY: Jen | Something Turquoise // wood stick and tacky glue: Michaels // navy stripe twine: Cupcake Social via Etsy // seashells: California Seashell Co. Seal Beach // cake: Bristol Farms // cake stand: Anchor Glass // nail polish: Sally Hasen Salon Effects Polish Strips in Blue Ice
No related posts found.