Happy Friday Everyone! I hope you all enjoyed the fabulous 'my beloved' shoot this week… I know I did! In the shoot I incorporated this easy way to light any outside area – hanging battery operated tea lights! Many venues will not allow open flame candles… a perfect alternative and you don't have to worry about them catching on fire or blowing out in the wind!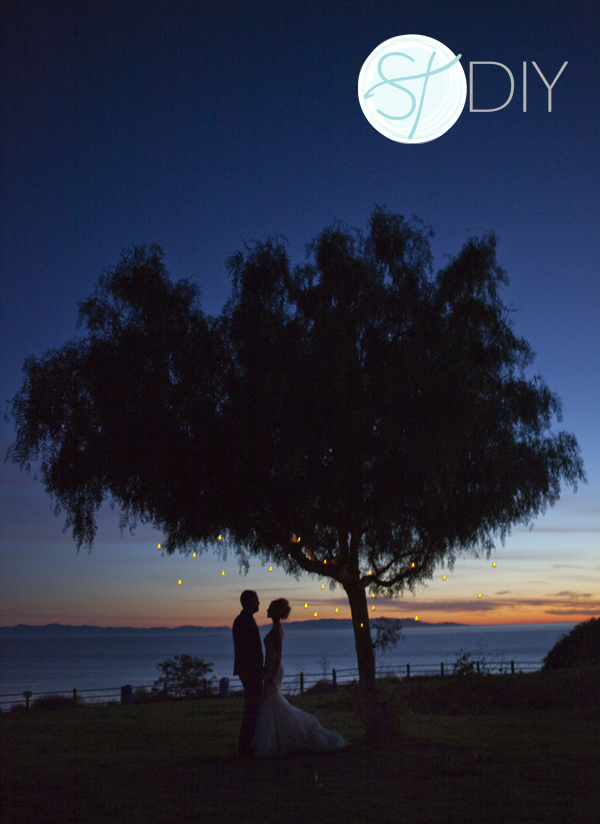 Supplies: scissors, thread, and lots of battery operated tea lights!
This is beyond easy, cut thread and tie it onto the little base of the battery operated flame – it is usually tapered so the thread will stay on. Make sure to double knot. I would make all these up ahead of time!
That's it! Remember to leave a long amount of string for tying onto objects; ie. tree's, fences, poles, etc.
Carefully add all your pretty tea lights to any place that you would like some safe, romantic lighting!
As with all our DIY tutorials, if you create one of our projects please send us a picture or a trackback – We Love Seeing Your Creativity! If you use Instagram or Twitter please use the hashtag #SomethingTurquoiseDIY. Happy Crafting!

Photography: Studio 11 // Diy: Jen | Something Turquoise // Battery operated tea lights: Costco Bulk Pack of 100 // Location: Abalone Cove, Palos Verdes, CA.
No related posts found.