I can't believe this is my last DIY post of 2011… what a fantastic year! This great DIY project is super easy and perfect for personalized bride shoes, bridesmaids shoes… or for New Years Eve! This can even be done to cover up a heel gone bad…
Supplies: High heels preferably with a smooth heel area (mine are from Payless), enough "seed" type beads to cover the chosen area, my favorite glue E600, a paint brush that you are willing to throw away, a paper plate and a bowl.
Start by pouring all your beads into a bowl and then putting a large amount of glue onto your paper plate.
Next, very carefully paint a layer of glue onto the smooth part of the heel, I did only one half of the heel at a time. Try to make it as even as you can, this glue does not dry quickly so you have time to work with it. Once you are finished with each glue area on each shoe, throw away your paint brush – you will never get it clean!
Take a small handful of beads and pour over the wet glue area until it is completely covered in beads. You can pour over another paper plate like I did or newspaper or anything to catch the extra beads. Seed Beads are typically very small beads ranging in many different colors and opacities. I chose a very metallic navy blue, you can use any super small bead for this project.
Gently pat the beads into the glue to secure them. Clean up around the edges by pushing beads back towards the center and fill in any missing spots bead by bead.
Now do the same to the other side… carefully filling in the glue line from the opposite side.
Once the heel is completely covered, tap beads again to push them gently into the glue. Clean up edges and fill in any missing or light spots, bead by bead – adding glue if necessary.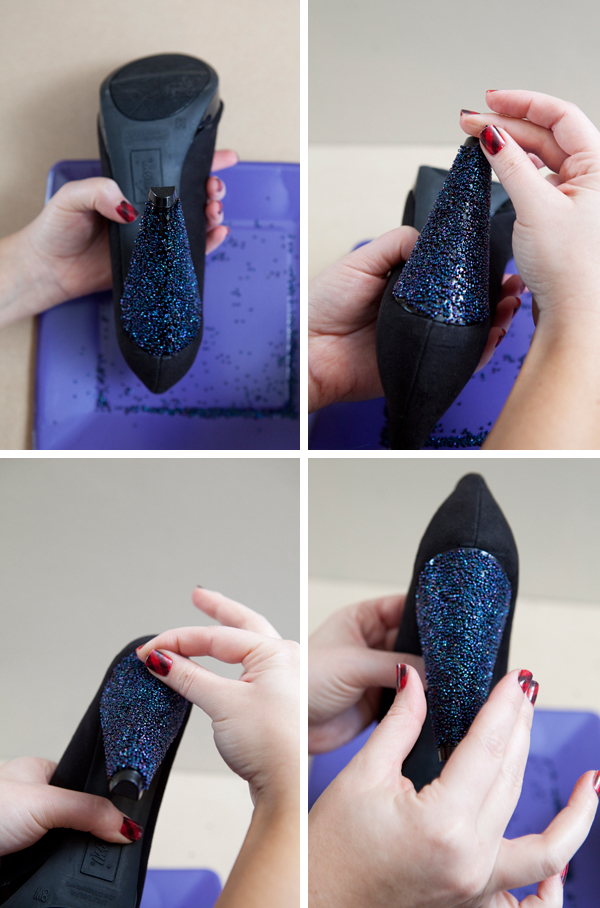 That's it! Let the beads dry for 48 hours before you wear them!
So darn cute and he color possibilities are endless! This could even be your 'something blue'!
As with all our DIY tutorials, if you create one of our projects please send us a picture or a trackback – We Love Seeing Your Creativity! If you use Instagram or Twitter please use the hashtag #SomethingTurquoiseDIY. Happy Crafting!

photography: Studio 11 / diy: Jen | Something Turquoise / black pumps: Payless / seed beads, E600 glue, paint brush: Michaels / manicure: Sally Hansen Salon Effects Nail Stickers / pedicure: turquoise & caicos by Essie
No related posts found.