Happy Friday!!! Anyone who follows my DIY projects knows that I always have some kind of fun manicure going on… and today I would like to share my steps for 'the perfect manicure'. I am completely obsessed with painting my nails, sometimes I re-paint them two or three times a week. I hope this easy tutorial inspires you to skip the trip to the nail salon this weekend and try it yourself! Stop by tomorrow for a special polish giveaway!
Supplies:
The products above are my favorites and the ones that I have found to provide a longer lasting manicure.
Start by shaping your nails with your heavy grit nail file.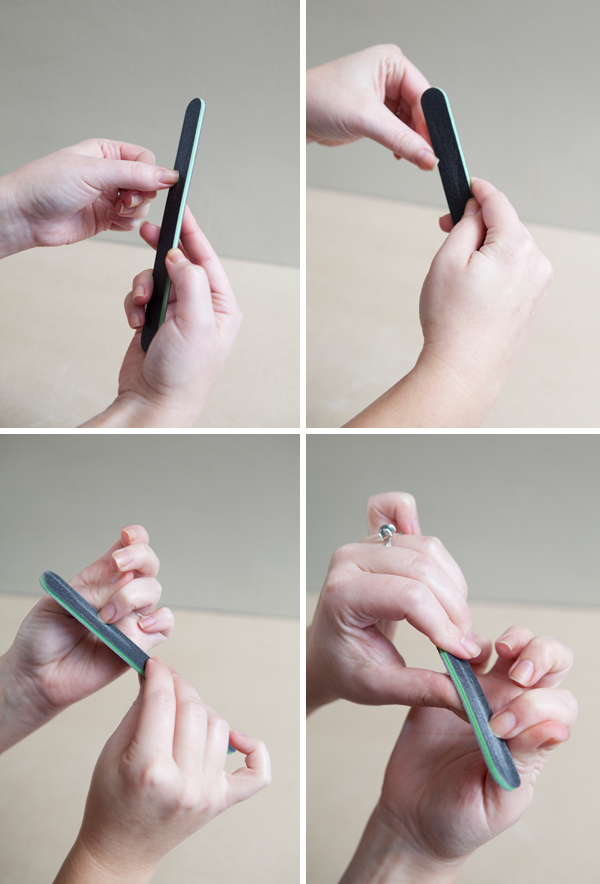 Next using your 3 sided buffing file, starting with the roughest side ; re-sand every single nail. Then using the white or middle grit; re-sand every single nail. Then, you guessed it – using the lightest grit side; re-sand every single nail. Light pressure will do. This is an important step in the perfect manicure. If your nails are sanded from a rough grit down to the softest grit, you will have less chance of your nails splitting and ripping later on in the week. If you sand with a rough grit and just leave your nails, it leaves small little gashes in your nail – that can catch on anything. After doing this step, you will be surprised how smooth and shinny your nails will be.
After sanding with the lightest grit, it is optional to polish the top of your nail with the white side (middle grit) and then back to the light grey (lightest grit). This makes your nail super shinny on the top. Gently rub the white side then the light grey side across the top of your nail.
Now soak your nails in warm water, softening up the skin around your nails and freeing any nail remains from filing. I always put a squirt of my current body wash in my nail water.
Now using your orangewood stick, gently press back your cuticles and run the edge of the stick along the sides of your nail. This frees skin that grows from your finger onto the base of your nail, the skin that causes hang nails. I highly recommend a cheap orangewood stick over a metal cuticle stick. The orangewood is soft and will not scratch your nail bed, it gives with pressure against the nail. Metal however does not and can really damage your nail bed over time.
Make sure to run the orangewood stick under your nails as well, for an overall clean.
Now using your nippers, clip off any free hanging skin that you pushed away with the orangewood stick. You can also use nippers to remove dead skin, hang nails, built up cuticle or excess nail that hangs on after filing.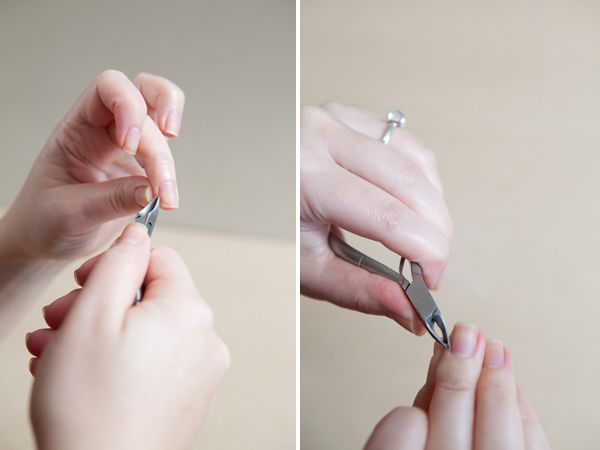 Clean, fresh nails ready for paint!
Starting with OPI's Chip Skip, brush this nail dehydrator onto your nails. It is the consistency of alcohol with similar properties. Your body naturally excretes oil through your nail bed which is what causes your manicure to chip – this extra step extends your manicure by at least 2 days. It gently primes your nail bed for polish.
My favorite base coat of all time! Sticky by CND. It is actually tacky and creates the perfect base for your nail polish color. Apply a thin coat to each nail. Don't worry – it doesn't show up green!
Now we are ready for the color. The best painting tip that I have is to apply the paint in thin coats. I would rather paint three thin layers than one or two thick layers that don't dry completely. Make sure in between each coat that your polish is completely dry.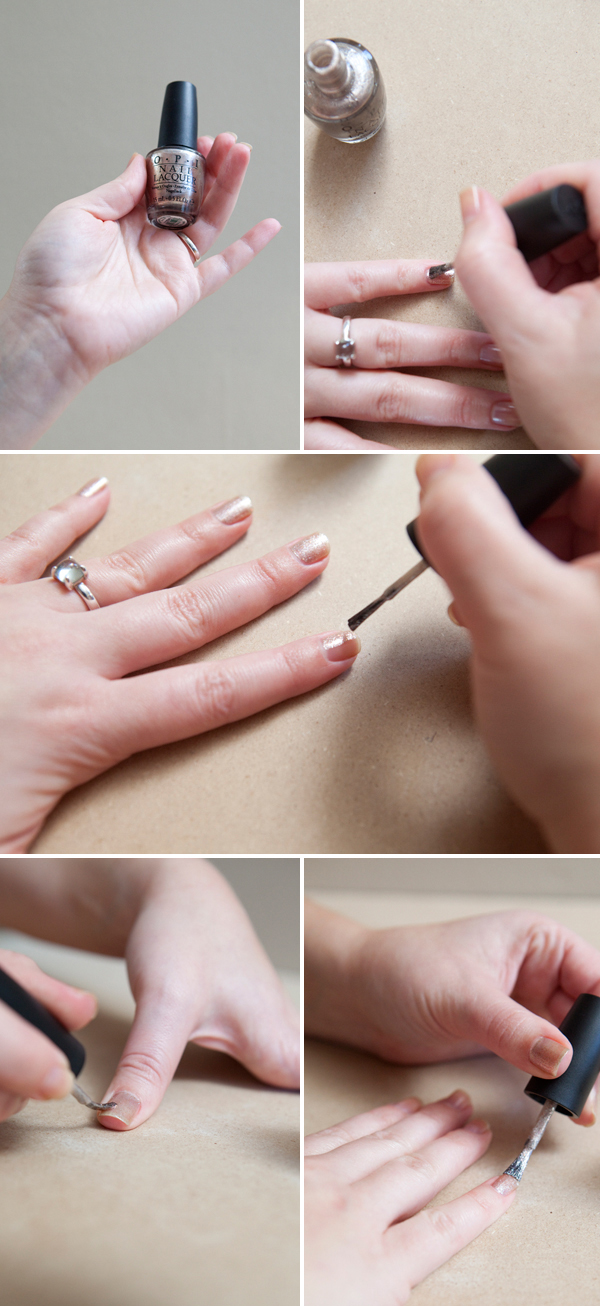 I applied three very thin layers for the perfect amount of coverage. Don't worry about streaks, by the third coat they will all disappear.
Now the top coat. Apply a thin layer to each nail. Air Dry is one of my favorites.
That's it, a few simple tips for the perfect manicure.
As with all our DIY tutorials, if you create one of our projects please send us a picture – We Love Seeing Your Creativity! If you use Instagram or Twitter please use the hashtag #SomethingTurquoiseDIY and it will show up on our Get Social page. Happy Crafting!
DIY Tutorial Credits
Photography + DIY Tutorial: Jen Carreiro of Something Turquoise // OPI color: Designer… de Better! // nail nippers // bowl for soaking: Z Gallerie / two nail files; one heavy grit and one three sided buffer // orangewood stick // Chip Skip // base coat: Sticky // top coat: Air Dry
No related posts found.