Happy Friday! My house is so cozy now that my tree and decorations are up… is your home decorated yet? Here is a fun and easy ornament craft that is perfect to make from one of your extra wedding invitations! It makes a terrific gift for a friend or a special keepsake for yourself. Of course you can do this with any paper but it's extra special when it's your wedding invitation…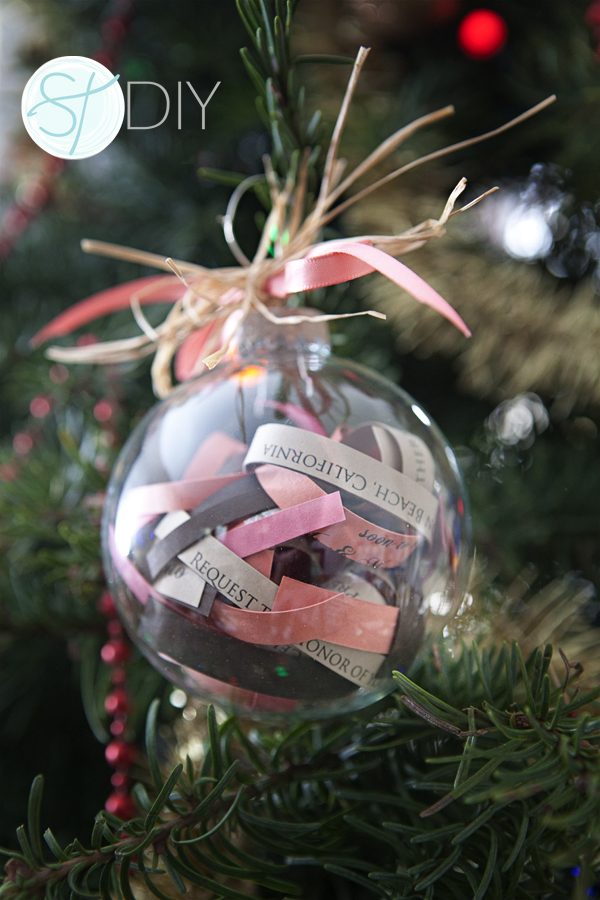 Supplies:
large 4″ globe ornament
your wedding invitation
matching ribbon
scissors
paper trimmer
glitter, paint, Mod Podge (optional)
paint brush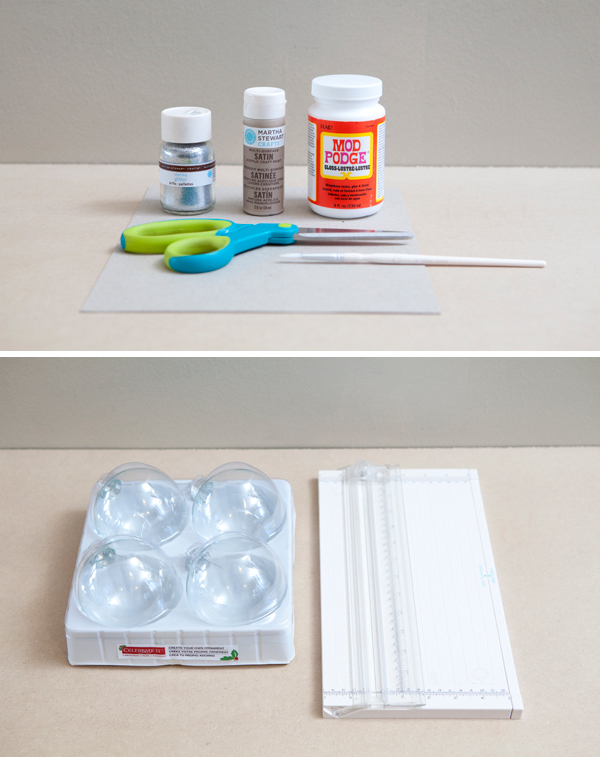 Example Number 1: glam winter wedding. Step one, choose your papers… here I chose the invite card, rsvp card, and map card. Three pretty shades of the wedding that will make this ornament gorgeous.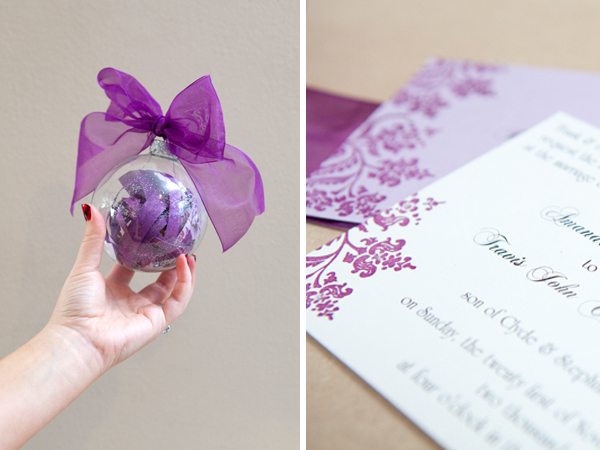 Start trimming little strips off your invitation in all different sizes, making sure that you aren't slicing through important words! Also make sure that your strips will be able to slide into the opening of your ornament.
Next, run the paper strips over your scissors like you would to curl ribbon. Some paper will curl much easier than other paper, and if your paper doesn't curl – wrap it into a curl as best you can.
Then piece by piece, insert each one into your ornament… alternating colors if you are anal like me!
Keep shaking your ornament around to get the papers to mesh together, sometimes it will make more room and you will be able to add more pretty paper. It looks best when packed full of paper. In this example, I added a little glitter to the inside of the bulb for extra sparkle!
Now for the little silver top… in this example I wanted it glittered. Start with one layer of Mod Podge, then cover with glitter. Once completely dry add a second coat of Mod Podge to seal the glitter.
Put your glittery top in place and tie a bow!
So cute and so special!
Example Number 2: natural beach wedding
Same steps. Trim all your papers, insert them into your ornament, paint the top, and tie a bow!
I chose to paint this top with Martha Stewart's Craft Paint in 'root beer float'. Only one coat needed.
For this bow, I used a ribbon and raffia for a more beachy feel.
Merry Christmas! As always… if you create a project from one of my DIY creations please send me a picture or a track-back to this post! I love seeing people's creations!
As with all our DIY tutorials, if you create one of our projects please send us a picture or a trackback – We Love Seeing Your Creativity! If you use Instagram or Twitter please use the hashtag #SomethingTurquoiseDIY. Happy Crafting!

Photography: Studio 11 / DIY + Invitations (sister + cousin): Jen of Something Turquoise / Ornament, Mod Podge, ribbon, blue paint brush: Michael's / Paper trimmer, paint, glitter, white paint brush: Martha Stewart Crafts via Michaels / Nail Polish: Sally Hanson Salon Effects Nail Stickers, yes that right… and I love them!
No related posts found.