Today's DIY project is very simple. Old Fashioned Candy Favors in fall colors, fitting for Halloween Weekend. I love the look of these old fashioned hard candies by Claeys, they have many different flavors to choose – I chose these for their color. As always, if you create a project from one of my tutorials – please email pictures to me – I'd love to see them!
You'll need hard candies, cellophane pretzel rod bags 10″ x 2″ (I have these exact bags for sale in my Etsy shop), a tag punch, raffia, a rubber stamp of your choice – my bride & groom stamp are from Paper-Source, cardstock, an ink pad, and a hole punch – mine is called a Crop-a-dile and it is so strong it can punch through multiple layers of cardboard!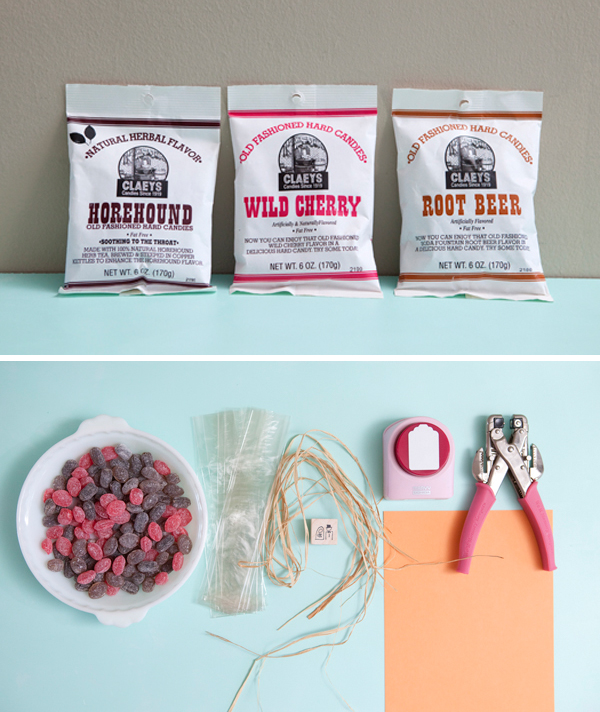 Start my mixing your choice of candies and filling your bags.
You can buy pre-made tags or you can make them yourself using a tag punch, this one is by Marvy Uchida – sold at every scrapbooking store including Michaels. Insert your paper into the punch and press down hard, it's that easy.
Next you will need to punch a hole in your tag.
Now we are going to stamp our tags with a bride & groom rubber stamp. My favorite ink is from Stampin' Up, it is superior to all craft inks. I always stamp on scrap paper and I always do a few test stamps before I stamp on my real project.
How cute are these tags!!??
To make the bow, you will need 18″ of raffia or ribbon. 18″ is a typical length for an average bow. I wanted my bow to be full so I used three strands of raffia.
First, tie the initial knot. Then using one strand of raffia, add your tag and tie another knot. Then tie your bow with all the strands together.
That's it! Simple and charming – perfect for any fall wedding – or party!
{DIY credits} photography: Studio 11 / DIY: Jen | Something Turquoise / pretzel rod baggies: shop bakers nook / bride & groom rubber stamp: paper source