Tackling your wedding seating chart is no small task – but this tutorial will make it easier! All you need is a few items, some of which you might have laying around the house. The beauty in this idea is that the Post-it notes are actually "re-positionable" so you can pick them up and replace them onto the poster board as many times as you need to. I vividly remember starting to create my seating chart for my own wedding and completely going through the eraser on the top of my pencil from so many changes, not to mention forgetting who I erased! I noticed that my mom had some post-its laying around and a light bulb went off – make a post-it for each guest! I personally color-coded my guests by food choice (since I had to turn the count in by table), and not only was it a huge time saver but it turned out to be the easiest way to keep my guests organized – so I knew I just had to share it with you!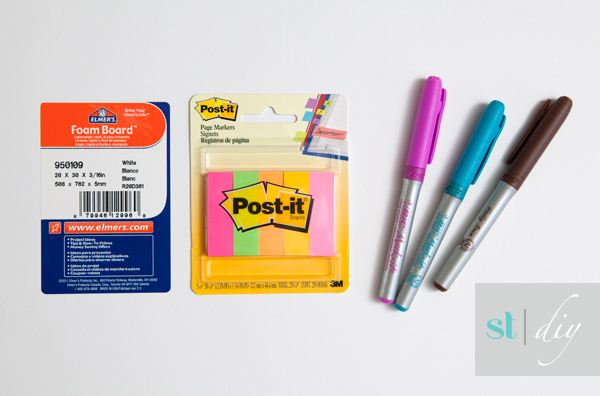 SUPPLIES:
your guest list
your reception table layout
poster board (or two or three… depending on how large your wedding is)
re-positionable page markers from Post-It
a few markers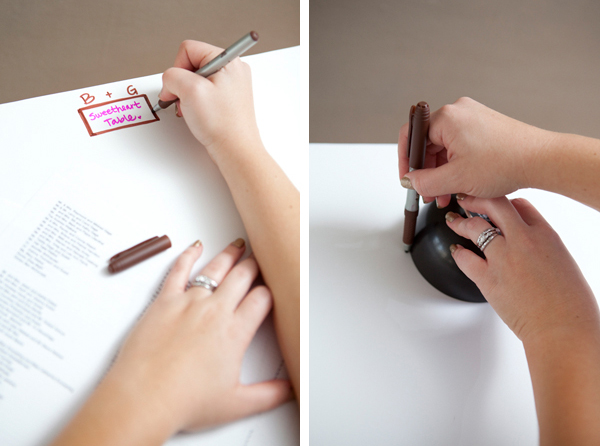 Start by drawing your table arrangement for your reception onto the glossy side of a poster board; using multiple boards if needed.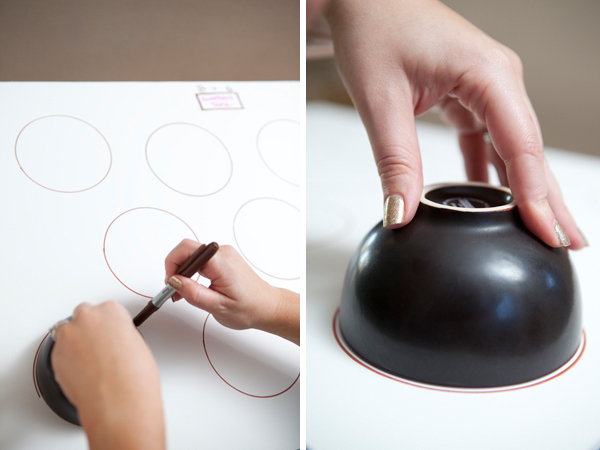 I used a bowl to trace my round tables, but you might have rectangle tables… in that case you can use the bottom of a cereal box.
Label all your tables by number… or how ever you will be categorizing them.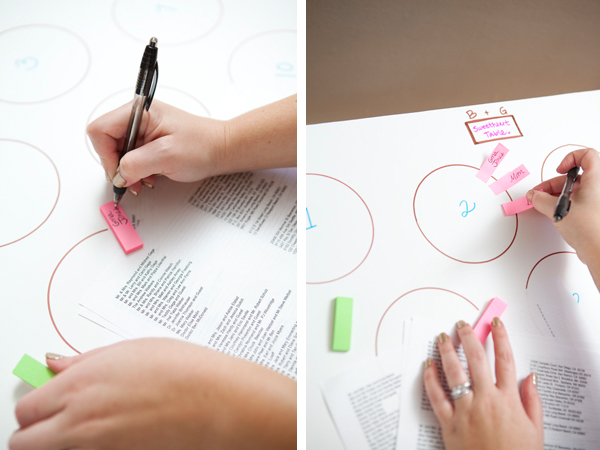 Next, start writing each guests name onto a page marker and then place that guest at their appropriate table. The beauty of using the Post-It page markers on a glossy poster board is that they are completely re-positionable! Which means you can change the guest placement as many times as you need… no erasing or crossing out! Write the names once and easily find a spot for everyone…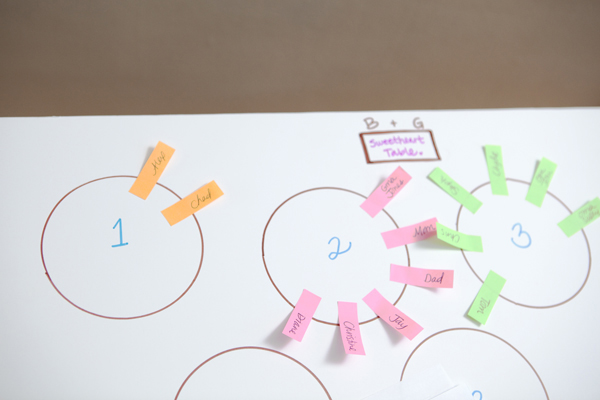 You can use the different Post-It colors to help categorize your guests by: your family, his family, your friends and work people. You can also use the colors to categorize what meal choice that guest has chosen; making it very easy to tell your caterer how many of each meal will be at each table.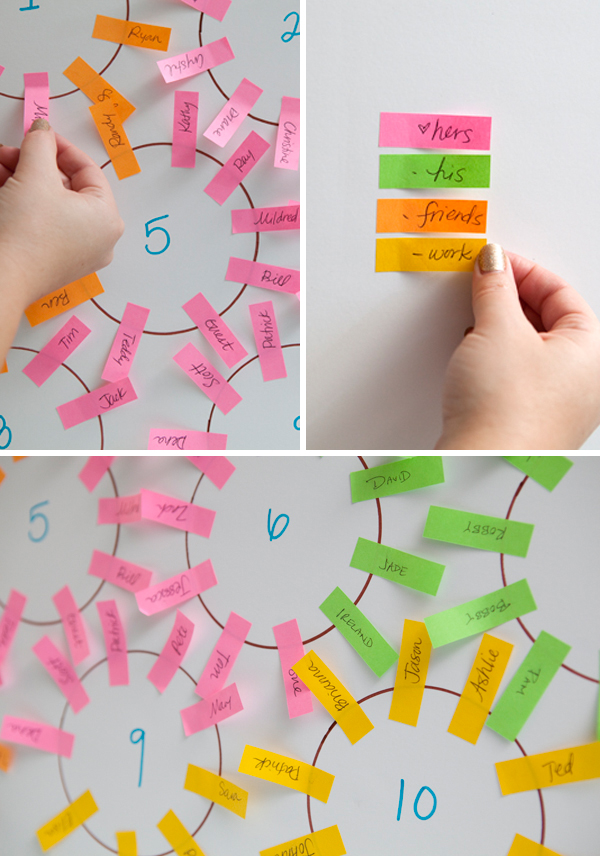 This is the fastest and easiest way I have found to make a wedding reception (or other large party) seating chart… it's also easier if your Groom helps you too! Before you know it, all your tags will be on your board and you will be done!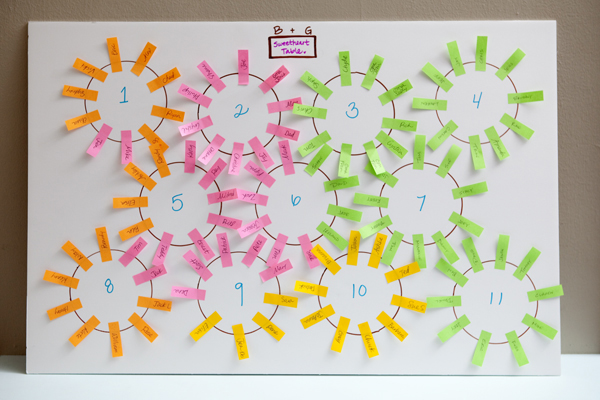 As with all our DIY tutorials, if you create one of our projects please send us a picture – We Love Seeing Your Creativity! If you use Instagram or Twitter please use the hashtag #SomethingTurquoiseDIY and it will show up on our Get Social page. Happy Crafting!
DIY Tutorial Credits
Photography: Something Turquoise Photography for SomethingTurquoise.com // DIY tutorial: Jen | Something Turquoise // poster board, Post-it notes, and markers: Staples // nail polish: Sally Hanson Salon Effects nail strips
---
Shop The Supplies
Find the supplies you'll need for this project from our affiliate links below:
---
1/28/2015 Press Mention: I just had to share that this idea was featured in an episode of Orange Is The New Black! The one where Morello breaks into Christopher's house, only to find that he is engaged and planning a wedding – but not to her!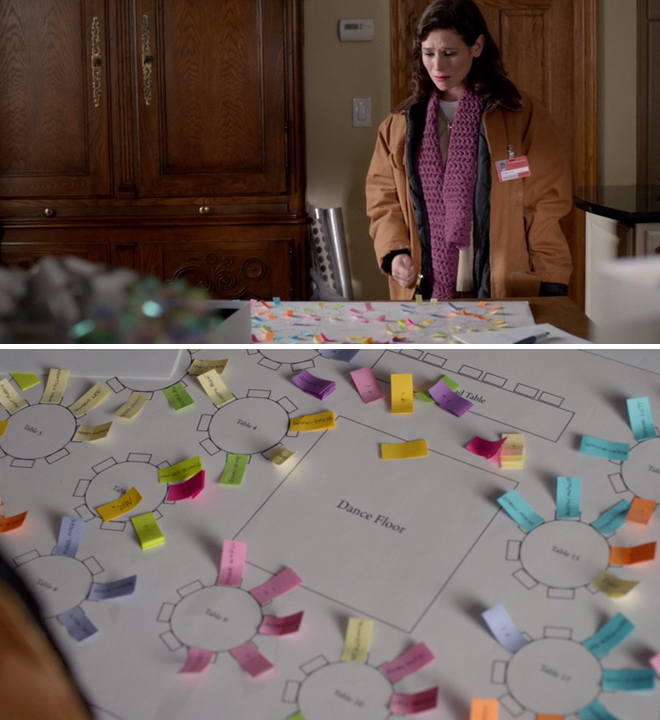 Images courtesy of: Netflix
No related posts found.