After moving several times in my son's first few years of life we finally settled in our current home last year, around his forth birthday. Just in time for me to be pregnant with our second. For his birthday we gifted him a very basic swing set. I had big plans of building a tree house or something really fancy, but with all the other house projects going on and being pregnant, a basic swing set was the best we could do. After a year of staring at the ugly brownish/red wood tones it was time to make it as cute as my original vision. Luckily it was in good shape, so the prep work was minimal. With about a day's worth of work and only about $50 in supplies this is what I came up with!
---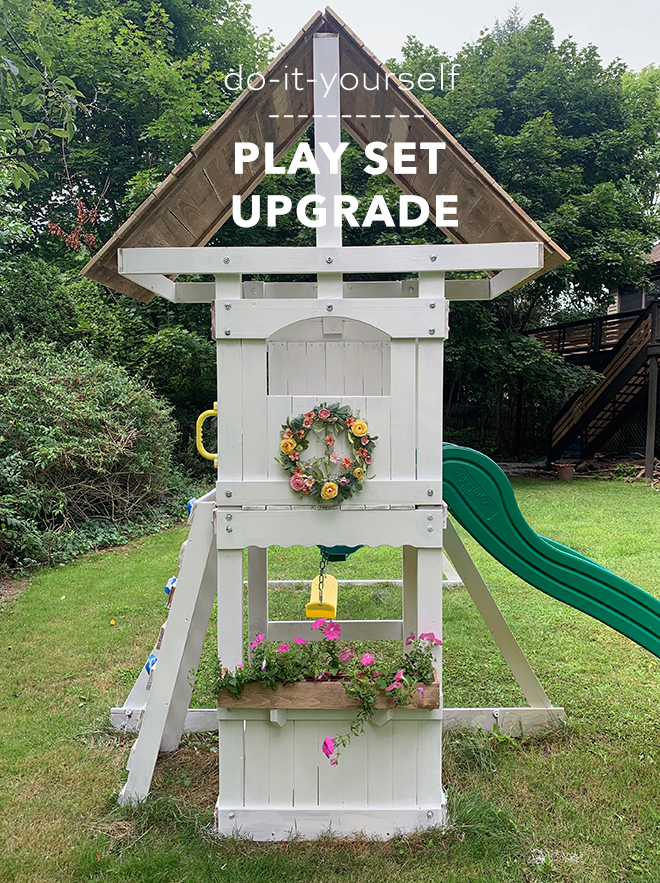 ---
BEFORE
---
AFTER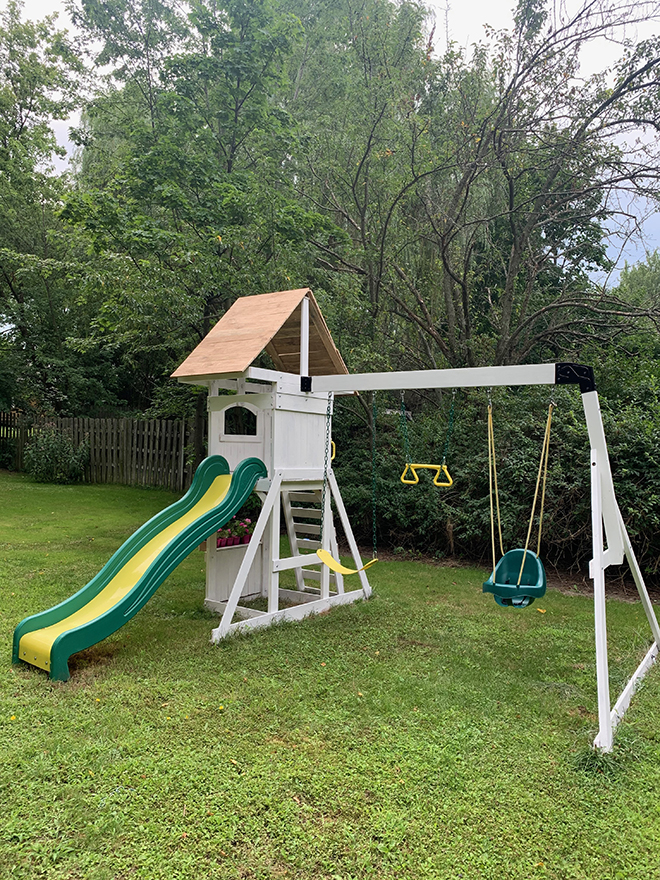 ---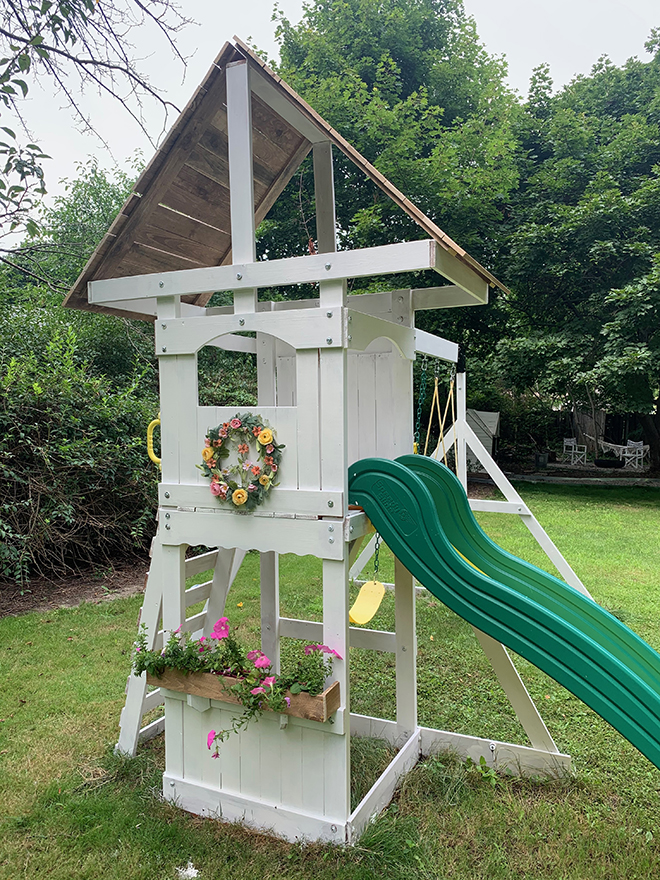 ---
SUPPLIES:
play set
sanding block
solid stain or outdoor paint (I used Behr solid stain in Pinto White)
painting supplies – brush, tray, painters tape
spray paint
pressure treated fence pickets
drill
deck screws
---
PREP + PAINT
The main transformation is in the paint, technically stain. I first taped around the green metal corners and spray painted them black. Once that was dry, I peeled off the tape and prepped the wood to stain. Since this swing set is only a year old, I did't have to do much sanding or prep work. I was basically ready to start as soon as I removed the striped tent and swings. I used a solid deck stain because it will last longer in the Michigan winters and because it was in good enough shape, stain seemed like the best option. I used Behr solid stain in "Pinto White."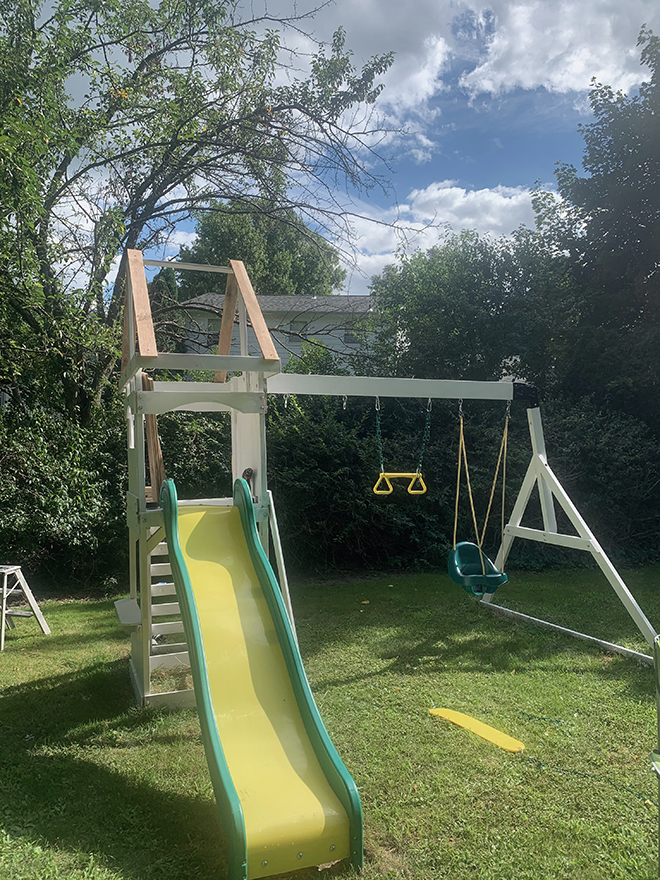 ---
BUILD ROOF STRUCTURE
For the roof structure I used pressure treated fence slats cut to size. I measured the distance from the peak to the front of the play set and cut 4 slats as the base. I didn't miter the edges, just screwed at angles to secure to the top, front and back of the play set. Once your base is secure start attaching the slats. Be sure you use deck screws so they don't rust in the elements. I used about 15 boards for this project.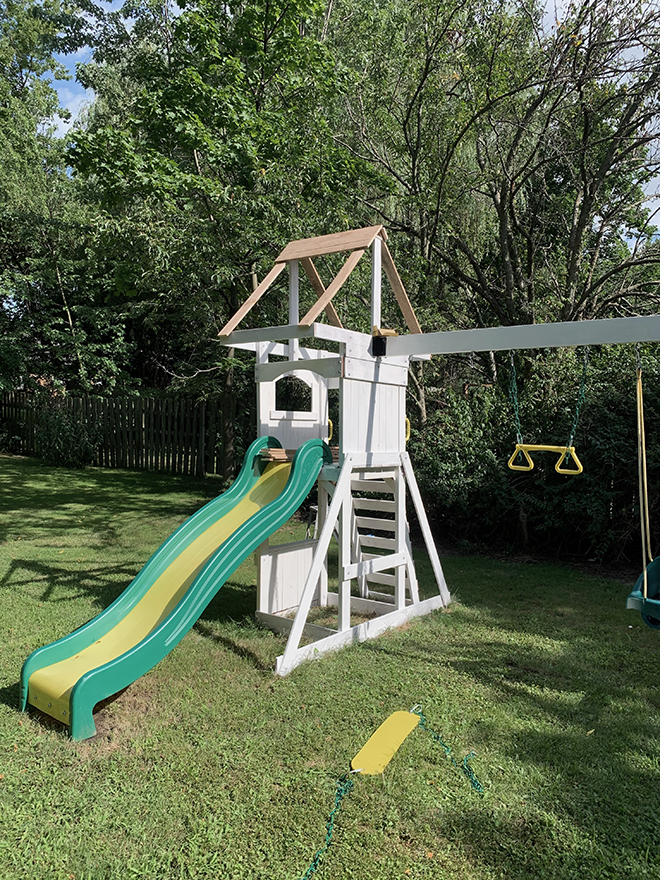 ---
DIY PEACE WREATH
My favorite element of this make-over was this darling faux floral peace wreath. It was super simple and took less than an hour to create and adds so much character! And, if you do not have a play set to upgrade this would be so cute on a front door. It's a perfect message to send to the world in these times.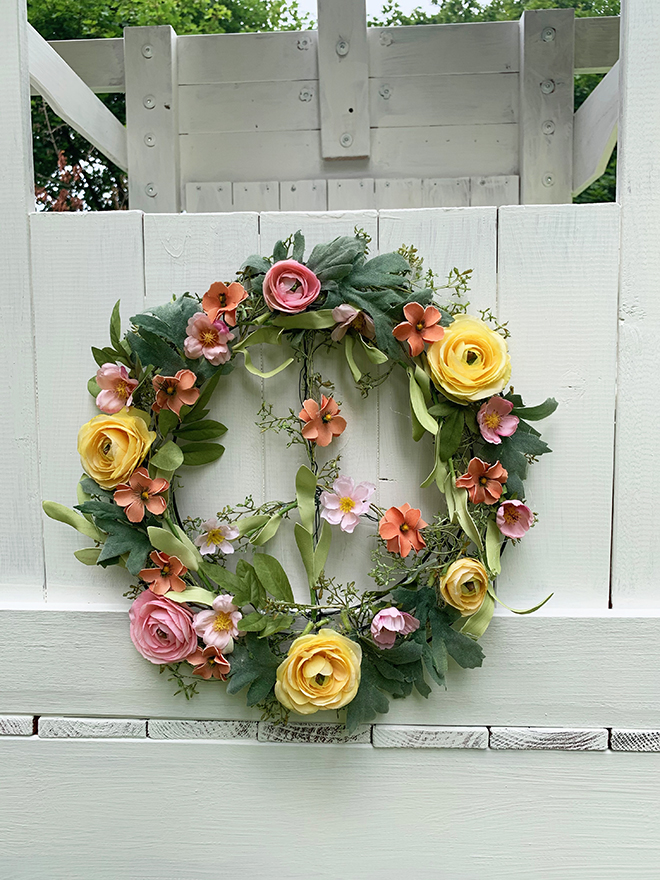 ---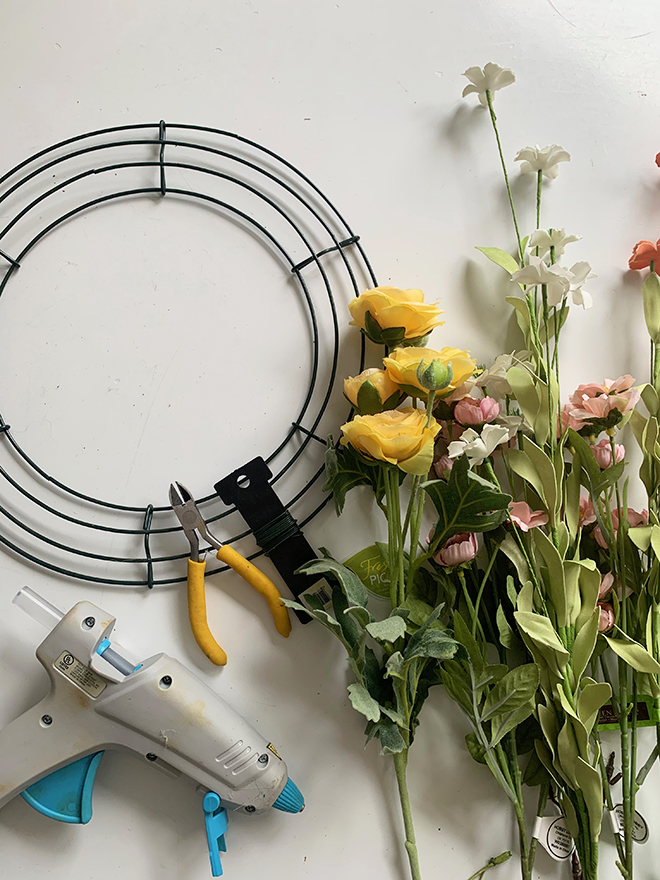 ---
SUPPLIES:
floral wreath structure
heavy duty floral wire
faux florals + greenery
hot glue gun + glue
---
CREATE THE PEACE SIGN
Use floral wire to create the shape of the peace sign. Wrap a couple layers around each other so you have a base to attach your faux florals.
---
ADD GREENERY
Use your glue gun to add a greenery base layer. I used some pieces of left over faux garland from another project.
---
LAYER IN FLOWERS
Layer in different size faux floral blooms and leaves cut from the faux stems until the base is covered. And it's ready to hang!
---
BUILD FLOWER BOX AND HANG WREATH
This play set came with a little bench that we never built, but it did have a little window ledge. I used that as the base of the flower box. I simply took used the the same slats as the roof. Cut to two small pieces the depth of the shelf and one longer piece, the length of the ledge, plus depth of slats, for the slats I used, that would be a 1/2″ x2, so a total of an additional inch.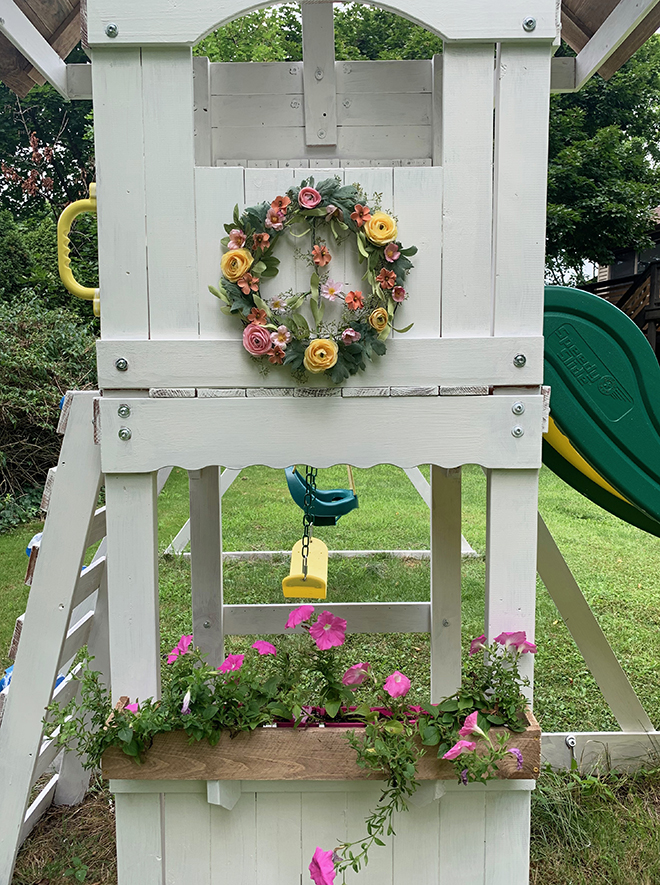 ---
I could not be happier with how this project turned out!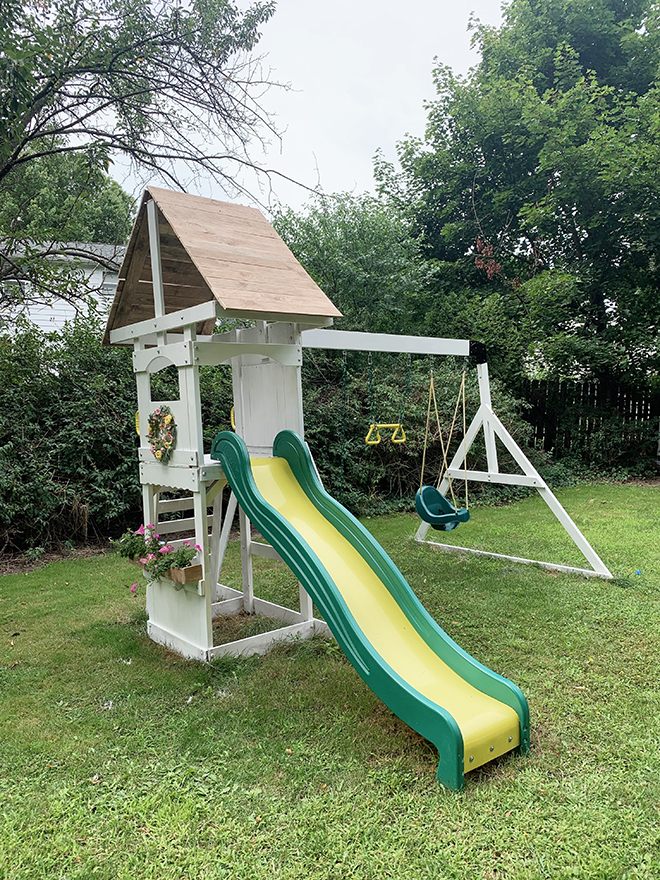 ---
DIY TUTORIAL CREDITS
photography + DIY tutorial: Lauren Koster of Lauren Koster Creative
SHOP THE SUPPLIES