It's Day 4 of #favorweek and I'm super excited to be a part of it this year. We have been to quite a few birthday parties over the years and most of them have had very generic favors. I personally think favors can be some of the most creative elements of a party, so I've got an awesome idea for you today! Here I'm sharing how to make your own Play Dough, plus how to create Play Dough favor boxes for birthdays and for kids holiday gifts! Play Dough is great for many ages and can easily be customized to any party theme or holiday (red and green for Christmas, blue and white for Hannukkah, red and white for Valentine's Day, etc). Creating a Play Dough kit is very affordable and you may have most of the elements in your craft stash or pantry already… perfect for creating something memorable while staying on a budget!
Dough Recipe
I have been using this dough recipe for years and it is wonderful! It's "taste" safe for young kids, even though it's not tasty at all while being soft and not sticky. The total recipe yields about 3 cups of dough.
RECIPE:
2 cups All Purpose Flour
3/4 cup Table Salt
4 teaspoons Cream of Tartar
2 cups Warm Water
2 Tablespoons Vegetable Oil
Food Coloring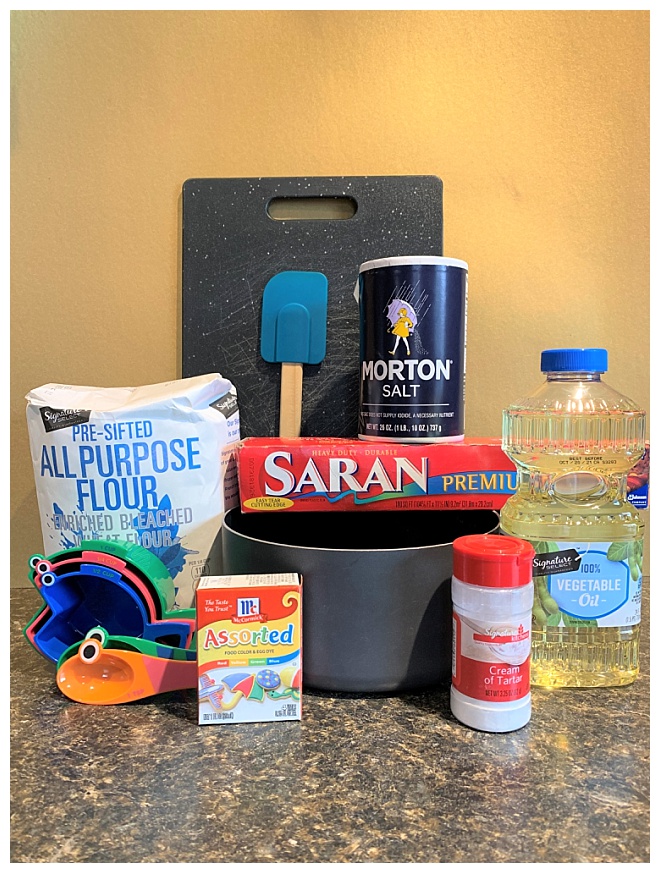 Making the Dough
Once you have gathered all your ingredients, mix the flour, table salt and cream of tartar in a medium or large pan. Mix the dry ingredients well for a smooth dough.
Next, add in the water and oil and bring to the stove. If you are making a single color batch of dough, this is the PERFECT time to add the food coloring. I made a single batch of green dough so I added about 30-40 drops of green food coloring directly into the water before pouring into the pan. Adding the food coloring into the water saves energy while you knead the dough and I have noticed the color seems more vibrant and even.
While mixing the dry and wet ingredients, have the heat on medium to low. As you continually stir you will see the mixture turn into a dough consistency. After about 3 minutes the dough will lose its stickiness. If the dough is undercooked, it will remain sticky. A good rule of thumb is once the dough stops sticking to the spatula it is done.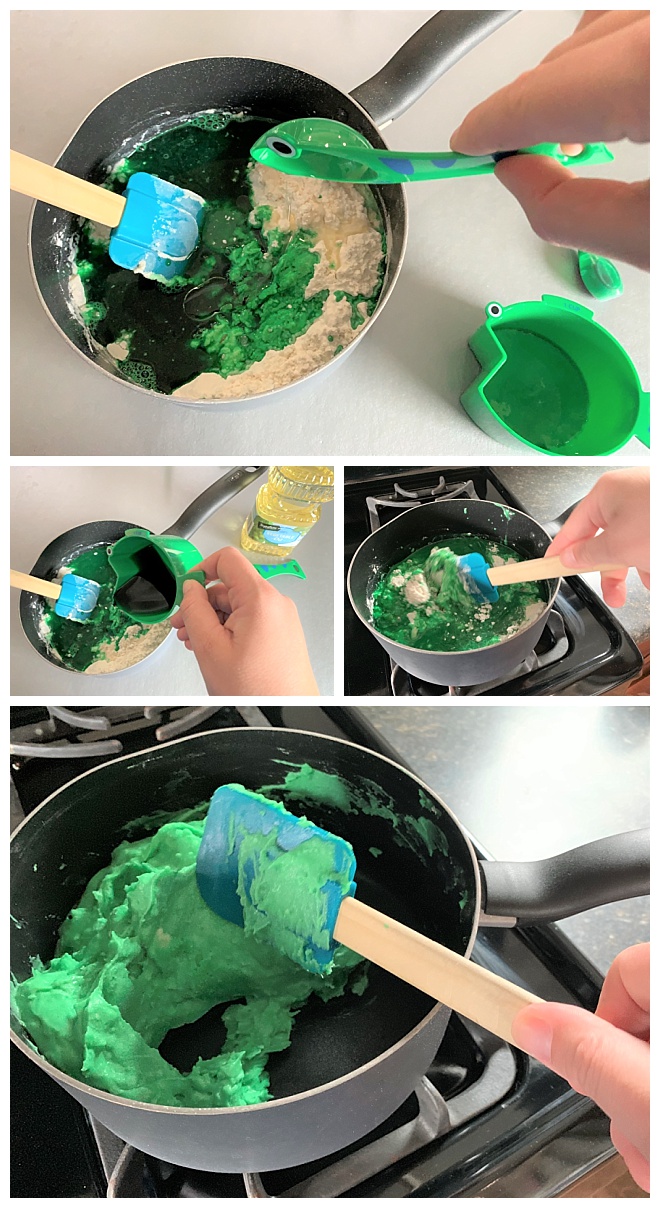 Finally, remove the dough from the heat and let cool slightly. While still warm, knead the dough to get a smooth consistency. This is my favorite part because the warm dough is actually very relaxing on my hands!
If you are making more then one color in the batch, divided the warm dough into smaller amounts and kneed the food coloring into the dough. I used 10 drops of yellow, 20 drops of blue and 20 drops of red in my dough. I also added silver glitter to one section without any food coloring. The food coloring did get on my hands as I kneaded the dough but once it is mixed into the dough it will come off off your kiddos hands.
Once cooled, the dough can be divided into small portions and wrapped in plastic wrap, or placed in an airtight container, and added to your Play Dough Kit! The dough can be stored in an airtight container for a couple of months!
Play Dough Kit
To amp up the coolness factor of the play dough, you can make a fun Play Dough kit. This is perfect for birthday party favors because you can customize it for different themes. You will want to include items such as a mini rolling pin and cookie cutters at the minimum. Other accessories are a fun addition to enhance the play and you may even have them already in your craft stash.
When packaging the kits I wanted to have the top clear and decided to use dessert boxes. They come in a large range of sizes and shapes so I bought a multi-pack on Amazon to use in the future as well!
Colorful items like pom-poms, shaped beads, pipe cleaner pieces, faux gems or paper straw segments add to the open-ended play and can be used to make faces, patterns and are just fun!
Items that can be used to create scenery such as small rocks, glass pebbles, shells, small trees, branch pieces or rattan spheres are perfect for pretend play with small animal figures or people figures. As a semi-retired floral designer, I have quite a collection of these items and they are some of my favorites to offer for play dough accessories!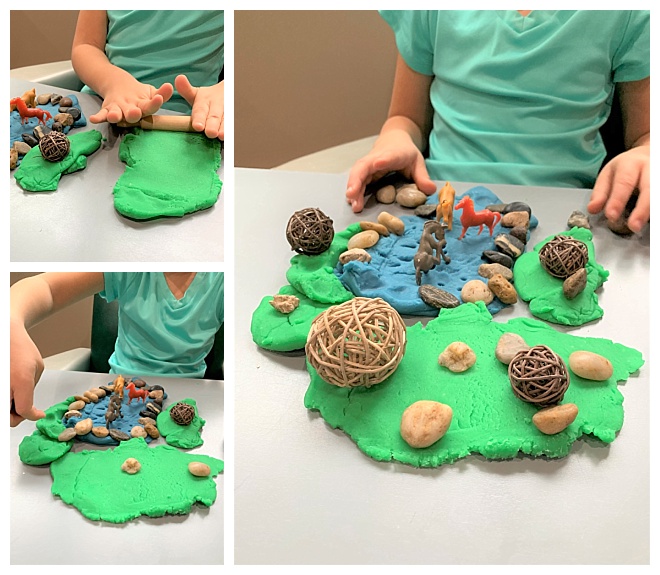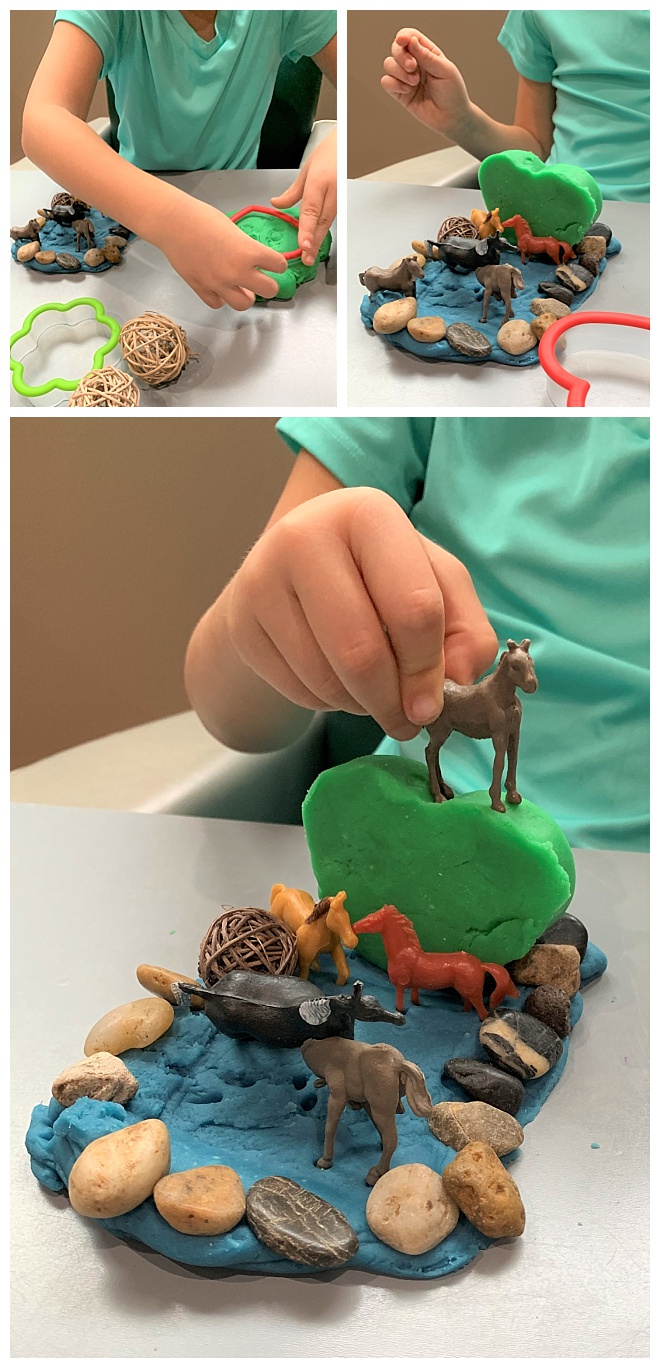 Since my daughter is OBSESSED with pretend play, I like to include a small character for her to use to create stories or that will lead to an adventure. For the two kits I put together I went to the Dollar Tree to see what was available and found there were a ton of options! They had a variety of small animals for the farm, dinosaurs, horses, sea creatures, fairies and a variety of people! Each bag came with 10 figures so you can make multiple kits with each bag. Amazon also has a huge variety of options that you could use for ANY theme you are looking for. If you are worried about the size of a small toy, consider bath toys! I found adorable rubber duckies and frogs in a 3 pack are the Dollar Tree as well.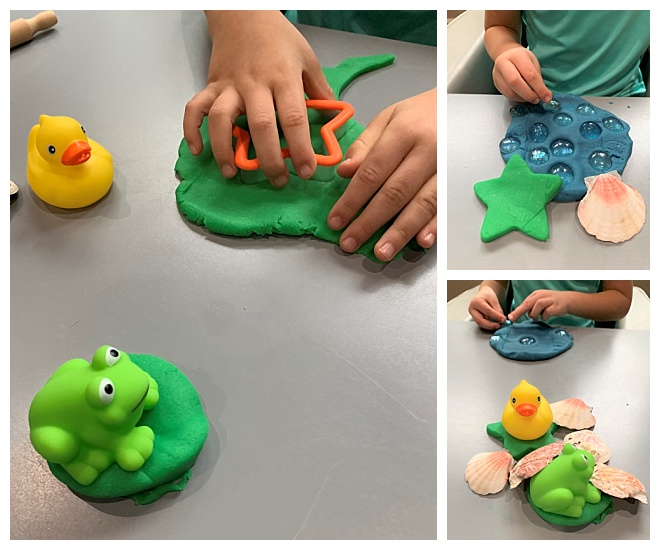 The horse play dough kit lead to a lot of play for my almost 6-year-old. She surprised me by making the green dough into a hill for a horse to overlook the others. I loved the 3D element it created and it was all from her own imagination.
Christmas Play Dough Kit
My daughter LOVES to give gifts. This year she will be giving her friends a Christmas themed play dough kit! I bought a collection of metal Christmas Cookie cutters that had a variety of shapes so I decided to tailor each kit to the cookie cutters. Some ideas for Christmas themed accessories are small bottle brush trees, bells, shaped beads, pom-poms, glittery pipe cleaner pieces, small plastic ornaments, pieces of beaded garland and artificial flowers.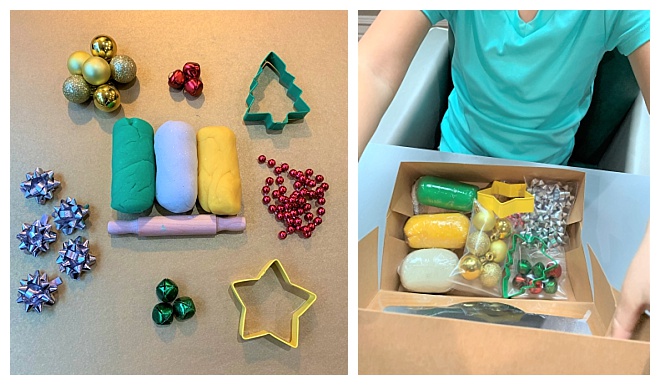 Perfect For Any Celebration
From Christmas to Hannukkah, and from Valentine's Day to 4th of July ~ these custom Play Dough kits will be the hit of any party you and your little attends! Easily personalize to fit the holiday or theme by the color of dough, cookie cutters, and embellishments you include!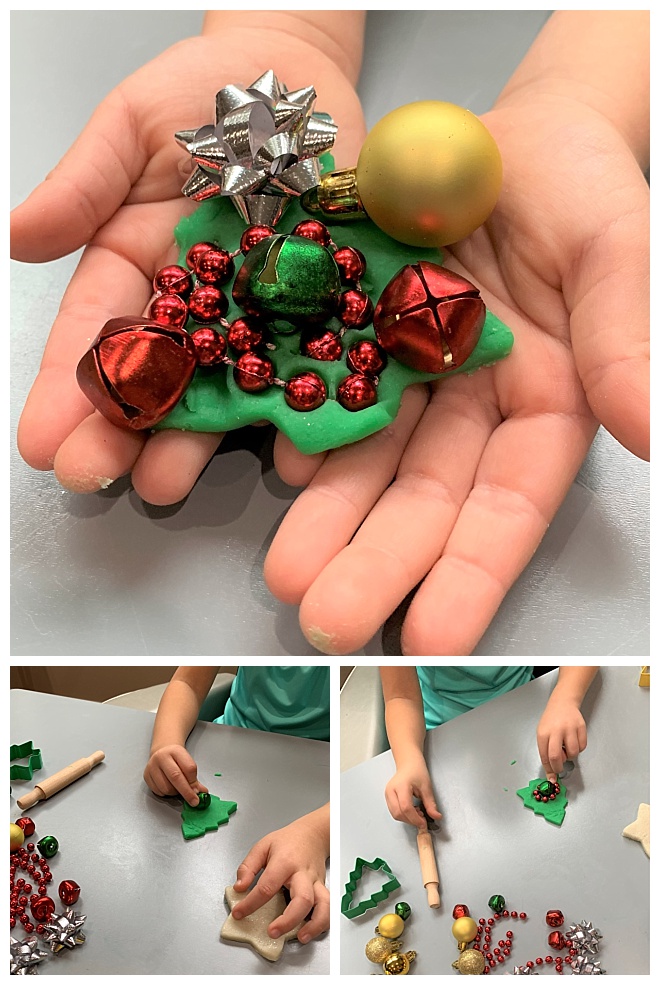 As with all our DIY tutorials, if you create one of our projects please send us a picture – We Love Seeing Your Creativity! If you use Instagram or Twitter please use the hashtag #SomethingTurquoiseDIY and it will show up on our Get Social page. Happy Crafting!
DIY Tutorial Credits
Photography + DIY Tutorial: Jacki Davis for Something Turquoise // Dessert Boxes: Amazon // Mini Rolling Pins: Amazon // Food Coloring: Amazon // All Purpose Flour: Amazon // Cream of Tartar: [Amazon][4]
Shop The Supplies:
Find the supplies you'll need for this project from our affiliate links below: