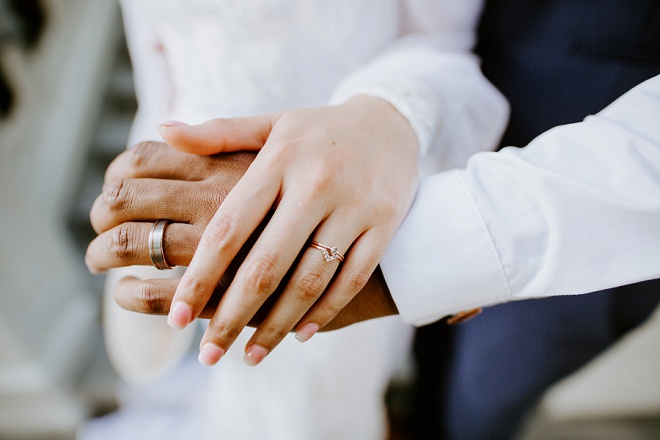 What is your favorite wedding day memory?
It's hard to pick, but I think the amount of dancing there was surprised us both. We aren't into dancing, but figured our guests would be and they really were! We actually did a lot of the traditional wedding dances, like a first dance, parents dance, dollar dance and la vibora de la mar which translates to the sea snake. A game where the rhythm of music is followed, it gets faster and faster, the participants struggle to keep the "snake" together, while running through tables, chairs and the couple. At the end of the game, the bride throws from her chair the wedding bouquet and the groom the garter. Everyone had a lot of fun, that will definitely stick with us.
What did you DIY for your wedding?
Our wedding was mostly all DIY. Honestly, if I could have done everything myself, I totally would have. My mom and I sew, so of course we were going to make our dresses. We made my dress, hers, the bridesmaids, jr bridesmaids, flower girls, my aunt and two cousins dresses. It was difficult deciding on a style for my dress, but I was definitely vintage inspired. My tiara was vintage, and purchased from a fellow Etsy seller. My earrings were from an Etsy shop too, but weren't vintage. They were however just what I needed to complete the look, a navy blue stone and feather? Perfect for the love birds motif going on throughout the wedding. I made floral bow ties for the groomsmen, as well as, their boutonnieres. My husband's mom passed away and it was important that we incorporate her somehow so I added her photo to his boutonniere. I made flower wands for the flower girls since throwing petals wasn't allowed.
The wedding took place at the McHenry mansion in Modesto, California. Although it's a public historical site it felt very private the day of and it really complimented our wedding look. I made the table centerpieces with thrifted candle holders and mini birdhouses we painted. We didn't use any real flowers, as I tried my best to be as eco-friendly as possible. Only sola wood flowers, feathers and faux greenery were used. To accompany the birdhouse centerpieces, we added a small nest with a mini candle and those were placed on lace table runners. Along with table numbers I made with cardstock and stickers that I spray painted copper, they were held up by bird place card holders. I DIY'd large moss covered letters out of cardboard of our initials for our altar/sweetheart table area. Finding a local venue that was B.Y.O catering friendly was a bit of a challenge because we wanted catering done by a relative who does tacos. Thankfully, the McHenry mansion was very accommodating.
For our "guest book" we had people sign fabric squares that I made into a quilt. We did Jordan almond eggs in mini nests as favors as well as wooden fans because it was another hot day in august. For myself, bridesmaids, my mom and my husband's stepmom, I found these vintage paper fans on Ebay as a bouquet alternative. I added wood flowers and velvet ribbon to spruce them up. I had a custom banner made from zazzle.com with the background I used in our invitations, to use as a backdrop for a photo-op with props. I added a lace fabric to extend it to the ground and made a stand for it using PVC pipes. I also had three birdcages as decor, one as a cards holder and two for our sweetheart table and altar area.
My family is bilingual English and Spanish and I incorporated that with some of the signage, my thank you speech and music. The bridal party's processional was "You Belong to My Heart" by Jerry Vale who's rendition is in both languages. My processional was a rendition of "Dream a Little Dream" by Pink Martini and The Von Trapps. The ceremony recessional was "Perfect" by 11 Acorn Lane. Our couple's entrance was "Lucky Day" by 11 Acorn Lane and our first dance was to "Completely" by Caro Emerald. My husband is a musician, but left the song picking to me and naturally I picked some of my favorite artists I listen to.
Lastly, our wedding cake was made by my husbands sister. I made a cake topper that consisted of two lovely little ceramic birds with vintage millinery leaves on wire on a candle lid. My husbands father officiated the ceremony and family and friends offered to help set-up and take down for the event as well. All in all, it was a family affair!
Did you have a something old, new, borrowed or blue?
My tiara and bouquet were my something old. My dress and shoes were my something new. My earrings, my something blue and I didn't have anything borrowed.
Any advice for brides currently in the planning process?
If you're planning everything on your own like we did, find an already made wedding timeline to use as a guide for when things should get done and try your best to stay organized with those deadlines. Try your best not to overthink things too much. I know I spent way too much stressing over little things that in the end only I noticed. -Nalin, the Bride
Event Credits
Photography: Kiss Me Again Photography // Venue: McHenry Mansion // DJ: RDM Entertainment // Engagement Ring: Abhika Jewels // Tiara: Fabulous Party Hats // Bride's Earrings: Glamorous Bijoux // Hair + Make-up: Angie's Make-up // Groom's Attire: ASOS // Custom Tapestry Banner: Zazzle // Cake Topper: Angel Heart Designs // Tablecloth Rentals: Linen Tablecloth
No related posts found.