"These two shared a tearful First Look and we had the opportunity to take portraits at the most beautiful farm with Spanish moss! They tied the knot at St. Michael Catholic Church and had a wonderful ceremony. Steven and Clare celebrated with family and friends at their reception at the Grand Marais with an exciting popper exit. It was the perfect day!" –Anna Grace Photography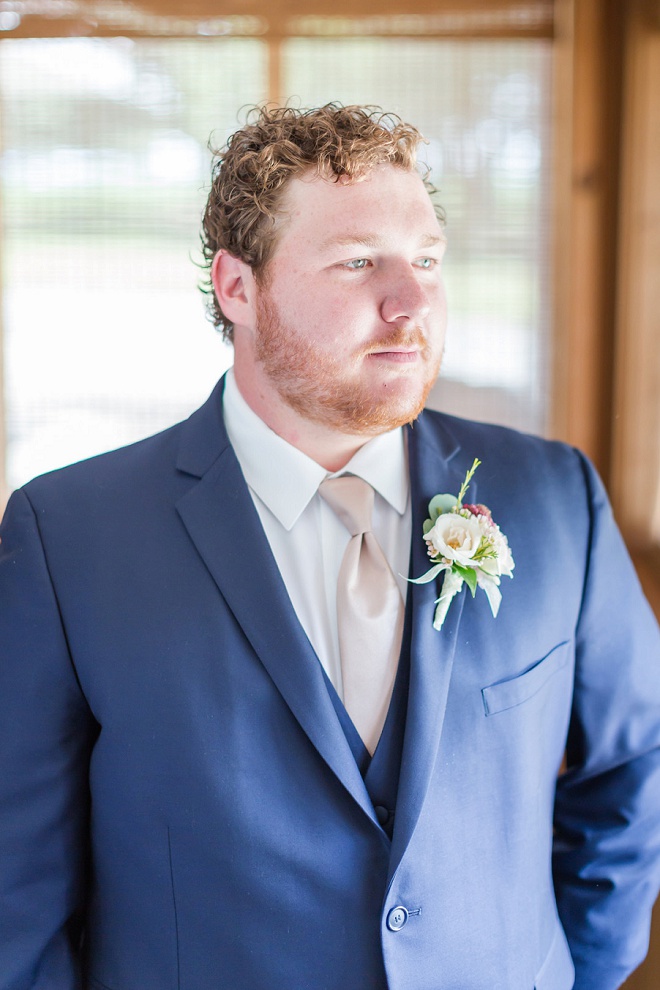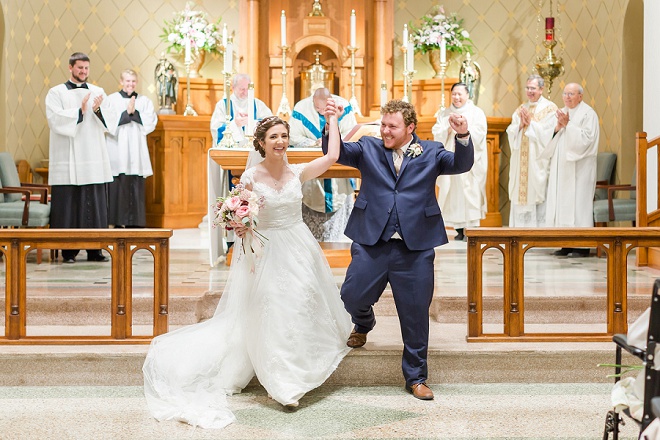 What is your favorite wedding day memory?
Definitely our first look! We were so excited to see each other for the first time and enjoyed those moments together in private! It made the rest of the wedding day so stress-free and I'm so happy that we did it!
What did you DIY for your wedding?
Our biggest project was the centerpieces! I knew that I wanted to put most of my budget towards my photographer and videographer and not so much the centerpieces that I would never see on my wedding day! Since I'm not a huge fan of a cake we did cupcakes for all of our guests instead of a southern traditional tiered cake. We made tiered stands for each table and put the cup cakes and cake balls on them! Then we had a small cake made for my husband and I to cut for pictures. These cake stands took some patience to make but were super cheap and easy. We went to the dollar store and bought plates, chargers and glasses. Glued them all together then spray painted gold! Transporting and spray painting was the hardest part.
Did you have a something old, new, borrowed and blue?
Yes I did! My something new was a necklace my parents gave me on my wedding day. My something old was my grandmother's earrings. My something blue was my underwear!
Any advice for brides currently in the planning process?
Don't stress about the details that won't effect your day. The decorations are fun, but when your reception is packed with people you love, none of it matters! -Clare, the Bride
Event Credits
Photography: Anna Grace Photography // Ceremony Venue: St. Michael Catholic Church // Reception Venue: Grand Marais // Florist: Petals and Pots // Cake: Adrienne Benoit // Videographer: Brady Cannon Films // Transportation: Lafayette Limo and Trolley // Engagement Ring: Jerry's Jewelers // Bride's Attire: Deshotel's Dress Shop // Bride's Shoes: Kate Spade // Bridesmaid's Attire: David's Bridal // Hair: Second Street Salon // Make-up: Nicole Boudreaux // Groom + Groomsmen's Attire: Mary Ellen's The Tux Shoppe