"These two adorable souls and their big day are not to miss! Staring with the gorgeous and historic grandeur of the Darlington House, and piling in playful, silly energy, the love in this charming space was just brimming from everyone. Some of the spectacular details we are over-the-moon about were the different subtle pale blue hues of the bridesmaid dresses coupled with their vibrant colorful florals, the classic swoon-worthy backdrop of the Darlington House's dapper library, all of the sweet-as-pie DIY decor, the elegant tiered cake with classic topper, and the hint of rain that didn't stop this topnotch party from happening. And who can resist a taco bar? There were some many charming and fantastic elements to this day!" –Let's Frolic Together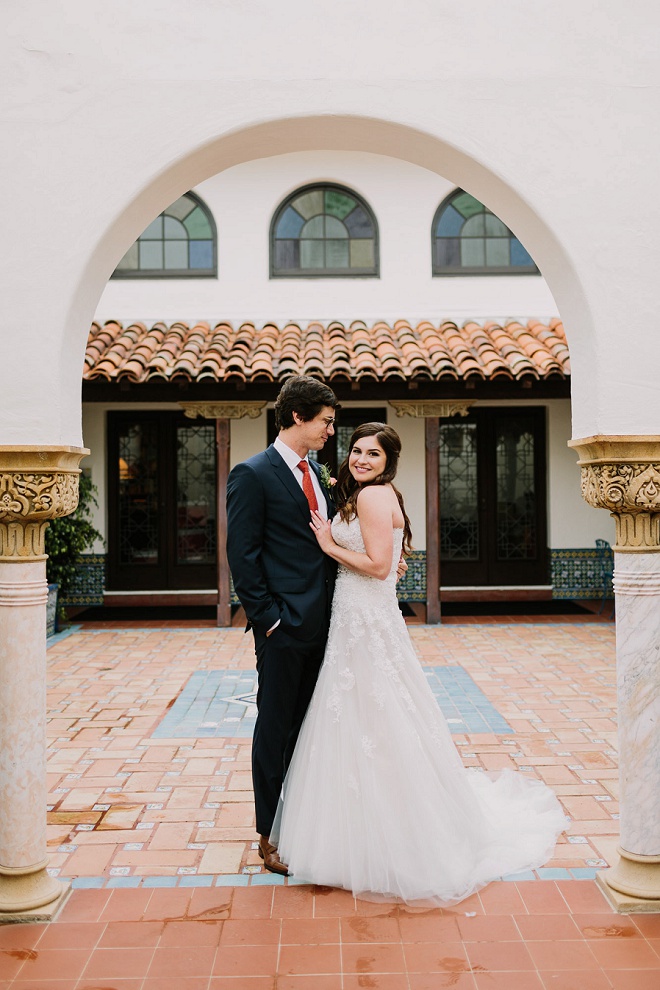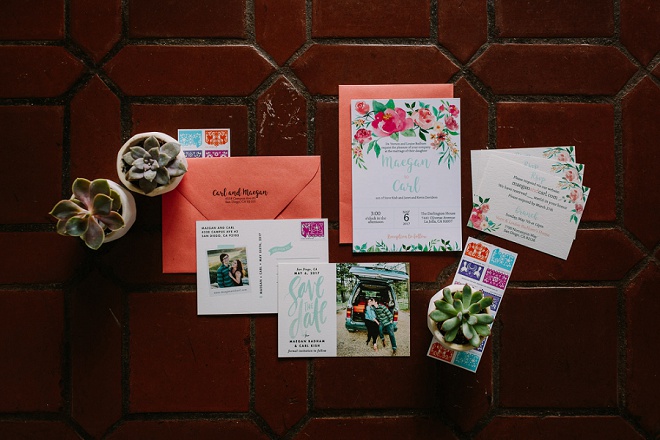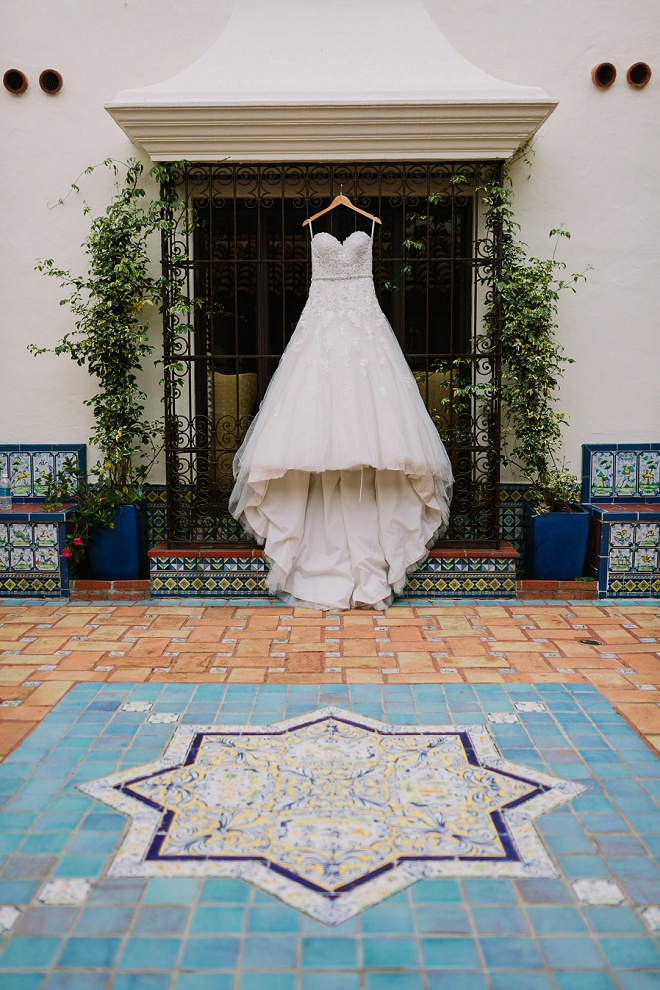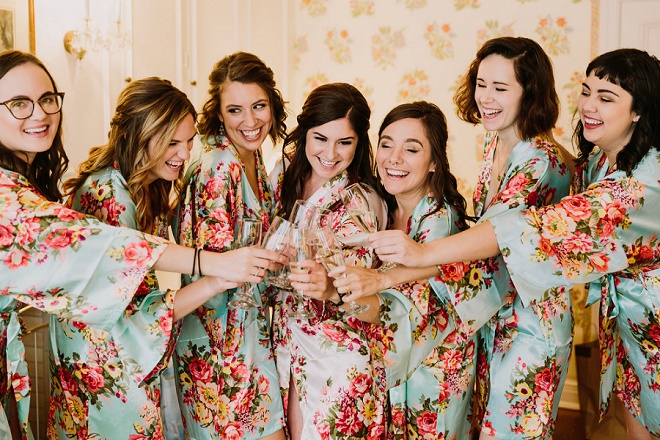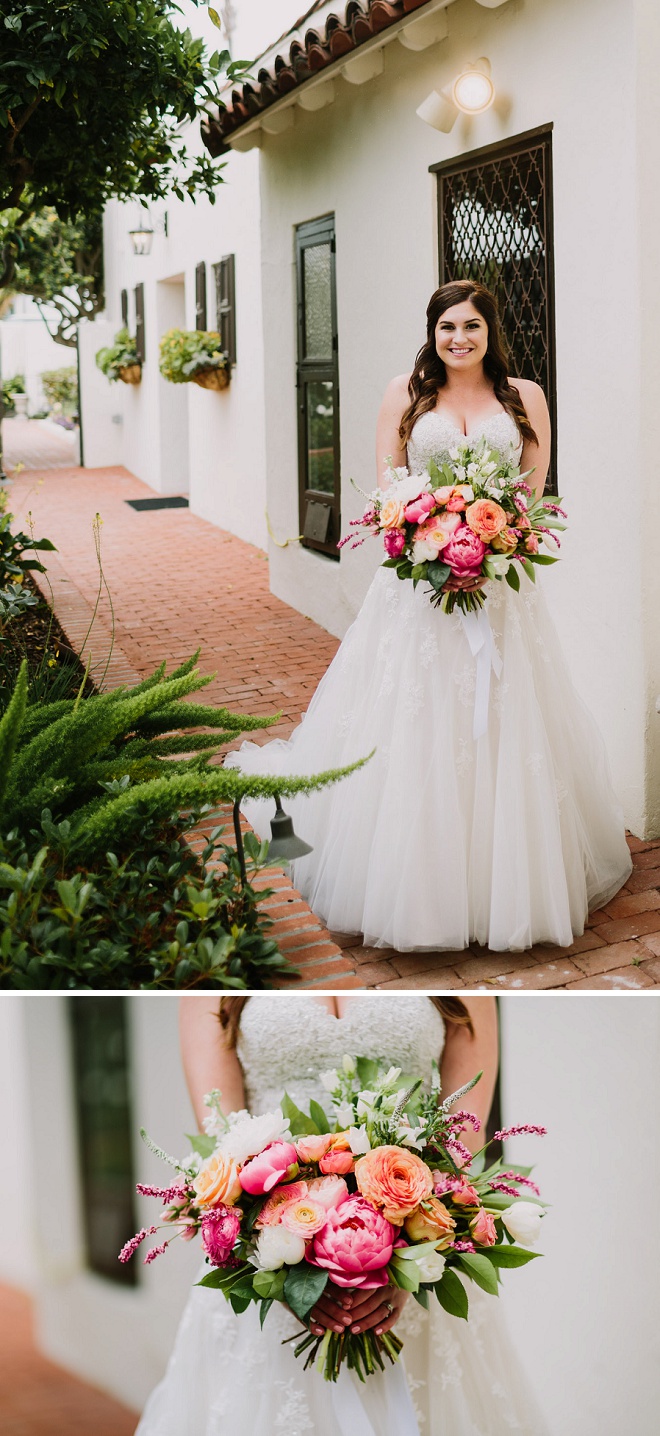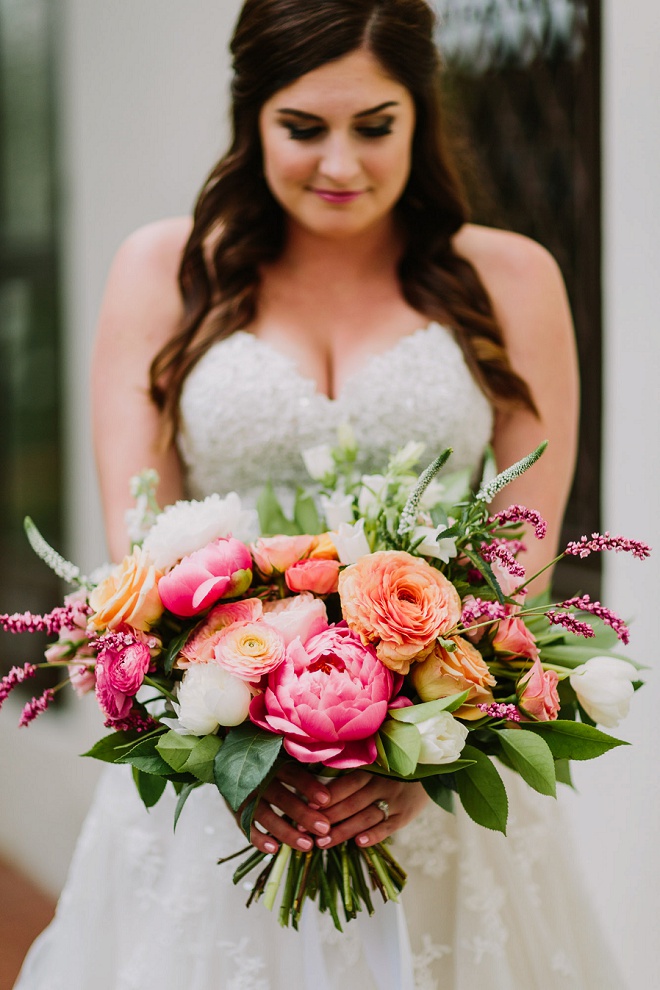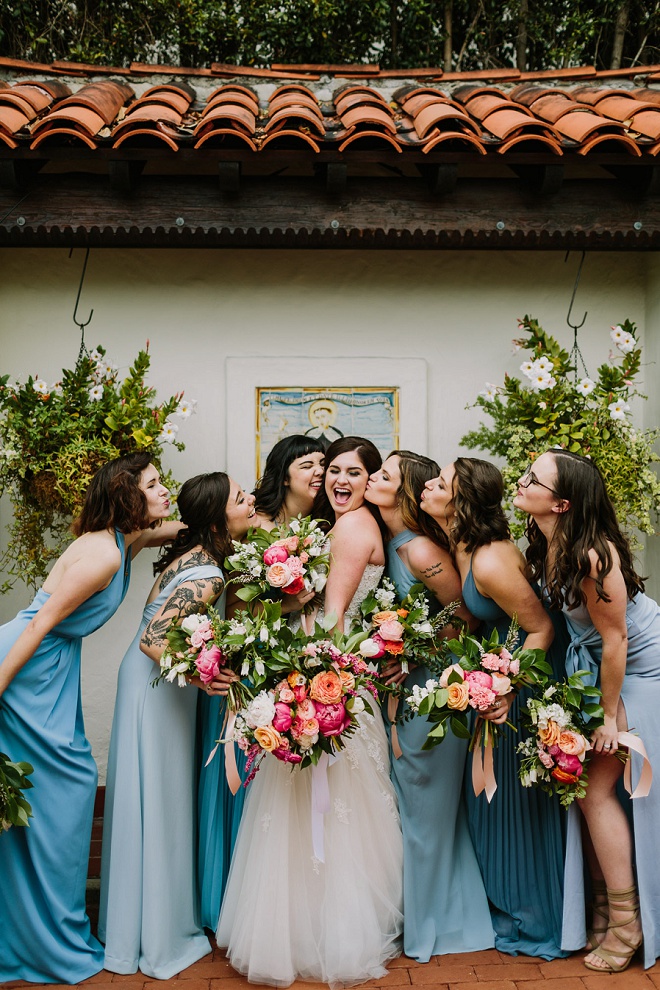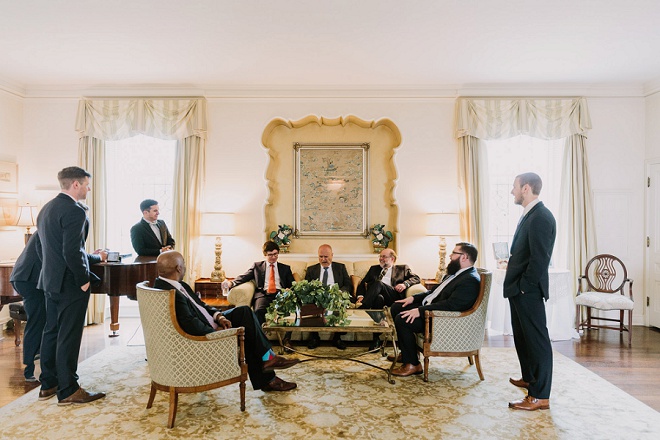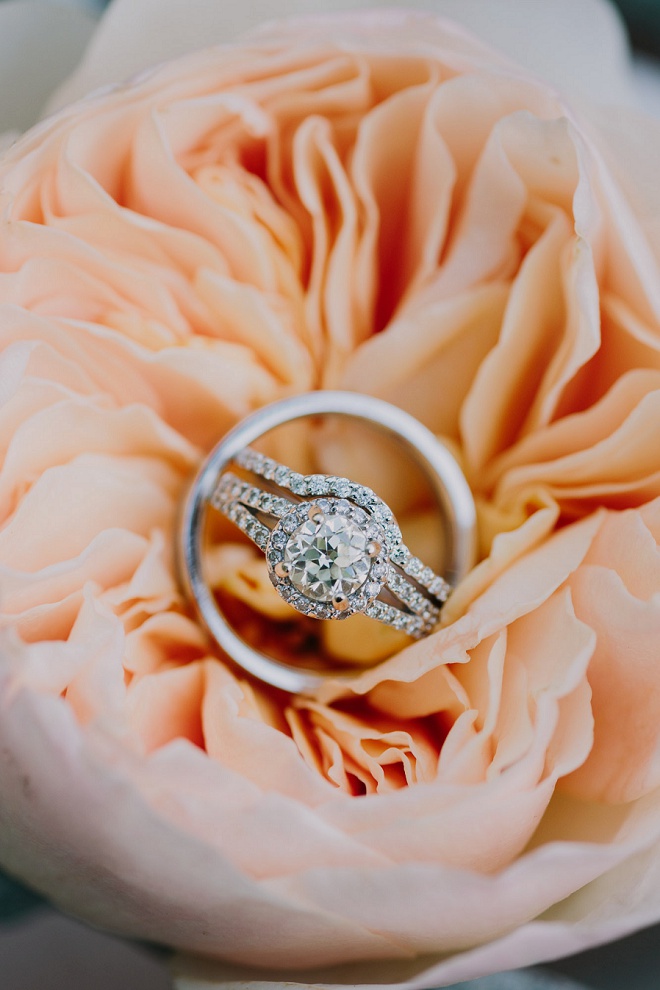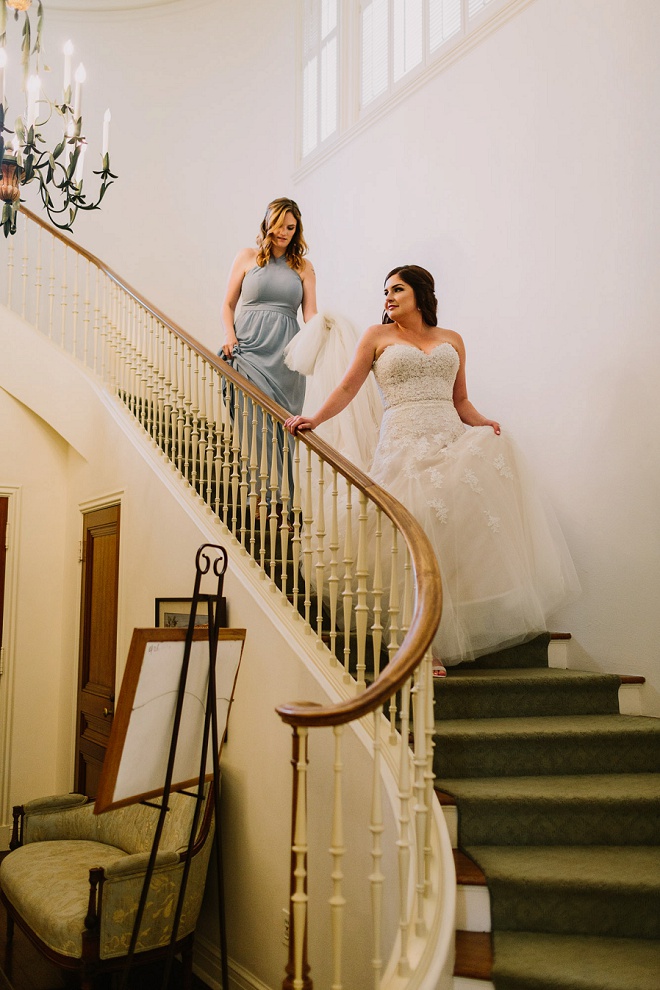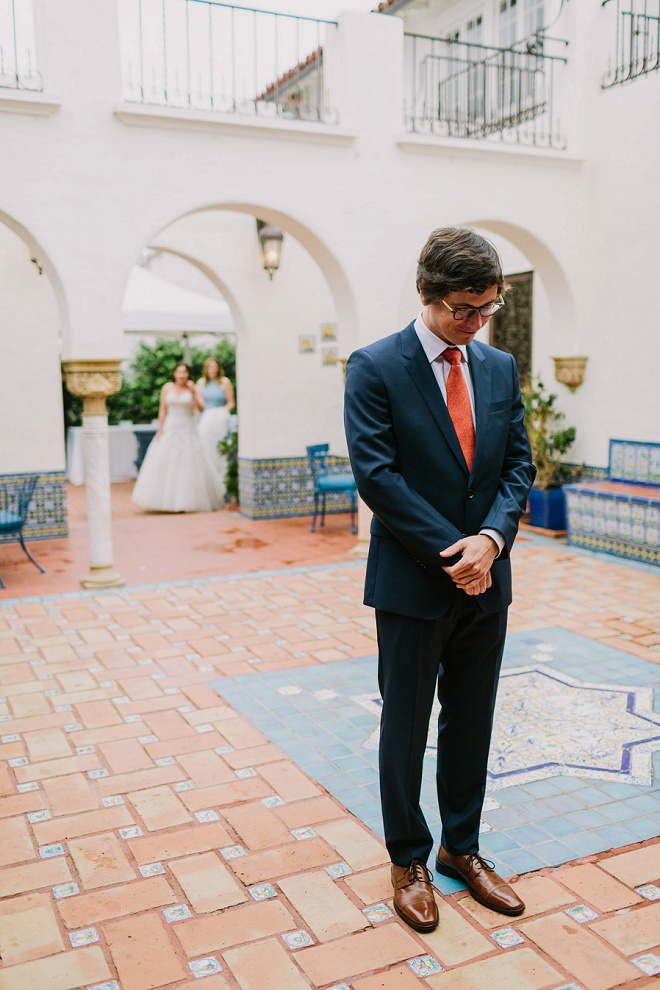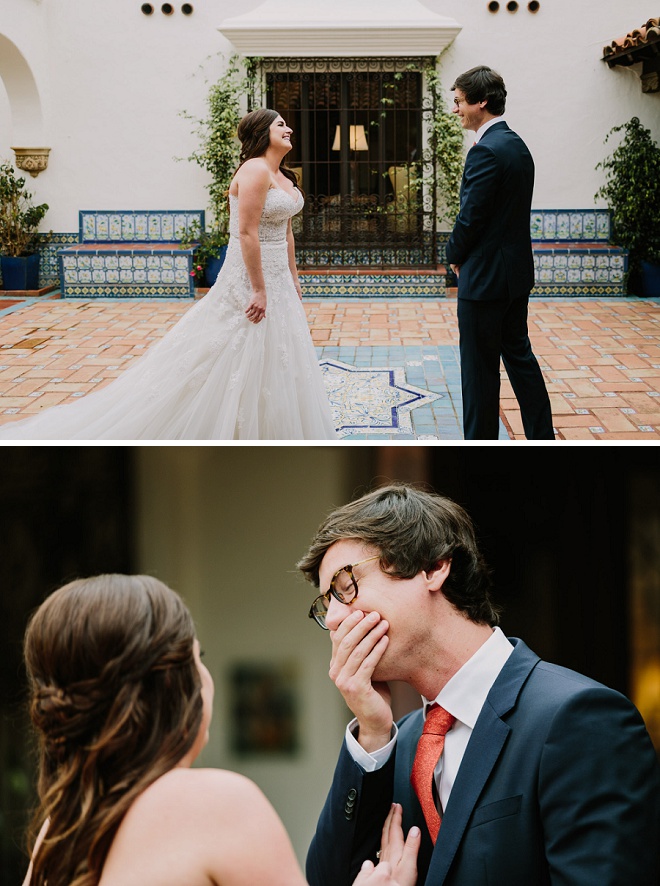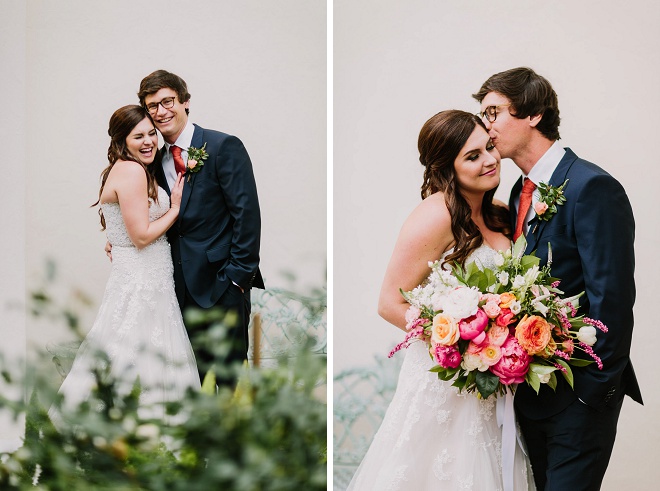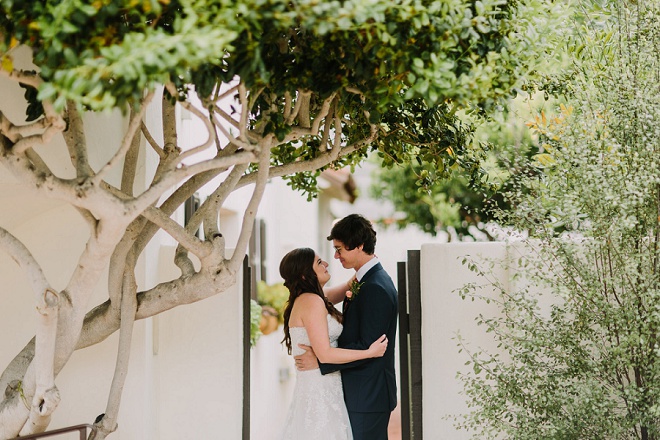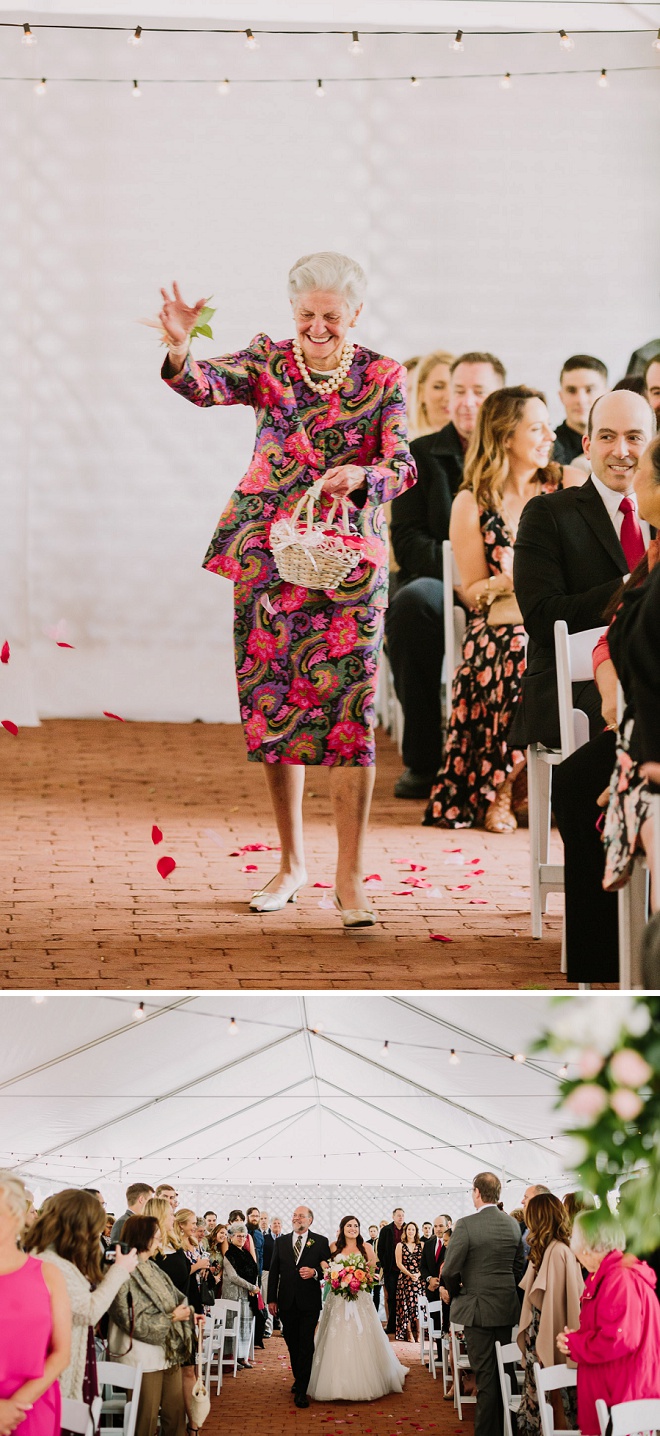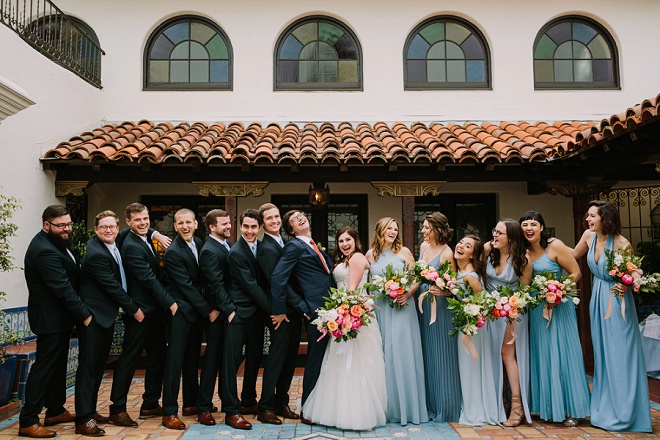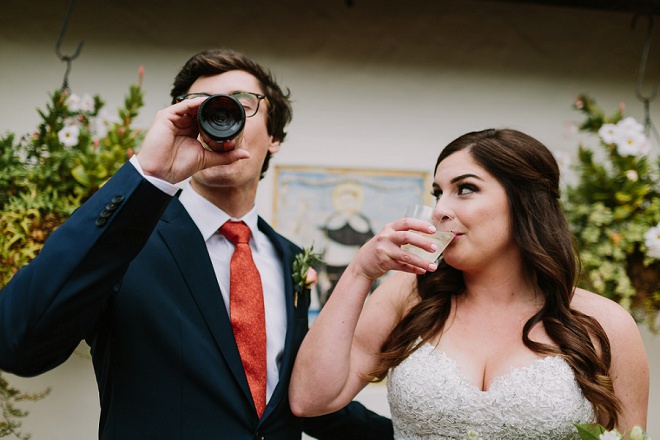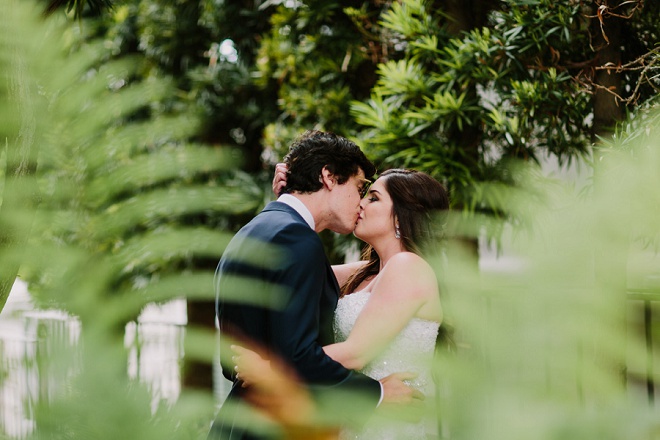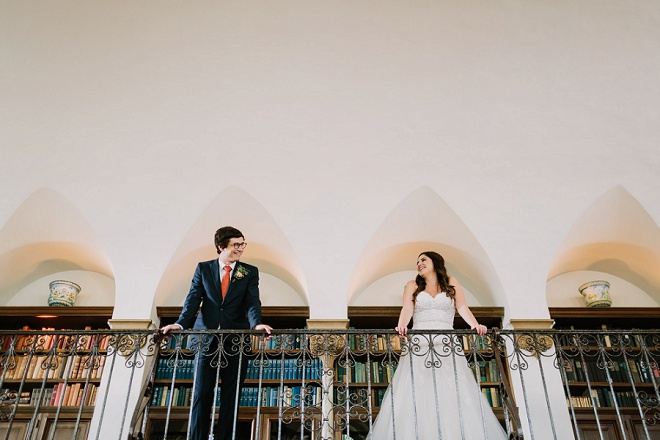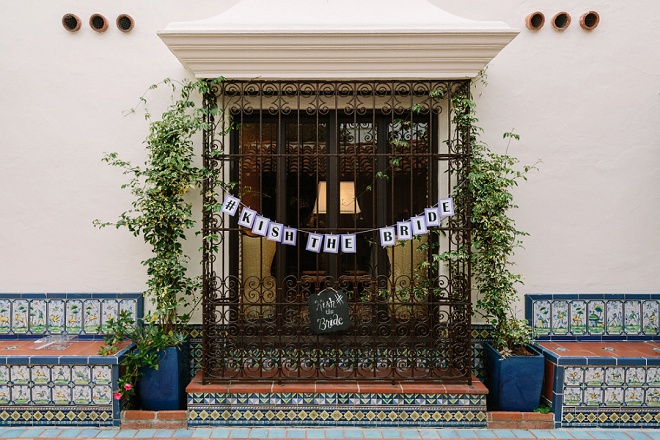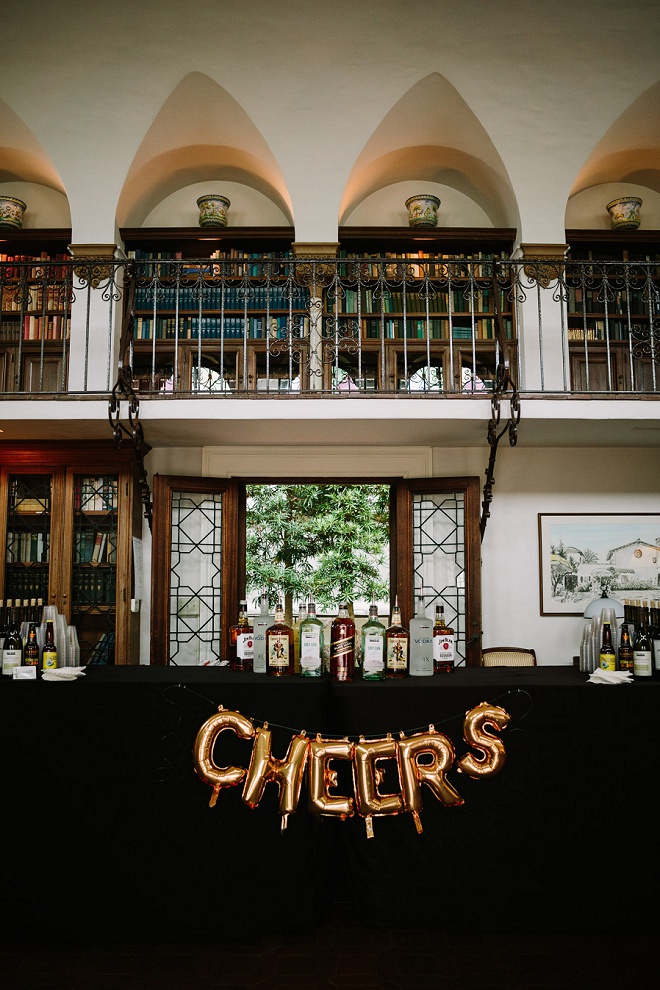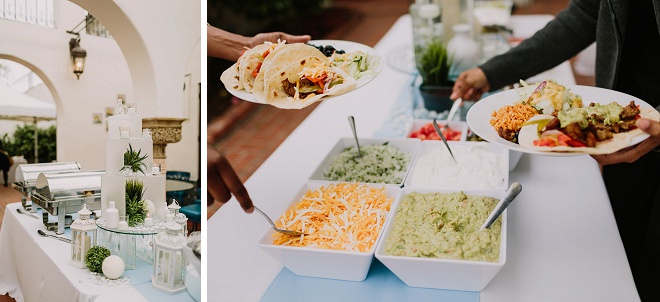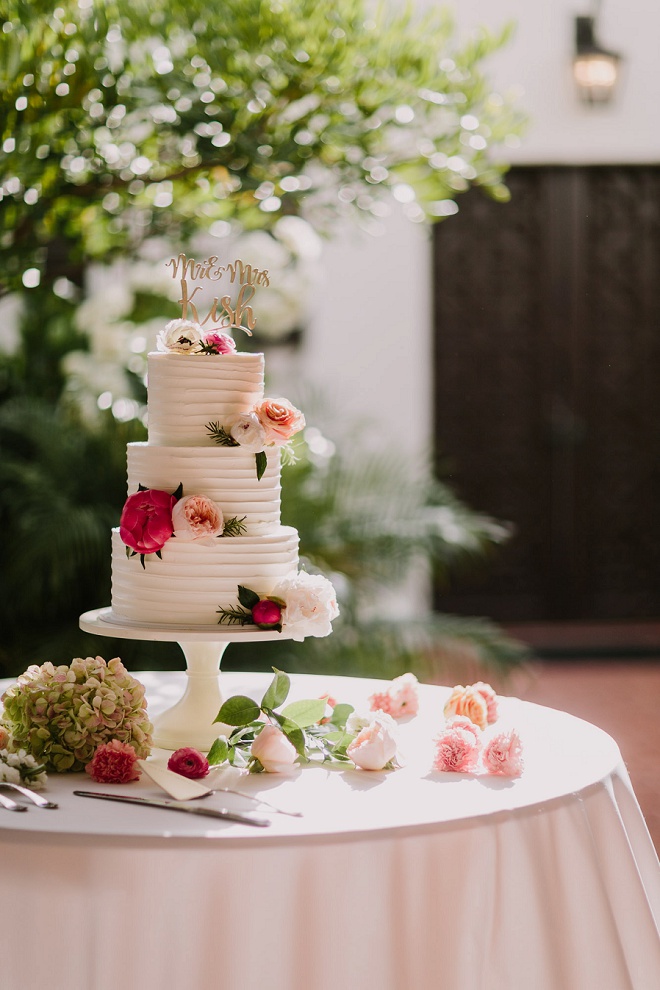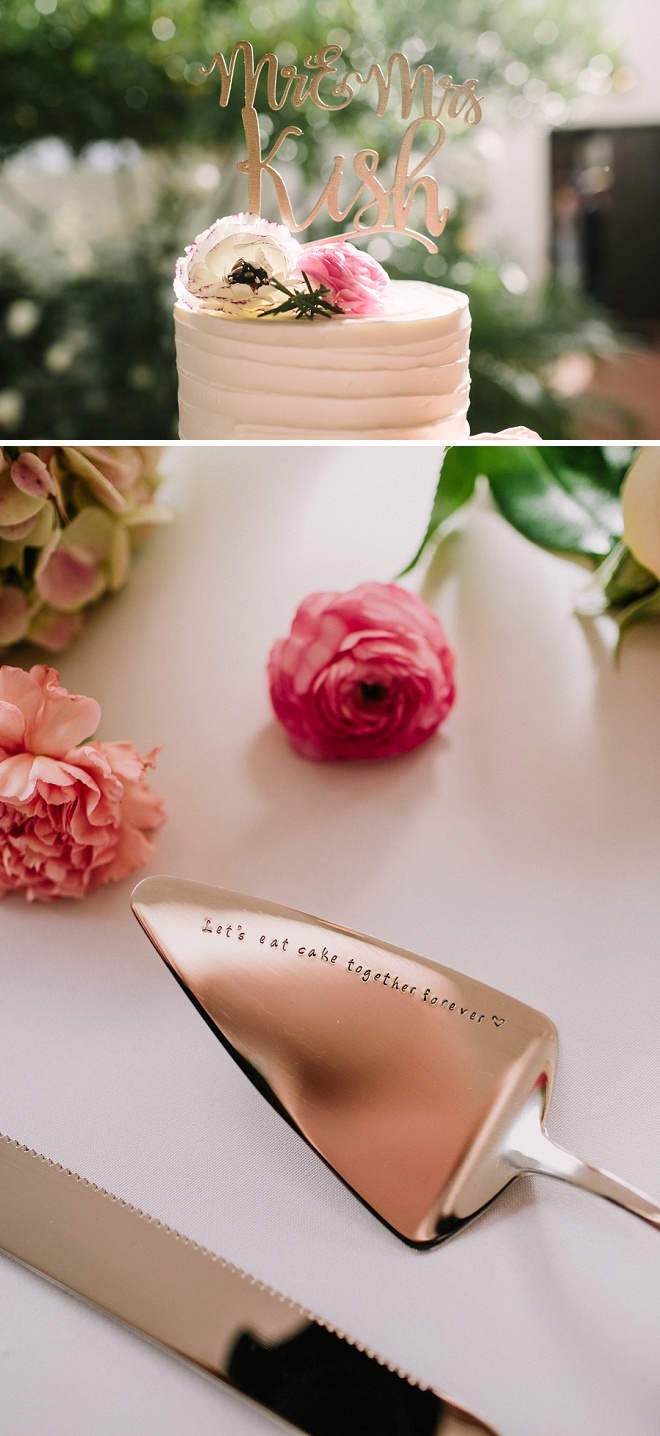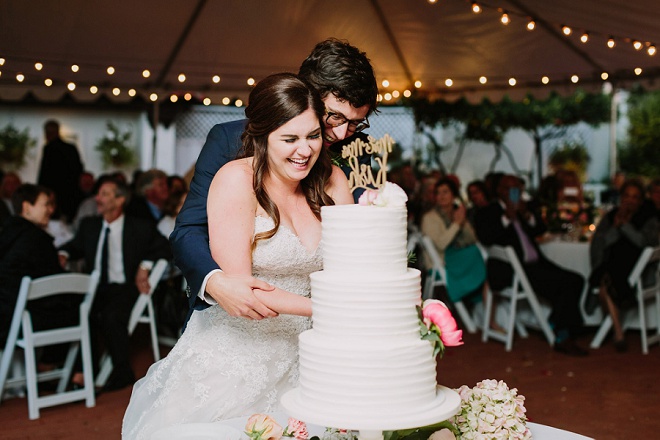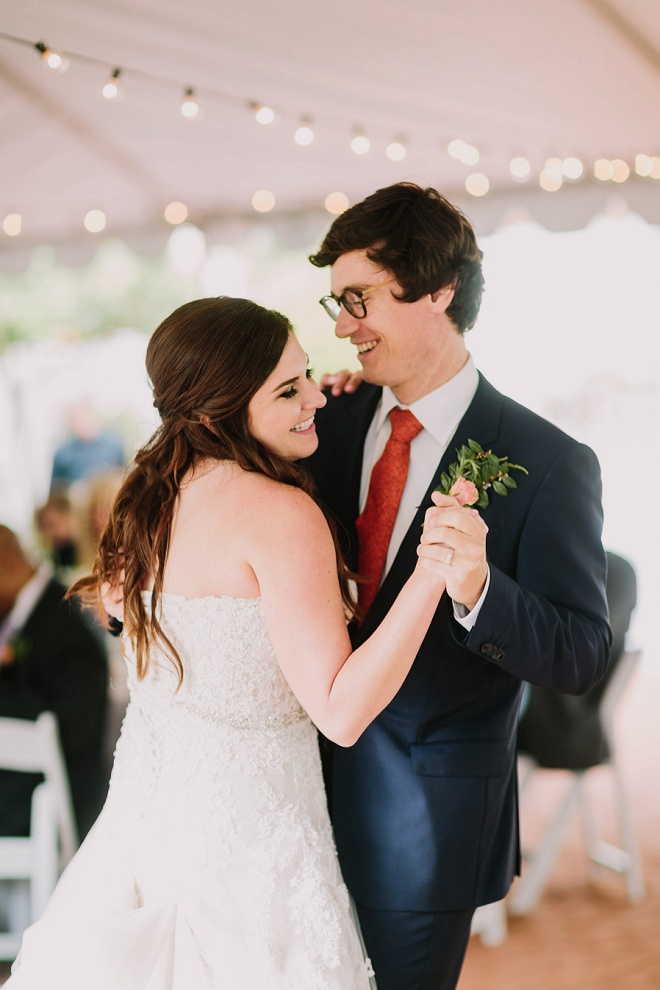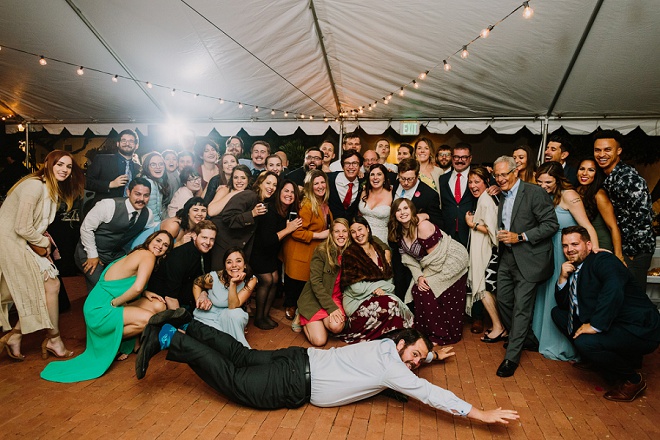 What is your favorite wedding day memory?
For me, I think it was the moment right before we got lined up for the ceremony. Our whole wedding party, including our parents and grandmas, were squeezed into this little room off of the main entrance. We were toasting with champagne, cracking jokes, and brimming with excitement for things to start. Before we went outside to line up, I asked to have a few minutes alone with Carl. It was a simple moment, just the two of us taking in all that already happened that day and all the amazing things to come. It gave us a chance to breathe and be together before it all became real. I remember looking at him all dressed up in his suit, looking handsome as hell, and just feeling so in love with him. I had started to get nervous, but in that moment it all seemed to fall away.
What did you DIY for your wedding?
I am a pretty crafty person! One DIY was potting all the succulents we gave as wedding favors. I am also lucky to have many crafty friends and family members who lovingly made things for my wedding. For example, my cousin Grace Barnett made the "Mr. and Mrs. Kish" sign that greeted guests when they arrived at the venue. My friend and co-worker, Michelle Alexander of Rue Design Co., designed our photo booth logo and the stamp we used on the little bags of Hershey's hugs chocolates that said "Hugs and Kishes 5-6-17." Those chocolates were such a hit! Shout-out to my mom for insisting we give guests a 'snack' so they didn't get too hungry during the speeches before dinner was served! One of my lovely bridesmaids, Yareli Morales, made the signs that said our hashtags (#KishtheBride). I ordered our custom Mr. and Mrs. Kish cake topper and guestbook from Etsy!
What was your something old, new borrowed and blue?
I did! My something old were a pair of earrings I borrowed from my mom; something new was my dress and shoes; something borrowed was my veil which I borrowed from my friend and coworker; my something blue was my garter—a blue and gold Warriors-themed garter as a surprise for Carl. Being from the Bay Area, the Warriors are his favorite basketball team. I love the photo my photographer captured right after he took it off, before he threw it, when he realized it wasn't just a plan ol' garter! Also, there are no photos of me in my veil because we completely forgot about it until after the ceremony. It rained the day of my wedding so a lot of the day-of plans shifted, including having to tent the whole outdoor ceremony/reception. It was a wild morning, but ultimately made for an even more memorable day.
Any advice for brides currently in the planning process?
Long engagements are the best! We had a 2.5 year engagement and I loved having a long time to research, plan, and be able to get everything just right. Don't get me wrong, I was still rushing around at the end doing last minute things, but it took a lot of the immediate stress off when I first started planning. Also, we used Asana to make to-do lists and calendar out tasks we knew we'd need to do in the months leading up to the wedding. It kept us organized and feeling on top of things, even when wedding stuff started getting hectic. -Maegan, the Bride
Event Credits
Photography: Let's Frolic Together // Venue: The Darlington House // Wedding Coordinator: Love Marks the Spot // Florist: Fox Floral Design // Catering: Personal Touch Dining // Cake: Jenny Wenny Cakes // Invitations: Love Fox Papery // DJ: Proper Sound // Rentals: Raphael's Party Rentals // Bride's Attire: Bridal and Veil // Hair + Make-up: Soiree Beauty Concierge // Groom's Attire: Nordstrom // Groomsmen's Attire: The Black Tux // Cake Topper: Custom Topper // Bar Sign: Paris312 Party // Garter: Caryn Rose Creations // Photobooth Logo + Custom Stamp: Rue Design Co. // Mr. + Mrs. Sign: Grace Barnett
No related posts found.