Something Turquoise is growing and this year we'll be expanding into new verticals which means that I, Jen, can no longer make all the DIY tutorials you see here. This year we'll be launching a baby and kids blog called A Little Turquoise, hopefully by summer and I have lots to do! It makes me a little sad as creating the tutorials for this website has been my pride and joy for the past 8 years, but I'm working on something that is going to quadruple my joy, so I think it's a fair trade-off. We have an amazing platform to share creativity in the wedding space and now it's your platform too! Show us what you got! I can't wait to see your creativity!
Here Are The Details:
Who can submit? Anyone! Bride, Blogger, Wedding Planner, Florist, Mom, etc.
Focus: MUST BE WEDDING RELATED. We will only be sharing DIY tutorials that focus on wedding projects.
Exclusivity: For these posts we will ask for full exclusivity. You can share them on your own website but not in entirety. We ask that they are shared in full on our website only. Believe me, the exposure is worth it.
What To Send:
High-quality web-sized images that are at least 660px wide.
We're also happy to accept video tutorials.
Everyone to credit. Their websites and social handles so we can tag and brag!
Zip Files, Dropbox links, Google Drive links, it all works.
Tutorials Must Include:
6-10 Hero Shots: styled project shots
Supplies Shot: what exactly did you use?
90% – 100% of the items you used MUST be available to purchase online or else our readers get pissed! Hahaha
Links to all the items used, where to buy them online
Detailed, focused, step-by-step photos of creating the project
Intro paragraph for the project, step-by-step wording, final wrap-up paragraph for the project
Step-by-step photos must be named to coordinate with step wording
PDF's for free printables
Things to Consider:
Seasonality. It's best to send fall themed projects right before fall so we can get them scheduled for the appropriate time. Same with other seasons and holidays.
Relevance. If we've already shared a similar project, we might not share yours.
FREE Printables. Our readers LOVE printables. Sharing printables makes it easy to duplicate some aspects of projects.
Our Style + Quality. Please take a moment to look over our DIY tutorials and make sure that your project, photography, and styling matches ours – or is better!
Post Check. Check in on your post from time to time to answer reader questions. We get a lot, both on social and blog posts.
Send Them To:
Me! Jen @ somethingturquoise.com
I'll respond, either way, within 14 days
Once chosen, your feature date will be set for either a Monday or Friday
All posts include loads of social shares, which you'll be tagged in!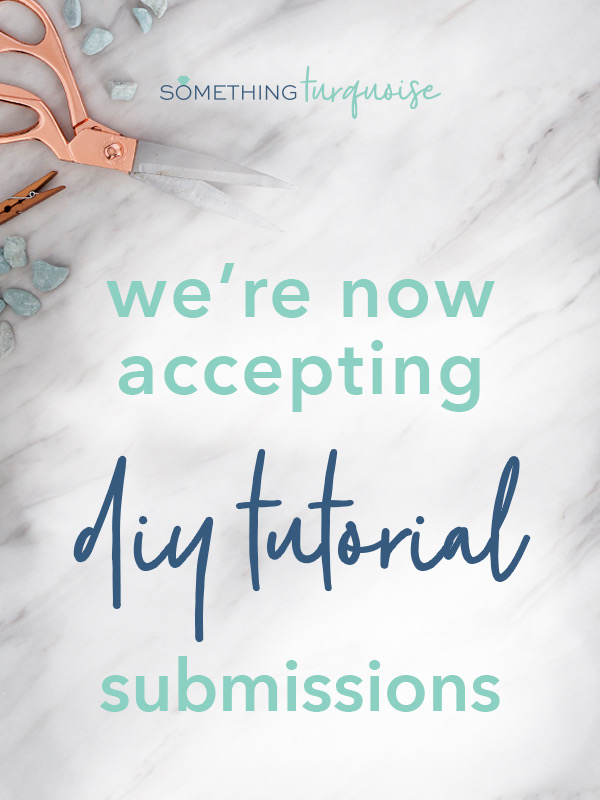 ---
No related posts found.