Since most of our round-ups are geared toward the bride, it's fun to share some ideas that are just for the groom. As a wedding professional who works with couples day in and day out, decisions are often left up to the bride. You can always "see her" in the details of the big day, but unfortunately the same isn't always true for the groom. There are a few fun ways to add special details to represent the personality of the groom and one of our favorites is by having unique boutonnieres!
This little detail, pinned to the lapel of the groom, and often his groomsmen, is sometimes overlooked and I've seen it cut altogether while trying to control a floral budget. Today we have 15 unique ideas to showcase a groom's personality and interests. It's a growing trend to branch out of florals and into personal inspiration in the land of boutonnieres. Everything from food to football and spice to superheroes is represented on the list below. The best part is, you could order a whole set of boutonnieres for a reasonable price on Etsy, or even attempt to DIY one of the below ideas yourself! Which one best represents you or your sweetheart?
---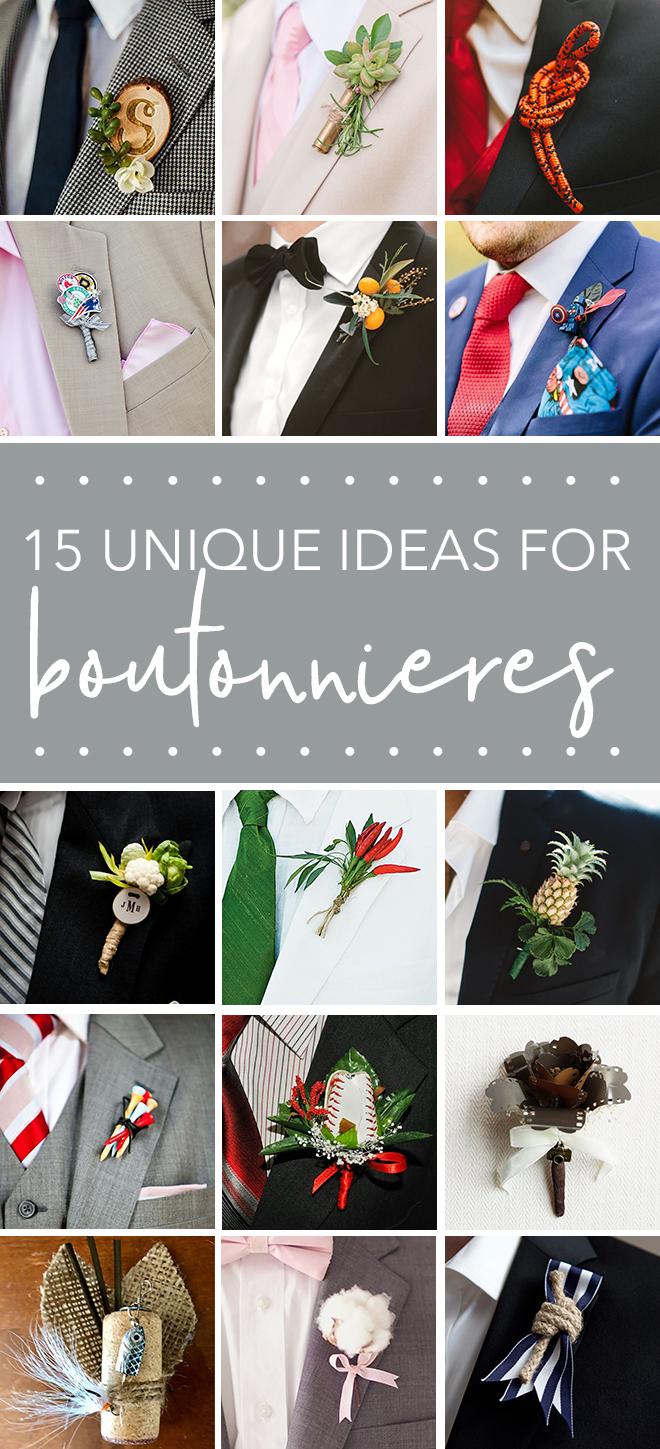 ---
FRUIT IS A FUN ALTERNATIVE TO FLOWERS
photo: Kate Osborne Photography // florist: Sarah Winward // via: Martha Stewart Weddings
---
WHEN THE GROOM IS A SPORTS FANATIC
---
A SIMPLE BOUTONNIERE FOR A MOUNTAIN MAN
photo: Cassie Lopez // via: Intimate Weddings
---
DOES YOUR GROOM LIVE FOR HUNTING SEASON
photo: Eureka Photography // florals: Petal Pushers // event planning and design: Coordinate This // via: Wedding Chicks
---
A BOUTONNIERE FOR A FISHERMAN
Etsy: The Three Whineohs
---
IS YOUR GUY INTO GOLF?
photo: JPP STUDIOS // via: Brides
---
GETTING MARRIED ON THE BEACH? CONSIDER DIYING OUR NAUTICAL BOUTONNIERE
DIY tutorial: Something Turquoise
---
WHEN THE GROOM IS A KID AT HEART
Etsy: A Bespoke Touch
---
FOR THE FOOD DUDE, A VEGGIE DETAIL
photo:Jared Platt // via: Off Beat Bride
---
WE LOVE THIS SIMPLE WOOD MONOGRAM AS A BOUTONNIERE ALTERNATIVE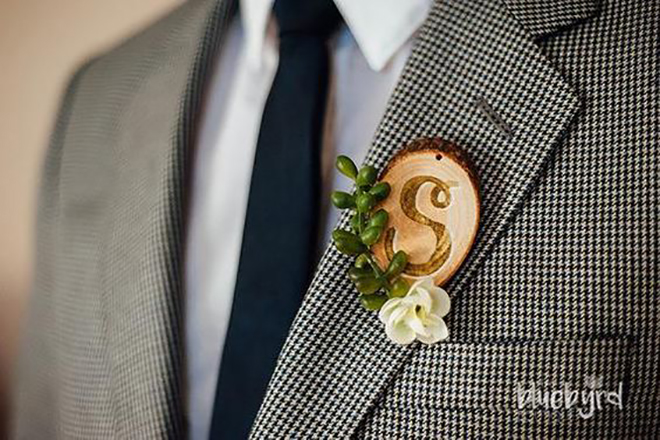 Etsy: The Blue Byrd Boutique
---
ADD SOME SPICE TO YOUR WEDDING DAY
photo: Kate Headley Weddings // via: Southern Living
---
FOR THE CAMERA BUFF
Etsy:ImmortelleDreams
---
ADD A LITTLE TROPICAL FLAIR
photo: Candy Acosta // florals: Ring Around The Rose // via: My Wedding
---
WHEN BASEBALL IS LIFE, YOU SHOULD GIVE A NOD ON YOUR BIG DAY
Etsy: Sport Your Flower
---
WE LOVE COTTON FOR A NON-FLORAL BOUTONNIERE
photo: N. Barrett Photography // via: Brides
---

Lauren Koster is the owner of Lauren Koster Creative, a West Michigan based wedding design company that specializes in the unique and whimsical look. Her eclectic style and modern hipster vibe always has us entranced. We always love when she graces our blog with her monthly "Steal This Style" article. Want to know more? You can personally follow or find her from these links below:
website // blog // instagram // facebook // twitter // pinterest
---