I don't know about you, but my Instagtram feed is full of drop dead gorgeous Christmas decor. So many stunning garlands and fabulous centerpieces. Then you go to your local nursery, stare at the extensive selection and wonder, "Which garland do I buy?" And, "What will this look like?" I've talked about greenery here before, all the fabulous ideas to capitalize on the lush theme. It is such a trend in the wedding industry and it's not just for summer brides, greenery is a year-round trend. Our Pinterest wedding and seasonal decor images are melding into one beautifully garland-draped feed. And we are here to help you decode the winter green mystery and make the perfect selection for your wedding.
---
via: One Kings Lane
---
CEDAR
Cedar is having a real moment in the Christmas decor world, and looking at this photo it's no wonder why. This green has an extremely rich texture, it fills out an arrangement and adds body. It can be stiff, but it can also has drape making it perfect for garlands with movement. Cedar would make a beautiful rustic bouquet or boutonniere and could add a perfect wintery accent to a seating chart. This green is usually cost effective to use in a large scale way.
photo: Isaiah and Taylor // design & planning: A Good Affiar // rentals: Found Vintage Rentals // venue :Serendipity Garden // via: 100 Layer Cake
---
BLUE SPRUCE
Think Christmas tree. It's called blue spruce, but it's actually a traditional green color. It can be used in centerpieces or as a statement backdrop. It would also make a great boutonniere. Like a Christmas tree, blue spruce does not have great drape, so it would not be ideal for a bouquet.
photo: Maxim Devyatkov
---
SEEDED EUCALYPTUS
The seeded eucalyptus has an interesting texture with the small bright green pods. It can come in a soft green color with pretty blue undertones, or can be a nice yellow-toned green color. This green is excellent for garlands, centerpieces, bouquets or installations. It's classic, it smells lovely and has a nice drape.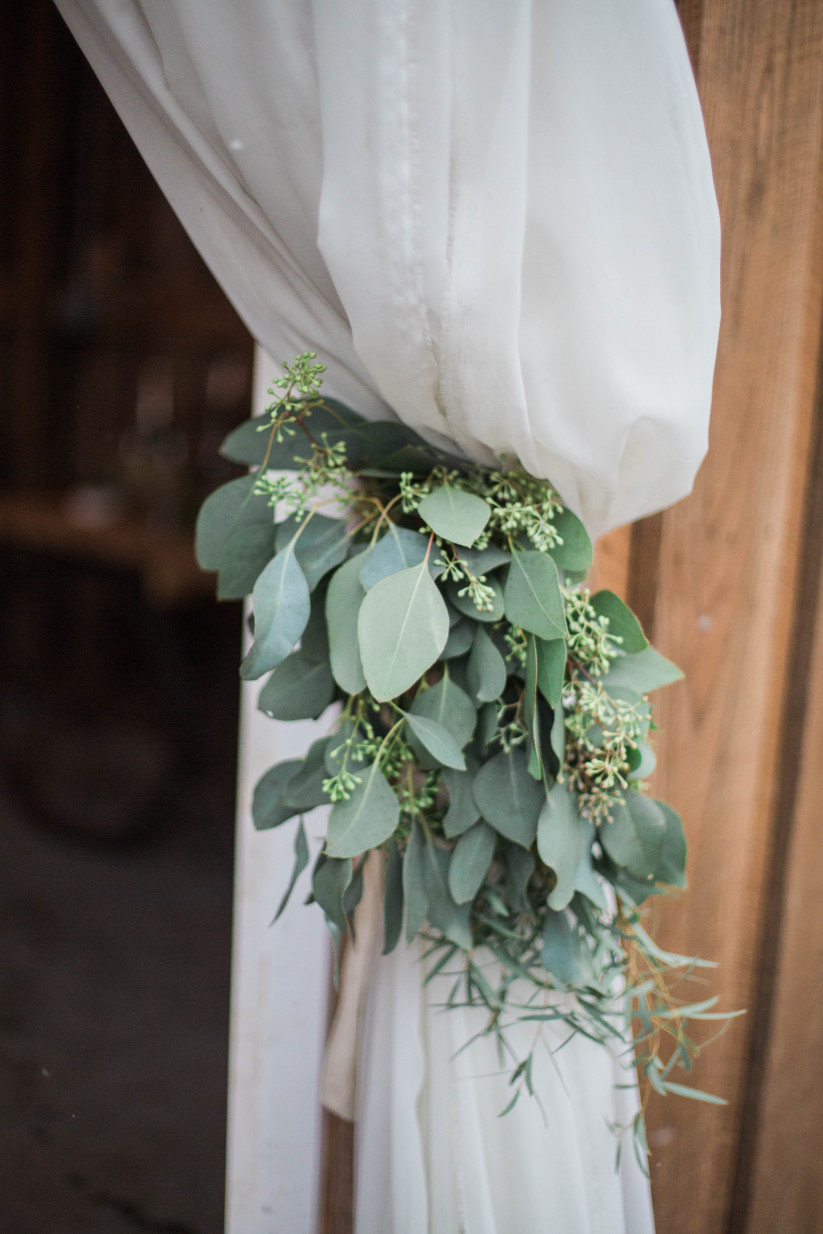 photo: Conforti Photo // event planning: Plum and Poppy //florals: Accent Floral Design // via: Wedding Wire
---
PINE
Pine is the long needle Christmas tree. These branches have more drape than their blue spruce counter part. They would look fabulous as part of a centerpiece or a unique table garland. They could be a pretty accent for a bouquet or would look fabulous in a wreath installation or swagged over signage.
photo: Kathrine Krok // florals: Goldenregen Floral Design // venue: Homburger Papiermuehle // via: Junebug Weddings
---
MAGNOLIA LEAVES
Magnolia leaves are a beautiful, rich green and copper color. They are an extremely versatile green and add texture and color. One side is smooth and shiny and the other side is slightly fuzzy, almost suede texture, it is a striking, fabulous combination. Magnolia leaves can stand alone as a garland or a staple of a bouquet or can be layered with other greens. Magnolia leaves are a pricier choice for winter greens, but worth the splurge.
photo: Adrian Michael Photography // planning: French Kiss Events // floral design: Verbena Floral Design // via: Magnolia Rouge
---
JUNIPER
Juniper branches have a lovely smell. They come with pretty blue berries that add a special touch, the leaves are perfect for adding volume. Juniper is rigid, so it does not work great as a bouquet. That said a sprig or two, berries included could be a lovely accent. This green would look great as part of a garland, as a greenery touch on a cake or swagged on signage.
via: Which Goose on Etsy
---
EUCALYPTUS
Eucalyptus is a staple in the wedding world any season. A soft green color, it makes beautiful garlands, lush bouquets, adds movement to centerpieces and is perfect for a flower crown. It really does it all, and it smells heavenly. We love that this winter green is not only for the November to February couples, it is truly seasonless.
photo: Wren Photography / venue: Fieldguide Farmhouse / Event Planning: Juniper & Lace Events / Floral: Stems & Sprigs / Rentals: Monstrey Macdonald / Linens: Special Occasions West / Decor Items: Serradella / Chair Rentals: Sensational Events / via: Southbound Bride
---

Lauren Koster is the owner of Lauren Koster Creative, a West Michigan based wedding design company that specializes in the unique and whimsical look. Her eclectic style and modern hipster vibe always has us entranced. We always love when she graces our blog with her monthly "Steal This Style" article. Want to know more? You can personally follow or find her from these links below:
website // blog // instagram // facebook // twitter // pinterest
---
No related posts found.