"John and Jonna knew they wanted to share their special day with their close family and friends, but also incorporate their colorful personalities into an event that was uniquely them. A main centerpiece was Jonna's beautiful jewel toned wedding dress. Those same vibrant colors were infused on the table decor in a chic, classy way. Surrounded by love, these two couldn't have asked for a more perfect wedding day." –Cody Nichole Photography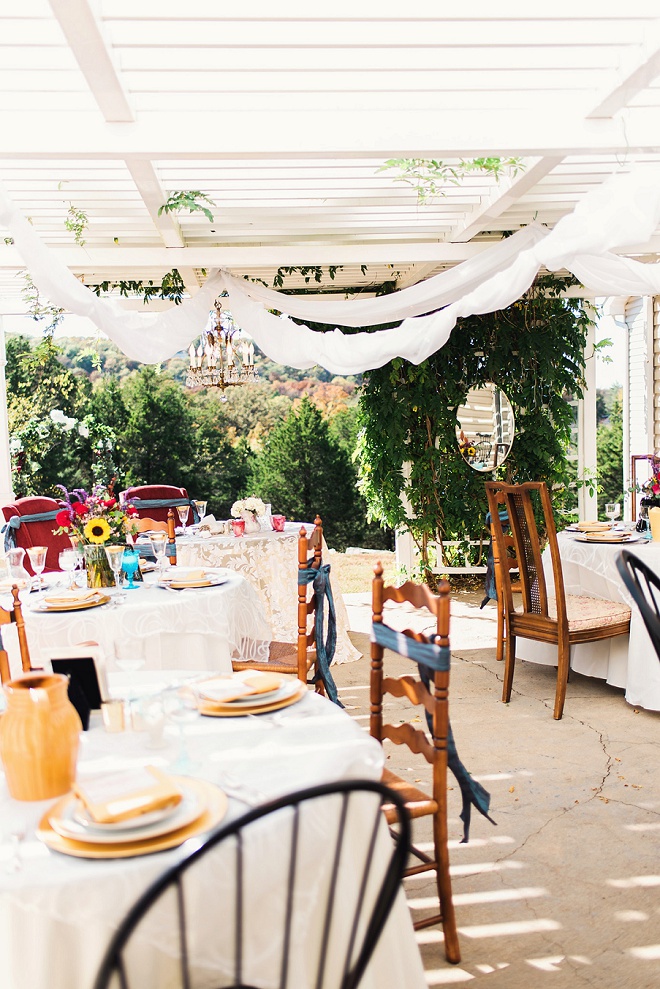 What is your favorite wedding day memory?
Since we had such a small wedding including our immediate family and two best friends. Made it very intimate and special. I remember after the ceremony looking around and feeling like I would not have changed a thing. Everything was perfect. The best part was enjoying each moment. We had an old high school friend that is an ordained minister marry us. She made it so personal and included my daughter which was important to us. I was lucky enough to have a friend who "knew people" and hooked me up with all the right people. Her talented husband who catered the event. An event designer who asked me all the right questions and in return delivered above my own imagination…and a photographer that captured all this, not just a good photographer but one of the best. We were so lucky. A small team that made a big impact on our special day.
What did you DIY for your wedding?
I made my bouquets. One for myself and one for my daughter. Costco always has seasonal flowers so I knew I would find something. My best friends sister is a amazing cook so I asked her to make our wedding cake. I bought the topper at David's Bridal. And used some fresh flowers.
Did you have something old, new borrowed and blue?
I love jewelry, so I knew I wanted a statement piece. I went for it with the necklace which cost as much as the dress. Totally worth it! My best friend brought a shawl that was crocheted by my grandma. It definitely got some use that evening.
Any advice for brides currently in the planning process?
Take all the help you can get, enjoy the day and don't stress over the small stuff. -Jonna, the Bride
Event Credits
Photography: Cody Nichole Photography // Wedding Planner: Blush Events // Flowers: Costco // Officiant: Lashawna McNeal Weddings // Bride's Attire: David's Bridal
No related posts found.