---
Hello My DIY Brides!
---
I am Carli, your new Something Turquoise Bridal Blogger! I am a craft enthusiast that thrives on a new DIY. I am fueled by fitness and run on sunshine. Minnesota born and raised but am always looking for a new state or country to explore. Everything about me is creative and I have put all the pieces together on a magical site called hein & dandy.
I may be the blogger of this story but I wouldn't be here if I wasn't marrying the most amazing man, Joe Hein. We got engaged in August of 2017 and get married May 12, 2018. With seven months down and two to go, I am excited to share some wedding planning wisdom with you.
Wedding planning can be:
It does not have to be stressful or take up every moment of your time. In the next few months, let me give you some insight on ways to enjoy this time of planning to the full.
---
But First, How He Asked
---
Joe and I love spontaneous adventure. The last year of our relationship was hard for me because every single time we did something, I thought he was going to propose. We believe that weekends are for loading up the wagon with camping supplies and our kayak to explore someplace new.
To fully understand how thoughtful this proposal was you need to know that I am obsessed with sunflowers. I have caught myself in the mirror wearing my sunflower shorts, with my sunflower tumbler, and my sunflower tote over my shoulder. Knowing this now, you would be surprised that I had never been to a sunflower field before. For my birthday this last year, the only thing I wanted from Joe was to see a sunflower field.
After Joe had secretly asked every farmer if they had or knew of any sunflower fields, we packed up the wagon for an adventure to Wisconsin and the rest is history. No words can describe how amazing the day was, so we put it into a video.
---
Our Wedding Inspiration
---
Bohemian
I am known to have wildflowers in my hair and my wedding day will be no different. The day before the wedding we are going to make our own bohemian bouquets full of wildflowers from the farmers market. You'll have to wait until after my wedding to see my dress but the moment I put it on I knew it would be mine!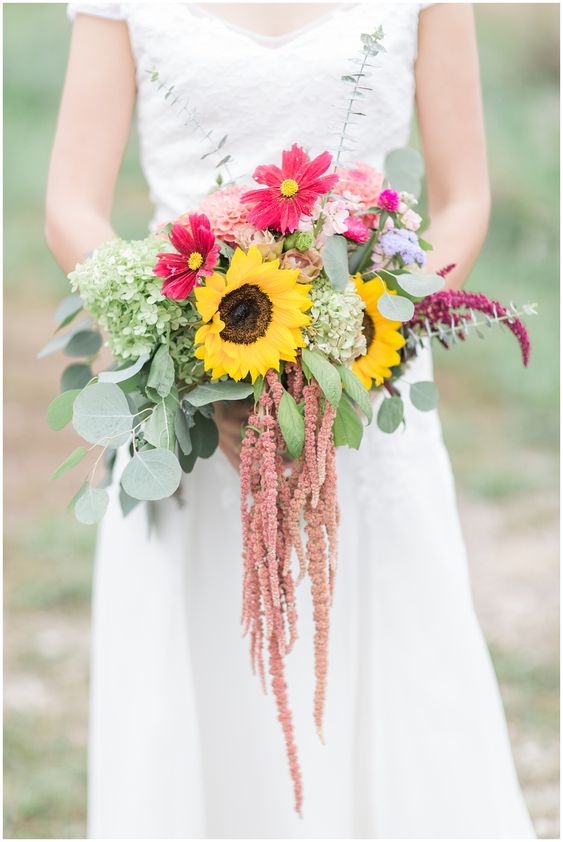 Images: Brooke Pavel Photography
Venue
When I first started looking at venues I was overwhelmed. The price of a venue alone would be over our entire budget. That's when I looked into our local parks for a barn venue. We decided on Gale Woods Farm for our ceremony and reception. This Three Rivers Park was perfect for us in every aspect, especially the price. The ceremony will take place overlooking a lake (a Minnesota must), with sheep and a llama in the pasture right next to us. The reception will be inside the barn on the property.
We took a casual approach to most everything for our day, including the food. The caterer will be on site grilling chicken and burgers right there! There may not be a cake at our wedding but we will have plenty of mini cheesecakes and brownies.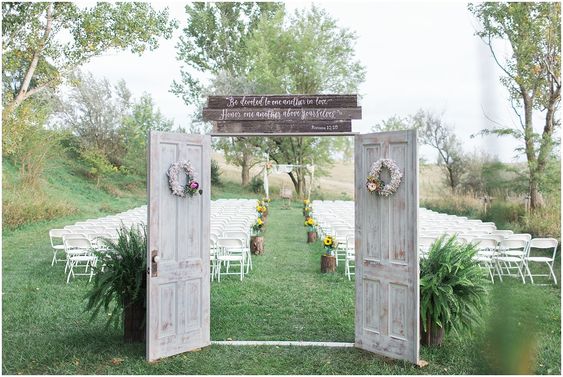 Images: Brooke Pavel Photography
Shades of Turquoise
Teal, turquoise, aqua, mint, if it has a blue/green mix of color then it will be seen at my wedding. I gave my bridesmaids full reign in choosing a dress that flatters them and in a shade that they would wear again. It was important to me that my best friends didn't break the bank for this wedding. I have spent hundreds of dollars on dresses that I can't wear again unless I become fancy in the near future.
Image: In Color Balance
Image: Lurelly Dresses
Camping
This is our favorite part of the decorating for us. We are hanging hammocks from the trees and setting up our tent for a camping photo booth. There will be a fully stocked bonfire with s'mores the entire night.
What can be unique to you and your future husband on your wedding day? How could you decorate a photo booth that screams, "THIS IS US!" (Not the amazing family sitcom) Take something you love together and make it your own. Maybe it is your dogs, or the state you live in, or even suntanning! Don't be afraid of not "being traditional" or "normal". Cute but weird is always my motto.
My biggest advice is to let your wedding be your own but let my wedding bring inspiration to your future day! 65 days to go and counting!
To stay up to date with my wedding planning process, follow me on Pinterest and Instagram!
Images: via Deer Pearl Flowers camping wedding ideas
No related posts found.