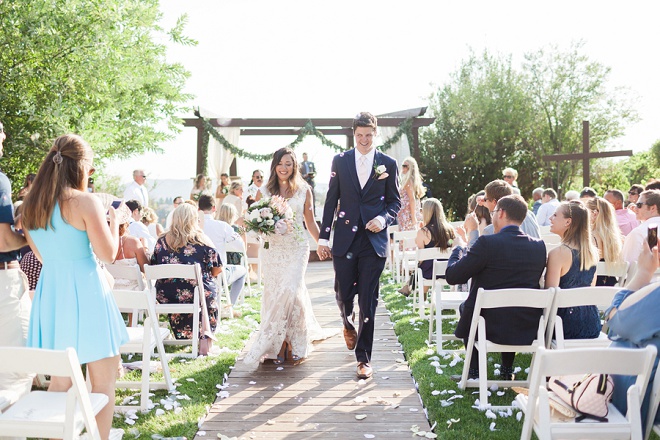 What is your favorite wedding day memory?
My favorite, and most touching memory from my wedding day was having my sister walk me down the isle. Growing up, my sister was like my mom. We grew up in foster care together and learned to lean on each other for our support system. My sister is my only biological family I have and I chose her to give me away on my wedding day, as well as be my maid of honor.
What did you DIY for your wedding?
I was crazy about DIY for my wedding! After setting our wedding date for August, I had a year and 4 months to be engaged and plan our dream wedding! We had the venue and all I needed to do was envision the details.
From the beginning, I knew I wanted the Protea flower everywhere! it was so unique and gave that romantic but whimsical feel! I decided to make my own invitations with that design on them. My fiancé and I created and printed our own invitation set with our vision. We also created our own ceremony programs with a ton of help from my Mother-in-Law! She was amazing with all her ideas and suggestions! We also created our own chalkboard signs. I will say that I probably did it the hard way, but they came out perfectly! Our seating chart was all DIY also! We made the wooden frame and stapled the wire behind it so that we could attach our seating chart. We had much help from neighbors, friends and family on a lot of our projects!
The biggest DIY for me was my bridesmaid dresses! No I didn't make them, but I did find them all myself! I wanted to get all different dresses for my bridesmaids, as I had many different personalities and body types and 2 pregnant bridesmaids!! This was probably the hardest, but most rewarding DIY during planning. It took me about 6 months to FINALLY master the look I wanted. Seeing all my bridesmaids and MOH in their gorgeous dresses and how happy and comfortable they were, made me love the decision to give them all different dresses.
Did you have a something old, new borrowed, blue?
I've heard of this tradition, but I had my mind on so many other details that I overlooked this one! I did however had something blue! I had stunning blue heels. I was so in love with them! Something new would be my hair vine accessory and earrings. As for something old, I don't believe I had anything. For something borrowed, funny story….our guest book was supposed to be large, black Champagne bottles and guests were to sign them with metallic markers. Turns out, the bottles burst about an hour before our guests were to arrive. My husband thought to use some extra wood that was laying around in the barn they were getting ready in. Our coordinator gladly approved this last minute guest books and our guests signed the pieces of wood from the venue! I guess this counts as something borrowed!
Any advice for brides currently in the planning process?
My best advice to future brides would be to do what makes you and your fiance happy! This is your wedding! It is so helpful to get tips and suggestions from friends and family, but in the end make the decision that is going to make your day what you dreamed it would be! Another very important piece of advise I have is to pick your MOH and bridesmaids carefully! I had an amazing group of girls to support Matt and I leading up to the wedding, and I can't imagine having anyone else. -Macee, the Bride
Event Credits
Photographer: Kaitie Brainerd Photography // Venue + Catering: Serendipity Gardens // Florist: Flowers Etc. // Cake: Michelle's Bakery // DJ: Musical Phunktions // Invitations: Charming Blush // Bride's Attire: Ladies and Gents Bridal // Garter: Louloudimeli // Headpiece: My Olivia Nelson // Engagement Ring: Wickersham Company // Bridesmaid's Attire: Poshmark // Hair + Make-up: Kacee Geoffroy Hair + Make-up // Groom + Groomsmen's Attire: Men's Warehouse // Chair Signs + Cake Topper: Happily Ever Etched Inc.
No related posts found.