In today's #flowerpower feature, we're celebrating the ravishing red rose. There isn't another flower more classically beautiful than the red rose. Today's rose feature is focusing on the stunning Black Magic Roses with their deep red-maroon color and layers of swirled petals. These blooms are the perfect choice for any event theme that needs to be ultra romantic. Pair with a vibrant greenery like the Italian Ruscus we're featuring for a pop of shine and color that would look extra fabulous at Christmas time. Wearing a red lip to match the color of these roses is a chic wedding style choice, no matter what time of year… this deep shade of red has us all heart eyes over here!
Each month we're featuring a specific, popular wedding flower, sharing important tips and information that all DIY brides will find valuable if incorporating said blooms into their events. Whether you're arranging your own bridal shower flowers or creating your own wedding bouquets, I hope you enjoy the tips and information below.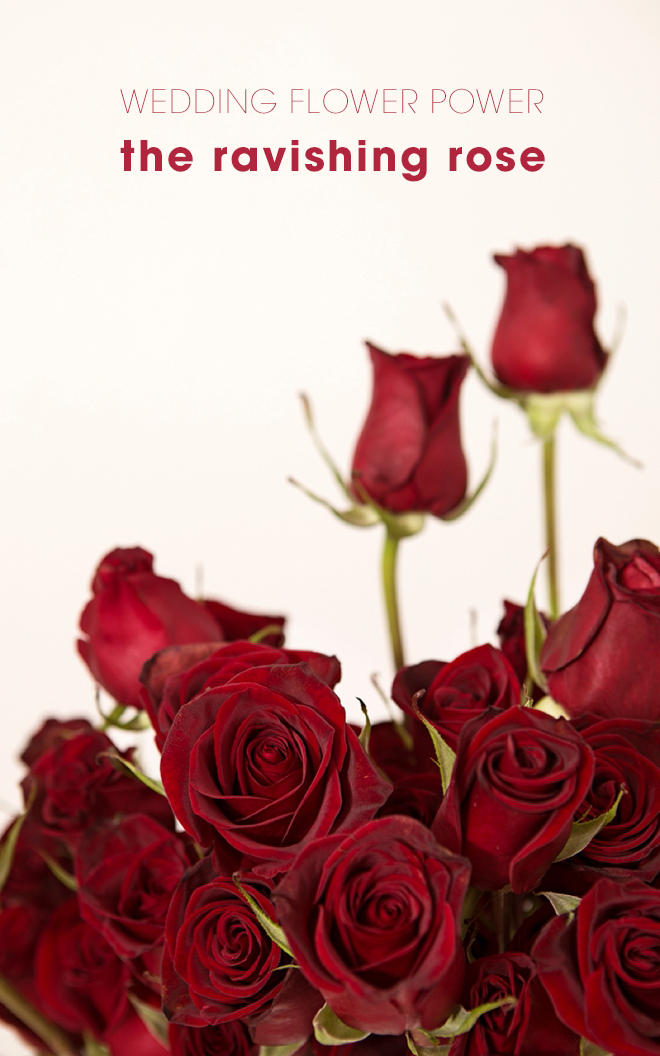 Fifty Flowers
For those who might not know, FiftyFlowers is an online flower wholesaler who ships gorgeous flowers to your doorstep, straight from their partner farms. Their customer service is outstanding and I know that you'll have an extraordinary experience with them, no matter if you're ordering flowers for your entire wedding or just a few bunches for your bridal shower. You can shop their website just like you would a flower mart, even scheduling your delivery time with just a few clicks – it's awesome. I absolutely love that at any time, no matter what shoot or event I need flowers for, I can visit their site, shop and the flowers magically arrive at my door. Basically, they are the Nordstrom of online flower sales!
Flower Availability:
I'm excited to share that Black Magic Roses are available year round!
In this post, I'm featuring these gorgeous Black Magic Roses and the shiny Italian Ruscus Greenery, such a fabulous combination!
Farm To Vase Prep:
These bulk roses are shipped directly from FiftyFlowers.com partner farms. Before shipping your flowers, they prepare them for their journey with proper hydration methods. If your flowers appear sleepy and thirsty after their journey, it is absolutely NORMAL. Just follow these simple steps and the flowers will bloom delightfully!
Recommended Delivery Date: 3 days before your event.
---
Rehydration Steps:
Fill vases/containers with at least 4 inches of fresh, cool water.
Add floral food to prevent bacteria from forming in the water and to give added nutrients to the roses. If you do not have flower food, it can be purchased from any local florist.
DO NOT REMOVE THE CARDBOARD. Keep the cardboard sleeve on the roses for about 4-12 hours while they hydrate, allowing them to fully regain their strength before unpacking.
Remove any leaves that will fall below the water line. If you don't remove the leaves they can cause extra bacteria to grow that will harm the roses.
Cut the bottom of stems diagonally approximately an inch from bottom under running water with sharp scissors or knife. This will create a fresh surface to absorb water.
Immediately after cutting, place the bunch in the prepared water and let them rest away from sunlight, drafts and excessive heat for 4-12 hours.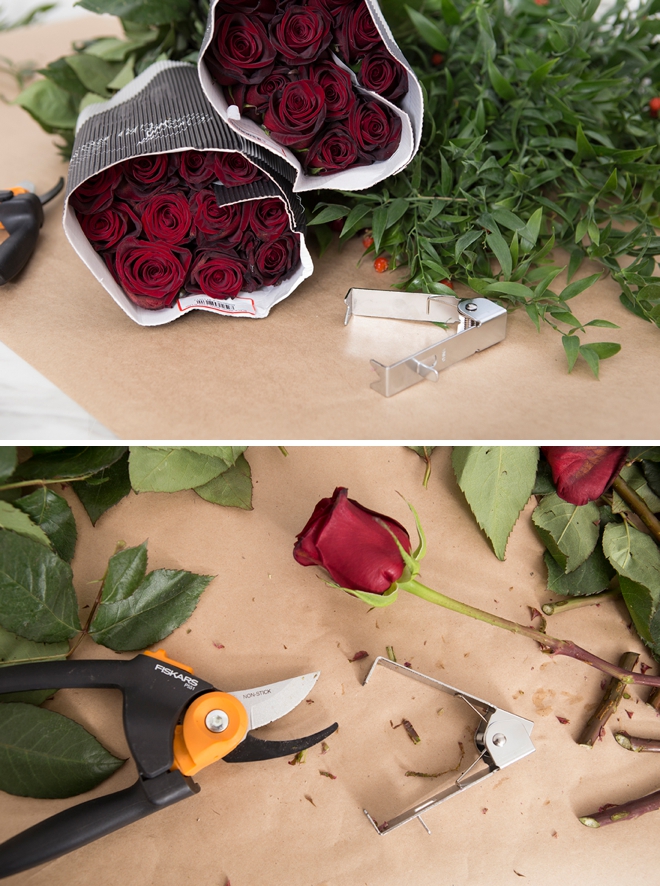 Prep For Arranging:
Remove all the packaging and give the roses room to breathe.
Carefully remove the leaves and thorns from each stem. You can simply pull the leaves off in a downward motion, but the thorns you'll need to cut, by using pruning shears or a thorn stripping tool.
Next, remove the guard petals that might look dried, discolored or floppy. It's normal to remove 5-10 of these outer petals.
Place them in a large vase/bucket with fresh water away from direct sunlight, drafts or excessive heat to let them fully bloom.
It could take 24-48 hours for the roses to fully open and reveal their beauty. To speed up the process you can put them in open shade near a window or in fresh warm water.
Change the water every day to keep them as fresh as possible!
Click here to see this entire process in video form!
Pairs Well With:
Roses, especially red roses are one of FiftyFlowers most popular blooms! They are an ideal match for romantic garden themed events, or chic and classic affairs, or modern soirees… honestly, they are a terrific choice for any style of wedding! They pair wonderfully with Ranunculus, Tulips, and Astilbe for a super soft and romantic look, or you can combine them with Succulents, Astilbe and Italian Ruscus for lots of fun and texture! As you can see from the pictures here, the Italian Ruscus is a fabulous choice of greenery for roses. Compared to the matte leaves of eucalyptus, the shiny Italian Ruscus leaves really stand out against the velvety softness of rose petals. These striking Black Magic Roses are true show-stoppers.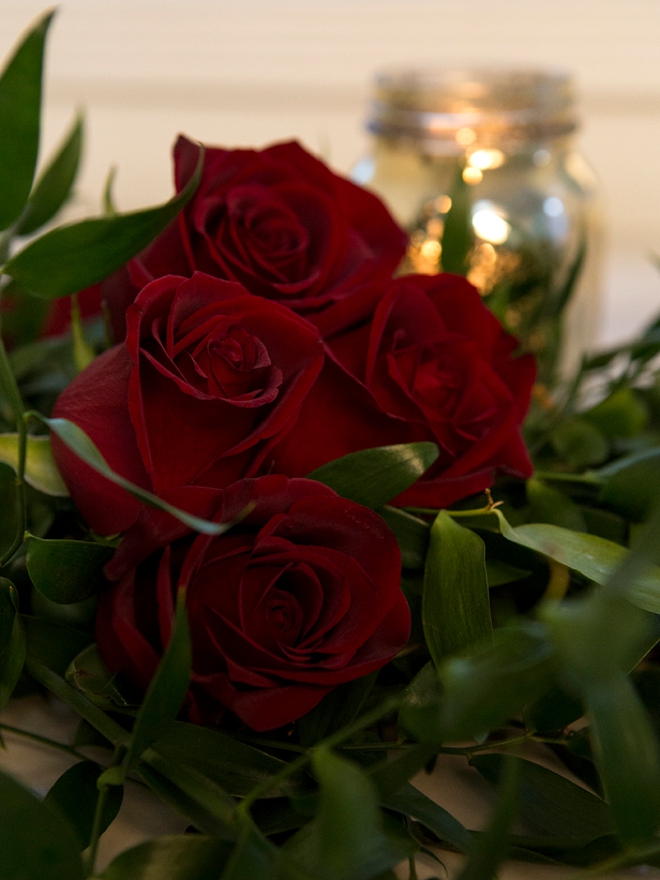 Arranging Tips:
Red roses represent passion, true love, romance and desire.
When ready to arrange, give each stem a fresh diagonal cut.
Each flower has an average vase life of 5-8 days, when properly cared for.
There is only 1 bloom per stem and the stem length is a minimum of 15″.
Used in a wedding roses represent bliss in the marriage as well as true respect and appreciation toward one another.
Within each bunch, the roses are packed in two layers to ensure protection during shipping.
The stems on these flowers are sturdy so as mentioned before you'll want to use PowerGrip2 Pruning Shears or the like to make clean proper stem cuts.
Roses make wonderful boutonnieres as they hold up well out of water.
A deep red rose can mean that you are ready for commitment, and have a deep passion for that person. Ultimately, if you want to tell someone you love them, a red rose is the way to go!

---
Post Sponsored By:
FiftyFlowers is the customer-centric, online destination for wholesale wedding flowers, shipped fresh from the farm straight to your door! Inspired by the DIY bride, we offer an extensive selection of fresh flowers, greenery, and floral accessories because we believe anyone can create their own wedding flowers.
---
Images copyright of SomethingTurquoise.com®
---
No related posts found.