"Morgen + Dillon met in middle school. Yes, middle school sweethearts! Needless to say, they have been dating a long time! When it came time to pop the question, Dillon took her to their favorite band play at Fox Hall, Atlanta. If you know them, you would already know that their favorite band is The 1975. Dillon contacted them through social media that he was going to propose to her at their concert in Atlanta. Finally, the concert day arrived. He was so nervous that day, yet he could not wait to ask her to be his wife.
Morgen + Dillon always wanted a traditional wedding, but the two love birds just had to spend time together before walking down the aisle. They decided to do a "first touch" instead of a first look. They held hands around a corner so they couldn't see each other, but got to spend some sweet moments reading each other love letters and praying together before the ceremony. It was melt your heart romantic and I know some of the sweetest moments these two will cherish for a lifetime. Then, when Dillon saw Morgen walking down the aisle, he could not help himself from crying. Morgen looked at him full of love and she started tearing up, too. The venue holds a very special place to their hearts since it is Morgen's Dad's church. Morgen grew up in that church, got to re-live childhood memories, as well as make new ones as her and Dillon become a family themselves. What a legacy!" –Glorious Moments Photography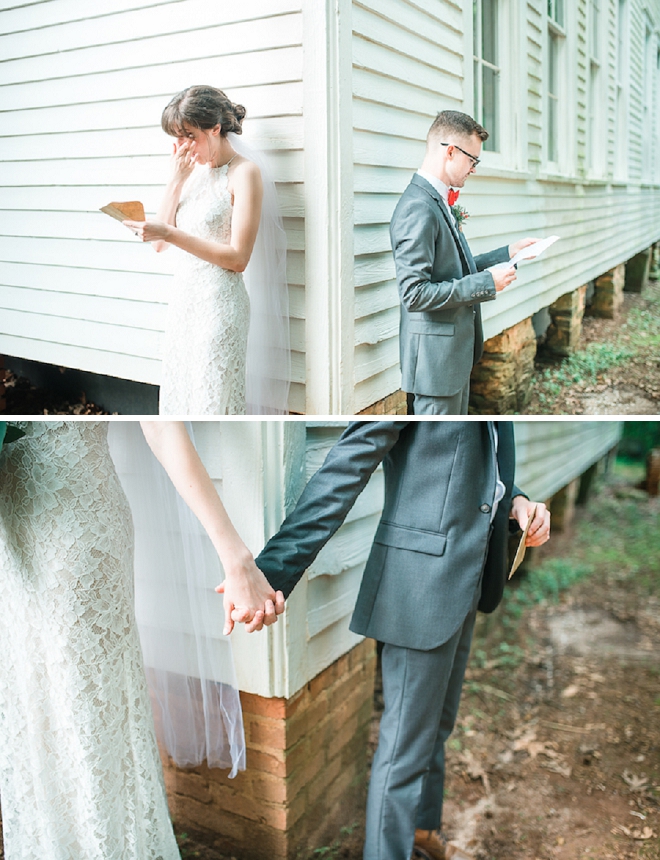 What is your favorite wedding day memory?
There were so many! I loved dancing with my Brothers and Dad out on the dance floor. I loved hugging on my Mom while I was getting ready…and lastly, but not least, I loved getting to leave holding the hand of my new husband.
What did you DIY for your wedding?
We DIY'ed most things for the wedding! I designed and printed the invites. My beautiful Maid-of-Honor, Maddy helped me make late night runs to get red ribbon and hot glue sticks. My Dad cut down and created the signs, built the dance floor and invented an ingenious method to hang the string lights above us all. My bridesmaids helped hand paint all the lettering on all the signs, as well as, arrange the centerpieces for the table with tea lights and extra greenery. My brother was our MC. My Mom made my veil. My husband, Dillon, created various collages of our pictures that lined this beautiful trail through the woods. My cousin, Bekah Harper, even baked the cake! It was a DIY affair!
Did you have a something old, new, borrowed, blue?
Yes! My something old was my Grandmother's copper pin, my something new we're my dress and shoes, my something borrowed was my Mother's reconstructed veil and lastly, my something blue was the blue thread sewn into the veil to hold it in place!
Any advice for brides currently in the planning process?
My biggest advice would be to let others help you in the process and do not feel like you have to do everything yourself! Also, I am a HUGE advocate of pre-martial counseling. It helps you answer some tough questions that you and your partner might not have talk about. -Morgen, the Bride
Event Credits
Photography: Glorious Moments Photography // Venue: Hebron Presbyterian Church // Florist: The Enchanted Florist // Catering: Food Factory on Main // Officiant: Matt Thomas // Bride's Attire: BHLDN
No related posts found.