DIY Wedding | John + Mindy
"Mindy and John's wedding day was hand-crafted to a T by the bride. Mindy's design of the perfect, romantic wedding day was filled with light, luxury, and pops of color. The day started with the wedding party preparing for the celebration at The Landsby Hotel in Solvang [gotta love those Rachel Brown paintings!!]. Mindy's best gals helped her into her Monique Lhuillier gown, and chartreuse Badgley Mischka heels. Jump on the School Bus took everyone through wine country, to Santa Ynez's treasured Firestone Vineyards. The sunset ceremony was followed by a classic getaway car, and kisses in the grape vines. Guests were greeted at the reception with billowing flower arrangements from Bella Flora and napkins that were each handmade by the bride's mother!" –Grace Kathryn Photography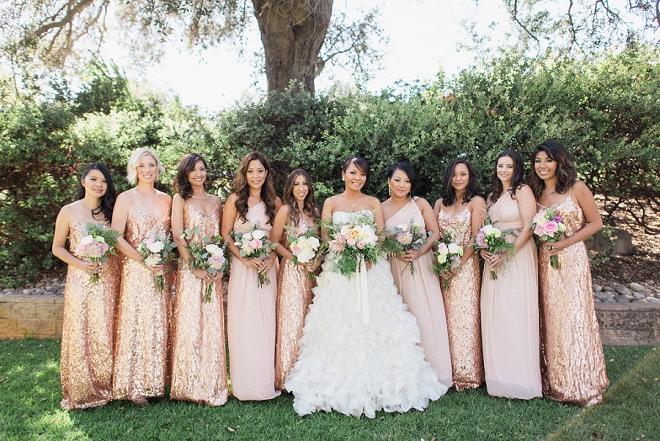 What is your favorite wedding day memory?
Aside from seeing all the people we love all in one place, would be our ceremony. Our officiant was one of our best friends who interviewed us both and our families throughout our year of wedding planning so there was a lot for him to say! Both John and I found out things from our upbringing we didn't even know existed. We all cried and laughed so hard it was amazing.
What did you DIY for your wedding?
Lots! We DIY'd all our floral arrangements and bridesmaid's bouquets with the exception of my own bouquet as I didn't want to deal with the stress of it possibly not turning out nice. The bridesmaids all chipped in to help and no one had any prior experience. I spent a year watching YouTube videos and decided to take on this risky task. We spent a whole day doing this and it was incredibly fun spending that time with all my girls! We also DIY'd our dinner napkins, my poor mother made all 114 napkins. I spent months trying to find the ideal print and colors that would go with the wedding. Luckily I live in LA so there were plethora of fabric shops to shop at. I finally found the fabric I wanted at JoAnns, but the print I wanted was not available online so I had to go to 5 different stores to accumulate enough yards to ship to my mother in Jersey. We also crafted our Wine stopper favors. John and I love wine and we love to host dinner parties so we've drank enough bottles of wine to save the corks and make favors out of them with vintage drawer knobs. Another DIY was our escort cards and holder. I bought old window frames off another bride and used them to hang escort cards that John's Mom had written out. Lastly, we DIY'd all of our wedding signage!
Did you have a something old, new, borrowed, blue?
My Something Old was the locket on my bouquet that contained a picture of my late grandmother and father who had passed away in the recent years. My Something New was the jewelry I had worn. My Something Borrowed, was my sister's veil. I had forgotten to bring from home that was 100+ miles away. Perhaps best that I had forgotten it since it was an outdoor wedding and had gotten pretty windy during ceremony time. I'm sure the cathedral veil would've been out of control. Lastly, my Something Blue was the blue bow sewn into my dress!
I tried to account for all four but not everything always goes as planned… I even called a dear friend who tried to break into my house on the morning of my wedding to snatch the veil but it didn't work.
Any advice for brides currently in the planning process?
Enjoy and savor every moment! I'm very much loving married life but wedding planning even though stressful, was so incredibly fun. Milk being the "bride" title! Everyone will treat you so special, even strangers! -Mindy, the Bride
Event Credits
Photography: Grace Kathryn Photography // Venue: Firestone Vineyards // Florist: Bella Florist // Catering: Specialty BBQ Catering // Cake: The Solvang Bakery // Invitations: Minted // DJ: Amigo Rubino // Videographer: White Studio Project // Transportation: Jump on the School Bus // Rentals: Otis + Pearl Vintage Rentals // Engagement Ring: Elegant Jewelers // Bride's Attire: Monique Lhuillier // Bride's Jewelry: J. Crew // Bridesmaid's Attire: Vow to be Chic // Groom + Groomsmen's Attire: Evolution of Style // Wood Signage + Mirror Calligraphy: Details Darling
No related posts found.