Hello again bridal babes! This weekend is my bridal shower and I was so indecisive choosing a theme. At first, I wanted a garden tea party but I think I was trying too hard because that isn't my style. So instead, I am having a boho floral bridal shower minus the tea + the mimosas! Check out my mood boards!
---
Boho Floral Bridal Shower Mood Board
Top Left: Afloral Top Right: 100 Layer Cake Bottom Left: Andee Layne Bottom Middle: BLDG 25 Bottom Right: Pinterest Original
---
While I was planning my shower, yes I was planning my own shower – because I am a control freak. My maid of honor knows this about me and is helping but I like to know every detail of things that are planned so yeah, it's going to be a little tough for me to not be in control on my wedding day! Anyways, while I was planning I found lots of ideas for different themes and I wanted to share my favorites!
---
Holiday Themed Bridal Shower
Left: Mirella Carmichael via: Mod Wedding Top Right: Katelyn James via: Brit+Co Middle Right: Pen and Paper Flowers via: My Wedding Bottom Right: Jamied Photography via: Wedding Chicks
Y'all, I am OBSESSED with Christmas. I'm sure a lot of you all are too, I mean, it's the most wonderful time of the year. If my wedding was in January or February you bet your booty I would totally have a Christmas themed bridal shower. Christmas music playing, the tree lit up, hot cocoa, and smores. It all sounds so amazing and festive.
---
Sweet Bridal Brunch Shower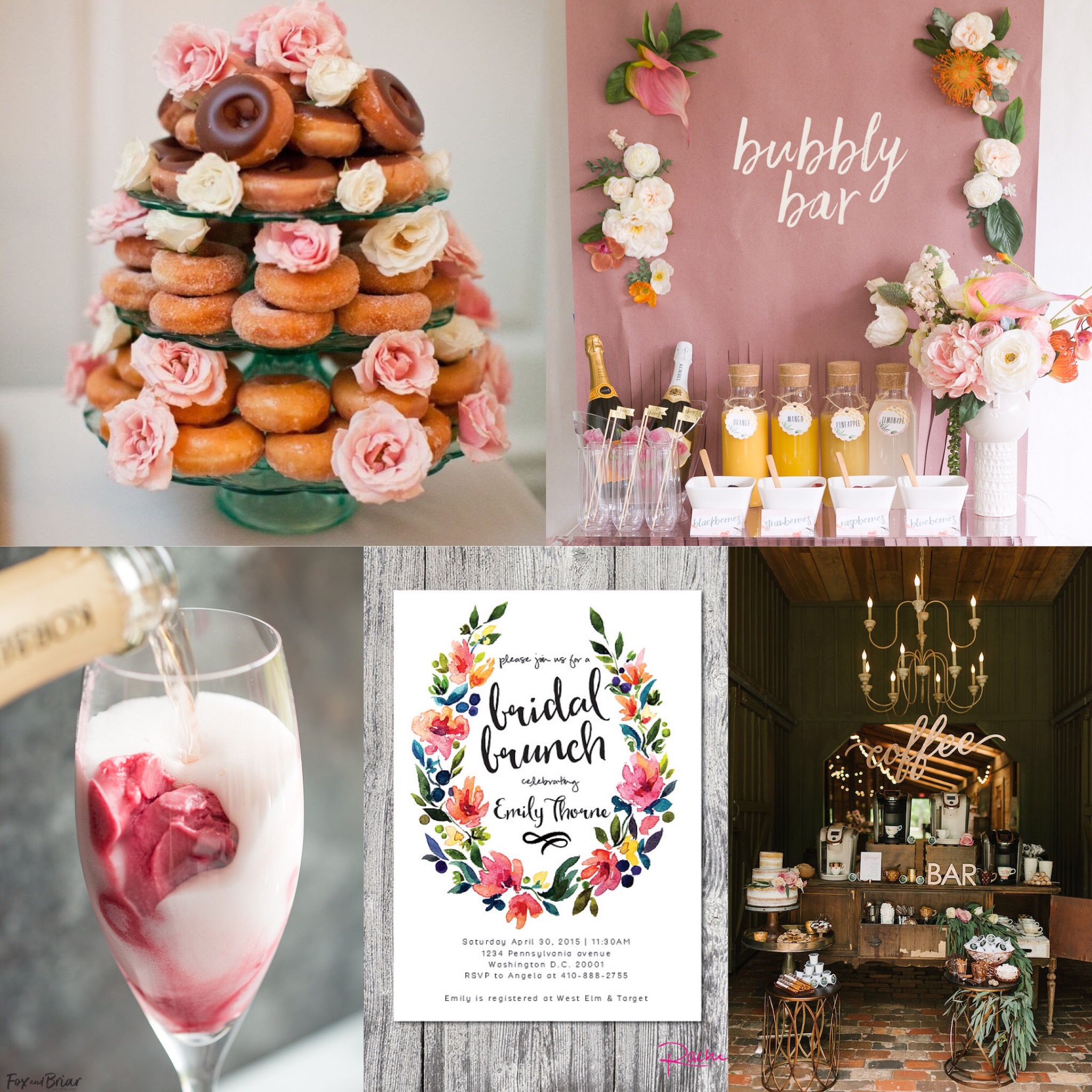 Top Left: Meg Ruth via: Mod Wedding Top Right:Ruffled Blog Bottom Left: Fox and Briar Bottom Middle: Rachels Workroom Bottom Right: Lauren Rae Photography via: Burnetts Boards
Who doesn't love brunch?! Perfect reason to drink Rosé, mimosas, and eat pancakes & donuts. Sounds like one heck of a party to me. I checked out the recipe for the bottom left picture from Fox and Briar it looks so delicious, I have to try to make it for mine!
---
Palm Springs Bridal Shower
Top Left: Gillian Ellis via: A Coastal Bride Top Right: Party With Lenzo Bottom Left: Olivia Richards Photography via: 100 Layer Cake Bottom Middle: Design and Donuts Bottom Right: Mary Costa Photography via: Studio DIY
I love everything about this palm springs themed bridal shower, especially the flamingos & mojito bar! Instead of Mimosa's let's give these guys some spotlight! So cute!!
---
I hope I have inspired you ladies and helped y'all come up with some new ideas for your future bridal shower! I can't wait for mine this weekend! I'll share some photos next time!
---
No related posts found.