Lauren here from I Love Love Events. I am so excited about today's post for several reasons, first, the engagement ring is so important. Not only is it a special symbol that signifies the special commitment and the start of a new chapter in your life, but it's also a piece of jewelry you may very well wear forever. By that logic, choosing the right ring is as important as choosing the right guy! Just kidding, but you do want to do your research on styles and looks, as well as price and technical aspects. It could be a piece you and your future financé decide to really invest in or you could fall in love with something more affordable, like many of the beauties on the list below. The engagement ring is also the spark that starts the entire wedding season of your life. A season that can be stressful at times, but is full of love, celebration, family and friends. This tiny piece of jewelry has amazing power, so choose wisely, and don't feel guilty for "accidentally" leaving your engagement ring folder open on Pinterest for your man to see!
A few trends we're seeing include:
the return of the pear shape
stones other than diamonds
stackable rings
non-traditional anything
mixed golds
Which would you choose!?
---
---
PEAR SHAPED OPAL ENGAGEMENT RING
Cappucine
---
Emerald Engagement Ring
Minimal VS
---
CHEVRON DIAMOND ENGAGEMENT RING
Doron Cohen
---
ART DECO VINTAGE RING
Your Jewelry Finder
---
OPAL AND MORGANITE ENGAGEMENT RING
Aardvark Jewelry
---
CUSHION CUT MORGANITE ENGAGEMENT RING
Penni Jewelry
---
TURQUOISE ENGAGEMENT RING
Cappucine
---
PINK TOURMALINE ENGAGEMENT RING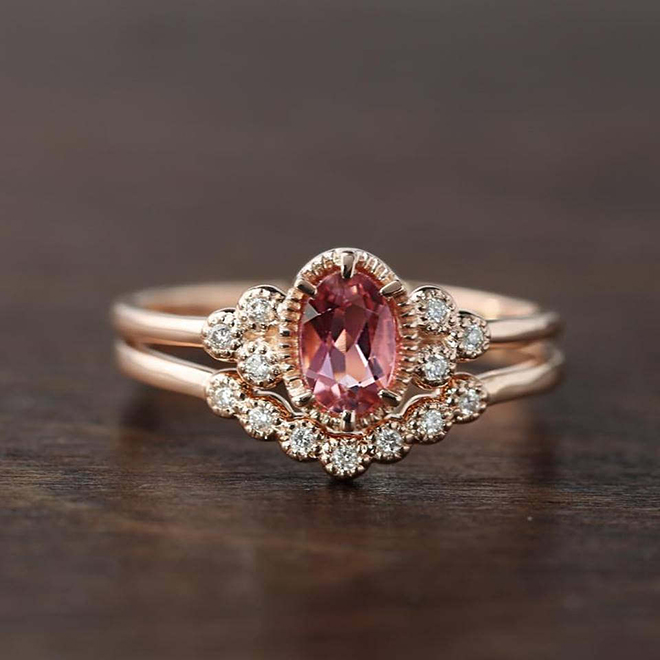 Envero Jewelry
---
RAW CUT DIAMOND RING
Point No Point Studio
---
MODERN STACKABLE ENGAGEMENT RING SET
Cappucine
---
ART DECO PEAR SHAPED RING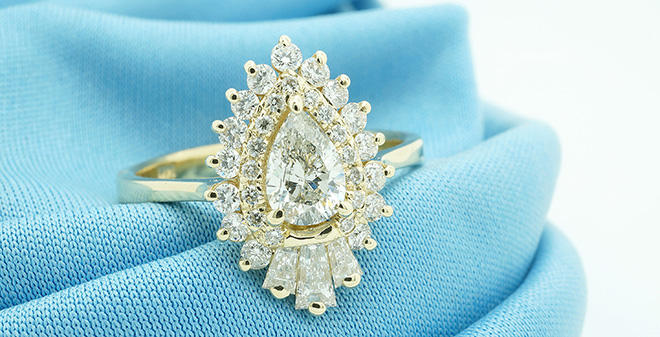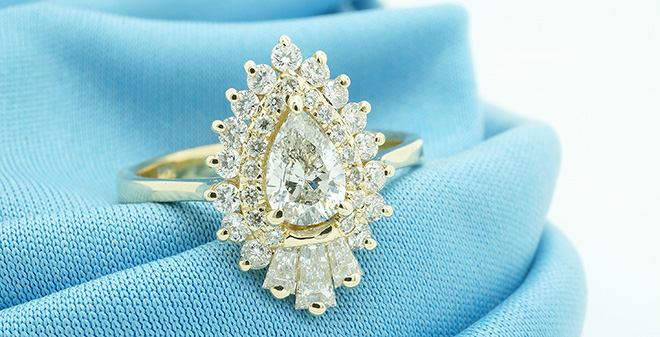 Seven Carats Shop
---
MODERN PEAR SHAPED ENGAGEMENT RING
Cappucine
---
GRAY DIAMOND AND ROSE GOLD WEDDING SET
Minimal VS
---
TURQUOISE ENGAGEMNT RING
Love Rings Design
---
AQUAMARINE ENGAGEMENT RING
Dori Ring
---

Lauren Koster is the owner of I Love Love Events, a New York based wedding planning company that specializes in the unique and handmade look. Her eclectic style and modern hipster vibe always has us entranced. We always love when she graces our blog with her monthly "Steal This Style" article. Want to know more? You can personally follow or find her from these links below:
website // blog // instagram // facebook // twitter // pinterest
---