If you think balloons are just for children's parties and cheesy prom photos, think again. This fun and highly versatile party essential is actually a DIY bride's best friend (and also happens to be very affordable). With a little creativity, you can take a balloon that cost a few cents and make it look like a million bucks – isn't that what being a DIY bride is all about?! Step up your balloon game on your wedding day with these 15 crafty ideas guaranteed to make your balloons pop.
---
Tulle
---
Cover balloons in colored tulle and secure with ribbon, flowers, tassels or any other craft item you have on hand.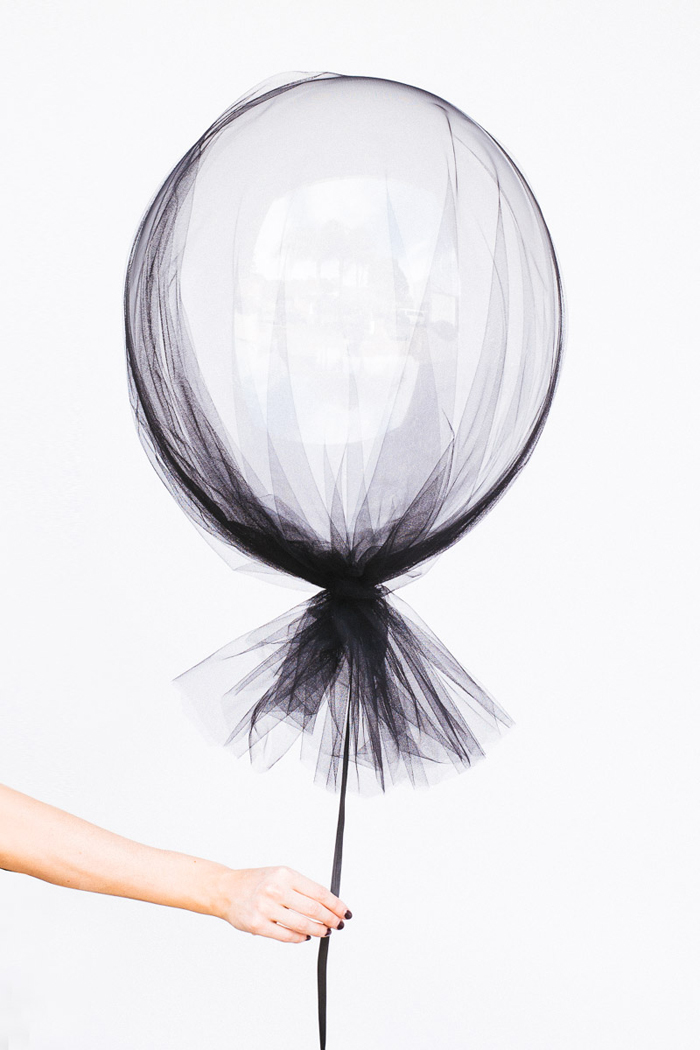 Photography, concept & creative direction: @hipster_mum / Balloons: @borntopartyshop / Found on: Poppy Talk.
---
Flowers and Greenery
---
Attach fresh or artificial flowers to balloon tails for an instant romantic, boho upgrade.
Found on: Style Me Pretty.
Photo: Max and Friends.
---
Ceremony Arch
---
Tie balloons together and anchor at each end for an affordable and easy balloon arch.
Photography: Beck Rocchi Photography / Flowers: Raven and The Rose / Balloons: Belle Balloons / Wedding Dress: Bridal Atelier / Makeup: Shae Cara Makeup / Hair: Ally Jenkins Makeup / Found on: Lenzo.
Balloon arch: @art_petrov and @floral_style / Planning: @cranberryevent and @marina_buryndina / Photography: @lk.photo.
---
Text
---
Turn your balloons into save the dates, Mr. and Mrs. balloons, or even a wedding menu by writing on them with a Sharpie. For a full tutorial on how to do this, click here.
Found on: A Merry Thought.
---
Glitter (Inside)
---
Fill transparent balloons with glitter, confetti, or tissue paper to get them glitzing from the inside out.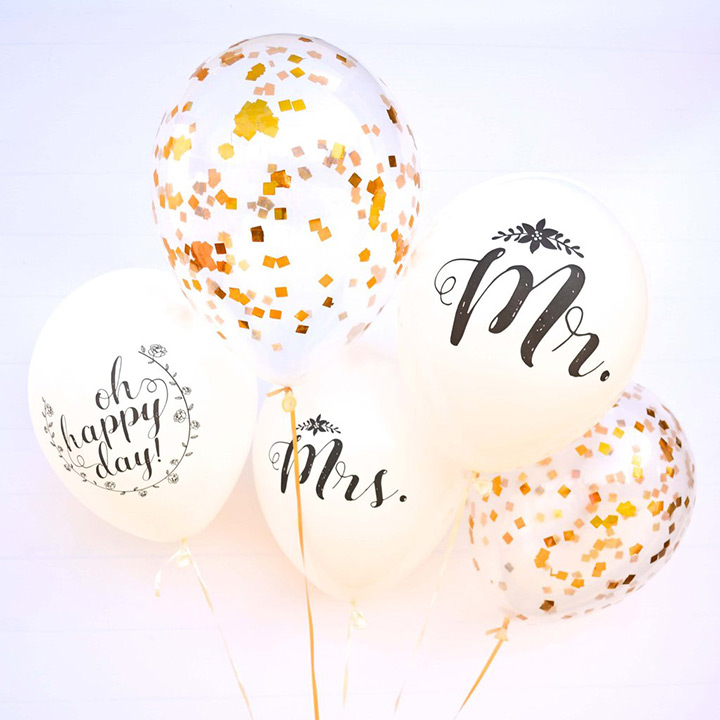 Photo: Twigs and Twirls.
---
Tassels, Cloth, and Ribbon
---
Make your own fringe balloons by attaching pieces of cloth, tassels, and ribbon to balloon tails – bonus points if they are your wedding colors.
Photo: Bubblegum Balloons.
Photo: SweetTealPaper.
---
Pompoms
---
Glue pompoms to balloons in alternating or monochrome colours to give them texture, depth, and style.
Photography: Annie Parish Photography / Found on: Design Improvised.
---
Garlands
---
A garland is one of the more complicated balloon DIYs, but is truly worth the effort for the end result.
Photography: Max & Friends / Found on: Urban Palate.
Styling and Photography: Amy Moss and Naomi Julia Satake / Crafting: Naomi Julia Satake and Justine Pon / Found on: Oh Happy Day.
---
Escort Cards
---
Turn balloons into escort cards by tying photos or names to helium-filled balloons.
Found on: Wedding Chicks.
---
Glitter (Outside)
---
No wedding is complete without some sparkle, so dip balloons in glitter for instant glamour.
Found on: Studio DIY.
---
Centerpieces
---
Forget elaborate floral centerpieces – use balloons instead.
Found on: @boutique_balloons_melbourne.
---
Paint
---
Paint your balloons in different patterns like ombre, marble, brush strokes, or stripes. If you're feeling really creative, try using metallic, matte, or glitter paint.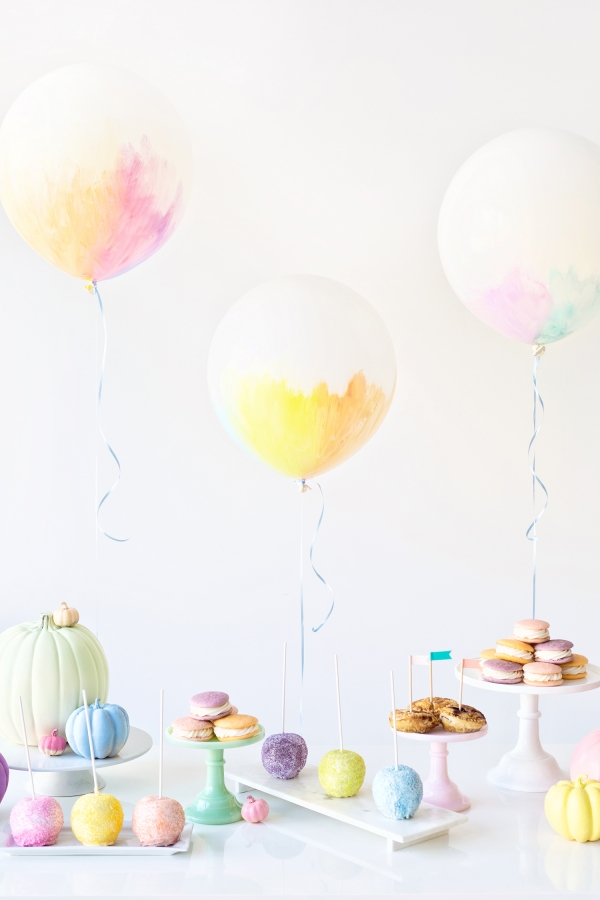 Photography: Jeff Mindell / Found on: Studio DIY.
---
Cake Topper
---
Make an easy DIY cake topper with mini balloons and a few cake supplies.
DIY and Photography: Lisa Tilse for We Are Socut.
---
Table Numbers
---
Use your balloons as table numbers by tying numbers to the string of the balloons and filling them with helium.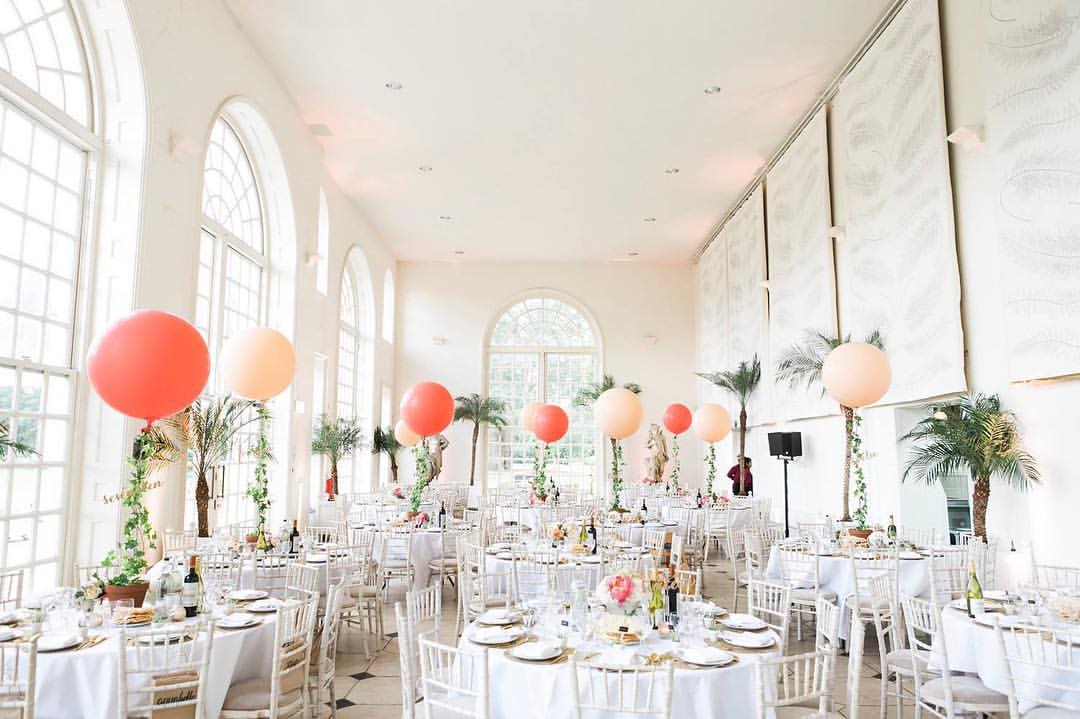 Found on: Bubblegum Balloons.
Photographer: Sarah Gawler / Venue: Aynhoe Park / Flowers: Euphoric Flowers / Found on: Bridal Musings.
Photography: Fuller Photography / Flowers: Constance Rose / Found on: Whimsical Wonderland Weddings.
---
Ceiling Feature
---
Sometimes the best ideas are the most simple ones. Create a unique ceiling feature by covering the ceiling with various balloons in different shapes, sizes, and colours.
Styling and event management: Styled by Coco / Photography: My Little Company Photography / Balloons: Belle Balloons / Venue: Nshry Cafe – Albert Park / Found on: Lenzo.
Project: Jesi Haack design for designlovefest / Photography: Brittany Wood / Found on: DesignLoveFest.
---
Kendra Hagerman is a fashion, beauty, and lifestyle writer who had a dreamy DIY backyard brunch wedding. She and her husband are now the proud fur parents of Mona, a chiweenie rescue that is still getting used to the Canadian climate. You can find her on Instagram, Pinterest, Twitter, and Facebook.
No related posts found.