Ranunculus are one of my absolute favorite flowers and they are such a wonderful addition to ANY wedding bouquet or decor. So I'm excited to share that this month our FiftyFlowers Flower Power feature is all about The Radiant Ranunculus! These dainty little flowers feature brilliantly colored blooms with whorls of layered, paper-thin petals. They give a feminine and whimsical look to any theme of arrangement and are available year round! They're also known as 'Buttercup' or 'Coyotes Eyes'… and are meant to symbolize 'charm' and 'attractiveness' across cultures. Each month we're featuring a specific, popular wedding flower, sharing important tips and information that all DIY brides will find valuable if incorporating said blooms into their events. Whether you're arranging your own bridal shower flowers or creating your own wedding bouquets, you'll want to keep an eye out for these new posts!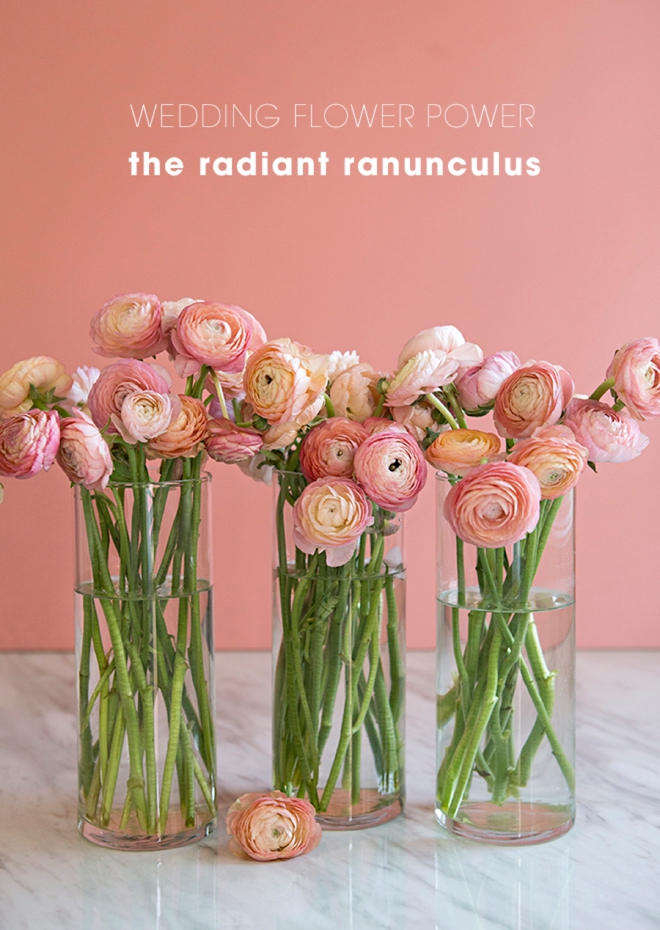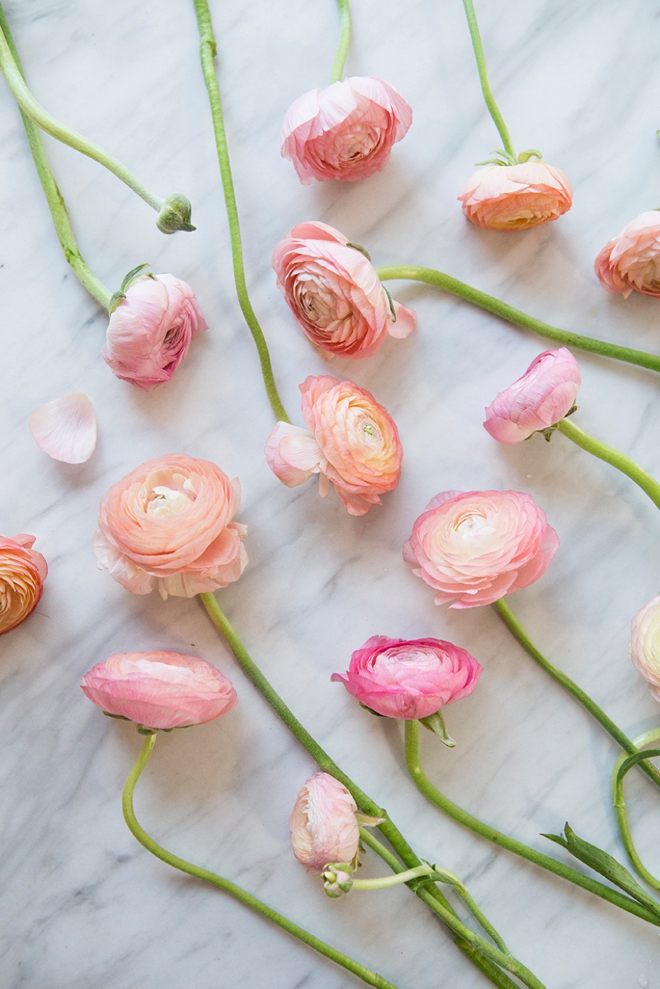 Fifty Flowers
For those who might not know, FiftyFlowers is an online flower wholesaler who ships gorgeous flowers to your doorstep, straight from their partner farms. Their customer service is outstanding and I know that you'll have an extraordinary experience with them, no matter if you're ordering flowers for your entire wedding or just a few bunches for your bridal shower. You can shop their website just like you would a flower mart, even scheduling your delivery time with just a few clicks – it's awesome. I absolutely love that at any time, no matter what shoot or event I need flowers for, I can visit their site, shop and the flowers magically arrive at my door. Basically, they are the Nordstrom of online flower sales!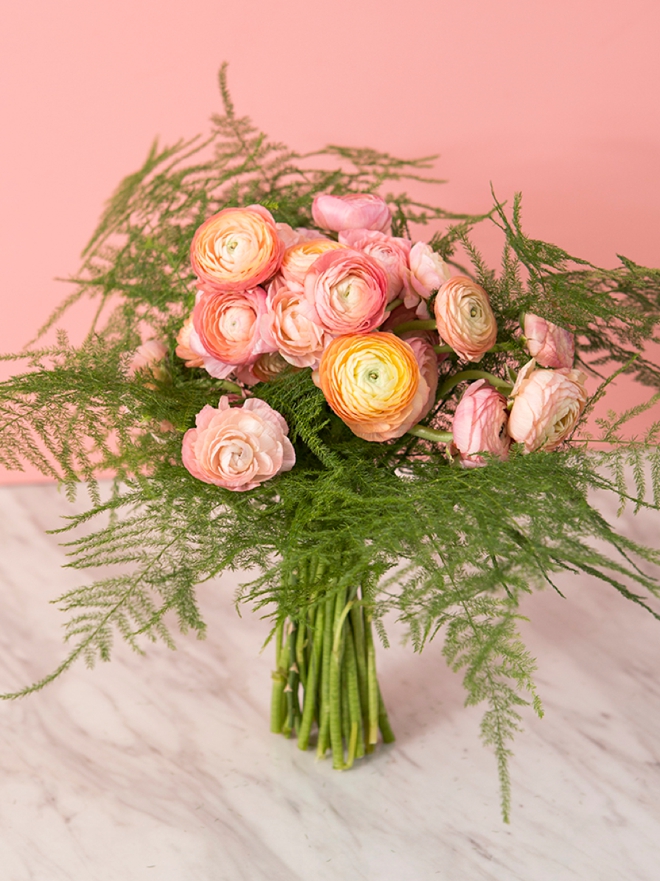 Farm To Vase Prep:
Your bulk Ranunculus will arrive in a large box, protected by plastic and possibly foam. They will be looking a little sleepy and thirsty which is totally normal. Take note of the key points below to ensure proper rehydration and care of these gorgeous flowers.
Ensure your flower buckets/vases are clean and disinfected
Fill containers with at least 4″ on fresh, cool water, adding flower food if you have it
Remove all plastic and foam from the flowers
Cut stems diagonally under running water with sharp scissors
Immediately after cutting, place the stems in the prepared containers
Allow flowers at least 4 hours to fully hydrate, 12 if possible
Keep flowers away from direct sunlight, drafts or excessive heat
Change the water every 24 hours to keep your flowers fresh! Flowers will drink an exceptionally large amount of water upon arrival and rehydration so make sure within that first 12 hours that they have enough!
Recommended Delivery Date: 3 days before your event
Flower Availability:
I'm excited to share that Ranunculus are available year round, with their most expensive months being May – August. However if ordering September through May, you'll not only get a price break but you'll have more colors of blooms to choose from!
In this post, I'm featuring the Peachy Watermelon variety, paired with the Plumosa Fern!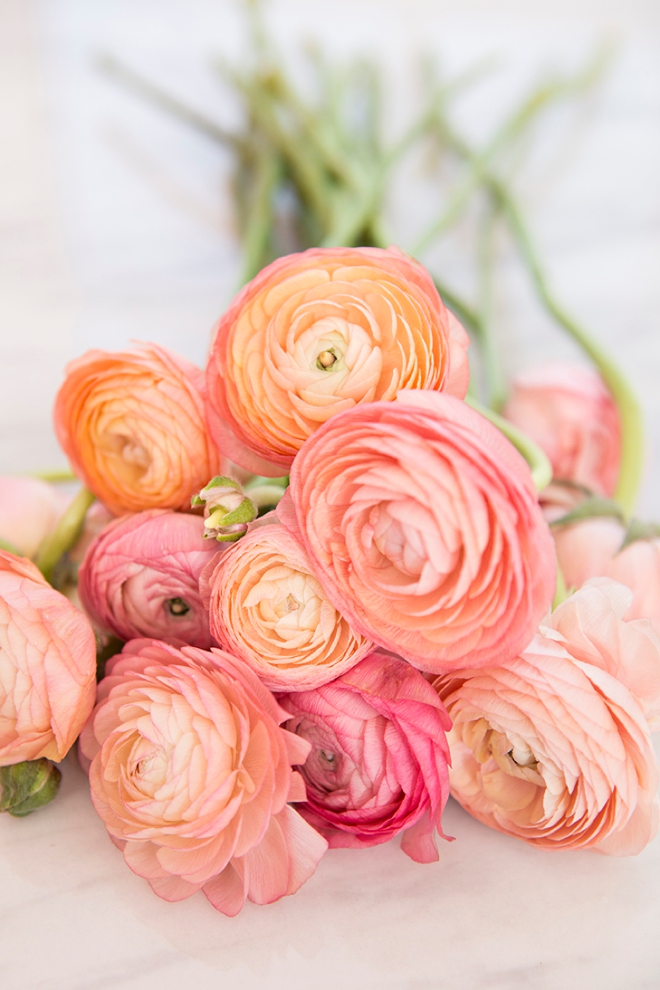 Pairs Well With:
Ranunculus pair well with almost any flowers or greenery because they are smaller blooms that have an incredibly unique texture. Some great choices would be peonies or garden roses, anemones, tulips, dahlias, stock, astilbe and soft drapey greens like the ferns I used here.
Design Note: Ranunculus can have wavy or curvy stems which add to their whimsical nature! However, some brides will choose to wire their stems. You can do this by taping floral wire to the outside of the stem with floral tape or you can insert the wire up through the end of the stem to the base of the bloom. This allows you to bend and mold the stem!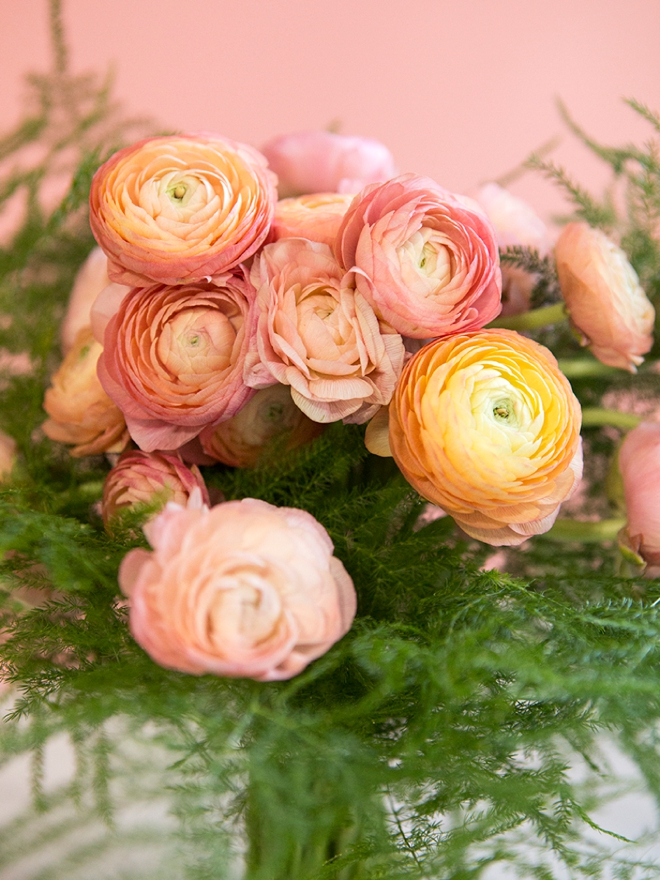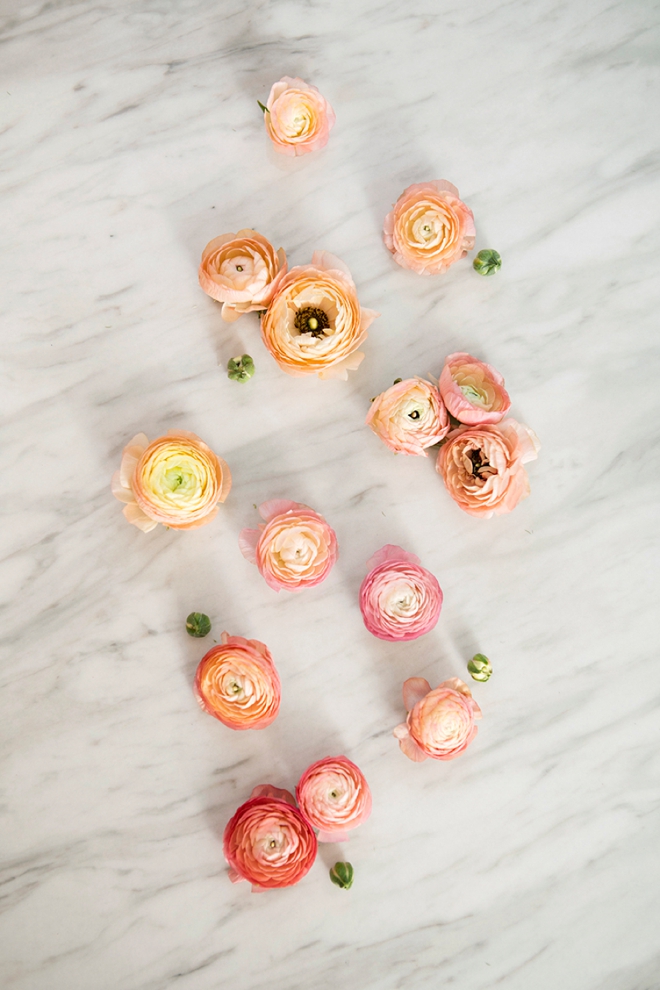 Handling, Care, Notes:
The Ranunculus is a cousin flower to peonies and anemones! Each ranunculus stem has a minimum of one bloom but may feature two or three off-shoot buds. The size of the flowers range from 1″ to 2.5″ in diameter and the average stem length is only 6″ to 12″. Expected vase life is an average of 5 days with proper care. Since they are a delicate flower, they don't really like to be out of water… so while they might make fabulous looking boutonnieres, they might be wilted or falling apart by the end of the evening. Bouquets that have ranunculus will do best in water, so at your reception set out vases with a few inches of water where you and your bridesmaids can put the bouquets on display for a win-win; hydration and decor!
---
Win Your Wedding Flowers!
Fifty Flowers has an awesome contest going on this year that I just had to share! They want to hear about your unique wedding flower story! Everyone who signs up will get 5% OFF their flower order, then once married, you visit their site to share your flower story and you'll be entered to win one of the 3 great prizes! From $5,000 cash to a $500 Shutterfly gift certificate. Story sharing ends December 15th, 2017!
---
Post Sponsored By:
FiftyFlowers is the customer-centric, online destination for wholesale wedding flowers, shipped fresh from the farm straight to your door! Inspired by the DIY bride, we offer an extensive selection of fresh flowers, greenery, and floral accessories because we believe anyone can create their own wedding flowers.
---
Images copyright of SomethingTurquoise.com®
---
No related posts found.