DIY Wedding | Greg + Jenn
"With a bit of Disney magic in the air, the stage was set for Greg and Jenn's relationship to blossom. They met while working for a hearing-impaired event at Downtown Disney, with Jenn being a stage manager and Greg working as a lead technician. Taking note of her love of books, Greg proposed to Jenn with a custom-made photo book including photos, captions and calendar dates of memorable moments in their relationship. The pair soon found themselves planning their relationship's most important production—their wedding day. Incorporating their love of the theater, Greg and Jenn took ample interest in how their "audience" {wedding guests} would see and experience everything their wedding day offered. With Greg's love for outer space and Jenn being an avid reader, the pair included elements of book pages and stars into the décor. DIY projects played a large role in the big day, including colored strips made from book pages formed into bouquets, confetti made from book pages cut into the shapes of stars and hearts, and their wedding arch decorations made by Greg, including a beautiful pattern of star and heart wooden pieces. Bride Jenn offers up some helpful advice with couples planning their wedding, saying that "Everyone tells you that your wedding day will fly by and it will be a blur, but I don't feel that way. If you plan well in advance, you'll be able to take the time to note all the amazing emotions flying around you. Don't take any moment for granted." –Kaysha Weiner Photography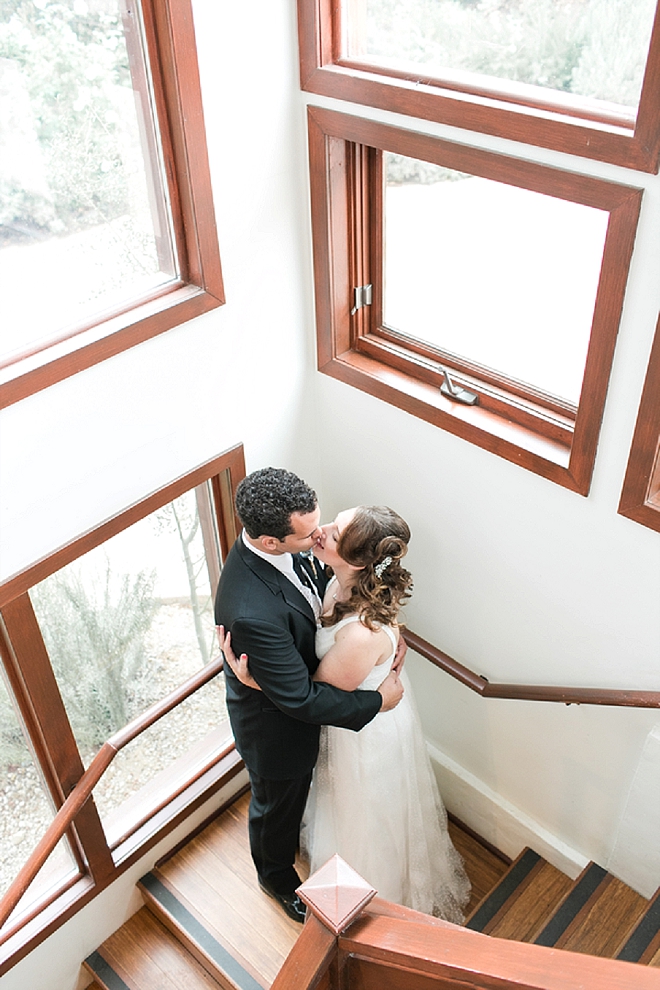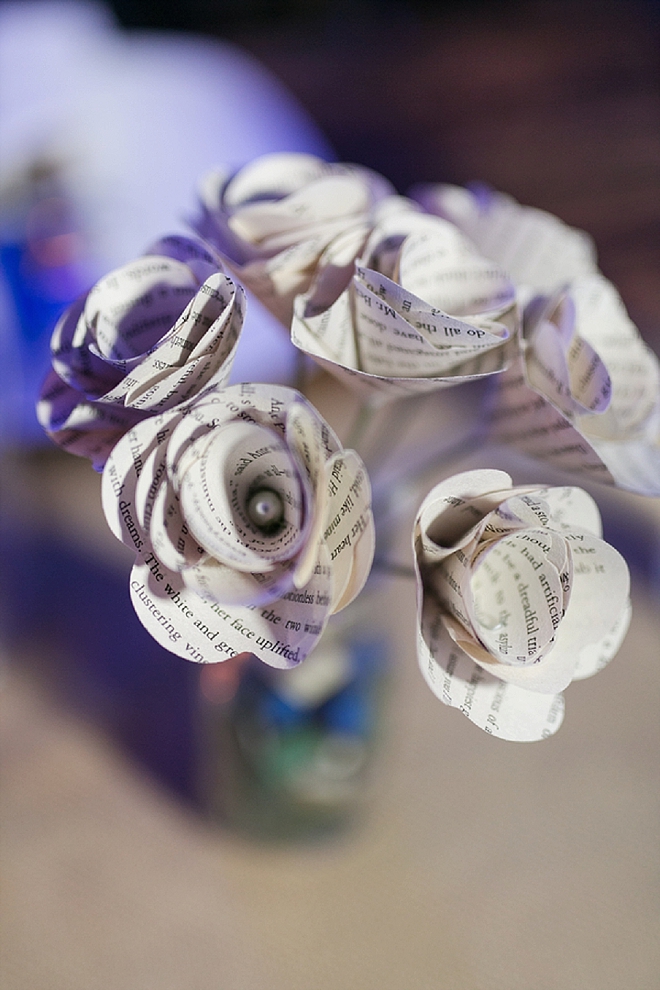 What is your favorite wedding day memory?
Greg surprised me by asking his Best Man, Mike, to stand guard outside the getting ready room right after the ceremony. This allowed us to have 5 minutes to ourselves to just process what happened. Quietly sitting with him, looking in his eyes,and smiling…this was one of my favorite moments of the day. We discovered the day before that rain was certain in the forecast. Our amazing Coordinator, Courtney Cotter was able to take charge and rearrange all our previous outdoor ideas to indoors. The rain added a magic that I wasn't expecting. Through the entire ceremony, there was a light mist. It was beautiful and felt special. We were ready to go with the flow and everything ended up working out perfectly.
What did you DIY for your wedding?
We did QUITE a bit of DIY! Our guest room became the arts and crafts headquarters for a number of months prior to the wedding. We DIY'd…
-The jars that acted as vases for the book page bouquets were filled with strips of colored book pages that matched our wedding colors. We spray painted book pages, cut them into strips, then accordion folded them and stuffed them into each jar shaping them with chopsticks. -Book page confetti in our wedding colors in the shapes of stars and hearts. After spray painting the book pages, my friends helped in a hole punch assembly line while we would watch RuPaul's Drag Race. -Escort cards were made with a similar design to our invitations using Adobe InDesign and some perforated card stock from Amazon. -Each of the signs were spray painted gold and painted with chalkboard paint before our graphic artist could write on them. -The "Jenn <3 Greg" and "Just Married" signs for our sweetheart table were made from banners, twine, and book pages. -Greg worked his magic to design the arch decoration so each of the strings were even and had a beautiful pattern of star and heart wood pieces. -The Card box was a mixture of book pages, spray paint, star confetti and a lot of input from Greg and friends to make the final product.
Did you have a something old, new, borrowed and blue?
Keeping with the book theme, for my something old, My Grandma gave me a book that was given to her on her wedding day. For my something new: Greg and I searched long and hard while we were researching our vows. Ultimately, what resonated most with us, we had found at the children's impulse buy table at Barnes and Noble. This book, "I'll Never Let You Go" became our vows and was our new book. My something borrowed: When showing our neighbors the book page bouquets, she ran to her house and came back with a book that had folded pages in the shape of a heart. It was the perfect thing to borrow. Lastly, my something blue: Even though one of our wedding colors was blue, I wanted a special blue for me. I got my toe nails painted in OPI "Fearlessly Alice."
Any advice for brides currently in the planning process?
Everyone tells you that your wedding day will fly by, it will be a blur, but I don't feel that way. If you plan for it to go by quickly, you will take the time to make note of all the amazing things happening around you. You won't take any moment for granted. We also planned our day really well, so we had a fair amount of down time to relax, laugh and be surrounded by the people we love the most.
What people don't tell you is how hard planning a wedding is. Without our Coordinator and the fact that I plan and stage manage events for a living, we would have never gotten through it. Schedule the time, talk to each other, cry, scream, hug…in the end, you can celebrate that it's over and you never have to do it again. We both feel that if we could plan this wedding together, we can do anything together. -Jenn, the Bride
Event Credits
Photographer: Kaysha Weiner Photography // Venue + Catering: The 1909 // Wedding Planner: The Joy Parade // Florist: Thee Paper Girl // Desserts: Coolhaus // Invitations: Wedding Paper Divas // Officiant: St. Paul's Episcopal Church // DJ: Fedora DJ // Rentals: Town & Country // Bride's Attire: Blush Bridal Couture // Bride's Hair Accessory: Sparkly Avenue // Bridesmaid's Attire: David's Bridal // Groom + Groomsmen's Attire: Jos. A. Bank // Guest Book: Happy Project Shop // Hanger: The Fog Shoppe
No related posts found.