There's no getting around it: weddings are expensive. Between the food, decor, venue, and entertainment, wedding-related costs can add up quickly. If you're a bride on a budget (who isn't!?), you may feel sticker shock when hidden wedding expenses appear out of nowhere or you forgot to budget for something altogether.
As a budget-conscious bride, I was surprised by some of the astronomical costs and "extra" expenses that I stumbled upon as I was planning my wedding. In general, when you're planning a wedding, it's a good idea to set aside some extra money for unexpected expenses. As you plan your big day, keep an eye out for these common "surprise" costs or better yet, build them directly into your budget.
Photography: KT Merry / Design + Production: Strawberry Milk Events / Linens: La Tavola / Rentals: Perfect Settings.
Photography: Annie Parish Photography.
1. Tents – If you choose to have an outdoor wedding at a private venue (or at a location that doesn't provide tents), keep this potentially major cost in mind. We had our wedding in a backyard and were shocked to find out that tents were our second highest expense next to catering.
2. Postage/Shipping Costs – Even though you may fall in love with the textured, square, extra thick invitations, keep in mind that wedding invitation costs don't end at stationary. Oversized, bulky envelopes can cost double or even triple to ship compared to a standard invitation.
Photography: Annie Parish Photography / Shoes: Kate Spade.
Photography: Gideon Photography / Decor: Snyder Event Rentals / Flowers and Coordination: A Charleston Bride / Found on: The Knot.
3. Overtime Fees – No matter how hard you try, your well-planned wedding schedule will likely slip at some point during the day. Get clear on what your vendors' overtime fees are by asking for their policies in writing and keeping this in mind during the day. To minimize costs, build in "bumper time" in your schedule to cover small delays and unexpected hiccups.
4. Cake-Cutting and Corkage Fees – If you bring outside beverages or cake to your venue, you may have to pay cake-cutting or corkage fees. These fees are normally built into the price of in-house cake and beverages, so the extra expense covers work the staff needs to do in order to prepare the item(s) for your guests. Like them or not, these fees are very common, so be sure to clarify all charges with your venue before you book.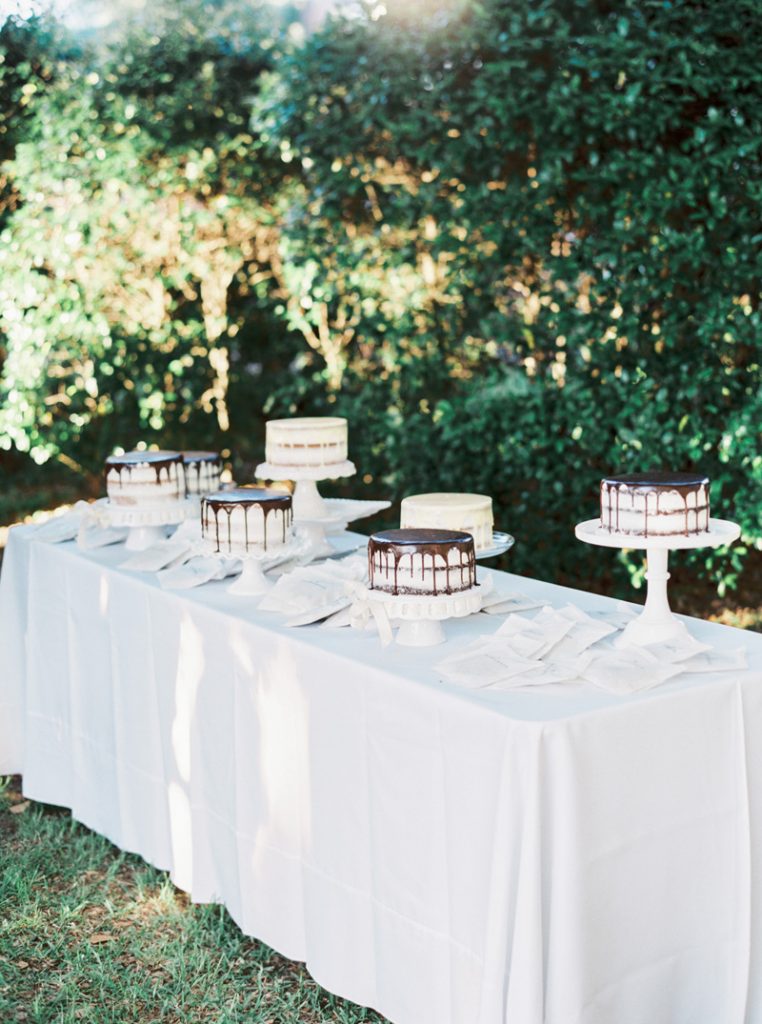 Photography: Annie Parish Photography.
Photography: Annie Parish Photography / Event Design: Christine Janda Design And Events.
5. Vendor Payment Restrictions – Vendors may charge you a service fee if you pay with debit or credit. This sneaky expense is to cover the hefty fees the banks charge on each transaction, but it's still an irritating fee. When we paid our caterer, we were surprised to learn that they were going to charge us an extra fee if we chose to pay with a credit card. Lucky for us, we were able to pay with another form of payment; had we not been able to, we would have been stuck with the extra fee.
6. Set-Up/Teardown Fees – Furniture, tents, and even food stations may come with more than just the price of the rental item; if you want it done by the professionals, set-up and teardown is often extra. To avoid surprises, clarify what each rental fee covers and when set-up/teardown will take place to ensure it fits in your schedule.
Photography: Annie Parish Photography / Tent: Blue Peak Tents.
Photography: KT Merry / Cake: Buttercream Bakeshop.
7. Transportation Costs – Even though you may only need your transportation for an hour or two, most transportation companies have a minimum booking requirement. Take this into consideration when you're creating your budget and schedule to minimize your costs. While you're at it, ask about overtime fees (see number 10).
8. Delivery Fees – Some companies will include the delivery fee in the price of their rental item or product, while others will charge for it separately. Keep this in mind while you're comparison shopping and ask for a delivery quote specific to the date and time that you need it – note that deliveries may cost more on weekends and holidays.
Photography: KT Merry / Invites: Winifred Paper.
Photography: KT Merry / Flowers and Decor: 50Fifty Creative Services.
Photography: KT Merry / Venue: Sunstone Winery + Villa.
9. Coat Check Fees – Surprising, right?! Even though most brides would assume this would be included in the venue fee, it's often not. If you're having a fall or winter wedding at a venue, clarify if coat check is included.
10. Upgrade Fees – Step away from the platinum flatware with diamond embellishments. Do not fall in love with the Swarovski crystal wine glasses. A wide variety of upgrade packages may seem like a positive attribute in a vendor…until you accidentally fall in love with the most expensive option. Venue and party rental companies usually quote based on their entry-level packages and offer upgrades as you move through the booking process. If you're content with the basic options, consider skipping the upgrades altogether (bonus: this will save you time too!).
Photography: KT Merry / Wedding Design + Planning: Joy Proctor / Flowers: Camellia Floral Design / Brides Dress: Jenny Yoo / Hair and Makeup: Ann Ho of StylesByAnn / Grooms Attire: John Varvatos.
Kendra Hagerman is a fashion, beauty, and lifestyle writer who had a dreamy DIY backyard brunch wedding. Her and her husband are now the proud fur parents of Mona, a chiweenie rescue that is still getting used to the Canadian climate. You can find her on Instagram, Pinterest, Twitter, and Facebook.
No related posts found.