"It couldn't have been a more perfect July day for Kate and Mike's wedding. I arrived to Kate's parent's house in Scarborough early that afternoon, where I found Kate just about ready to step into her dress. She was wearing a sash on her dress that was made out of lace from her Great-Grandmother's wedding dress from over 100 years ago! Everyone was calm and relaxed, and just enjoying being in each other's company. Once Kate was in her dress, everyone watched as Kate's Dad came around the corner and saw his baby girl for the first time, all dressed up. I love the sweet and genuine emotions that Kate's Mom and Dad shared that day. We went to the front yard to take a few pictures with Kate's family and bridesmaids before heading over to St. Mary's Church in Falmouth for the ceremony. Several of Kate's family members had been married here, so it was a bit of a tradition. Once we returned back to the house afterwards, we found the most dreamy light under the willow trees in the front yard. The reception was held in Kate's parent's backyard, where a big white tent stood, right next to a "family tree" where pictures of family members on their wedding days hung in frames. Kate's Mom made the cake and all those yummy pies! She paid homage to Kate's home state of Maine with blueberry pies, and well as Mike's home state of George with Peach pies! Kate and Mike danced the night away under the stars. Mike even swapped out the traditional mother/son dance with a fun upbeat dance with his Mom!" –Andrea Simmons Photography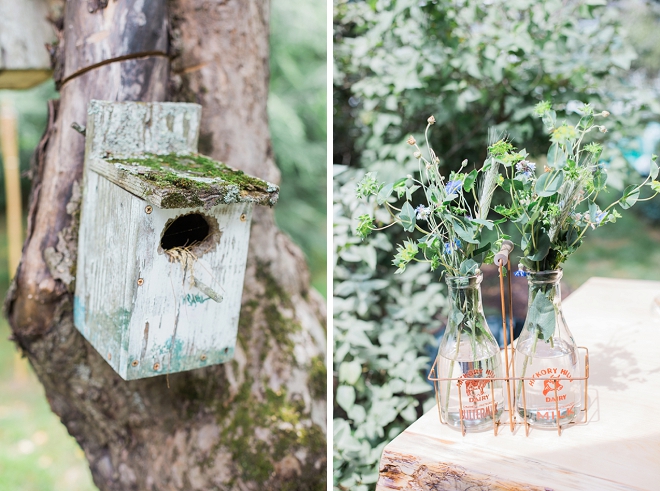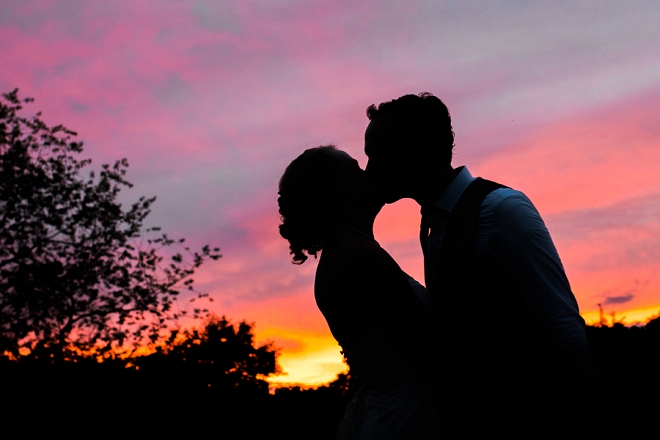 What is your favorite wedding day memory?
The whole day was pure joy and FUN! We were so excited to see each other at the altar and didn't stop smiling and laughing for the rest of the day and night. The feeling of being surrounded by family and friends that love us and were there to celebrate love for us and our love was pretty special and we felt it all day.
What did you DIY for your wedding?
I made quite a few things for the wedding, but the real DIY star with my Mom! I couldn't have done it without her! She made her own wedding dress, the bridesmaid dresses and cake for her own wedding, but I wasn't quite that ambitious. My Mom made our wedding cake and also blueberry and peach hand pies. She commandeered the ovens of several of our neighbors and good friends to bake them and they were a huge hit! My parents also put together a 'family tree' in the middle of the yard by stringing a tree with photos of Parents, Grandparents, siblings, aunts and uncles on their wedding days! I made all of the ties for the Groom, the Groomsmen, boys and Dad's which made for a really special gift. My sisters were helping me finish some of them the morning of! My dad helped me make a wooden ring box and a gorgeous table top for the bar. My brother drew the design for the invitations and I hand watercolored all of them. My Mother-in-Law made screen printed napkins for the rehearsal dinner, invitations and wedding favor packets of home grown pecans from their farm in Georgia. We had so many people help us along the way and it made the day extra special.
Did you have a something old, new, borrowed and blue?
Yes! The dress was new, but we added a lace sash with some old lace of my Grandmothers. We also had some of her lace around each bouquet. I borrowed one sister's veil, another sisters necklace and my mother's earrings. Lastly, my shoes were blue!
Any advice for brides currently in the planning process?
Having the ceremony in my parent's yard was way more work than I expected {who knew there were so many options for toilet rentals?!}, but in the end, made the day so much more special for us. We loved having little personal touches all around. It felt very us. Whatever is 'you' for you and your fiancé, go for it! And remember, no matter what you're going to get married to your best friend and it's going to be a blast! -Kate, the Bride
Event Credits
Photographer: Andrea Simmons Photography // Ceremony Venue: The Episcopal Church of Saint Mary // Reception Venue: Private Residence // Wedding Planner + Florist: Lulu and Co. Events // Catering: Fire and Company // Cake + Desserts: Bride's Mother // Engagement Ring: Satomi Kawakita Jewelry // Ties: The Bride