"Jordan and Anna met in their youth group when they were just 15 years old. They dated through high school, and became a long-distance relationship in college. Anna said the phrase "distance makes the heart grow fonder" perfectly describes their relationship and it was after their first year in college that she knew she wanted to spend her life with Jordan. Jordan has always dreamed of being in the military, which Anna said is one of the things she admires most about him: never giving up on his passions. After college, their long-distance relationship continued as he had to complete months of submarine training for the Navy. These two could not wait to get married and finally be together! So after 7 years of dating, they brought together their family and friends at Chattooga Belle Farm to celebrate their marriage. With the help of family and friends, they crafted a beautiful wedding using pale blue and peach colors – perfectly matching the blossoming peach trees in the orchard on the farm. Anna created all the signage and Jordan handmade the wooden boxes for the floral centerpieces. One of Anna's bridesmaids also served as coordinator AND florist too and she wrapped her bridal bouquet in a piece of her mother's lace dress. It was all a labor of love!
The weather that day was spotty with rainstorms breezing through and while it cleared up before the ceremony, we were surprised with another shower while they said their vows. The guests were covered by the barn, but unfortunately Anna, Jordan and their wedding party got soaked! Rain on their wedding day was not in the plan, but after talking with Anna's mom, I think it adds to their sweet story. Anna's parents celebrated their 33rd anniversary on the same exact day that their daughter was married and she told me that it rained on their wedding day too. They always say rain on your wedding day is good luck, and if you look at Anna's parents, I'd say that's definitely true. The rain cleared up and everyone enjoyed dancing under the stars before sending the happy couple off in a tunnel of sparklers." –Jennifer Stuart Photography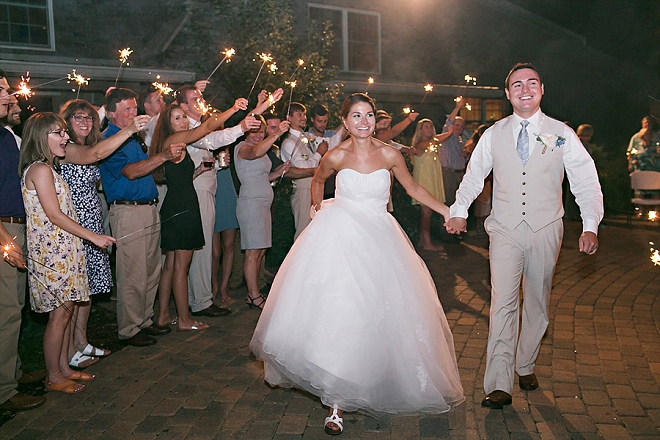 What is your favorite wedding day memory?
The most memorable part of our wedding was the ceremony! When a bride dreams about the reaction her Groom will have when he sees her for the first time on their wedding day, they dream of Jordan's reaction. His tears had everyone reaching for a tissue! We had had on and off rain showers all day, but it looked to be clearing up just in time for the ceremony. However, as soon as our officiant started talking, the rain began again. Thankfully our guests were covered by the barn, because by the end of the ceremony, we were soaked! But, hey, they say rain on your wedding day is good luck, right?! Looking back, the rain just added to how memorable, unique and sweet our ceremony was!
What did you DIY for your wedding?
With the help of my incredibly talented father, we built small wooden crates for the center pieces and all the signs at the wedding. I did all design, staining and writing on the signs myself. With the help of my incredibly talented mother, we sewed the peach and blue overlays on the tables. I also chalk painted and gold accented all of the picture frames on the tables.
Did you have a something old, new, borrowed and blue?
For my Something Old, I had two 'something's old', one from each of my late Grandmother's. First was from my Dad's Mother, who left me a small pair of earrings to wear on my wedding day. Second was lace from my Mom's Mother, lace wrapped around my bouquet from her wedding dress, which was also my Mother's wedding dress. My Something New was the dress! Lastly, my Something Blue was my garter and flowers.
Any advice for brides currently in the planning process?
Relax and enjoy every moment! No wedding is perfect and when it's all said and done, you won't care that the sign for the flower girls went missing 10 minutes before the ceremony. What you will remember are all the family and friends that celebrate you before, during and after the ceremony. -Anna, the Bride
Event Credits
Photographer: Jennifer Stuart Photography // Venue + Catering: Chattooga Belle Farm // Florist: Laura Brazell // Cake: Kathy Company // Invitations: Howl Creative Co. // Engagement Ring: Jared // Bride + Bridesmaid's Attire: The Castle Bridal // Bride's Shoes: Target // Bride's Accessories: Belk // Groom's Attire: Belk
No related posts found.