"What happens when two avid readers decide to say I do? A whimsical book-inspired wedding filled to the brim with artisan details, colorful accents and delightful moments – of course! Emily Rose and Johnny's backyard wedding celebration was one of the most thoughtful events I've had the pleasure to be a part of. Let's talk about some of these delightful handmade artisan details…The invitation suite – The tone of the book inspired theme was set from the moment guests received the invitation in the mail. The invitation itself was personally written with a novelist approach… the "Prologue" described the couple's anticipation and appreciation for what lies ahead, while the epilogue invited them to the post-wedding brunch – how charming! Especially down to the details of the personalized library card! Handmade florals – Have you ever seen ceramic boutonnieres? Neither have I! Emily Rose, the bride, is a ceramic artist and hand made exquisite ceramic flowers. She then moved on to the centerpieces which were flowers made from the pages of books as a nod to their love of books and the theme for the day. And finally, the bride and bridesmaids carried simple and happy bouquets of sunflowers which were also sprinkled across the lawn. While the venue added to the countless personal touches! The celebration was held on the lawn of her sister's beautiful home – which also happens to be next door to a horse farm!Guest favors – I couldn't stop gushing over these "Blind Date with a Book" favors! Every guest was able to go home with a surprise book that they could select based on a short description on the attached card.There were so many other amazing handmade and personal details – over 30 homemade pies, streamer wands, a fire dancing hoop dancer, a thunderstorm followed by a rainbow, glow in the dark bocce ball, the list goes on…and at the end of the day, I looked around at the faces of everyone that surrounded this couple with warmth and joy. This was certainly a day to remember!" –One July Photography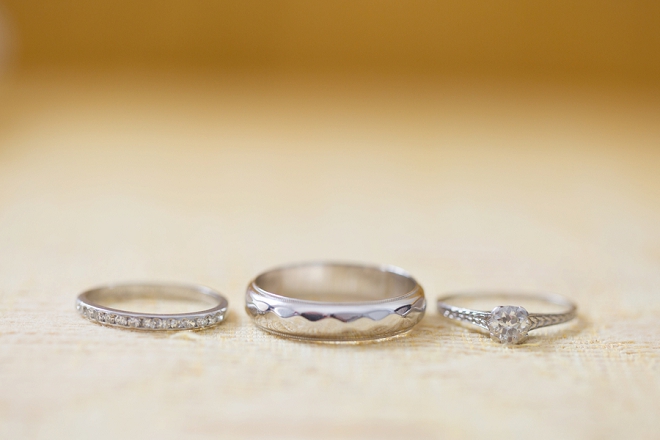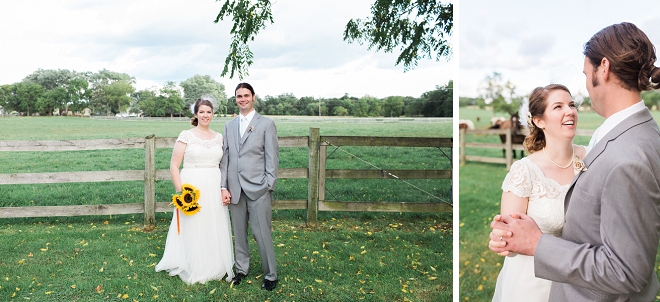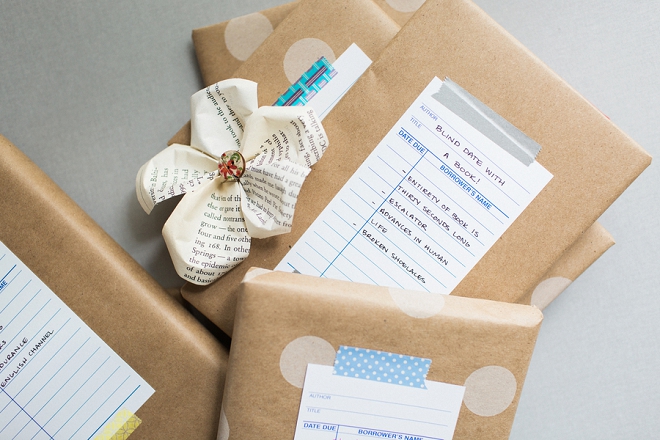 What is your favorite wedding day memory?
Marrying my best friend! After that, there are so many things. Seeing over a year of planning finally come into fruition, my sister's Matron of Honor speech, my Dad's and my father daughter dance and being surrounded by all the important people in our lives.
What did you DIY for your wedding?
Everything. No, seriously. The wedding was book themed, so we made our invitations as if they were excerpts from a book. The front of the invitations read like a story, while the back of them looked much like a typical invitation. Johnny and my sister, Gretchen, did the bulk of the writing, with my mom and I editing/tweaking them. The save-the-dates were library overdue notices, rehearsal was the foreword, the rehearsal dinner the prologue, the wedding invite chapter one and the day after brunch the epilogue.
The wedding itself was at my sister's and my brother-in-law Tim's house. So the summer before there was a lot of yard work, landscaping, painting and fixing up. Gretchen and Tim revamped their fire pit, which was a standard fire pit before and added the field stone around it to make it look fabulous. Johnny and Tim decorated the tent with lights, even going back after they had finished at about 11pm the night before the wedding to make them symmetrical. I was minutes from a total breakdown, and, if you haven't figured out by now, I need things to be a certain way. Symmetrical is one of those things. Not all the tent ropes had the lights on them and I couldn't handle it, but they went back and fixed them. Tim's sister Tara, my Dad and my Uncle Marc all set the tables with mismatched china that we had collected from Craigslist, Freecycle, our basements, Salvation Army and Goodwill.
I made my hair pin from antique buttons from my paternal Grandmother, who passed before my parents even started dating. I spruced up my white reception shoes using cheap flats, half round fake pearls, glue and a lot of patience. While one of my best friends did my make-up.
My sister wrapped all the table gift "Blind Date with a Books" and she and I wrote the tags for the front of them. The plain kraft paper ones were for adults and the polka dotted ones were young adult and children's books. Johnny and I hand wrote thank yous on a library return card and put them with a pocket sleeve on the inside cover of each book. Tim built the table for them to be displayed in.
I sewed Johnny and all the groomsmen ties with a fantastic fabric that was all text with beautiful phrases with a love-letter feel to them. The fabric happened to only come in black and teal, and teal was our color! Totally serendipitous! The ties were made specifically for each groomsman based on his height, and I embroidered everyone's initials on the back of their tie. Using the same fabric, I made the bows for bow-ties for the ring bearers, and headbands for the flower girls – though Gretchen finished those by adding the elastic and headband parts.
I am a ceramicist, and made all of the vases used for decoration or centerpieces, and also the boutonnieres worn by all the men. I made them from clay and then wood fired everything. The boutonnieres I then added a pin and wire-wrapped.
My Dad, one of his best friends from childhood, Todd, and Todd's wife Sharon arranged and tied the bridal party's bouquets with ribbon. The sunflowers were from the farmer's market, which my Mom and Dad had picked up that morning. The sunflowers that were around the yard were staked in PVC pipes my Dad cut and my Mom painted.
For the ribbon wands, Tim cut the dowel rods, I cut the ribbon, Johnny and his brother, David, tied them together.
My bridesmaids and I made the pinwheels using children's book pages.
The paper flowers were also made from book pages and buttons, and let me tell you- they took FOREVER. It was a major group effort, from all of my bridesmaids and one of my friends. If they hadn't looked so perfect, I wouldn't have done them. I was almost sad that they did look so great- because they were so time consuming! I'm happy we went through with them, though, because now they decorate Johnny's and my house!
Tim built the keg tapper with wood he just had in his garage! I was so impressed!
The bridesmaids and Tim's mom and sister made all of the drinks, which we stored in coolers gallon jugs in the backyard so we could easily replenish the drink dispensers. Actually, my dad even built the coolers!
My Mom and Gretchen made all the appetizers; a spread of cheeses (they had help slicing them,) crackers, multiple hummus flavors, and many olive flavors. One of the goat cheeses had a cherry jam my sister made with cherries from my Grandpa's trees spread over it.
The tables were each named after Johnny's and my favorite authors, and each had a framed quote about love or life.
The guest book was a dictionary my grandparents gave to my parents when I was younger. We asked people to find a word they felt described us, and to sign next to it.
My bridesmaid, Alli, put together most of the props for the photo booth.
I made 33 pies from scratch for dessert. I had 11 flavors, and each flavor had a different crust design. The black raspberries in the raspberry pie I picked from Gretchen and Tim's yard, the peaches came from my friend Roberta's trees, and the rhubarb from Tim's parent's farm. I was so excited to make the pies myself, because my Mother-in-Law, Rena, makes the BEST PIES EVER. She gave me lessons for a birthday gift, and Johnny proposed to me that day. I made little tags on library return cards for each of the varieties of pie letting people know what kind, allergy information, and if there was anything local used.
My Mom made an all natural bug spray from essential oils.
We made a gourmet s'mores bar with multiple fancy spreads and marshmallows.
Gretchen and my Mom also made a bloody mary and mimosa bar and fireside pie iron omelettes for the day after brunch.
But for everything I did, my bridesmaids and Mom helped me do more. This day legitimately could not have happened, or at least not even close to as well as it did, without them. Even outside of all the physical labor and time they put in, they kept me sane and would rein me in when my ideas went a little crazy and I needed to be told to knock it off. I kid you not, queen sized bed sheets were purchased at one point because they were the perfect color and they were totally enough fabric to sew dresses from for the bridesmaids and where else could I find that much fabric for that cheap?! I wish I had pictures of my mom's and sister's faces when they saw that. So, needless to say, there were some ideas that I needed to be told no about, and I'm thankful they were there to do it.
And the final DIY for the wedding was the week after: all the dishes. Yikes!
Did you have a something old, new, borrowed and blue?
My something old and something blue were in my hair pin with buttons from my Grandmother and my antique engagement ring. My something new was my dress and the borrowed I messed up on! I realized the day of I never grabbed jewelry from my other Grandmother, who was in attendance. I did forget my lip stain at the hotel, so I had to borrow Gretchen's. Let just say that was planned… No sixpence in my shoe, either.
Any advice for brides currently in the planning process?
If something isn't working out, decide just how important it is that you make it instead of buy it. There is no shame in purchasing something, especially if the cost to make it is your sanity along with the people's around you. We made and half-made plenty of things that no one saw, because finishing them was just going to take too much time we didn't have. Don't stress about it. Ultimately the whole point is the marriage, not the wedding. Enjoy your day! -Emily Rose, the Bride
Event Credits
Photography: One July Photography // Venue: Thed Homeback Farm // Catering: Taco Nano // DJ: Just Press Play Productions // Rentals: Murphy Tent Rental Inc. // Engagement Ring: Estate Jewelers // Bride's Attire: BHLDN // Bride's Veil: Jersey Bride // Hair: Lilly Farmer // Groom's Attire: Men's Warehouse // Groom's Socks: Express // Vases: Clay Ground Creations
No related posts found.