It's that time… time for sending out special wedding event invitations! From save the dates to the real mccoys, and if you're not going to make them yourself, why not let the amazing artists on Etsy create something extra special for you?! After all, you are an original. There are so many amazingly unique invitation designs on Etsy, most of which can be tweaked and personalized to your exact desires. Today I'm sharing 20 current styles that I'm crushing on… which I thought you might like too!
---
5 – Save the Date Invitations
---
Cassie Gold Foil Save The Dates: Lola Louie Paperie, $35.00+
---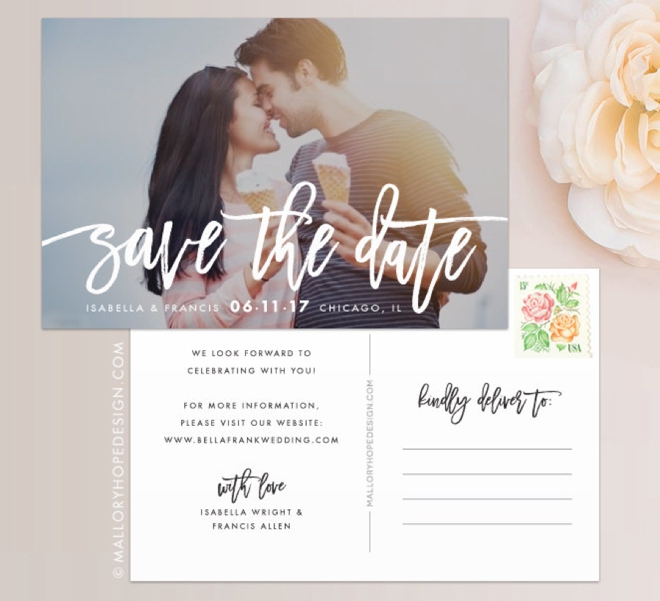 Handwritten Photo Save The Date Post Card: Mallory Hope Design, $40.00+
---
Destination Save The Date Boarding Pass Magnet: Your Wedding Countdown, $37.00+
---
Custom Illustrated Couple Save the Date: Freckled Fox Prints, $24.00+
---
Printable Simple Icon Save the Date Card: Bold Paper Co., $15.00
---
5 – Bridal Shower Invitations
---
Golden and Navy Bridal Shower Invitation: Paper Mint Prints, $20.00+
---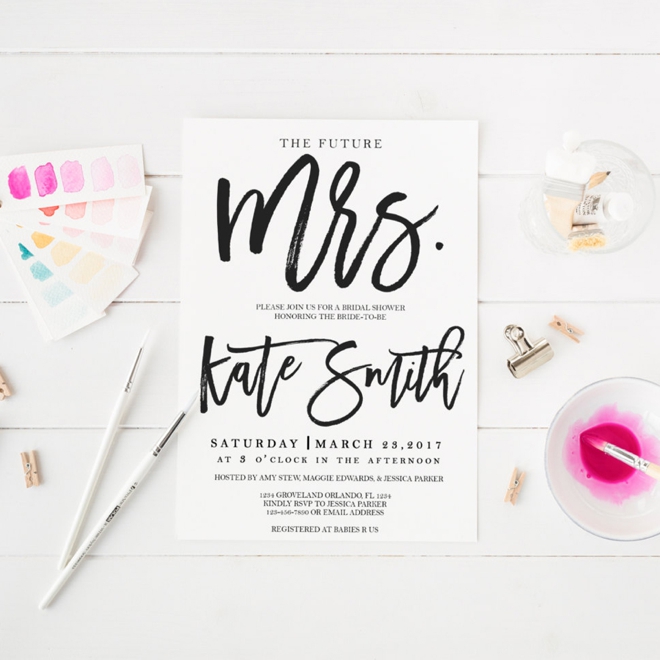 Printable Black and White Bridal Shower Invitation: Wishful Printing, $13.99
---
Kitchen Bridal Shower Invitation Set: Olive and Star, $17.00+
---
Barware + Booze Couples Shower Invitation: Lovely Paper Shop, $15.00
---
Printable Modern Turquoise Bridal Shower Invitation: Oak House Designs, $15.00
---
5 – Bachelorette Party Invitations
---
Printable Black, White, Gold, Wild Bachelorette Party Invites: Print Fancy, $20.00
---
Printable Let's Pop Bottles Invitation: Bare Ink Co., $8.00
---
Bachelor + Bachelorette Weekend Invite: Madeline Grace, $35.00+
---
Hot Pink Watercolor Bachelorette Invite: The Print Nest, $14.05+
---
Printable Beach Bachelorette Party Invite: Prim + Pretty Prints, $10.00
---
5 – Wedding Invitation Suites
---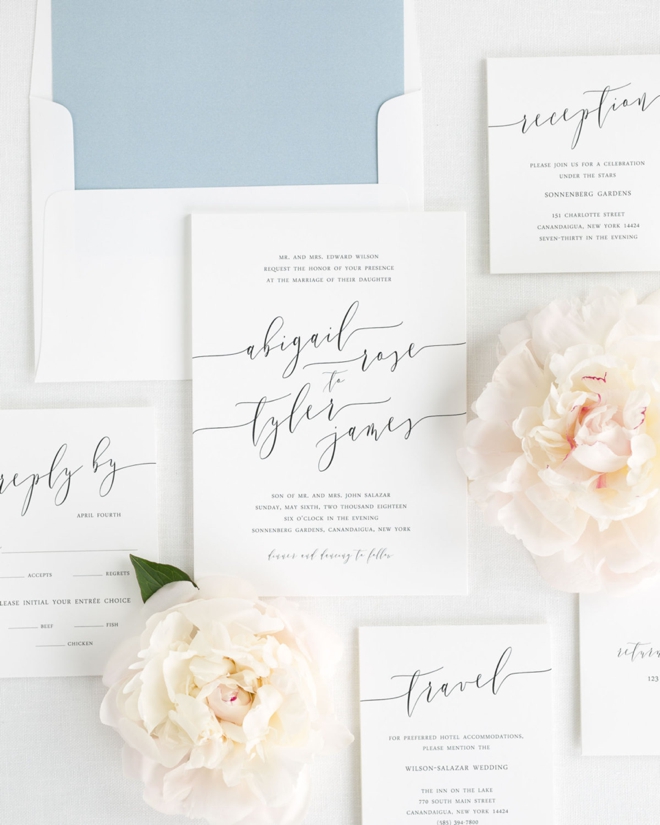 Romantic Calligraphy Wedding Invitations: Shine Invitations, Sample: $6.50
---
Woodland Wedding Invitation Set: Pretty Little Papers, $25.00+
---
Marble Wedding Invitation Suite: Oh Na La, $177.00+
---
Hand Painted Floral Wedding Invitations: Dunkirk Designs, $35.00+
---
Modern Watercolor Wedding Invitations: Fine Day Press, Sample: $5.00
---
To find more of our favorite Etsy wedding designers, check out our HUGE directory of shops!
---