There are few events in life that are based around love as much as a wedding. The love between the bride and the groom is the focus of the entire event, but love for family, friends, and even pets comes in at a close second.
Involving the ones you love in your big day is an easy way to add your personal touch and make others feel special. It doesn't have to be grand gestures or epic speeches – sometimes it's the little things that make a big impact.
DISPLAY PHOTOS OF LOVED ONES – Hang framed photos from a tree, create your own DIY display, or arrange photos on a table to honor family and friends that can't be at the wedding.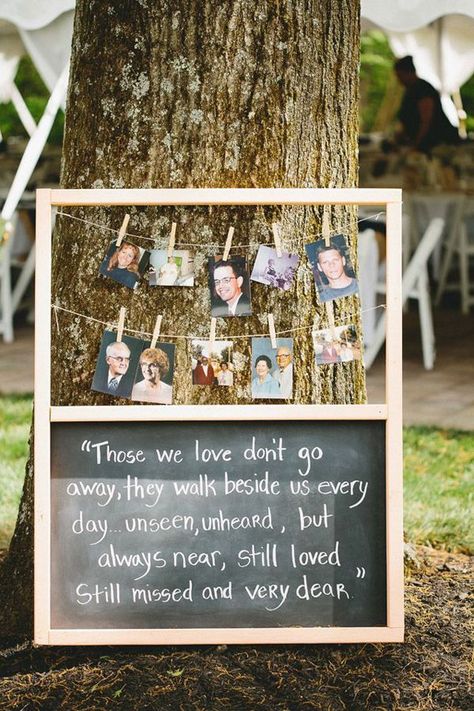 Photo: Braun Photography // Found on: Ruffled
VIDEOCONFERENCE – Ask important guests that can't make it to attend virtually via videoconference. This is an easy way to let them experience the wedding first-hand and even let them interact with guests as if they were there.
Photo: One and Only Paris Photography // Found on: Wedding Chicks
GIVE A BOUTONNIERE OR CORSAGE – Recognize a few special people in your life by giving them a boutonniere or corsage to wear the day of the wedding. This symbolic gift is a nice way to involve important people that aren't part of the wedding party and/or immediate family.
INVITE THEM TO HELP YOU GET READY – Invite a select few people to help you get ready before the wedding. Be careful not to go overboard with the invitation list, as things can get chaotic with too many people in one space. For bonus points, have your photographer snap some photos of your primping crew as you get ready for your big day.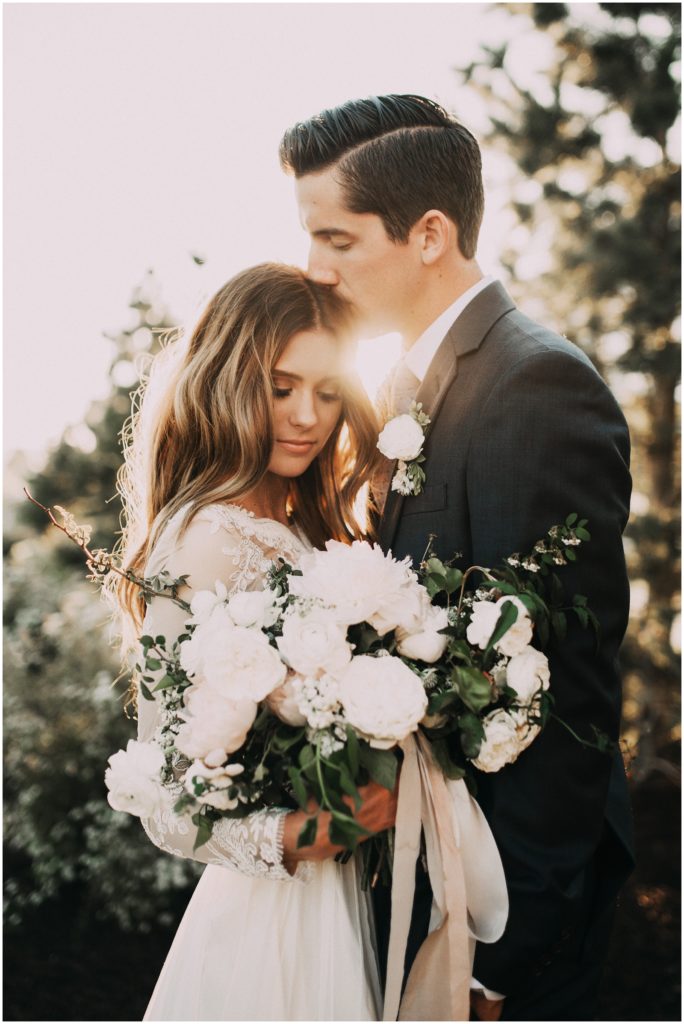 Photo: India Earl Photography
USE SYMBOLISM – For something more subtle, express your love with a symbolic gesture. Choose something that has meaning to you; you can keep the details to yourself or share the symbolism with others. For example, two flowers in your hair to represent your parents.
AISLE WALK – Consider breaking tradition and ask both parents, a grandparent (or two!), stepparents, or even a sibling to walk you down the aisle. This is one of the most sentimental moments of a wedding, so choose the people that you cherish the most.
Photo: Unknown. Found On: Love Is Pure
ASK A FRIEND OR FAMILY TO PERFORM OR HOST THE WEDDING – If you're lucky enough to have a gifted or charismatic wedding guest, consider asking them to share their talent or be the master of ceremonies.
TREE PLANTING/SAND CEREMONY – A tree planting or sand ceremony consists of combining two separate vials of dirt or sand into one. This small gesture symbolizes two lives coming together and is particularly meaningful for blended families.
Photo: Studio 29 // Found on: Overwhelmed Bride
GIFT THE BRIDE'S BOUQUET – Forget the bouquet toss and give the bride's bouquet to the couple that has been together the longest. This small gesture honors commitment and lets guests skip the awkward "who's single?" question.
WITNESSES – Asking someone to be your witness allows them to directly participate in your ceremony. Just be sure to pick someone that has reached the age of majority (and maybe has nice handwriting).
Photo: Tessa Barton Photography
PETS – Involve your furry friend in the wedding by giving them the job of ring bearer, letting them sit with you during the ceremony, or by including them in your wedding photos. Of course, all of these options depend on what type of a pet you have, its personality, and your venue.
Photo: Landon Jacob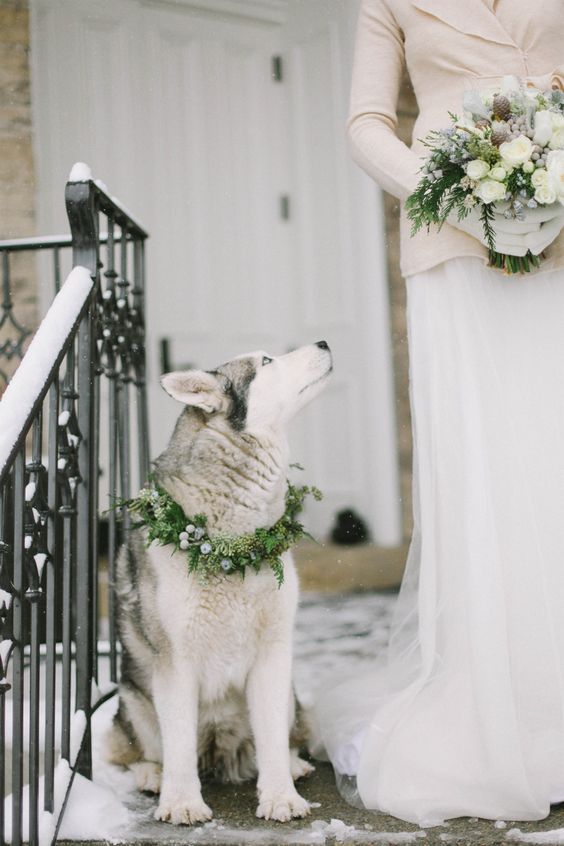 Photo: Jacque Lynn Photography // Flowers: Blooms & Blossoms
CHILDREN – Involve children by giving them small tasks such as handing out favors or small items (think fans, bubbles, confetti etc.), placing programs on chairs, or of course, being the flower girl or ring bearer.
GIVE A TOKEN OF YOUR APPRECIATION – Give a small gift like an embroidered handkerchief or a piece of costume jewelry to important guests at your wedding. Small gifts are usually given to immediate family and/or the wedding party, but gifts of gratitude can be given to anyone who you want to appreciate on your wedding day.
Photo: Taylor Lord Photography // Found on: Style Me Pretty
HAVE A RING WARMING CEREMONY – Before you present your rings to each other, pass them around to guests and ask them to silently offer a prayer, warm wishes, or a blessing for the bride and the groom. You can also do this with small stones to create wishing stones, which can then be displayed as a memento in your home.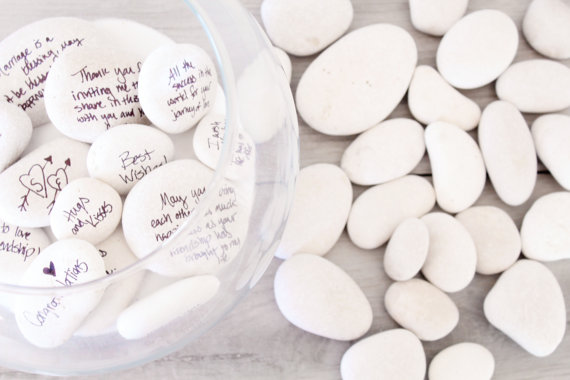 Photo: TheSeaGlassSeahorse
BUILD A BOUQET – As guests arrive at the ceremony, give them each a single flower and ask them to put it in a specified vase. Before the ceremony starts, collect the flowers and wrap it with florist wire and ribbon to create a custom bouquet.
REVERSE UNITY CANDLE CEREMONY – In a traditional unity candle ceremony, the bride and groom use their own candles to light a single candle. To involve guests, turn this tradition around and ask the guests to light their own candle from the unity candle. Bonus: it's a great photo opportunity.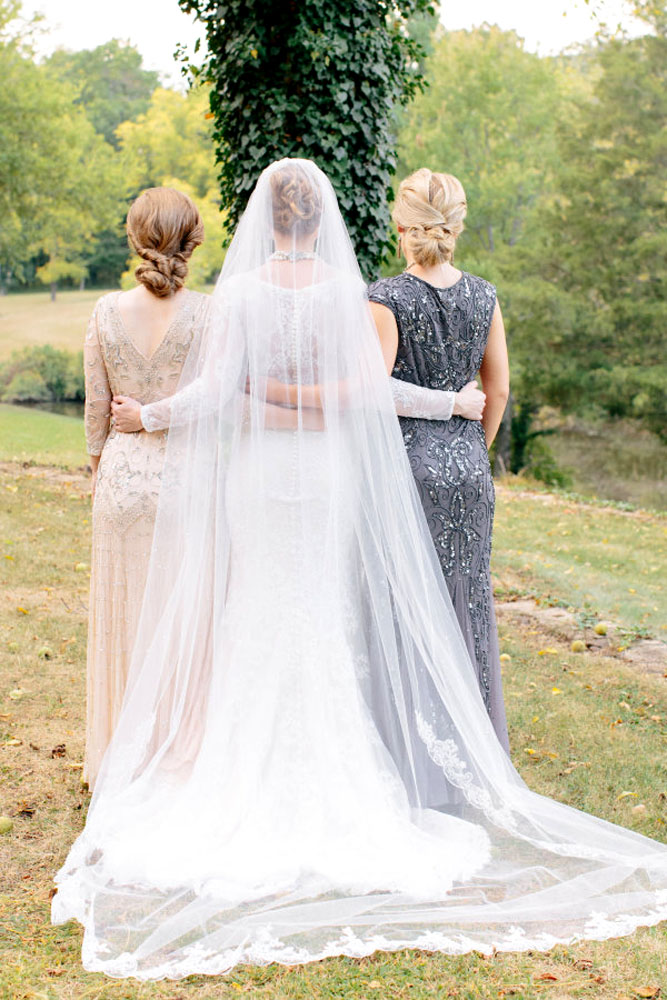 Photo: Alicia Lacey // Found On: Style Me Pretty
CIRCULAR SEATING – Literally surround yourself with guests by seating them in a full circle around you during the ceremony. This is a great way for guests to meet one another before the reception and will give the wedding a small, intimate vibe.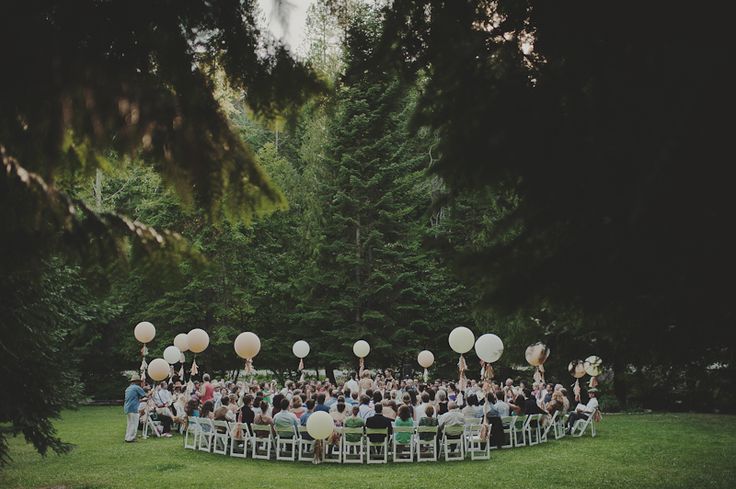 Photo: Kristen Marie Parker Photography // Found on: Wedding Bells
---
Kendra Hagerman is the editor-in-chief of Kendra Found It, a website dedicated to finding luxury items on the cheap. She is a fashion, beauty, and lifestyle writer; when she's not working, you can find her hanging out with her husband and their rescue Chiweenie on their oversized couch. Find and follow her on the social channels below for design, beauty, wedding, and fashion inspiration:
No related posts found.