Hooray, you're engaged, congratulations!!! Now what?! It's the million dollar question brides-to-be always ask us here at I Love Love Events. After you have a budget, a guest estimate, set a date and choose a venue it's time to hire a photographer and that means, engagement photos! When should you take engagement photos? If you are thinking of using a photo for the save-the-date you'll want to schedule the session at least 7 to 8 months before the wedding. Once you have the photos taken they will need to be edited, then have the save-the-dates printed in time to send out about 5 to 6 months before the wedding. If you are not planning to use the photos for your save-the-dates, your timeline is more flexible. You can work with yours and your photographer's schedule and shoot according to season if you have something specific in mind.
I've had clients ask me if engagement photos are "worth it," and to that I answer with a resounding, "YES!" First, many photographers include the engagement session in their package, so it is no additional charge to you. Second, it is the most important time to bond with your photographer. You will be spending your entire wedding day with this person, you want to develop a trust and a rapport. Finally it's a chance to dress up and take photos in a setting much more relaxed than your wedding day, and best of all, you get to let your personality shine. Photographers love unique engagement shoots that allow the couple to show their colors. In case you are stumped, I have rounded up 15 great ideas as a jumping off point for you. And, as a bonus, I've included my top five must have shots!
---
FOR THE OUTDOORS TYPE, HOW ABOUT A CAMPING SESSION?
photo: Gina and Ryan Photography // via: Inspired By This
---
TAKE YOUR ENGAGEMENT PHOTOS ON THE ROAD
photo: Gabe Aceves // stylist: A Trendy Wedding // via: Green Wedding Shoes
---
A BIKE AND BALLOONS MAKE FOR WHIMSICAL SHOTS
photo: Pricila Valentina // via: Green Wedding Shoes
---
DON'T OVERLOOK A COZY COFFEE SHOP
photo: Caroline Frost Photography // via: Style Me Pretty
---
ANYTHING CUTER THAN A RETRO LAKESIDE SESSION?
photo: Christina McNeill // via: Snippet & Ink
---
HIRE A PHOTOGRAPHER WHILE ON VACATION!
photo: In Love in Itaaly // via: Fly Away Bride
---
USE THE WEATHER AS YOUR BACKDROP
photo: Stephanie Sunderland // via: Le Magnifique Blog
---
IT'S SO PERSONAL TO TAKE PHOTOS AT YOUR FAVORITE PLACE, EVEN A BAR OR BREWERY!
photo: Sara Logan // via: Coastal Bride
---
NATURE MAKES A BREATHTAKING BACKDROP
photo: Phil Chester
---
IN LOVE WITH THE TREND OF ENGAGEMENT PHOTOS AT HOME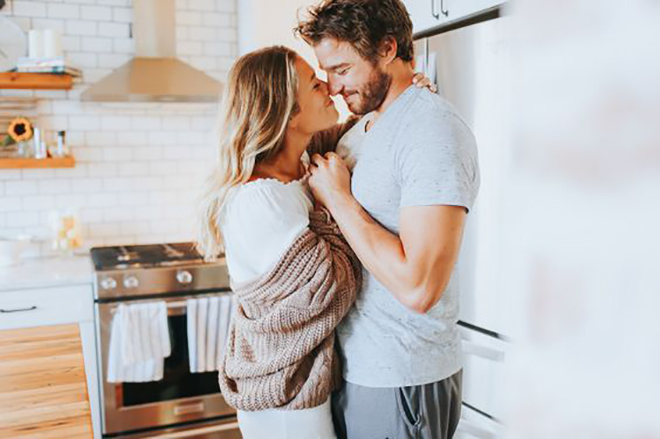 photo: Kathy Davies Photography
---
LOVE WINE? HOW ABOUT A VINEYARD!?
photo: Heather Anderson Photography // venue: Europa Village
---
DON'T BE AFRAID TO INCLUDE YOUR HOBBIES
photo: Brian Whitt // styling: Type A Society // hair & make-up: Jessica Wilcox // via: Once Wed
---
SUNRISE AT THE BEACH IS THE MOST LOVELY TIME
photo: Jo Photo // via: Something Turquoise
---
PLAY TOURIST IN YOUR OWN CITY, ESPECIALLY IF IT'S NEW YORK CITY!
photo: You Look Lovely Photography // via: Style Me Pretty
---
BONUS: FIVE MUST HAVE ENGAGEMENT PHOTOS
---
MUST HAVE SHOT: BOTTOM HALF ONLY
photo: Sweet Monday Photography // via: Ruffled
---
MUST HAVE SHOT: THE EXTREME CLOSE UP
photo: M.K. Sadler // via: Once Wed
---
MUST HAVE SHOT: THE BLING
photo: Still 55 Photography // via: Style Me Pretty
---
MUST HAVE SHOT: THE WIDE ANGLE
photo: Max Wagner // via: A Cup of Jo
---
MUST HAVE SHOT: THE TWIRL!
photo: Sean Carr Photography // via: Junebug Weddings
---

Lauren Koster is the owner of I Love Love Events, a New York based wedding planning company that specializes in the unique and handmade look. Her eclectic style and modern hipster vibe always has us entranced. We always love when she graces our blog with her monthly "Steal This Style" article. Want to know more? You can personally follow or find her from these links below:
website // blog // instagram // facebook // twitter // pinterest
---
No related posts found.